Willem Dafoe: A 'Hunter' With A Restless Eye
Willem Dafoe: A 'Hunter' With A Restless Eye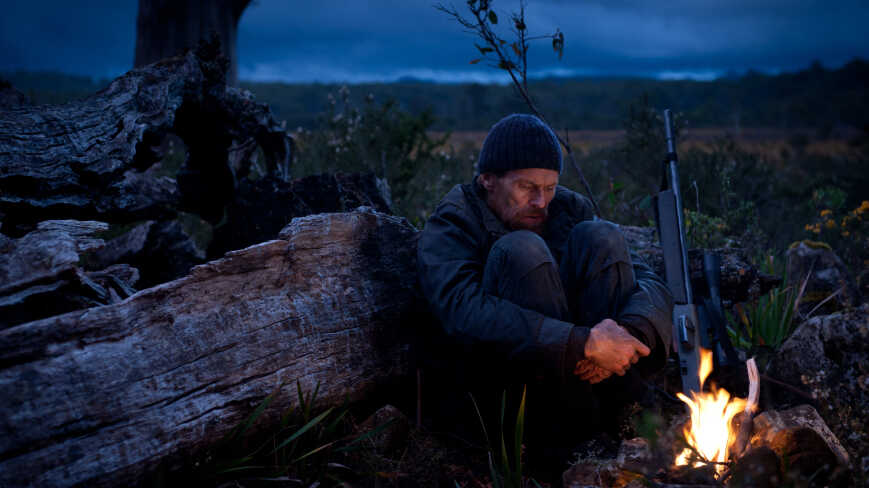 Willem Dafoe is having a busy spring at the cineplex: he's had roles in the sci-fi epic John Carter and in the apocalyptic drama 4:44: Last Day On Earth -- and in the new eco-thriller The Hunter, Dafoe plays a mercenary hired by a mysterious biotech company trying to track the untrackable: a Tasmanian tiger.
The animal has been declared extinct, but throughout the film, townspeople whisper, even boast about recent sightings. Dafoe admits he didn't know much about the Tasmanian tiger before the film.
"I had to look on the internet for more information when I read the script," Dafoe tells NPR's Rachel Martin. "It's so potent a symbol for the people of Tasmania — and the people of Australia — because it was basically hunted into extinction by the colonists. The thought that it still survives, that there is still one out in the wilderness, lives in the people's minds."
The Hunter was filmed in Tasmania, and Dafoe says the Australian island setting played an important role in the film.
"There are huge sequences where I'm just in the nature of Tasmania, which is quite wild, quite unspoiled, for the most part," he says. "It's a huge character in the movie."
Dafoe adds sometimes that character proved a challenge to work with.
"The weather is always changing, and you always have to make adjustments," Dafoe says."You always have to respect it, and it tells you where the story needs to go sometimes."
And there was plenty of room for improvisation.
"We had a strong screenplay, which is based on the Julia Leigh novel of the same title," Dafoe says. Still, "there were huge sections that we had to really make it on the day. ... There [are] sequences when I'm out in the woods where it says, 'he sets a trap.' We get to decide what that is: Why does he set a trap? What does it mean to the story — is it atmosphere, is it advancing the story? Does something happen to it? We were always developing the story as we were shooting it."
Dafoe says he was attracted to the film for the location and the story but also for the mercenary character he plays.
"There is a very tightly focused narrative, and there's this kind of eco-noir plot line for him trying to find the tiger," Dafoe says. "And then there's the inner journey. ... It's a very slow reveal. One nice thing about this role is that I'm in practically every frame of the movie, so I really get to sit with it and have the story work on me."
The film doesn't reveal much about Dafoe's character.
"All we know is he's a man that's some sort of mercenary, some sort of weapons expert," Dafoe says. "He's very laconic, he's quite cut off socially."
Dafoe, who's made a career of taking roles at both ends of the movie spectrum, in both independent films and blockbusters, says that there isn't a lot that's different from playing a character like Martin in The Hunter and Tars Tarkus, a nine-foot-tall alien warrior in John Carter.
"When you're actually doing the doing, you don't know the budget of the film, you don't know the size of the film, you don't make judgments about what kind of character it is or what kind of movie it is," Dafoe says. "You're doing what you're doing, you're pretending, you're acting, you're performing."
Dafoe stresses that in John Carter, he was actually performing.
"It's a motion-capture performance," Dafoe says. "I always got a little bit irritated when people say "voiced" because that's not it at all. You spend six months walking on three-foot stilts and all this motion capture equipment, shooting the scenes, developing the character. ... Then animators animate to what you did later, and then people just think it's voice."
"Sometimes," he jokes, "it tests an actor's ego."
Ego or no, Dafoe says he's interested in all manner of film projects.
"The only through-line is I'm attracted to strong directors with vision that like to make personal stories," Dafoe says. And 4:44, John Carter and The Hunter, he says, "were passion projects of the director. That's a real consistent theme for projects I select."