A Panda's Inseminal Moment, Tweet By Tweet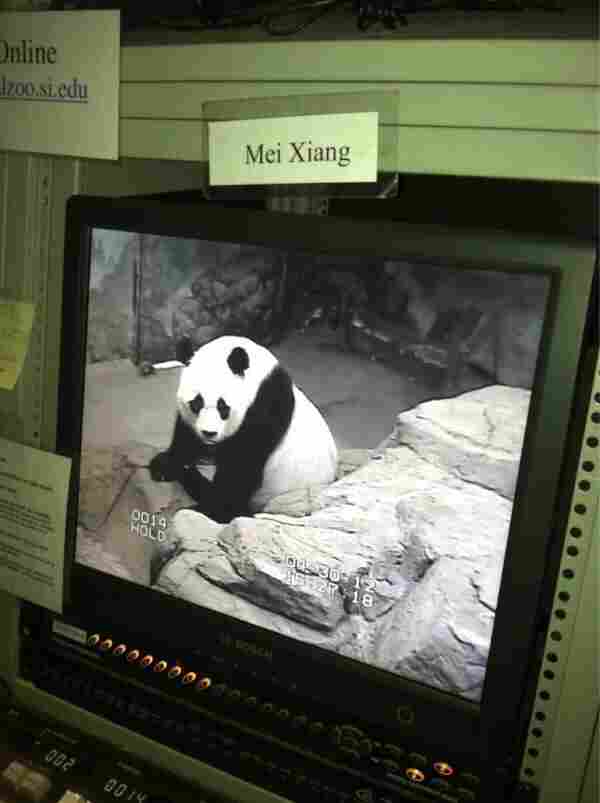 Smithsonian's National Zoo
You can't predict the turns new technology takes.
The Internet, originally developed for scientists in southern California to bandy information back and forth with scientists in northern California, has also become the prime means of sending naughty jokes instantaneously around the world.
This week Twitter, the social media service famed for carrying the messages of pro-democracy dissidents in Iran, Egypt and other places, featured something a little difficult to conceive: live tweeting of the artificial insemination of a giant panda at the National Zoo.
The details were vivid enough to make a Secret Service agent blush.
There are fewer than 2,000 giant pandas in the world, and females are able to conceive for only 24 to 72 hours each year. So when those hours strike, a little after Cherry Blossom time, zoo officials try to induce Mei Xiang to mate with their male panda, Tian Tian.
Their union seems to last about as long as Kim Kardashian's marriage to Kris Humphries.
So at 4 p.m. Monday, they rolled in doctors and tubing to try to help Mei Xiang have her second cub in 7 years.
Dave Wildt, head of the National Zoo's Center for Species Survival, reportedly wrote the tweets.
"The microscope is set up," he thumbed, "the pipettes are ready and the slides are prepped."
Pipettes, by the way, are slender glass lab tubes. They weren't on site to hold oil and vinegar.
"Last night we couldn't get quality sample from Tian," Dr. Wildt explained. He didn't mean a paint swatch or a kitchen tile. "So we used a frozen sample."
Dr. Wildt also tweeted photos — of grinning scientists and gleaming microscopes, not the dozing patient or those glimmering pipettes.
Dr. Wildt sounded a bit breathless when he tweeted, "One of our repro experts, Dr. Aiken-Palmer holds the next vial of 100,000 sperm. 'It only takes one!'
Who was following these live tweets of an artificial insemination of a giant panda at 4 p.m. on a Monday afternoon? I like to think a few high school kids gobbling fries and cruising Twitter may be inspired by such lively details to become scientists. But I wonder how many may just go "Eeew," when they read tweets like, "They shifted the table and are positioning Mei's head lower than her pelvis. Gravity's important here."
Isn't gravity important everywhere?
Ten pipettes were emptied before Dr. Wildt tweeted, "It's done!" It will be months before they know if the procedure succeeded.
First, 24-hour Pandacam. Now, an intimate medical procedure tweeted live, pipette by pipette. Maybe the State Department can do something for Mei Xiang, too.