Power Puff: Flex Your Culinary Muscle With A Souffle
Nicole Spiridakis for NPR
Souffle. Just a whisper of the word strikes fear into the heart of the most accomplished (not to mention inexperienced) home cook. First, the neurosis: Are the eggs fresh enough? Will it rise? What if it comes out horribly misshapen? Then, the biting of the fingertips: Did I whip the egg whites to the correct consistency? Will green garlic work with the asparagus? Was I nuts to try strawberries? Finally, the calm reward: This tastes delicious. What was I so worried about? Souffles aren't so difficult to make after all.
Er, maybe that's just me.
Originally I thought about calling this "souffle making for dummies" except that none of us are "dummies," and such wording would deflate my premise: that souffles can easily be accomplished by all regardless of experience (or nerves).
The general impression, though, is that souffles are tricky. For me, at least, it's more a mental trickiness than a literal one. When I tricked myself into believing I could accomplish this culinary feat, I immediately won 80 percent of the battle. Confidence is imperative.
If it helps, you could also view a souffle as a sort of glorified omelet — this description courtesy of my husband — to help take the edge off your trepidation. However you approach it, the best way toward souffle success is simply to take a deep breath and begin.
I bested my souffle-making fears years ago, when the image of a softly steaming, softly puffed, softly melting marriage of egg and cheese and cream got me delirious enough to overcome any worries of failure. In truth, I can't recall how that first attempt turned out, but it must have been good enough for me to keep going. I haven't stopped.
About The Author
Nicole Spiridakis lives in San Francisco and writes about food, travel and her native state on her blog, cucinanicolina.com. Her work has appeared in The New York Times, the San Francisco Chronicle, chow.com and other publications.
I've made a velvety spinach and Parmesan souffle that my octogenarian friend Josie called "divine" and which we savored slowly with glasses of rose on a chilly December evening. I've also made a sweet potato souffle flavored with a little Gruyere cheese that was devoured quickly as a late afternoon lunch. I've made little strawberry souffles — just strawberries, egg whites, a bit of sugar and cornstarch and vanilla — inspired by the spring bounty at my farmers market. I've made cheese-only souffles and souffles full of bittersweet chocolate and souffles that rose beautifully and souffles that fell within 20 seconds of leaving the oven.
They all tasted absolutely wonderful.
One key to success is to banish visions of cratered and fallen souffles. That is inevitable and happens to the best of them within minutes of being removed from the safe haven of the oven. Do not fret if your souffle is not the ideal of aesthetic perfection. It doesn't affect the taste. I've found that souffles are almost always delicious regardless of appearance.
Souffles have other things to recommend them. For one, they're cheap. The main ingredients are typically eggs, cheese (not too much) and milk. You can be creative: Try incorporating different vegetables depending on season (pumpkin and sage in October is a favorite). They taste great even once "fallen" and make for fine leftovers. I have enjoyed last night's souffle for many a lunch. Dessert souffles are surprisingly simple to put together and create an impressive presentation for such little effort. Finally, many are flourless, a boon to gluten-free folk.
At its heart, souffle-making is a fairly simple endeavor. Most recipes call for first making a roux (a combination of melted butter and flour), invariably causing some forehead clutching when it doesn't seem as though the sauce will thicken enough, and then, like magic, it does. You steep fresh rosemary or thyme and green onions in hot cream. You separate eggs and measure out cheese. You butter a souffle dish and scatter it with Parmesan, and then you whip the egg whites until fluffy but not stiff, fold them into the base, slide the whole concoction into the oven and cross your fingers.
After taking that deep breath and sending your souffle to the depths of the oven, it's good to turn your attention to the rest of the meal (a salad, roasted potatoes, sauteed greens and garlic) to distract yourself. Invariably it will emerge golden brown, gloriously puffed if only for a moment, redolent of cheese. I always burn my fingers while extracting the first slice. It's worth it.
---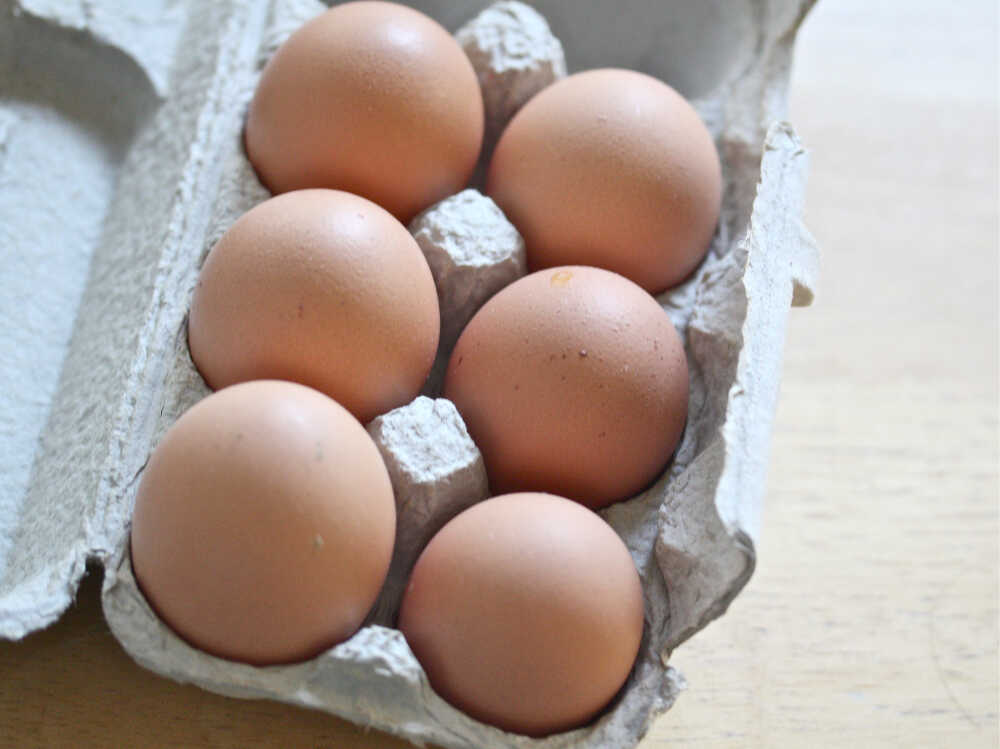 Nicole Spiridakis for NPR
Souffle-Making Tips
Nicole Spiridakis for NPR
Use the freshest eggs you can get. This means that those eggs you've had kicking around the refrigerator for a few weeks might not be the best to use in your souffle. If you have laying chickens, you're all set, but for the rest of us, a fresh box from the farmers market or supermarket will work fine.
When separating the eggs, be careful not to leave even a speck of yolk in the whites (though if you do, all is not lost; it's just that the whites whip better when entirely yolk-free). Eggs just out of the refrigerator separate more easily, but make sure to get the whites to room temperature before whipping, as they will whip to a higher volume when not cold — important in a souffle, as you want that thing to puff up as high as possible.
Make sure the bowl in which you whip the egg whites is absolutely clean and dry, as are the beaters for your mixer. Once whipped, work quickly but gently to fold the whites into the souffle base. The goal is to maintain as much airiness as possible before baking.
Purists may argue that making the base the same day you plan to bake the souffle is the only way to go, but I've found that it doesn't make much difference. To save time, I've precooked the base a few days in advance with no adverse effects.
Make sure to bring both the prepared base and the egg whites to room temperature before completing the recipe.
Try to avoid opening the oven door to peek at your souffle's progress. I've done this far more than I should admit and have suffered a somewhat deflated souffle.
Recipes With This Story
Asparagus-Spinach Souffle
Inspired and adapted from Deborah Madison's Local Flavors (Broadway 2002), this was the first souffle recipe I attempted. It involves a straightforward and, dare I say, fairly easy preparation. It's perfect for spring, when asparagus is in season.
Nicole Spiridakis for NPR
Makes 6 servings
3/4 cup grated Parmesan cheese
1 shallot, chopped
2 tablespoons fresh rosemary
1 cup cream
1 bunch asparagus, washed and chopped, with woody ends removed
12 ounces loose spinach leaves
4 tablespoons unsalted butter, plus extra for the dish
4 tablespoons all-purpose flour
1 1/3 cups whole milk
1 teaspoon salt
4 large egg yolks
Pepper to taste
6 large egg whites
Preheat the oven to 375 degrees. Butter a 6-cup souffle or gratin dish and dust it with a few tablespoons of the Parmesan.
Put the shallot, rosemary and cream in a small saucepan over low heat. Bring slowly to a boil, then turn off the heat, cover, and let steep for 15 minutes. Strain out the rosemary.
Meanwhile, in a small frying pan in about a tablespoon of water, steam the asparagus and spinach until wilted and soft. Place in a food processor and puree until smooth.
Melt the 4 tablespoons of butter in a saucepan, stir in the flour and cook for 1 minute while stirring. Whisk in the milk and stir until it thickens. Add 1 teaspoon of salt and stir in the remaining Parmesan. Turn off the heat and stir in the egg yolks, spinach and asparagus and the shallot-cream mixture. Season with pepper.
Beat the egg whites with a pinch of salt until they form firm peaks but are still somewhat soft. Fold the whites into the base. Scrape the batter into the prepared dish and bake until golden brown and set, about 40 minutes. Serve immediately.
Sweet Potato Souffle (With Honey-Buttermilk Biscuits)
I love sweet potatoes but like to prepare them with a savory rather than sweet (i.e., with maple syrup and/or cinnamon) bent, which is why I've used thyme and Gruyere cheese in this souffle. I serve it with a pile of sauteed greens, such as chard or kale, and Honey-Buttermilk Biscuits (recipe below).
Nicole Spiridakis for NPR
Makes 6 servings
2 pounds sweet potatoes (about 2 large sweet potatoes)
3 tablespoons unsalted butter
1 medium yellow onion, minced
1 1/2 cups whole milk
3 tablespoons all-purpose flour
6 large eggs, separated
1 cup shredded Gruyere cheese
1/2 teaspoon dried thyme, or one teaspoon fresh thyme
Salt and pepper, to taste
Preheat oven to 375 degrees.
Fill a medium-sized saucepan with water and add the sweet potatoes. Bring to a boil, then simmer until potatoes are soft. Drain and mash well to form a smooth puree.
Butter a 2-quart souffle dish.
In a large saucepan over medium heat, melt the butter. Add the onion and saute, stirring occasionally, until soft, about 5 minutes. Meanwhile, in a small saucepan over medium heat, warm the milk until small bubbles appear along the edges of the pan, then remove from heat. Add the flour to the onion and cook, stirring constantly, for 3 minutes. (Do not brown.) Whisk in the milk all at once and simmer, continuing to whisk, until thickened, 2 to 3 minutes. Remove from the heat and add the egg yolks one at a time, beating well after each addition. Add the sweet potato puree, Gruyere cheese, thyme, salt and pepper to taste. Stir until well blended.
In a large bowl beat the egg whites with a pinch of salt on high speed just until stiff peaks form. Using a rubber spatula, fold one-fourth of the egg whites into the sweet potato mixture to lighten it. Then fold in the remaining whites just until no white streaks remain. Pour into the prepared souffle dish.
Bake until puffed and golden, 45 to 50 minutes. Serve immediately.
---
Honey-Buttermilk Biscuits
Light and lightly laced with the flavors of honey and buttermilk, these biscuits are lovely served alongside slices of sweet potato souffle, or toasted in the morning with jam and a cup of coffee. Try not to overwork the dough, but knead in just enough flour so it is no longer sticky before rolling out and cutting.
Nicole Spiridakis for NPR
Makes 12 biscuits
2 1/2 cups all-purpose flour
1/2 cup whole-wheat flour
1 tablespoon baking powder
1 teaspoon sugar
1 teaspoon salt
3/4 cup (1 1/2 sticks) unsalted butter, cubed
2 tablespoons honey
1 cup buttermilk
Preheat oven to 350 degrees.
In a large bowl, whisk together flours, baking powder, sugar and salt.
Cut in the butter using a fork or your hands, until the mixture is crumbly and small "peas" form. Add honey and buttermilk and stir well until a sticky dough forms.
Turn the dough onto a lightly floured surface and lightly knead in a bit of flour until it is no longer sticky. Roll out dough until it is about 1 inch thick. Using a biscuit cutter (or a small glass), cut dough and place biscuits on a baking sheet lined with parchment paper. Gather remaining scraps, knead together and roll out, cutting biscuits until there is no more dough.

Bake biscuits for 20 minutes or until golden brown. Serve hot.
Roasted Red Pepper Souffle Bites
A note about using muffin liners: I have made these souffles without, but it takes some delicate maneuvering to remove the cooked souffles from the pan. If you can get mini muffin liners, it will save you a bit of work (and patience), though they will taste delicious either way. Of course, you may also cook this as one large souffle, in a 6-cup souffle dish.
Nicole Spiridakis for NPR
Makes about 1 1/2 dozen souffle bites
1/2 cup roasted red pepper puree (about 1 large red bell pepper)
1 tablespoon butter
1 tablespoon cornmeal
1 cup whole milk
3 large egg yolks, beaten
1/8 teaspoon cayenne pepper
1 cup grated sharp cheddar cheese
Salt and pepper to taste
5 large egg whites
Preheat oven to 350 degrees.
Lightly grease a mini muffin tin.
Cut the red pepper in half and remove the stem and seeds. Place the pepper cut side down on a baking sheet and roast for about 20 minutes until slightly blackened. Remove from oven and run under cold water, then peel off skin with your hands or a knife. Puree in a food processor or blender until smooth.
In a heavy-bottomed saucepan, melt the butter and stir in cornmeal. Gradually add the milk and cook over medium heat, stirring constantly, until mixture thickens. Whisk in egg yolks and cook, stirring, about 3 minutes more. Remove from heat. Stir in red pepper, cayenne, cheese and salt and pepper to taste.
In a large bowl, beat the egg whites on high speed until stiff. Fold egg whites into egg yolk and pepper mixture, half at a time, until no traces of white remain.
Using a teaspoon, fill the mini muffin tin with souffle mixture. Bake for 35 minutes or until puffed and golden brown. Remove from oven and let cool on a wire rack for 10 minutes, then carefully use a knife to remove each souffle and serve.
Strawberry Souffle
I was inspired by my farmers market to make this enticingly light and fluffy souffle. Strawberries are in season, and they're hard to resist. Then I started thinking about other berries that might work when summer comes around: blackberries, raspberries, blueberries. You want about 1 cup of pureed fruit, so adjust the type of berry according to your taste (a combination might be wonderful, too).
Nicole Spiridakis for NPR
Makes 6 servings
About 20 strawberries, hulled and cut in half
6 tablespoons sugar
1 tablespoon cornstarch
1 teaspoon lemon zest
1/8 teaspoon vanilla extract
4 large egg whites
Preheat oven to 400 degrees.
Lightly oil a 6-cup souffle dish.
Coarsely puree the strawberries, 3 tablespoons of the sugar and cornstarch in a food processor, then transfer to a small saucepan. Stir over medium heat until mixture boils and thickens, about 3 minutes. Whisk in lemon zest and vanilla. Cool completely before using.
In a large bowl, beat the egg whites until soft peaks form. Add remaining 3 tablespoons sugar and beat until stiff but not dry. Fold puree into whites in 3 additions. Transfer to prepared dish. Bake until souffle is puffed and golden, about 25 minutes. Serve immediately.
Salted Chocolate 'Soufflettes'
Good bittersweet chocolate balanced by a hint of sea salt makes these little souffles utterly addictive. It's good they're served in small portions. To up the decadence factor, serve with a bit of whipped cream and sliced fruit. Or simply devour immediately after taking them from the oven. I've halved this recipe to no ill effect (I used 4 egg whites to 2 egg yolks) and baked the batter in a variety of small ramekin dishes to mix things up a little.
Nicole Spiridakis for NPR
Makes 6 servings
8 ounces good quality bittersweet chocolate
3/4 stick (6 tablespoons) unsalted butter
2 tablespoons heavy cream
1/4 teaspoon vanilla extract
4 large egg yolks
7 large egg whites
1/4 cup sugar
1 teaspoon coarse sea salt
Preheat oven to 375 degrees.
Butter six 1-cup ramekins (4 by 2 inches).

Finely chop chocolate. In a small saucepan, melt butter over low heat. Add cream and bring to a boil. Remove from heat and add chocolate and vanilla, stirring until smooth. Transfer mixture to a large bowl and stir in yolks.

In another large bowl with an electric mixer, beat whites with a pinch of salt until they just hold stiff peaks. Gradually add 1/4 cup sugar, beating until just combined. Stir a fourth of the egg whites into chocolate mixture to lighten and then fold in remaining whites gently. Fold and stir to combine.

Divide souffle mixture among ramekins and smooth tops with a knife. Gently scatter the coarse sea salt across the tops.

Bake souffles on a baking sheet until puffed, set and surfaces are cracked, about 25 minutes.