'Dark Shadows': A Retro Redo Lacking Life And Luster
'Dark Shadows': A Retro Redo Lacking Life And Luster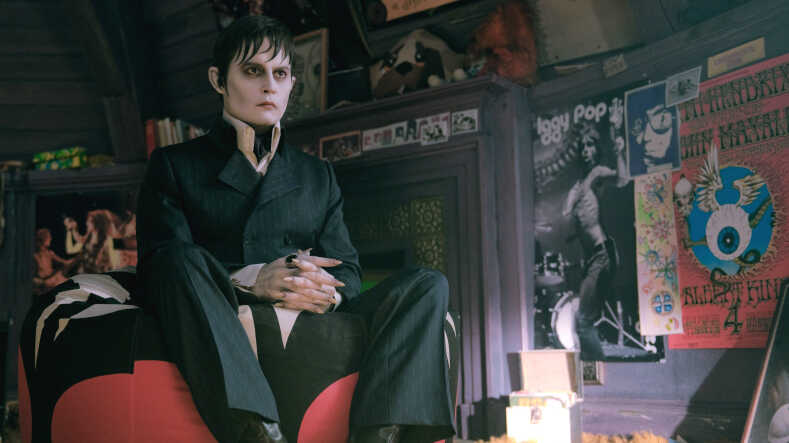 Dark Shadows

Director: Tim Burton
Genre: Comedy, Fantasy
Running Time: 113 minutes
Rated PG-13 for comic horror violence, sexual content, some drug use, language and smoking
With: Johnny Depp, Michelle Pfeiffer, Eva Green, Bella Heathcote
Putting together a Halloween costume must be a breeze at Johnny Depp's house. Forget pirate Jack Sparrow. If you just took a few of the characters he's played for director Tim Burton — the Mad Hatter, mad barber Sweeney Todd, mad candymaker Willy Wonka, and those two mad Eds, Wood and Scissorhands, you'd have a whole closetful of costuming possibilities.
To which the star now adds Dark Shadows' madly aristocratic vampire Barnabas Collins, onetime heir to Collinwood Mansion and, for roughly two centuries, buried alive — or at any rate undead — before being unearthed by a decidedly unfortunate construction crew.
Depp, who as a kid was reportedly obsessed with Barnabas on the Gothic daytime soap that inspired this campy big-screen redo, is clearly delighted to be sinking his teeth into the role. But Burton and the rest of the cast seem less sure why they're there, and audiences may well feel the same way.
The action begins with an 18th century prologue, played straight — young Barnabas setting sail from Liverpool for Maine, where his family will establish a fishing village, and where he will make the mistake of sleeping with but not falling for a witchy servant girl named Angelique (Eva Green). She turns him into a vampire, giving him eternal life, and then buries him alive to give him time to reconsider.
Released from the coffin in 1972, he discovers that things have changed a bit. Cars, lava lamps, hippies — there's a lot for an undead 18th century gentleman to take in, including his family's diminished circumstances. Angelique, also being immortal, has gone into competition with the Collins fishing biz and more or less bankrupted Barnabas' last few distant relatives, who live in a now-dilapidated Collinwood Mansion that Barnabas regards, optimistically, as a fixer-upper.
Much is made of Barnabas' antiquated speech patterns, pre-Victorian views and unfamiliarity with 1970s slang.
"Are you stoned?" wonders his great-great-great-grandniece. "They tried stoning me," he replies. "It did not work."
Peter Mountain/Warner Brothers Pictures
All of which makes Tim Burton's Dark Shadows more a vampire-out-of-water story than a homage to the original TV show, or a trek through the Buffyverse. It's stately with a smirk, crossing Bram Stoker with The Addams Family to arrive at what sometimes feels like a wildly overproduced Saturday Night Live sketch.
Screenwriter Seth Grahame-Smith also has Abraham Lincoln: Vampire Hunter coming out later this summer, so he'll have a chance to tap another vein, as it were, of vampire myth. Here, despite the presence of Helena Bonham Carter and Michelle Pfeiffer as harpies of differing stripes, plus Jackie Earle Haley as a modern-day servant and cameos by the likes of Christopher Lee, Alice Cooper, and Jonathan Frid — the original Barnabas, who died just weeks before the film's debut — the jokes only really have bite when they're being deftly undersold by Depp.
The film is otherwise handsome, vaguely true to the old soap opera, and inert. Toward the end of the movie, Burton offers some visual nods to Nosferatu, Hitchcock's Rebecca and, of all things, Death Becomes Her, suggesting that at some point he may have had broader satirical notions batting around his head. What he's actually put on-screen, unfortunately, is just kind of batty.
Related NPR Stories