In America's 'Most Bikeable' Cities, Bike Lanes Rule
In America's 'Most Bikeable' Cities, Bike Lanes Rule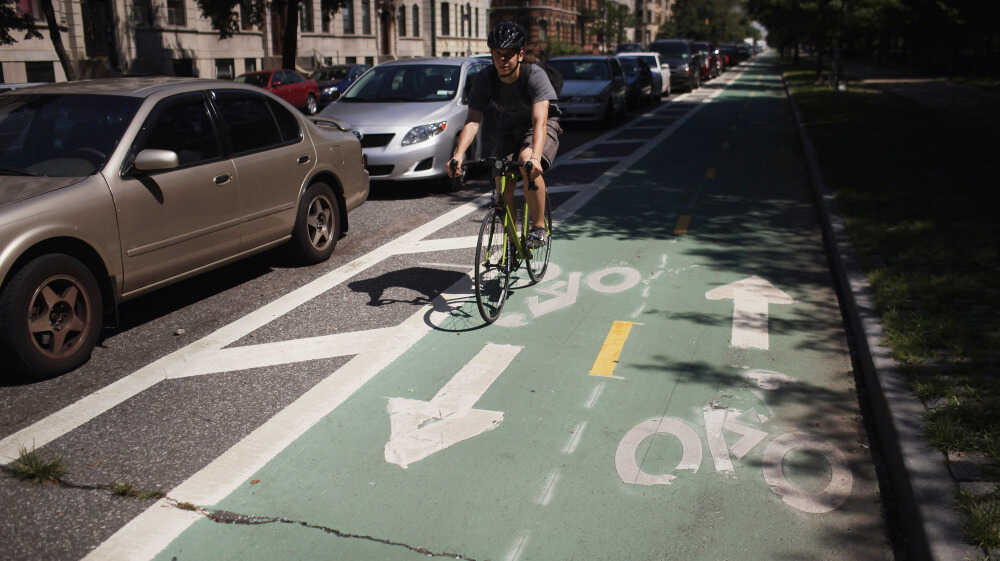 Spencer Platt/Getty Images
The cyclists who participated in Friday's National Bike to Work Day likely planned their riding route with several criteria in mind, from convenience to safety. Those same concerns help determine how "bikeable" a town is, according to a new study by the Walk Score website. Among the factors: There's safety in numbers.
"The more people who are out biking, the more cars get used to seeing bikes — and also, the more drivers of cars have had the experience of biking," says Matt Lerner, co-founder of Walk Score.
As Lerner tells NPR's Melissa Block, Walk Score recently assigned a Bike Score to U.S. cities based on four criteria: the number of bike lanes and hills; the nearness of destinations; and the number of bike commuters.
Minneapolis tops the Bike Score list, followed by Portland, Ore.; San Francisco; and Boston.
Asked why Minneapolis is rated so highly, Lerner cites the city's trails — and its geography.
"I think it started in the age of glaciers, because the glaciers carved out these beautiful lakes," he says. "And Minneapolis built trails connecting all of those lakes."
Lerner says that despite its hilly geography, San Francisco tied with Portland on the strength of its extensive network of bike lanes.
New York made the Top 10 list primarily for its efforts to build new, and safer, bike lanes.
"For example, they have what are called parking-separated cycle tracks, where there's a barrier of parked cars between the traffic and the bikers — and that's a really great way to make bikers feel safer."
There's an easy way to tell if a town has succeeded in its approach to encouraging cyclists to ride, Lerner says.
"In bike research, they call older people and younger people 'indicator species,' " he says. "So if you see an elderly person biking, or you see a child biking, that's a good indicator that the city is doing a really good job with their bike infrastructure."
The full list of the "most bikeable" cities:
Minneapolis
Portland
San Francisco
Boston
Madison
Washington, D.C.
Seattle
Tucson
New York City
Chicago
Related NPR Stories