Cabinet Of Wonders: Episode Two
Sing Your Own Song
An incredible feast of music, stories and comedy on this episode of John Wesley Harding's Cabinet of Wonders. There are songs both intimate and raucous, from Craig Finn (of the Hold Steady), Rosanne Cash, John Darnielle (of The Mountain Goats), and Hamilton Leithauser (of The Walkmen). Pulitzer Prize-winning novelist Paul Harding reads an evocative, unusual tale about life on the Nigerian oil fields. And comedian Eugene Mirman reads secret messages he leaves on bar napkins, to surprise customers he'll never meet.
Web Extras
Additional performances from the Cabinet of Wonders stage.
Rosanne Cash sings "Dreams Are Not My Home"
John Darnielle sings "High Hawk Season"
Harold Leithauser sings "When The Wind Was Green"
Rosanne Cash is a Grammy-award winning, country music singer and songwriter. Cash has recorded 15 records and had her writing published in books and magazines.Cash published a memoir, Composed, in 2010. A collection of cover songs picked from a list of her father, Johnny Cash's, "100 Essential Country Songs" resulted in the Grammy-nominee album, The List.
Singer-songwriter John Darnielle founded the indie rock band the Mountain Goats. He is touring with his band during Spring 2012 and touring solo on the West Coast during the summer.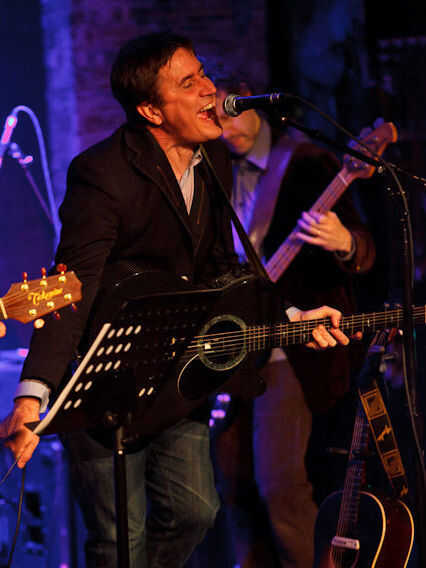 Chris Graham /Courtesy of Cabinet of Wonders
Singer and guitarist Craig Finn is the frontman for The Hold Steady. Finn recently released a solo album "Clear Heart Full Eyes".
Paul Harding won the Pulitzer Prize for his first novel Tinkers in 2010. Before he was a published author, Harding was the drummer for Cold Water Flat.
Hamilton Leithauser is the singer and guitarist for indie rock band The Walkmen. His band's sixth album, Heaven, will be available in June 2012.
Russian-born comedian Eugene Mirman regularly appears on Comedy Central and the shows Flight of the Conchords and Delocated. He has published a book, hosted a radio show, and released two comedy albums. Mirman puts on a weekly comedy show "Pretty Good Friends" in Brooklyn.