Ice-T Gives A Hip-Hop History Lesson In 'The Art Of Rap'
Ice-T Gives A Hip-Hop History Lesson In 'The Art Of Rap'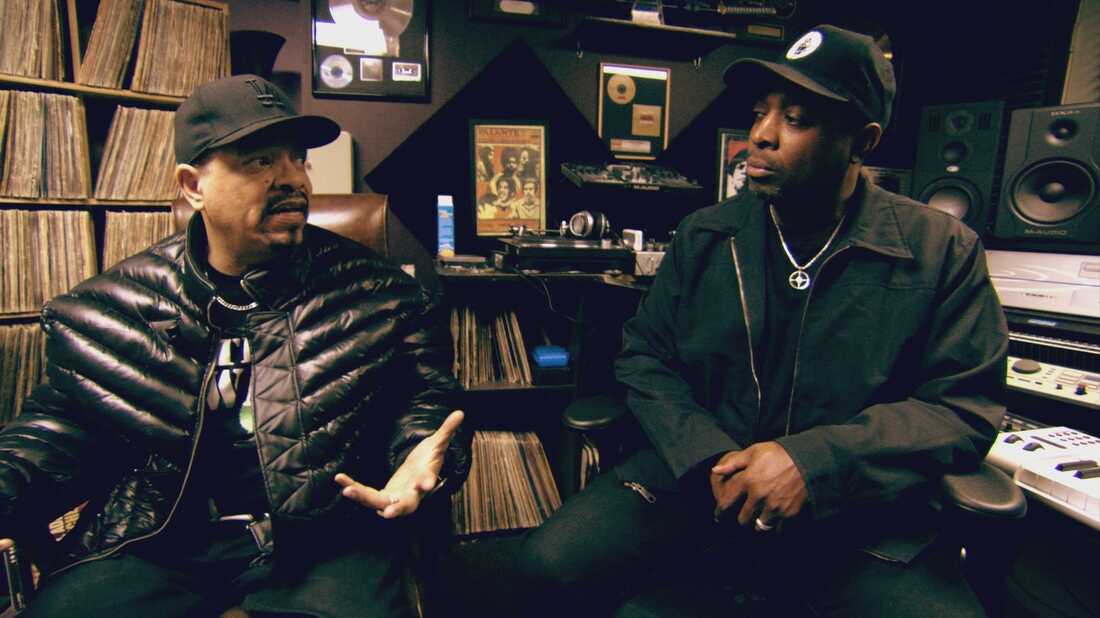 Ice-T, the rapper and actor, wants people to think about the craft of making rap music. He has directed and starred in a documentary called Something From Nothing: The Art of Rap that takes viewers from Harlem into the South Bronx, to Detroit and South Central Los Angeles. In the film, Ice-T talks to musicians like Doug E. Fresh, Ice Cube, Snoop Dogg and Run-DMC and asks these early heavyweights how hip-hop musicians create rap lyrics and make beats.
"This film isn't about the money, the cars, the jewelry, the girls," he tells Morning Edition host David Greene. "This film is about the craft — what it takes to write a rap, what goes on inside the head of the masters."
He says he had to make the movie, because rap music saved his life. "Before rap came along I was actively in the streets," he says. "That was my first step into the legitimate world. Now people look at me like, 'Oh I love him; he's so respectable.' I was a pretty bad person early in my life."
From the beginning, rap was a way for Ice-T to express his anger at his life on the streets. He compares the release he found in hip-hop to the release some people get from rock music. "Rap is rock and roll. Rock is when you push the buttons in the system," he says. "That's rock — whether it's done with guitars or done with just beats. There's anger in rock; there's anger in punk. It's a real voice uncensored, and you will hear anger when you uncensor the voice."
In the documentary, he calls on rappers like Big Daddy Kane for a brief history of rap music as it evolved from rock 'n' roll and poetry. "A rapper is someone who rhymes. You could consider Dr. Seuss a rapper, " says Big Daddy Kane. "You rhyme cat with hat then you know you can be considered a rapper. An MC is someone who has that party-rocking skill, or that lyrical skill."
"I guess you consider us poets," says Ice-T. "I would say competition poetry — a verbal gymnast — because a lot of the great poetry doesn't rhyme and here rhyming is essential."
Knowing that many people don't know what an MC is, he gives a brief etymology of the title. "The MC would say, 'Hey, the DJ's good, but I'm kinda fly.' And he slowly stole the show when he's supposed to be rapping about the DJ," says Ice. "So when we say a rapper, a rapper can say a rhyme but a MC can rock a party."
Ice-T says he has noticed the changing terrain of the music industry since he first stepped in the game 20 years ago. "I think all music, not just rap, has fallen into this very diluted, delusional state where everyone's singing about money, having cars and having fun when really people are losing their homes," he says. "We've got wars. We've got unemployment. But the music doesn't reflect that. I challenge anyone to find music on the radio that reflects that."