The International Flavors Of All-American Coleslaw
I encountered what's called "coleslaw" for the first time on the Fourth of July, at a picnic at the home of my graduate school professor. I had come to America from South India for school, and until then, I had no idea what "coleslaw" was.
As it turned out, we had a similar dish growing up that we called "veggie noodles" — which made these commonplace salads sound more exotic and fun to us kids. During many Indian summers, they were a cold, satisfying afternoon snack, served with salted butter crackers and a tall, salty lemonade. Kosumalli (coleslaw) continues to be an integral part of many festival and wedding menus in southern India.
This vegetarian was apprehensive about the American version, however, fearing it might contain some hidden shredded meat. Then I learned that traditional American coleslaws are made with shredded cabbage, mayonnaise, spices and no meat — so similar to the salads I grew up with in South India.
Back then, we ate the most fabulous and juicy carrot, cabbage, cucumber and beet salads, garnished with crunchy soaked lentils and mung sprouts, chopped jalapenos, fresh grated coconut and golden roasted cashews.
The most appealing thing to me about these crunchy salads is that they are thirst-quenching but also healthful and filling. The burst of juicy flavor in each spoonful is cooling in the summer. Last spoonfuls of coleslaw are always in great demand, because the last spoonfuls have the most liquid.
About The Author
Visi R. Tilak is a freelance writer with bylines in the Boston Globe, the Wall Street Journal and other publications. She can be reached at visitilak@gmail.com, on her website at www.visitilak.com and on Twitter, @vtilak.
These types of salads span beyond the U.S. and India, I learned. Meeting other graduate students from all over the world, I was fascinated by the variations. At global student events, I'd encounter a Thai friend, a Greek classmate or a Vietnamese student preparing a slaw from his culture, each with different vegetables and dressings and gorgeous refreshing flavors. Yet, at every American barbecue, I would see the white cabbage coleslaw made with the traditional heavy mayonnaise dressing.
What most Americans think of as coleslaw came along with the arrival of mayonnaise in the 18th century, but many international slaws don't contain mayonnaise — or even cabbage. There's a Thai slaw with green papaya, and Chinese broccoli slaw with a soy ginger dressing. Coleslaws can be a light crunchy blend of julienne or grated vegetables tossed in vinaigrette, or shredded vegetables with nonfat Greek yogurt combined with spices and herbs.
Most coleslaws do, however, contain cabbage. After all, the "cole" part of the word comes from the Latin colis, meaning "cabbage."
Coleslaws are versatile, come in all colors and textures and are a perfect accompaniment to summer entrees. They are cool enough to go with a spicy barbecue plate, a burger, hot dog or a sandwich. They are sturdy enough to stand up for themselves with a fancier meal and can be a refreshing lunch wrapped in a whole-wheat tortilla or scooped up in bite-sized pita or multigrain chips.
Now, each time I go to a July Fourth picnic or a barbecue, I do my part to try out a new coleslaw. There's nothing commonplace in any of these "veggie noodles."
Recipes With This Story
Tangy Carrot Slaw
A traditional South Indian recipe, red or orange beets can be substituted for carrots for a variation of this slaw. This salad packs a punch with its tartness from the sharp lime and the heat from the jalapenos. This is a colorful, pretty slaw. A cup of grated mango can be substituted for the lime.
Makes 4 servings
2 tablespoons light olive oil or sunflower seed oil
1/4 teaspoon black mustard seeds
1/2 teaspoon cumin seeds
1/4 teaspoon asafetida powder*
1/2 medium jalapeno, seeded and finely chopped
2 cups grated carrots
1/4 cup finely chopped cilantro
Juice of half a lime
Salt to taste
Heat the oil in a saucepan. Add the mustard and cumin seeds and cover with a splatter shield. When the seeds start popping, add the asafetida powder; when the powder starts to sizzle and froth, turn off the heat. This will all be done in less than 2 minutes.
Add the chopped jalapeno and let it sit for a minute to flavor the hot oil. Transfer to a bowl and combine with the grated carrots, chopped cilantro, lime juice and salt. Toss well. Serve cold or at room temperature.
* Available at any Indian store, often known as hing
Kerala Cabbage Coconut Coleslaw
My mom would whip up this wilted salad when unexpected guests showed up at the dinner table. One of the most simple yet flavorful salads, it gets its oomph from a combination of fresh grated coconut, sharp mustard and earthy cumin seeds.
Makes 4 servings
2 tablespoons sunflower seed oil
1 teaspoon coconut oil
1/2 teaspoon cumin seeds
1/2 teaspoon black mustard seeds
1 pinch asafetida powder
5 curry leaves roughly torn up*
1 medium dried red chili pepper, broken into 3 to 4 pieces
1/2 cup freshly grated coconut (can substitute store-bought unsweetened grated coconut)
4 cups shredded cabbage**
3/4 teaspoon kosher salt
2 tablespoons finely chopped cilantro
1/2 cup roasted salted cashews
Heat the sunflower and coconut oils in a wok, add the cumin and mustard seeds; when the seeds start popping, turn off the heat. Add the asafetida powder, torn curry leaves and red chili pepper and let them sizzle. Add the freshly shredded coconut to the hot oil and lightly toast. Once the coconut stops sizzling, about 2 minutes, add the cabbage and salt and toss gently. The cabbage will wilt lightly on the outside, yet maintain its crunch and freshness on the inside. Garnish with cilantro and cashews.
*Available at any Indian store, in the fresh produce section
**Store-bought shredded cabbage does not work very well in this recipe
Greek Tzatziki-Style Coleslaw
This festive coleslaw mimics colors of summer. It serves as a perfect dip with pita chips or bread, a chunky sandwich spread and a topping for other julienned vegetables. Kids love to top off their red and green pepper slices with this slaw and crunch away. It is also a perfect accompaniment to grilled cheese sandwiches.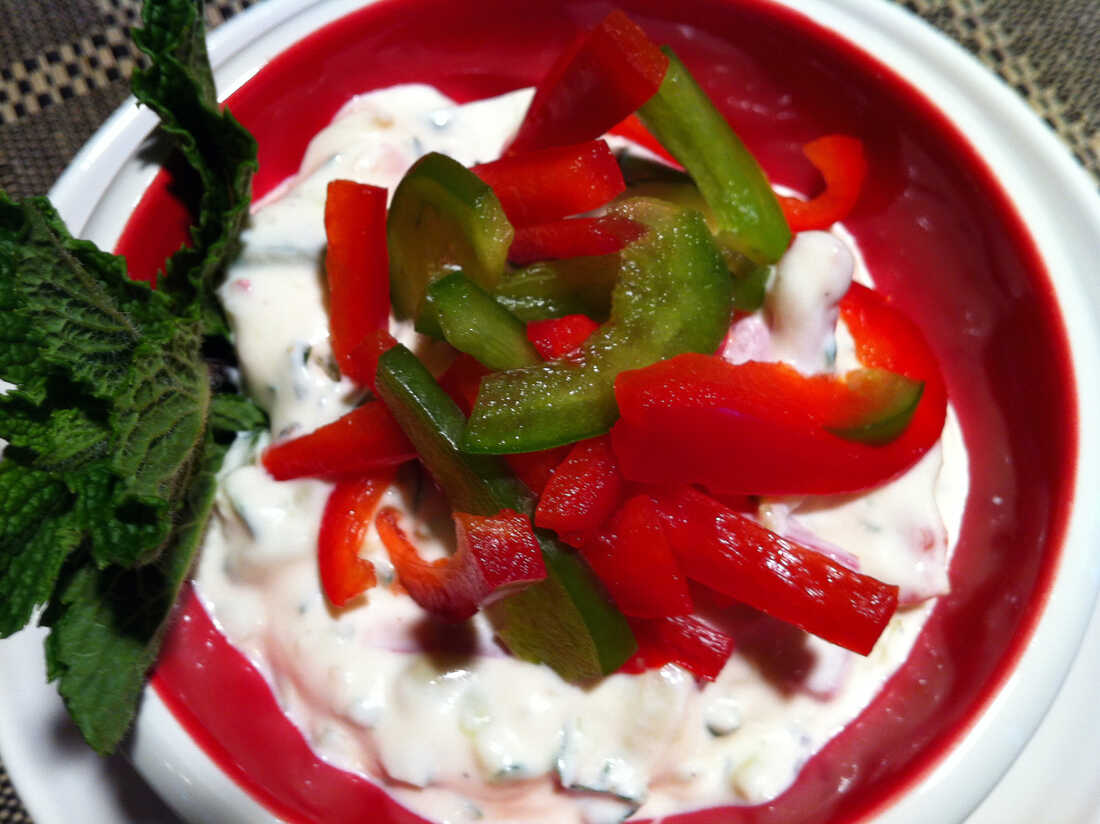 Makes 4 servings
1/2 teaspoon salt (or more to taste)
2 cups Persian or English cucumbers, grated
3 tablespoons extra virgin olive oil
1 tablespoon fresh chopped mint
1 tablespoon grated garlic
1 tablespoon fresh lime juice
1/4 teaspoon freshly ground black pepper
1 1/2 cups plain nonfat Greek yogurt (low fat or whole may also be used)
2 cups fine julienne of red peppers
2 cups fine julienne of green peppers
Fresh mint sprigs for garnish
Add 1/4 teaspoon salt to the grated cucumbers, mix lightly and set aside for about 10 minutes. In a large mixing bowl, add the olive oil, mint, garlic, lime juice, remaining 1/4 teaspoon salt and black pepper. Mix well and let sit for about 5 minutes.
Squeeze out the excess juice from the grated cucumbers and add the cucumbers to the dressing. Mix well. Add the yogurt and fold gently into the dressing. Keep aside 1 tablespoon each of the red and green bell peppers for garnish. Add the rest of the peppers to the yogurt mixture and mix gently. Garnish with sprigs of fresh mint.
Salade Cambodgienne
The Cambodian tuk trey dressing in this salad is light and flavorful. I was always hesitant to try this because of the fish sauce, until Chef Nadsa de Monteiro at The Elephant Walk restaurant in Cambridge, Mass., offered me a modified version for the vegan/vegetarian plate. This recipe is adapted from the Elephant Walk Cookbook by Longteine de Monteiro and Katherine Neustadt (Houghton Mifflin Harcourt 1998).
Courtesy of Nadsa de Monteiro
Makes 4 servings
1 head, about 2 pounds, green cabbage, cut in half and very thinly sliced
1 cup peeled and shredded carrots
1/2 large onion, very thinly sliced crosswise
1/2 red bell pepper, thinly sliced 1/4-inch thickness
1/2 cup mint leaves, loosely packed
1/2 cup Asian basil leaves, loosely packed*
1/2 cup peanuts, roasted and coarsely ground
1/3 cup tuk trey dressing (recipe below)
4 sprigs or more cilantro, chopped for garnish
Crushed chilies or thinly sliced fresh chilies optional for desired heat
In a large salad bowl, toss all the vegetables and herbs together. Set aside a handful of peanuts for garnish, and mix in the rest of the peanuts. Add the tuk trey dressing (recipe below) and toss well. Add a little spice, either crushed red chilies or thinly sliced fresh bird's-eye chilies if desired, and toss to mix well. Serve on large plate and sprinkle with the rest of the ground peanuts. Top with the cilantro sprigs for garnish.
*Available at Asian stores and some specialty markets
---
Tuk Trey Dressing
1/4 cup water
1/2 cup sugar
4 1/2 teaspoons kosher salt
1 large clove garlic, minced
1 medium shallot, minced
5 teaspoons lime juice, freshly squeezed
In a small saucepan, bring the water to a boil and turn off heat. Add sugar and salt and stir to dissolve completely. Add remaining ingredients and stir to mix well. Let cool completely before dressing salad.
Perfectly Crunchy Slaw
This refreshing slaw is adapted from Giada de Laurentis' television show Giada at Home. The sweetness of the dressing and the cranberries complement the bitterness in the red cabbage. This is a very elegant slaw.
Makes 6 servings
1/4 small red cabbage, shredded, about 2 cups
1/3 napa cabbage, shredded, about 2 cups
2 medium carrots, peeled and grated
1 fennel bulb, thinly sliced
1 Belgian endive spear, thinly sliced
1/2 cup dried cranberries
1/2 cup toasted pine nuts or pistachio nuts
1 1/2 cups plain yogurt
2 tablespoons sour cream
3 tablespoons maple syrup or honey
1 tablespoon lemon juice
2 cloves garlic, minced
1 teaspoon kosher salt
1/4 teaspoon freshly ground black pepper
1/3 cup chopped chives
In a large bowl, mix together the cabbages, carrots, fennel, endive, cranberries and nuts.
In a small bowl, combine the yogurt, sour cream, maple syrup or honey, lemon juice, garlic, salt and pepper. Pour the dressing over the vegetables and toss well until coated. Cover and refrigerate for 1 hour. Garnish with chopped chives before serving.
Summer Peanut Slaw
Mint, cilantro and masala are the flavors of this slaw. The peanuts add texture and crunch, and the spicy dressing gives this simple salad star power. This recipe is adapted from Masala Farm: Stories and Recipes from an Uncommon Life in the Country by Suvir Saran, Raquel Pelze and Charlie Burd (Chronicle Books 2011).
Makes 6 servings
3/4 inch piece fresh ginger, peeled and grated
Juice of 1/2 lime
1 1/2 teaspoons citrus vinegar or white wine vinegar
1 1/2 teaspoons sugar
3/4 teaspoon chaat masala*
1/4 teaspoon toasted cumin
Pinch of cayenne pepper
2 teaspoons kosher salt
1/4 teaspoon ground black peppercorns
9 scallions, thinly sliced, white and green parts
1 jalapeno, seeded and finely chopped (optional)
1 pint cherry or grape tomatoes, halved
1/2 cup finely chopped fresh cilantro
2 tablespoons finely chopped fresh mint leaves
1/2 head green cabbage, halved, cored and finely sliced
3/4 cup chopped roasted peanuts
In a large bowl, whisk together the ginger, lime juice, vinegar, sugar, chaat masala, toasted cumin, cayenne, salt and pepper. Add the scallions, jalapeno, tomato, cilantro and mint leaves and toss to combine. Add the cabbage and toss, making sure to coat thoroughly with the other ingredients. Sprinkle with the peanuts and serve immediately. Or, cover and refrigerate the salad for up to 4 hours, then sprinkle with peanuts just before serving.
*Available at Indian markets