Medieval Pork Pie A Hit In 'Morning Edition' Contest
On Morning Edition: A discussion of this medieval pork pie, from 'A Feast Of Fire And Ice'
NPR science editor Maria Godoy was inspired by the fantasy novel and HBO series Game of Thrones. The TV show also inspired the authors of A Feast of Fire and Ice, who found authentic medieval recipes for their cookbook.
RENEE MONTAGNE, HOST:
And before kicking off Pie Week, MORNING EDITION sponsored a pie contest here in the office. One of our winners was science editor Maria Godoy, who baked a medieval pork pie.
MARIA GODOY, BYLINE: It was a sweet and savory dish made of ground pork and currants, dates and honey. And then I got these dragon figurines breathing flames to sort of guard the dish.
MONTAGNE: Maria was inspired by the fantasy novel and HBO series "Game of Thrones."
(SOUNDBITE OF THEME MUSIC, "GAME OF THRONES")
MONTAGNE: The series conjures up a fantasy world based on medieval England where regions and families fight for dominance. The show inspired a cookbook written by Chelsea Monroe-Cassel and Sariann Lehrer. It's called "A Feast of Fire and Ice." Maria says that's where she found that pie recipe and others.
GODOY: Foods like sweet lemon cakes and warm pork pies and mulled wine. And the authors decided to go back into medieval cookbooks and find authentic recipes for these meals.
MONTAGNE: Maria Godoy writes for our blog, The Salt, on npr.org. Tomorrow, we'll explore regional pies with the author of "The United States of Pie." Tell us about your attachment to pie on Twitter @MORNINGEDITION. And make sure to use the hashtag #PieWeek.
NPR transcripts are created on a rush deadline by Verb8tm, Inc., an NPR contractor, and produced using a proprietary transcription process developed with NPR. This text may not be in its final form and may be updated or revised in the future. Accuracy and availability may vary. The authoritative record of NPR's programming is the audio record.
Three Ways Pie History Is Like HBO's 'Game Of Thrones'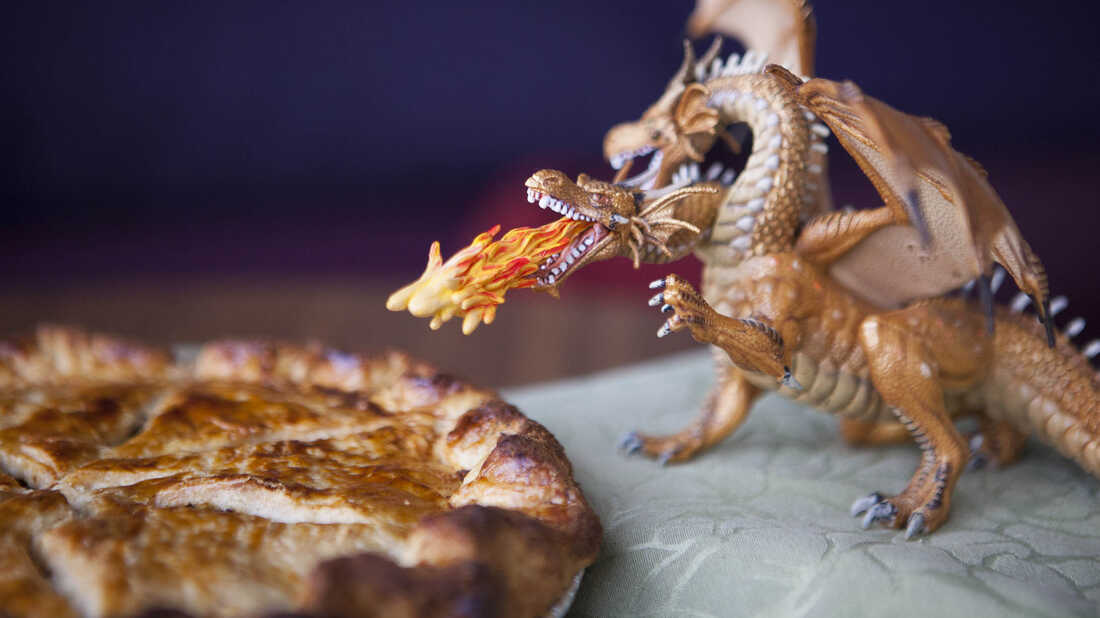 Much has been written about the real-life historical people and events that inspired Game Of Thrones. Many fans of the hit HBO series and the fantasy books on which it is based know that author G.R.R. Martin drew inspiration for his epic work from the political history of medieval Europe.
But hear us out: There are great parallels between the show's medieval preoccupations and the medieval history of pies. In honor of Pie Week, we submit to you three (tongue firmly in cheek) examples.
Gratuitous Nudity As Entertainment: The amount of exposed flesh in HBO's series has inspired plenty of online discussion (and a Saturday Night Live parody suggesting a horny teenage boy consults on the show). We'll leave it to others to hash out whether such luridness furthers plot development. But we can tell you that medieval pie makers were no less shy about turning to nudity as entertainment. (Warning, there's a woodcarving after the jump that's a bit PG-13.)
Long before girls in a cake became a staple of bachelor parties, pie makers were baking giant pastry shells from which emerged barely clothed women. According to an oft-repeated story, at one fancy banquet during the reign of King Charles V of France (1364-1380), a scantily clothed "captive girl" popped out of a giant pie, accompanied by more than two dozen musicians. (These "entertainment pies" were popular at fancy affairs in medieval times — they helped distract diners during the long gaps in between courses).
From "Pie: A Global History"
This intriguing woodcut from the late 15th century would fit right into HBO's TV drama: It depicts two nude bathers preparing to dine on pie — making us wonder just what else those medieval Europeans were getting up to while feasting.
Deception At Every Turn: "I trust no one," Cersei Lannister, the villainous, scheming queen in Game of Thrones, says at one point in the books. Good advice in the treachery-filled kingdom of Westeros, and sound counsel when purchasing pies back then, too.
Meat pies were a popular choice in 13th and 14th century London — their thick and sturdy crust made them a portable choice for on-the-go meals – "much like today's Big Mac," writes Vickie Ziegler of Penn State's Center for Medieval Studies. But allegations of mystery meat dodged these medieval fast food meals. Despite laws banning the sale of old, reheated pies or those filled with rotting or diseased meat, cooks of the era "were successfully indicted for all of these practices," Ziegler notes.
An Obsession With Preparing For Winter: "Winter is Coming," warns the foreboding motto of the house of Stark, the northern noblemen whose fortunes (and misfortunes) are central to Game Of Thrones. Not to worry: Pie makers were on the case. In fact, pies were a popular meal choice in historic times in part because they helped preserve the foods inside – the pie lid kept out air, acting as a sort of primitive Tupperware container.
A properly sealed pastry shell could keep the contents edible for up to a year – long enough to get you through those long, cold winter months in your great hall. As culinary historian Janet Clarkson wisely observes in Pie: A Global History, "Keeping a meat pie for a whole year without refrigeration is a terrifying thought today, but it was such a common practice that we have to assume that most of the time consumers survived the experience."
---
Note: The recipe for the medieval pork pie pictured at the top of this post comes from the Inn at the Crossroads. That's where bloggers Chelsea Monroe-Cassel and Sariann Lehrer recreate the dishes mentioned in G.R.R. Martin's Song of Fire And Ice series of books. Their new cookbook, A Feast Of Fire And Ice, was published in May.