Translating South African Jokes For A U.S. Audience
Translating South African Jokes For A U.S. Audience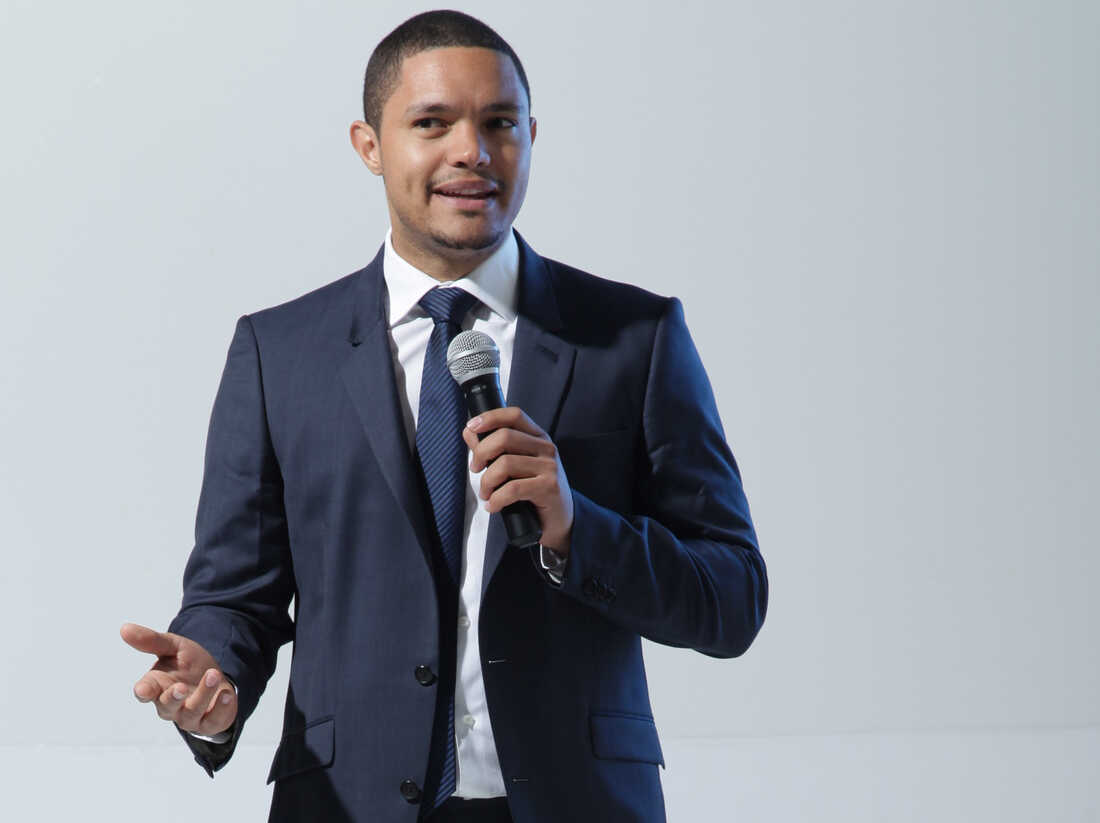 In the span of just a few years, comedian Trevor Noah went from performing at amateur clubs to selling out large theaters in his native South Africa. Born to an African mother and Swiss father during the apartheid era, much of his comedy stems from his upbringing in a township where blacks and whites were separated by law.
Noah is known for his impressions — of everyone from South African President Jacob Zuma to Oprah Winfrey — and his ability to turn mundane news stories into comedy. In 2011, he moved to California and made his big debut to American audiences with a five-minute set on The Tonight Show.
NPR's Neal Conan talks with Noah about translating his humor for different audiences.
---
Interview Highlights
On why Jacob Zuma jokes don't fly in the U.S. like they do in South Africa
"When you come to a smaller place in the world, then, obviously, your news isn't considered world news, you know, whereas superpowers like America and China, that's the news of the world. Although I doubt many people would know who the prime minister of some of these other countries is. So it's really America-centric.
"That's how entertainment is worldwide. So I've just had to learn and rewrite stuff. But I'm a comedian. I'm not a South African comedian. I'm a comedian that's from South Africa."
On why the U.S. is a good place for a South African comedian
"We have such a great shared history in terms of South Africa's past and America's past. You know, we both have a history of slavery. We both have a history of black people fighting for their freedom and independence. And ... in both countries, you see this subtle racism and, you know, they're struggling to deal with race, and people don't know how to deal with it.
"I mean, I've seen out here, people don't even want to say the word 'black.' I don't know when 'black' became negative, but now people go, 'Oh, you shouldn't say 'black' ... You say urban, yeah. Baltimore is going to be real urban, Trevor.' That's what people tell me.
"And I got to Baltimore, and I was expecting, because urban means built up and new, you know. So I got there and I was, whoa, it's not as urban as people told me ... But it's very black. I'll tell you that much."
On one sign of success in America: being called black
"They wait for you to achieve success before they give you the black standard. That's the upgrade. Before then, they say you're mixed. You achieve success and you get upgraded to black. And all the famous mixed people do it. Before, they all were mixed. ... All those singers — Alicia Keys, Mariah Carey — they go, oh, you know, mixed, and then they become famous, they go, black singers. Tiger Woods is a black golfer although he's mixed. He doesn't even refer to himself as black, you know?
"And the most famous person is Barack Obama, mixed half and half, but you say America's first black president. But when he was running, they called him the mixed candidate, you know, which is very interesting for me. You see how the dynamic goes.
"And then now you get people going, oh well, he's not black enough. I go, what is black enough? What is, you know, it's a very interesting thing. And as a mixed-race child, I know, growing up in a world where people always say that to me, oh, you're not black enough. And they'll never say you're not white enough though. White is never an option."