David Byrne & St. Vincent, Django Django And More
David Byrne & St. Vincent, Django Django And More
On this week's All Songs Considered: funny concert memories, one album with a wacky cover and a surprisingly great sound, a bittersweet goodbye and (of course) lots of new music.
Listen to Django Django's refreshing mix of sounds, the moody melodies of Ormonde, David Byrne and St. Vincent's horn-based collaboration, Bob's favorite jazz record of the year (by Neneh Cherry & The Thing) and more.
Plus, Mike Katzif joins this week's show to play his pick, the vibrant and provocative "Fineshrine" by Purity Ring. Mike came to NPR as an intern for All Songs Considered, and over the last seven years has had a hand in our Tiny Desk Concerts, the Alt.Latino podcast and much of our festival coverage, along with the Pop Culture Happy Hour podcast. Now Mike's is leaving us for a new job at WNYC.
You can hear the entire discussion above, or listen to each song played below.
This Week's Essential Listening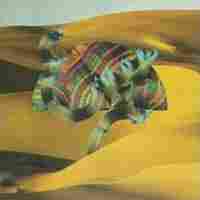 Django Django
David Byrne & St. Vincent, Django Django And More
David Byrne/St. Vincent
Song: Who
from Love This Giant
Ormonde
Song: Cherry Blossom
from Machine
Purity Ring
Song: Fineshrine
from Shrines
Adrian Sherwood
Song: Balance
from Survival & Resistance
Neneh Cherry & The Thing
Song: Cashback
from The Cherry Thing
Heavy Cream
Song: '79
from Super Treatment
This album is available for purchase at Infinity Cat Records.