A 'Fun Size' Dose Of Laughter, Shenanigans
Jaimie Trueblood/Paramount
Fun Size
Director: Josh Schwartz
Genre: Comedy
Running Time: 90 minutes
Not rated
With: Victoria Justice, Johnny Knoxville, Chelsea Handler
Watch Clips
'Kind And Employed'
'Kind And Employed'
'Our Strategy'
'Our Strategy'
The fun to be had in Fun Size, a 'tween comedy featuring Victoria Justice of the Nickelodeon TV series Victorious, is neither gigantic nor minuscule; it's just about fun size, which is probably enough. And if you think that movies aimed at young adults are automatically less sophisticated than those made for alleged grown-ups, bear in mind that Fun Size is the only comedy in recent memory to feature a Ruth Bader Ginsburg joke. You won't find any of those in the Hangover movies' bag of tricks.
Justice plays Wren, a teenager stuck in boring old Cleveland and dying to get out: She's counting the days until she can head off to New York University, the alma mater of her late father, whose absence has left a sizable hole in her family's life. Her mother, played by Chelsea Handler, is rebelling against her own grief by dating a 26-year-old guy by the name of Keevin, which, as Wren points out, is hardly a name at all. And her weirdo 8-year-old brother, a pudgy little spud named Albert (Jackson Nicoll), has yet to speak a word, though he takes devilish delight in cutting strategically placed holes in his sister's sweaters.
Albert drives Wren nuts, so she's none too pleased when Mom insists she take the little bugger out trick-or-treating — she'd been planning to attend the party thrown by the coolest kid in school, who appears to have a crush on her. She and her best friend, a Titian-haired firecracker named April (Jane Levy, of TV's Suburgatory), have been busy planning their costumes, and April — who has a sexy kitten costume up her sleeve — has already taken great pains to persuade Wren not to dress up as the more-or-less unsexy Justice Ginsburg, which was her original plan.
What follows is a rambunctious, mildly raunchy adventure through the streets of Cleveland on a night filled with ghosts, goblins and all sorts of teenage embarrassment. Wren loses Albert — he's dressed in a pint-sized Spider-Man costume with sinister-looking breathing holes around the nose — and enlists the help of Roosevelt (Thomas Mann), the nerdy kid who genuinely likes her, to track him down. The obstacles and unwitting enablers in their path include a slacker convenience-store clerk (Thomas Middleditch) who could be the psychic twin of Scooby Doo's Shaggy; an ultrasensitive lesbian mother duo played by Anna Gasteyer and Kerri Kenney; and, last but not least, a crazed Johnny Knoxville in a blond wig. Somewhere in there, a geeky Asian kid dressed as Aaron Burr (Osric Chau) shoots a piece of chicken out of a bully's hand. With a genuine period-specific firearm.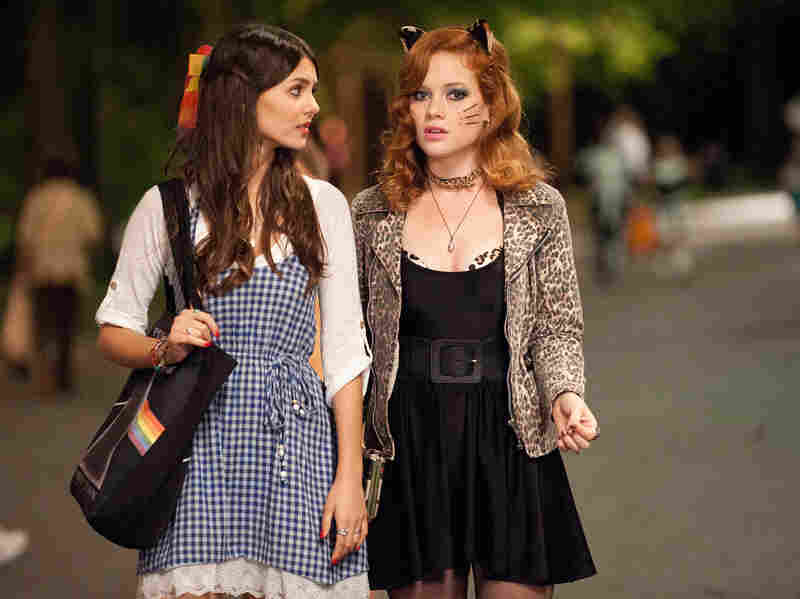 Jaimie Trueblood/Paramount
First-time director Josh Schwartz, who created TV's The O.C. and Chuck, can't always keep the movie's mechanical parts moving gracefully — the film lurches and stumbles too much to achieve true Dada loopiness. But Fun Size is so good-natured, and so determined not to be totally stupid, that it never outwears its welcome. (The script is by Max Werner, who has written for The Colbert Report.) Justice, with her winning lip-gloss smile, is ridiculously attractive, but she's also something of a blank. Fun Size is really all about its second bananas, and Schwartz puts them to good use: Levy's April is a leopard-girl sexpot in training, and her timing is both precise and confidently relaxed — she's a kitten with a whip.
And who knows what to make of young Jackson Nicoll, who makes his entrance sitting on the toilet and wearing only a pair of underpants? The kid is too weird to be believed, possibly too weird even to be cute; he looks a little like a miniaturized William Demarest. But by the time his Albert commits, as one character puts it, an act of "tiny terrorism," he has come close to stealing the movie. He's too much, he's not enough — and somehow, in the end, he's just right.