Cider House Jewels Get Creative Juices Flowing
Let's first toast the season with steaming mugs of hot cider and glasses of sparkling hard cider. Then, let's start cooking. Cider isn't just good to drink. It can play the starring role in both sweet and savory dishes.
This time of year, supermarkets, fall festivals and farmers markets are awash in jugs of soft cider — apple juice with a little backbone and swagger. What's news is that hard cider, once an American staple, is back on many tables. The national market for hard cider grew 23 percent last year.
Hard cider has its roots in our earliest national history. Shortly after explorers planted their stake in the ground, colonists planted apple trees. Their goal wasn't just fresh fruit to eat. Colonists had far more critical needs: vinegar to preserve food and something to drink that was safer than water.
Compared with barley and other grains that required cleared land and steady maintenance, apple orchards took root quickly and well. Within only decades, thousands of different apple varieties flourished in the colonies. Each variety was carefully chosen for its role on the farm, on the table and in the kitchen. A few apple cultivars were eaten by people or livestock, but most apples were grown solely to make things that kept well or were critical to food preservation, namely fermented cider, distilled apple brandy and cider vinegar.
About The Author
Sheri Castle is an award-winning food writer, recipe developer, recipe tester and culinary instructor. She is known for melding storytelling, humor and culinary expertise, so she can tell a tale while making a memorable meal. Sheri hails from the Blue Ridge Mountains but has lived in Chapel Hill, N.C., for many years with her husband, daughter and beloved dog. She is fueled by farmers market fare and excellent bourbon. Check her out at SheriCastle.com.
Consumed at a rate of nearly 3 gallons per month per adult, hard cider was the preferred beverage of early Americans. Children drank ciderkin, a low-alcohol concoction made by soaking apple pomace in clean water. Hard cider reigned as the alcoholic beverage of choice until the early 1900s, when immigrants from Germany and Eastern Europe who preferred beer joined the population. Farmers and settlers moved westward to land where barley and wheat grew more easily. Our reliance on fermented cider was further reduced as icebox refrigeration became more common. At the same time, World War I was decimating European cider production.
Prohibition took its toll on all domestic alcohol production and consumption. Even soft cider production was harshly curtailed and has only come back in recent years. A cider renaissance has been a happy byproduct of movements to eat local and rediscover food crafts. Jugs of hard and soft cider are showing up on shelves and on menus, ready for the picking.
Like wine, making soft or hard cider requires both terroir and technique. Fruit is planted, tended, harvested, crushed, crafted and sold. There are many styles of cider. They range from sugary sweet to bone dry to bitter. Imbibers can find both high- and low-alcohol hard ciders. There is draught, bottled, sparkling and still. Some are delicate and refined, with only a whisper of apple flavor and aroma. Some are burly and rustic, wallowing in earthy apple must. There is no one-size-fits-all cider any more than there is only one style of beer or wine. All cider, though, should taste like something more serious and satisfying than what comes dribbling out of a juice box.
As with wine, never cook with a cider you are not willing to drink. Character counts — both yours and that of the cider.
---
Recipe: Chicken With Cider Pan Sauce
Browned and crispy chicken from the skillet is topped with a quick pan sauce spiked with brandy, cider and mustard. Serve with mashed potatoes, mashed sweet potatoes, wild rice pilaf, biscuits or your favorite side dish that will sop up every drop. Chicken cutlets cook quickly, so this dish is ready to serve in about a half-hour. This recipe is equally successful made with chicken thighs or pork chops. If the meat is more than about 1/2-inch thick, increase the cooking time by a few minutes to ensure it cooks through.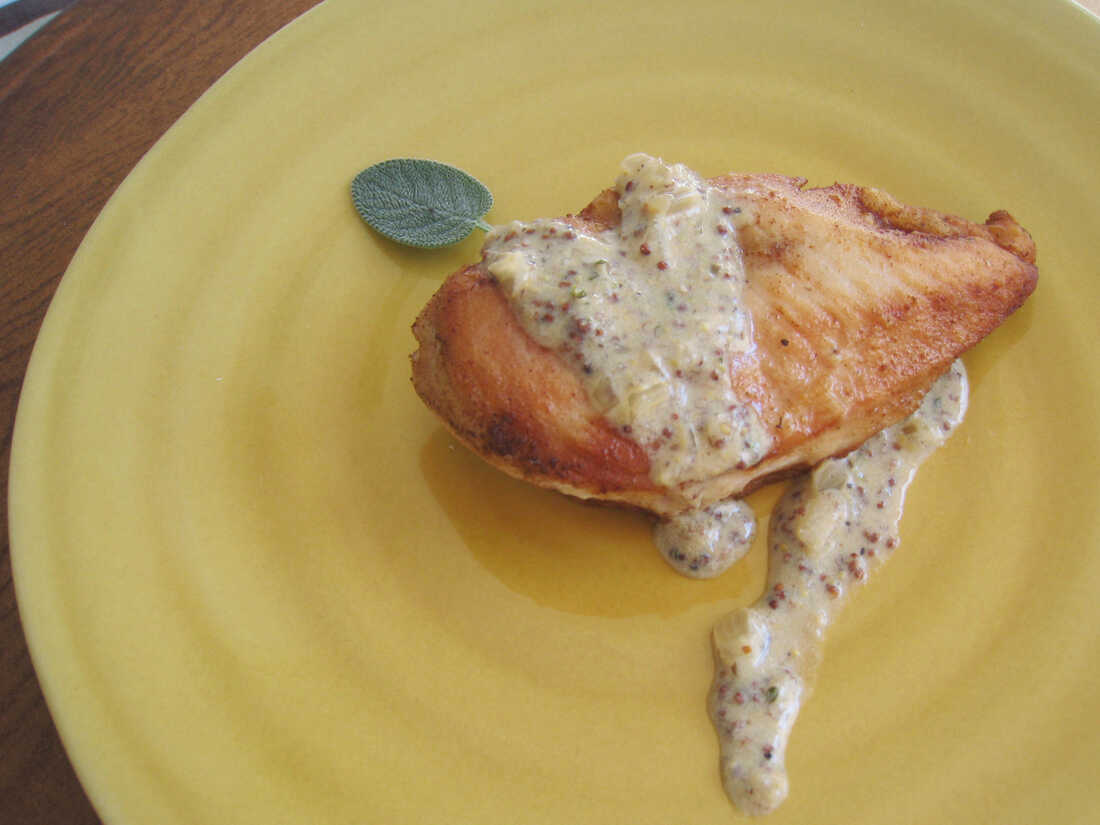 Makes 4 to 6 servings
8 boneless, skinless chicken cutlets or 4 boneless, skinless breasts halved lengthwise
3/4 cup instant flour* or all-purpose flour
2 teaspoons salt, plus more to taste
1 teaspoon freshly ground black pepper, plus more to taste
2 tablespoons olive oil
2 tablespoons butter
1/4 cup Calvados**, brandy or bourbon
1/2 cup very finely chopped shallots
1/2 cup unfiltered apple cider
1/2 cup creme fraiche or heavy cream
4 tablespoons grainy Dijon mustard
1 tablespoon chopped fresh thyme or chives
Rinse chicken under cool water and pat dry with paper towels. Stir together the flour, salt and pepper on a plate. Lightly coat each piece of chicken with the seasoned flour, shaking off any excess.
In a large skillet, heat oil and butter over medium-high heat. When butter stops foaming, add chicken to skillet. Make sure pieces are in a single layer and skillet isn't too crowded. Work in batches if necessary. Cook chicken until well browned and cooked through, 3 to 4 minutes per side. When pierced with tip of a knife, juices should show no traces of pink. Transfer chicken to a plate and cover loosely with foil to keep warm while you make the sauce.
Into the skillet, carefully pour the Calvados and use a spatula to scrape up the browned bits from bottom of pan. Add shallots and cook, stirring occasionally, until tender, about 3 minutes.
Stir in cider and creme fraiche. Cook, stirring slowly, until sauce reduces and thickens, about 5 minutes. Whisk in mustard and thyme. Season with salt and pepper. Return chicken to the pan and let it heat through. Serve warm.
* Instant flour is sometimes labeled "quick mixing flour" or "sauce flour." It comes in 14-ounce canisters or 32-ounce boxes and is on the grocery shelf near other types of flour. It is a miracle in the kitchen. Not only does it make a light, airy coating that helps meat brown beautifully, but it also refuses to lump in sauces and gravies. This flour alone can alleviate many holiday cooking headaches.
** Calvados is a stellar apple brandy from Normandy. Its flavor is perfect with the cider, although you can substitute another brandy or bourbon.
---
Recipe: Seasonal Salad With Apple Cider Vinaigrette
This simple, colorful salad is perfect for fall. Each element is in peak season this time of year. Slivers of crisp, juicy apple, fragrant fennel and toasty pecans are tucked around tender fall lettuce leaves. To transform this into an entree salad, add crisp bacon, shredded roast chicken, or strips of baked ham. A little sharp cheddar, mellow Gruyere or piquant blue cheese won't hurt, either. The vinaigrette keeps well, so make extra and stash it in the refrigerator. Unfiltered cider vinegar delivers more apple flavor than regular cider vinegar. Some people enjoy the flavor so much that they mix it with water to make a beverage.
Makes 6 to 8 servings
Vinaigrette
2 cups unfiltered apple cider
1/4 cup unfiltered organic cider vinegar
6 tablespoons mild, fruity extra-virgin olive oil
2 teaspoons honey, or to taste
1 tablespoon whole-grain Dijon mustard
1 teaspoon kosher salt, or to taste
1/2 teaspoon ground black pepper, or to taste
Salad
6 cups loosely packed leaf lettuce
1 large apple, cored and thinly sliced
1 fennel bulb, cored and thinly sliced, a few fronds reserved
1/2 cup pecan halves or pieces, lightly toasted
For vinaigrette, in a saucepan simmer apple cider over medium heat until reduced to 3/4 cup. Pour into glass jar with a tight-fitting lid. Add vinegar, oil, honey, mustard, salt and pepper and shake vigorously to combine. Use soon, or cover and refrigerate up to a week. Return to room temperature, shake vigorously and check the seasoning before serving.
For salad, on serving platter or plates, arrange lettuce. Scatter apple, fennel and pecans over the top. Drizzle with enough vinaigrette to moisten. Garnish with a few fennel fronds and serve any remaining vinaigrette on the side.
---
Recipe: Cider-Braised Red Cabbage
The pleasant sweetness of cider and apple complement fresh cabbage, an autumn vegetable bargain often overlooked. When cabbage is cooked only until barely tender, it is delicate and mild. Overcooked cabbage simply gives up and turns to mush. Served with roast pork, seared duck breasts, apple-chicken sausage or pan-roasted quail, this humble dish becomes gourmet fare. For an easy variation, use a pear and pear cider in place of the apple and apple cider. This recipe is adapted from The New Southern Garden Cookbook: Recipes for Enjoying the Best from Homegrown Gardens, Farmers' Markets, Roadside Stands and CSA Farm Boxes by Sheri Castle (University of North Carolina Press 2011).
Makes 6 servings
1 tablespoon vegetable oil
1 tablespoon butter
1 medium onion, thinly sliced
1/2 cup apple cider (soft or hard)
1 small red cabbage, quartered, cored and shredded (about 6 cups)
1 large crisp apple, peeled, cored and thinly sliced
1 tablespoon sugar, or to taste
1 teaspoon kosher salt, or to taste
1/2 teaspoon ground black pepper, or to taste
1 tablespoon sherry vinegar
1/4 cup pecan pieces
In a large heavy saucepan or skillet, heat oil and butter over medium heat. Add onion and pinch of salt. Cook, stirring often, until softened and golden, about 6 minutes. Add cider, cabbage, apple, sugar, salt and pepper. Cover and cook, tossing occasionally with tongs, until cabbage wilts and is barely tender, 10 to 15 minutes.
Uncover and stir in vinegar. Check seasoning and sprinkle with pecans. Serve warm.
---
Recipe: Winter Squash And Sweet Potato Soup With Apple Butter Cream
This warm, lush soup is like autumn in a bowl. The flavors are familiar, but a little exotic from the addition of garam masala, a blend of aromatic warm spices available in most supermarkets. If you cannot find garam masala, replace it with ground cinnamon and extra coriander. If you prefer a little heat in your soup, replace the garam masala with red curry powder. A dollop of sour cream swirled with spicy apple butter is the crowning touch. Most of the flavor of fresh ginger is in its juice, so look for pieces that are plump and unblemished. Like many fall and winter soups, this tastes best when made at least one day ahead. Cool, cover and refrigerate for up to 3 days. Reheat gently and check seasoning before serving.
Makes 8 to 12 servings
Cream
1/4 cup apple butter
1 cup sour cream or creme fraiche
Kosher salt, to taste
Soup
4 tablespoons (1/2 stick) butter
2 large leeks, white and tender green parts, chopped and rinsed (about 2 cups)
1 large carrot, peeled and chopped (about 1 cup)
2 stalks celery, chopped (about 1/2 cup)
2 teaspoons garam masala spice blend
1/2 teaspoon ground ginger
1/2 teaspoon ground coriander
4 to 5 cups vegetable or chicken stock
2 1/2 pounds winter squash or sugar pumpkin, peeled, seeded and cut into 1-inch cubes
1 pound small sweet potatoes, peeled and cut into 1-inch cubes
2 tart apples, peeled, cored and chopped
1 tablespoon fresh thyme leaves
2 teaspoons kosher salt, plus more to taste
1 1/2 cups apple cider
2 tablespoons freshly grated ginger
2 tablespoons real maple syrup or dark brown sugar, or to taste
1/2 cup half-and-half or whole milk, as needed
For the cream, in a small bowl whisk together apple butter, sour cream and a tiny pinch of salt. Cover and refrigerate until needed. Whisk before using.
For the soup: In a soup pot or large saucepan, melt butter over medium heat. Add leeks, carrot, celery and a pinch of salt. Cook, stirring often, until very soft, but not browned at all, about 12 minutes. Stir in garam masala, ground ginger and coriander and cook, stirring, 1 minute.
Add 4 cups of stock, squash, sweet potatoes, apples, thyme and salt. Bring to a boil over medium-high heat, reduce heat, and simmer until vegetables and apples are very soft, about 30 minutes. Stir in cider, grated ginger and maple syrup. Simmer 10 minutes.
Working in batches, puree the soup in a blender and return to pot, or puree the soup directly in the pot with an immersion blender. If soup is too thick, add more stock. Taste soup and add more salt or brown sugar if needed.
Whisk in half-and-half. Gently rewarm soup over low heat, but don't let boil. Serve warm, topped with a little apple butter cream.
---
Recipe: Hard Cider Quick Bread
This is very easy, very tasty homemade bread that doesn't require yeast or kneading, and is ready to serve in just over an hour. It's based on the popular beer bread, but uses hard apple cider instead. The touch of sugar balances the tang of the cider. If you don't have self-rising flour, use all-purpose flour and add 1 1/2 teaspoons salt and 5 1/2 teaspoons baking powder. Whisk this mixture well to ensure the leavening is distributed throughout the flour. The bread toasts like a dream and is perfect with a generous dollop of apple butter. It also makes a phenomenal ham-and-cheese panini, especially when the bread is spread with a mixture of equal parts grainy Dijon mustard and apple butter.
Makes 1 loaf
3 cups self-rising flour
3 tablespoons sugar
1 1/2 to 2 cups hard apple cider
3 tablespoons butter, melted
Preheat the oven to 350 degrees. Grease an 8 1/2-by-4 1/2-inch metal loaf pan.
Whisk together flour and sugar in a large bowl. Slowly stir in enough cider to make a thick, smooth batter. Scrape batter into prepared pan.
Bake until tester inserted into center of loaf comes out clean, about 50 minutes. Turn loaf out of pan and set on a wire rack. Brush top with melted butter and cool to room temperature before slicing.
---
Recipe: Apple Cider Pound Cake With Cider Caramel Sauce
Who says a pound cake can't be glamorous and gorgeous? This moist, golden brown cake has a delicate crumb. It's topped with an icing glaze that tastes like homemade caramel candy. A pool of rich sauce that is reminiscent of spiced cider accompanies each slice. Your kitchen will smell amazing. It is great from the moment it cools, but one of the charms of a pound cake is that it gets better as it sits. Even in the capable hands of experienced bakers, pound cakes sometimes form a dense streak inside. Some bakers consider this "sad streak" to be a flaw, but some eaters love that part best. My advice is to never apologize when this happens. You still have an enormous, delicious cake, and the fortunate eaters should be grateful.
Makes 16 generous servings
Cake
Vegetable shortening and flour, for pan
2 cups unfiltered apple cider
3 cups all-purpose flour
1/2 teaspoon salt
1/2 teaspoon baking powder
1 teaspoon ground cinnamon
3/4 teaspoon ground mace or nutmeg
3/4 teaspoon ground cardamom
1 1/2 cups (3 sticks) butter, at room temperature
3 cups granulated sugar
6 large eggs, at room temperature
1 teaspoon pure vanilla extract
Glaze
2 tablespoons butter
1/4 cup firmly packed dark brown sugar
1/4 cup heavy cream
1/4 to 1/3 cup sifted confectioners' sugar
1/4 cup pecan pieces or halves, lightly toasted if you wish
Sauce
4 cups unfiltered apple cider
1/2 cup Calvados, brandy or bourbon
1/3 cup firmly packed dark brown sugar
1/4 cup light corn syrup
2 tablespoons fresh lemon juice
1 teaspoon ground cinnamon
1/4 teaspoon ground mace
1/4 teaspoon ground cardamom
1 1/2 cups heavy cream
2 teaspoons pure vanilla extract
Position a rack in the center of the oven and preheat to 325 degrees. Use fingertips or a dry pastry brush to thoroughly grease the inside of a 10-inch, light metal tube pan or Bundt pan with the shortening, making sure to coat every nook and cranny. Dust with flour and tap out any excess.
In small saucepan, simmer cider over medium-high heat until it reduces to 1 cup. Set aside to cool to room temperature.
Into a medium bowl, sift together flour, salt, baking powder, cinnamon, mace and cardamom.
In a large bowl with an electric mixer, beat butter at high speed until creamy. With the mixer running, gradually add the sugar and continue beating until the mixture is light and fluffy, about 5 minutes.
Add eggs one at a time, beating well after each addition. Quickly beat in the vanilla.
Add flour mixture in thirds, alternating with half the cider, beating after each addition only until batter is smooth.
Scrape batter into prepared pan. Gently tap the pan on counter a few times to remove any trapped air bubbles. Bake in center of oven until a long tester or wooden skewer inserted into the center of cake comes out clean with a few moist, clinging crumbs, about 1 hour and 10 minutes. Place the pan on a wire rack and let cool for 10 minutes. Turn out cake and let cool to room temperature while you make glaze and sauce.
For glaze, in a medium saucepan, melt butter over medium heat. Add brown sugar and stir until smooth. Add cream in slow, steady stream, stirring continuously. Cook, stirring occasionally, until sauce thickens and comes just to a boil, about 5 minutes. Set aside to cool to room temperature.
Stir in enough confectioners' sugar to make stiff glaze that resembles icing. Spoon the glaze over the cooled cake, letting it run down the sides. Sprinkle with pecans and let sit for a few minutes while the glaze sets.
For sauce, in a large saucepan, bring cider, Calvados, sugar, corn syrup, lemon juice, cinnamon, mace and cardamom to a boil over medium-high heat, stirring occasionally. (Don't worry if lemon juice makes the mixture look curdled at first, just keep stirring.) Let cook at low boil for 10 minutes.
Stir in cream and continue cooking until mixture reduces to 1 1/2 cups, about 45 minutes, stirring occasionally. Remove pan from heat and stir in vanilla. Serve slightly warm or at room temperature. Serve slices of cake with a little sauce.
Store cake in airtight container at room temperature for up to a week. If you refrigerate cake, return to room temperature for serving. Store sauce covered and refrigerated; reheat it gently or return to room temperature for serving.