How The Wolf Survived: 40 Years Of Los Lobos
Hear Los Lobos Play Guest DJ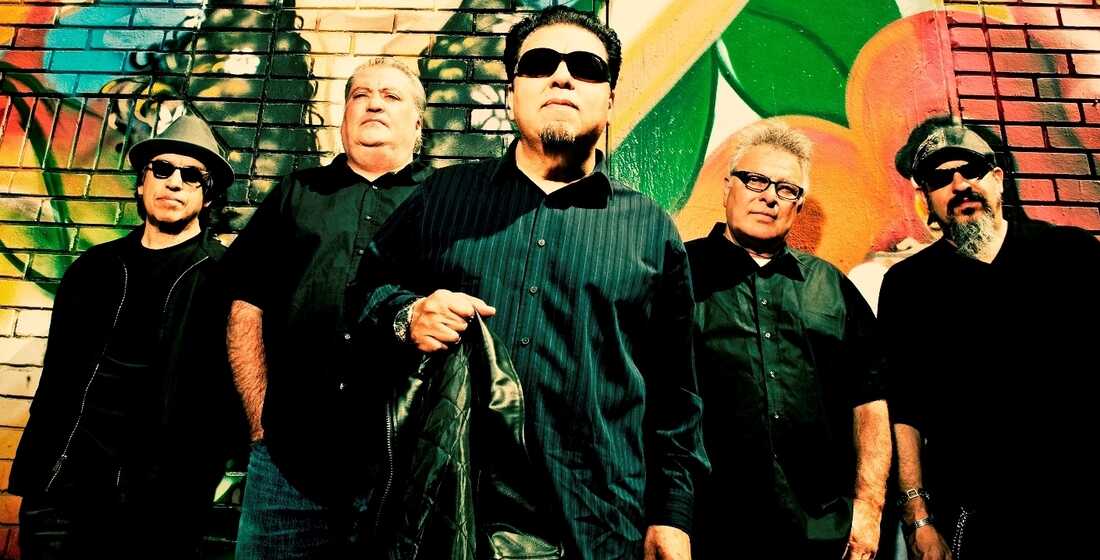 Chicano hippies playing mariachi music. That was my first impression of Los Lobos when I first saw the band back in the mid-1970s, before it had any albums out.
By that time, Los Lobos had already been a garage-rock band, so it was in the midst of falling back on our parents' music, having discovered just how complex it was. These guys dug deep into rancheras, son jarochos and guapangos to find the sources of the music for themselves — and, by extension, other Baby Boomer Mexican-Americans who were calling themselves Chicanos.
For their first independently released album in 1978, they played that folk music and called themselves Los Lobos del Este de Los Angeles. The band was a staple at parties when I was in college. Then, in 1983, Los Lobos' first EP (...And a Time to Dance) fired a warning shot to rock music, suggesting impending change.
Released a year later, Los Lobos' breakthrough album -- How Will the Wolf Survive? — made it clear to everyone who heard it that loving The Rolling Stones as much as Flaco Jimenez was as natural as loving the Stones and, say, Woody Guthrie.
It felt as if they were writing music from my life: Los Lobos' Grammy-winning "Anselma" reminds me of my aunts spinning me around the dance floor as a kid at family parties; I can smell my mom's coffee in the background of songs like "Saints Behind the Glass"; they bridged the gap between themselves and another passion of mine when they covered The Grateful Dead's "Bertha," complete with Cajun accordion fills; and they made me proud when they made a hit out of "La Bamba," an old Mexican folk song that my dad played to my brothers and me when we were kids (not to mention the countless times I played it as a teenager in a Mexican wedding band).
It's mind-boggling to think that the group is celebrating its 40th anniversary this year. In our chat during this Guest DJ discussion, band members Louie Perez and Steve Berlin explain that the exact date is lost to history, but say they can trace their roots back to the period between Thanksgiving and Christmas.
We take time to dig deep into the DNA of Los Lobos by asking Perez and Berlin to bring in their own favorite tracks — mariachi, R&B, soul, blues. If we'd had more time, we'd have heard bluegrass, blues and folk music from both sides of the U.S./Mexico border.
In other words, it's just another day of listening to the sound of Chicano life in America. We have Los Lobos to thank for bringing it all together in vital, enriching music. Here's to the next 40 years.
-------------------------------------------------------------------------------
Hippies chicanos tocando música de mariachi.
Esa fue la primera impresión que me dieron Los Lobos la primera vez que los ví, a mediados de 1970, cuando ni siquiera tenían un disco.
Era una banda de garage rock que exploraba la música de mis padres: la música ranchera, el son jarocho, el guapango y todo lo que nos gustaba a mi generación de mexicanos-americanos, los autodenominados chicanos.
El lanzamiento debut de la banda fue en 1978. Tocaban folclore, y se hacían llamas Los Lobos del Este de Los Ángeles. Era un disco que no podía faltar en las fiestas universitarias. Luego, en 1983, su primer EP And A Time To Dance, fue como una advertencia a todos los músicos de rock: las cosas estaban por cambiar.
Mas tarde ese año lanzaron How Will The Wolf Survive, y yo – un chavo que amaba tanto a los Rolling Stones como al Flaco Jimenez y Woodie Guthrie- sentí que alguien había escrito una banda de sonido para de mi vida. Ganaron un Grammy para la canción "Anselma", la cual me recuerda a mi infancia, cuando mis tías me sacaban a bailar en las fiestas de familia. Y cuando oigo canciones como "Saints Behind The Glass", puedo oler el aroma del café que preparaba mi madre. Los Lobos que construyeron un puente entre sus propias creaciones y la música de otra banda que adoro: The Greatful Dead y su canción "Bertha", en una cover lleno de música de accordeón proveniente de Lousiana. También me hicieron sentir tan orgulloso con su cover de "La Bamba", la cual convirtieron en un éxito, pero yo la conocí como una muy antigua canción de folklore mexicano que mi padre nos tocaba cuando éramos niños ( y que yo mismo toqué infinitas veces de adolescente, cuando tocaba en una banda para casamientos mexicanos).
Apenas puedo creer que la banda esta celebrando sus 40 años. Cuando pasaron a visitarnos dos de los integrantes de Los Lobos- Louie Perez y Steve Berlin- nos dijeron que no se acuerdan en que fecha exacta fue concebida la banda, pero ocurrió entre Día de Acción de Gracias y Navidad.

Esta semana, junto a Los Lobos, exploramos las raíces de la banda. Escuchamos mariachi, R&B, soul, blues. Y si hubiesemos tenido mas tiempo, habríamos escuchado bluegrass y folklore de ambos lados de la frontera entre México y Estados Unidos.
En otras palabras: el programa de esta semana, es la banda sonora de la historia de los chicanos en Estados Unidos.
Miguel Aceves Mejia
Song: Noche y Tú
from Tesoros de Coleccion
Los Lobos
Song: Kiko And The Lavendar Room
from Kiko And The Lavendar Room
The Intruders
Song: Cowboys to Girls
from Cowboys to Girls: The Best of the Intruders
Los Lobos
Song: Matter of Time
from How Will the Wolf Survive?
Blur
Song: Out of Time
from Blur 21
Los Lobos
Song: Will the Wolf Survive?
from How Will the Wolf Survive?