The Inaugural Ball: Thousands Of Dresses Searching For An Experience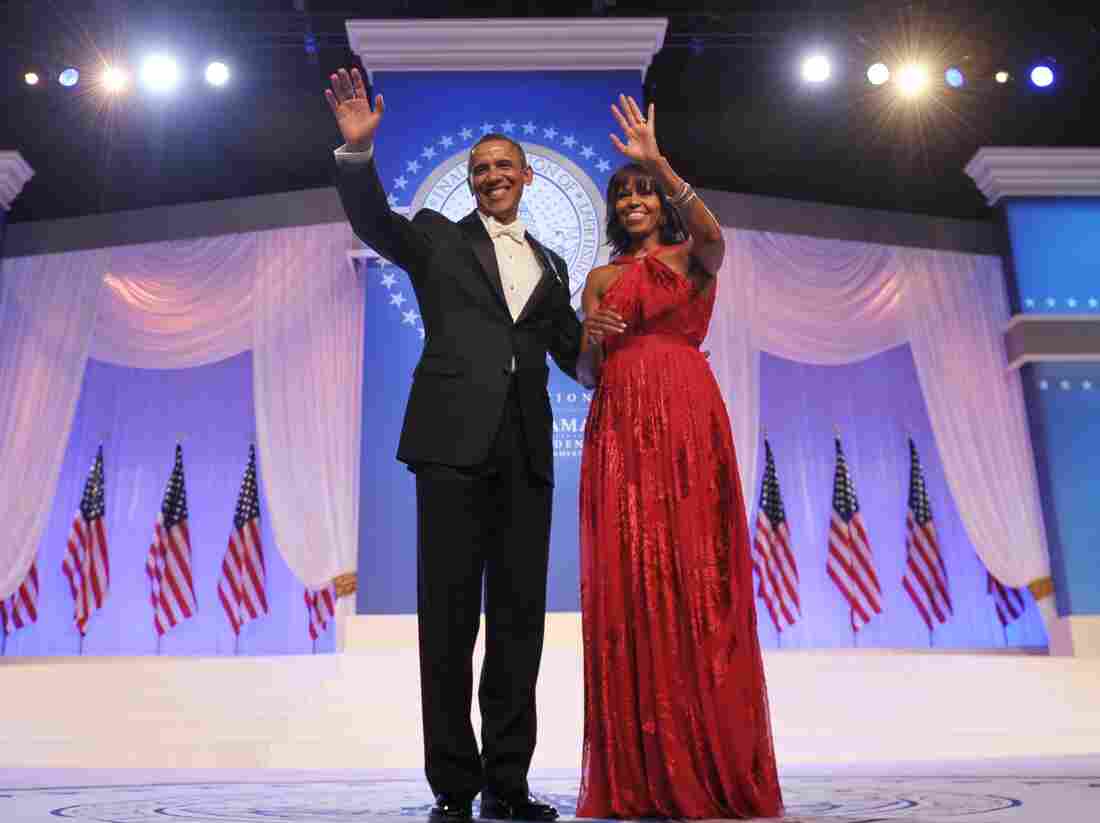 Mandel Ngan/AFP/Getty Images
You won't find consistently formal attire at the orchestra anymore. Or at the opera, or at a play, or at a nice restaurant, or at a wedding. Many women don't even own a dress that goes all the way to the floor (and if they do, there's probably a 50/50 chance it's a bridesmaid's dress), because how often do we need one? You're better off spending your money on a clown costume. At least it's amusing.
When I put the question to my Twitter feed on Monday afternoon of whether I should bother with my long dress while covering an inaugural ball, the verdict was unanimous: long dress, even though it's not really necessary for press. Why? Largely because, as I'd noted myself, it so rarely leaves the hanger.
I am probably not alone in this, which may be exactly why, at the ball, you will actually find gowns. A smattering of cocktail dresses, even the occasional smart pantsuit or explosively sequined pair of palazzos, but for the most part, you will find women wearing long dresses. Long, in some cases quite gorgeous dresses that I admired while standing in line for the restroom.
(A sidebar, for people who like this kind of trivia: This wasn't like the royal wedding, where I could just stand in the crowd and befriend a nice lady who had a can of Pringles. At this event, press was confined to a little fenced-in area, and the pen was, relative to the stage, directly behind a giant riser (like bleachers) where they put the people with the TV cameras. Which does not, tragically, include National Public ... Radio. The riser is encased in fabric. This was my view of the stage.
We were not permitted to leave the pen — other than to visit the nearby bathroom — except by waiting in line for an escort, who could walk you around the enormous room for about ten minutes so you could perform all your journalism. The rest of the time, we were confined to the pen, behind the riser, neither able to go talk to anyone nor able to see the stage. While this makes all the sense in the world from the standpoint of guests, it results in idleness and therefore in my tweeting incessantly about whether we can get water.)
At any rate, the formality of the attendees persists despite the fact that the setting is, in fact, not glamorous. This particular ball was held at the Washington Convention Center, and if you've ever been to any convention center anywhere in the world while it's arranged so that the space is combined into one enormous concrete cavern, you've seen a place just like it. If you left a major league sporting event and were on your way out to your car, you'd pass through basically the same kind of space. And it's not like it's decked out, particularly. The stage is fancy, and there looked to be a handful of giant paper lanterns around, but the decor in the areas where the crowd was spending time mostly consisted of star-shaped lights that would move around on the cement pillars.
And then all those women, in their floor-length dresses — with men a little more varied in how decked out they were on a scale of suit to tux — delicately stepping around on the concrete floors, from bar to bar where water costs three dollars and a mixed drink is ten. (A ratio that actually makes mixed drinks seem like a bargain.) When you watch the crowd, there's a lot of purposeful walking from one part of the room to another, as if perhaps the other side is different. But it's not different. It's the same. It's concrete and a couple more bars and different people in dresses.
By any objective measure, it's not much of a party. If this were your wedding, everyone would walk away wondering whether you ran out of money, why there weren't flowers, why there wasn't carpet, why there wasn't food except for some bowls of Chex Mix without the Chex. There's not a lot going on with the exception of the performers, and even they are on a stage so low and far away that most of the room can't see them, which is why there are huge TV screens on both sides of the stage. I saw Fun and Jennifer Hudson and Brad Paisley, kind of, by which I mean I saw them on the screens. By far, my highlight was Hudson's performance of "Let's Stay Together" during the presidential boogie, but that was but a moment in a very long evening.
And yet. And yet, it's not your wedding. It's not anybody's wedding, and everybody seems really happy. In fact, it would, as previously mentioned, be very, very difficult to get people to dress up like this for a wedding, no matter how ornate the decorations and how elaborate the spread. They are more likely to deck out for this concrete floor, and I suspect that's true across presidents and parties and venues.
Why? Seriously ... why? What is it about this particular formal event that people decide they're still willing to turn out for?
It seems as you watch the women lined up at the mirror in the bathroom, tugging up tops of dresses and pulling down bottoms of dresses, adjusting lipstick and hair, moving parts of themselves to where they're supposed to be, and scattering when the lady comes through to bellow the reminder that you need to keep everything clean and move on, that they're here because they want this experience. They want this particular experience — the ball experience, the formal experience, the inauguration experience — enough to simply decide to have it. The floor is unimportant, the fact that they can't see the band is unimportant, the overpriced drinks are unimportant, and the acres of exposed concrete are unimportant, even though these might be the same things they wouldn't like about some other party on some other day.
It's nothing new to see a crowd in front of you with their cell phones out trying to snap a picture, but I have never seen anything in my life like the scene when the Obamas emerged to dance. It really seemed to be every phone in the room, all at once. (Again, I'm sure it would be the same no matter who was elected.) Maybe it's just the desire for a souvenir; something to put on Facebook and show your friends. But it's also a way to have fully had the experience — get a photo, check the box, put something down that says I was here and this happened.
For a lot of them, it's also the election outcome they wanted, of course, and they're also looking for a little plain old partying. But we are not a particularly pageantry-heavy country, and perhaps it's also the result of people wanting their moment of grandness at the repeating of a ritual that's been observed for more than 200 years. Maybe it's exactly because we don't dress up nearly so much anymore — we don't blow half the afternoon getting ready for dinner like they would on Downton Abbey — that folks find and fasten on the things that haven't gone the way of the tuxedo-printed T-shirt quite yet.
And that's what makes me understand why they locked me in a pen like a pony; why they didn't let me go bother everybody, eavesdrop on their conversations, put "Overheard" all over my Twitter feed. These are people who are pretty determined to have a lovely and formal evening, right there at the convention center with all that concrete, and to say they saw the president even if it was only through a sea of smartphones. Leave 'em alone.