'Oz,' The Great And Often Imitated
'Oz,' The Great And Often Imitated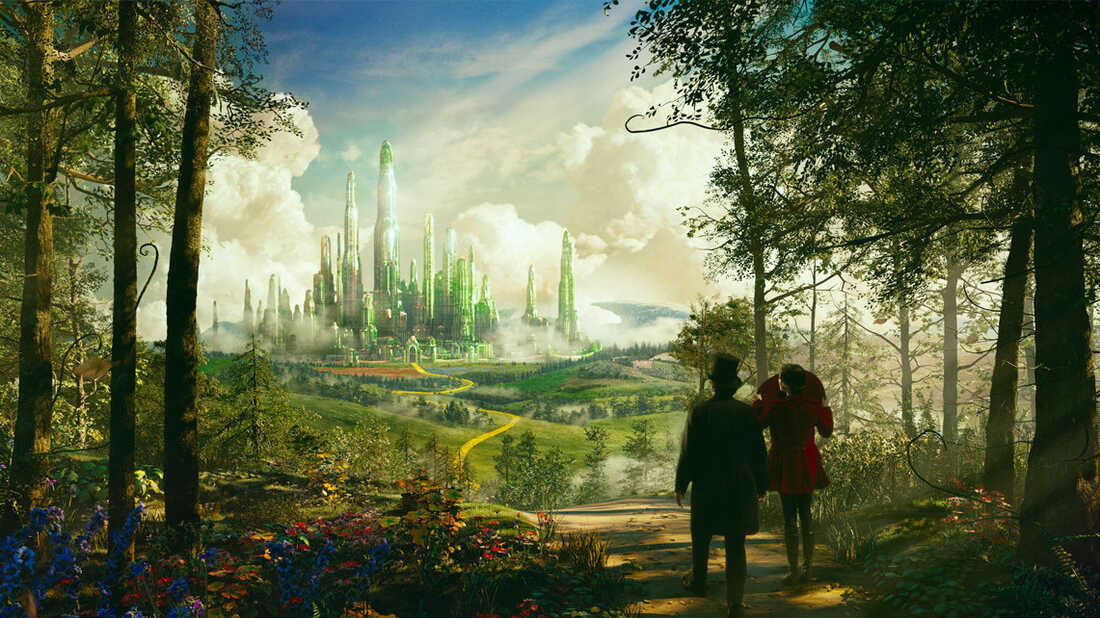 Disney's new movie Oz the Great and Powerful is the back story of the Wizard of Oz — and three sister witches, good, wicked and otherwise. This newest version begins like the classic 1939 Wizard of Oz movie: in Kansas, in black and white, with a tornado that whisks the main character to a colorful, magical land.
Instead of Judy Garland's Dorothy, though, this film stars James Franco, playing the humbug who'll become the Wizard.
"My character is Oscar Diggs, and he goes by 'Oz,'" says Franco. "He starts as a magician in a travelling circus in Kansas."
Franco grew up reading L. Frank Baum's Oz books. And he studied with a Las Vegas magician to prepare for the role of a traveling carny who finds himself out of his element.
Oscar Diggs is also a bit of a cad with the ladies, Franco notes.
"He starts sort of flawed and selfish and shortsighted," he says. "Then he's transported to this fantastical land."
This new Oz goes beyond the Technicolor wonder of the 1939 MGM film to a full-blown 2013 treatment, with 3-D, computer animation and surround sound.
Director Sam Raimi says this new fairy tale wasn't based on any of Baum's 14 original books, and it's far from a remake of the iconic MGM movie.
"We wouldn't have even made the movie if we didn't all love the Wizard of Oz movie so much," he says. "We're trying to nod lovingly in its direction and make our own original, fun, wacky, emotional story that lives on its own."
Warner Bros. has trademarked certain details of the 1939 film it now owns, so Disney's new Oz movie doesn't feature Dorothy's ruby slippers — which in the books, you may remember, were silver. In fact, this movie doesn't mention Dorothy, the Tin Woodsman, the Scarecrow or the Cowardly Lion. The Wicked Witch is a different shade of green, and the munchkins don't sing.
There is a yellow brick road and an Emerald City, and monkeys do fly. But this prequel is not a musical.
Raimi admits it's a challenge to live up to the beloved 1939 film.
"It was a rite of passage to get through it as a kid," says Raimi, who like many Americans watched the movie every year on TV. "When those flying monkeys came on, I would shake. And that witch, when she reached for those shoes and the legs melted, it was awful."
The Oz stories have been onscreen and onstage for more than a century. Baum wrote his first Oz book in 1900. Two years later, it became a musical extravaganza and a Broadway hit.
That first stage incarnation was "more of a burlesque of the original book. It was all about falling in and out of love," explains author Michael Patrick Hearn, a leading expert on Baum and his works.
"Of course, the lead is Dorothy, who falls in love with the poet prince, played by another woman in tights," Hearn says. "Instead of Toto, there's the cow Imogene. The Wizard of Oz eventually became an Irish wisecracking comedian. The stars of the show were the Tin Woodsman and the Scarecrow."
Baum wrote more Oz books — and more stage shows with chorus girls. He even performed multimedia lectures about Oz around the country. The productions bankrupted him, but didn't stop him from producing short Oz films in Hollywood.
After Baum died in 1919, several silent movies took on the material. Hearn points to one made in 1925.
"It's terrible," he says. "There is a cyclone, there is Dorothy, there's a Tin Woodsman played by Oliver Hardy before he was teamed with Stan Laurel. But it's really slapstick comedy, with some racial jokes in it that are inappropriate."
In the 1920s and '30s, there was a Wizard of Oz radio show, numerous puppet shows and any number of community-theater versions. Then came the film that's became the gold — emerald? — standard for every Oz production since.
"It's unlikely that anything will ever touch the 1939 version of The Wizard of Oz," says Jane Albright, a board member of the International Wizard of Oz club. "It's so ingrained in our consciousness, and it is so beloved. The performances are perfect, the songs are brilliant. Everything about it is lovely."
Albright, who hails from Kansas City, collects Oz memorabilia, and she's seen or knows of the many Oz versions.
"We've had The Muppets' Wizard of Oz; Tom and Jerry recently did the Wizard of Oz," she says. "It's been produced as a live-action film in Turkey. The Wizard of Oz is exceptionally popular in Russia, where children have their own series of original sequels to The Wizard of Oz that were produced beginning with Alexander Volkov's first translation of the Wizard."
It was an ice show in the '50s — and again in 1995. The Wizard of Oz has been produced as ballets. "Perhaps the most unusual Wizard of Oz production that I've heard is an all-mermaid cast back in the '70s," says Albright.
Hearn says Oz stories have actually done better on Broadway than in the movies. The Wiz, an all-black musical set in 1970s New York City, was a stage hit but a less successful movie with Michael Jackson as the Scarecrow and Diana Ross as Dorothy.
And on Broadway (and on tour) now, Wicked is a smash, with its revisionist back story of the Wicked Witch of the West.
This is not the first time Disney has tackled the Oz stories. The studio's 1985 film Return to Oz begins with Dorothy back in Kansas, threatened with electroshock therapy (!) for dreaming about the land of Oz.
With Baum's stories now in the public domain, Hearn says it's a shame most versions — including the newest one — don't go back to the original source material.
"The sad thing is, instead of just relying on The Wizard of Oz, and trying to capitalize on the success of the film, they don't look at his other works and try to adapt them," he says.
Besides Oz the Great and Powerful, there are eight other Oz movies in the pipeline. And next year, the MGM classic will celebrate its 75th anniversary.