Dr. Ruth: Let's Talk About Sex
Dr. Ruth: Let's Talk About Sex
To kick off Season 2 of Ask Me Another, we invited one of America's most trusted names in therapy onto the show — sex therapy, that is. Dr. Ruth Westheimer may be best known for having pioneered frank and open discussion about sex. Since her late-night radio show, "Sexually Speaking," debuted over three decades ago, Dr. Ruth has been dispensing honest, compassionate advice over the airwaves, television, and now, the Internet.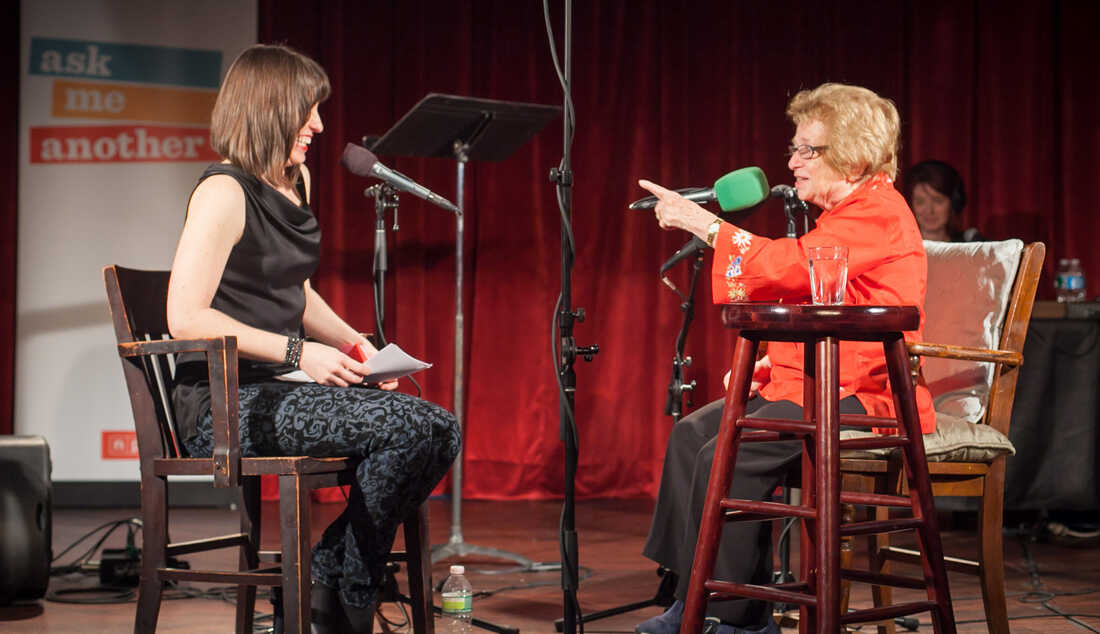 Dr. Ruth joins Ask Me Another host Ophira Eisenberg to dish some dirt on how people's views on sex and relationships have changed since she became America's favorite sex therapist, and also how some things never change. Plus, she reveals how she found her unlikely calling.
More From This Episode
We knew we had to devise something special for Dr. Ruth's Ask Me Another Challenge. Listen as we quiz her on the rousing results of a not-particularly-scientific sex survey completed by members of our studio audience. What percentage of them still believe in true love? You might be surprised. And one lucky winner receives an autographed copy of Dr. Ruth's book, Sex For Dummies, and a bottle of her new low-alcohol wine, "Vin d'Amour." No one walks away empty-handed though; Dr. Ruth promises that after listening to her, everyone will have good sex for the rest of their lives.
About Dr. Ruth Westheimer
Dr. Ruth Westheimer became a household name for pushing the limits on discussing sex on the airwaves. As it turns out, that's only a small part of her life. After fleeing from Germany to Switzerland to escape the Holocaust, Dr, Ruth trained as a scout and sniper for Haganah, the Israeli freedom fighters. Following a wound from a bomb blast, Dr. Ruth moved to Paris to study psychology at the Sorbonne. While she earned a Masters degree in sociology from the New School and a Doctorate of Education from Columbia University's Teacher's College, it was her work for Planned Parenthood that led her to study sexuality.
She is the author of 36 books, the latest of which is Dr. Ruth's Guide for the Alzheimer's Caregiver. Dr. Ruth answers questions on her own YouTube Channel and Twitter account. Dr. Ruth, All The Way, a one-woman show about her life starring Debra Jo Rupp, opened June 2012 at the Barrington Stage in Pittsfield, MA. Dr. Ruth has two children, four grandchildren, and resides in New York City.
---
In the video below, watch as Dr. Ruth discusses her opinion of 50 Shades Of Grey.

This segment originally aired on January 3, 2013.