Heavy Rotation: 10 Songs Public Radio Can't Stop Playing
Download New Music From Bill Callahan, Blood Orange, Freeway, John Zorn And More
Heavy Rotation: Download 10 Songs Public Radio Can't Stop Playing
Hanly Banks/Courtesy of the artist
It's time to share what 10 of our favorite public radio personalities have been loving lately. Here's a list of this month's Heavy Rotation panelists:
David Dye, host of NPR's World Cafe at WXPN in Philadelphia
Andrea Swensson, blogger for Minnesota Public Radio's The Current in the Twin Cities
Chris Campbell, host of WDET's Progressive Underground in Detroit
Rani Schloss, a producer at Classical New England in Boston
Alex Ruder, a host at KEXP in Seattle
Ben Frost, music director at Youth Radio's AllDayPlay in Oakland
Matt Fleeger, program director at KMHD in Portland
Travis Holcombe, a host at KCRW in Santa Monica
Jeremy Petersen, a host at opbmusic in Portland
Daoud Tyler-Ameen, a producer at NPR Music in Washington, D.C.
Heavy Rotation: 10 Songs Public Radio Can't Stop Playing
Bill Callahan, 'Small Plane'
"Small Plane" resides in the calm center of revered songwriter Bill Callahan's new album, Dream River. I've listened to his impressive back catalog, including his work under the moniker Smog, and this is the first time his earthy baritone has grabbed me in such a profound way. The song soars effortlessly as Callahan sings, "I really am ... a lucky man," perhaps the most emotional and direct line he's ever written. His backing band provides a perfect backdrop for Callahan's burnished voice, which has never sounded more at peace. I don't care if it's a metaphor for love or just about a plane ride — I'm so on board. --David Dye, World Cafe
This download is no longer available.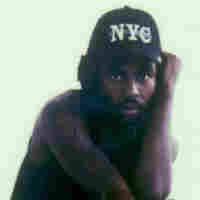 Blood Orange, 'Chamakay'
Both in the spotlight and behind the scenes, British producer Dev Hynes crafts knockout songs with a chameleon's touch. After emerging at 18 in the short-lived punk trio Test Icicles, Hynes evolved into an in-demand songwriter to the stars, as he's worked with Solange, Sky Ferreira and Florence and the Machine, among many others. When recording his own hits, Hynes is known as Blood Orange, and "Chamakay" is most assuredly a hit. This lead single to his upcoming Cupid Deluxe features Caroline Polachek of Chairlift, and manages to twist lyrical heartbreak into a sultry late-night stunner. --Alex Ruder, KEXP
This download is no longer available.

Freeway & The Jacka, 'Combine The Coasts'
"Combine the Coasts," from Philadelphia's Freeway and Oakland's The Jacka, is frenetic. Both rappers unleash marathon verses over layers of sparkling pianos and chopped breaks, and cap things off with a triumphant, chest-beating chorus. The two artists first worked together in 2009, and their chemistry is evident in the way Freeway's urgency complements The Jacka's fluidity. Get ready to hear a lot more from these two — on top of a yet-to-be-released mixtape, they've got a collaborative album (Highway Robbery) slated for November, with production from Traxamillion, Young-L and Jake One, as well as guest verses from Freddie Gibbs and Paul Wall. --Ben Frost, Youth Radio's AllDayPlay.fm
Grey Reverend, 'My Hands'
As he told All Things Considered in 2011, guitarist L.D. Brown has a distinctive playing style for a reason: A nerve condition, which emerged in his early 20s and steadily grew worse, has left two fingers on his fretting hand unable to do their share of the work. Of the Days, Brown's debut that year as Grey Reverend, is the sound of the songwriter embracing his limitations, devising sweet but minimal picking patterns to complement a strangely mournful singing voice. On the new A Hero's Lie, Brown's melodies are sharper, and he's filled in some of the blank edges of his canvas. The swells of strings and percussion that embellish this album's wordless moments rarely stick around for long — but, like the brief flash of a meteor on an already stunningly starry night, they can make mere beauty feel like magic. --Daoud Tyler-Ameen, NPR Music
The Internet, 'Partners In Crime Part Two'
Producer Matt Martian and producer/singer Syd the Kid (of Odd Future) lead a full-on soul band on their new album, Feel Good, and it doesn't get better than in the mind-bendingly beautiful single "Partners in Crime Part Two." The Internet's sound has evolved from studio production to organic jazzy electronica, and the band's vibe is exemplified in this track, which points the way to a new direction in modern soul music. --Chris Campbell, WDET
This download is no longer available.
Jeremy Messersmith, 'Tourniquet'
It's been seven years since Jeremy Messersmith first sneaked surreptitiously onto the Minneapolis scene, selling copies of his delicate, home-recorded EP out of a paper bag. It didn't take long for Messersmith to stand out from the guitar-strumming masses, however. The three albums he's released since that unassuming debut paint a clear trajectory: Messersmith is no longer just a shy singer-songwriter who's risen through the ranks in his hometown. Today, he emerges as a confident (though still sweet) frontman of an expansive band with a big pop sound. "Tourniquet" is the first glimpse at an exciting new chapter of his career. --Andrea Swensson, The Current
John Zorn, 'The Dream Machine'
"The Dream Machine" is the title track to the final installment in a trilogy of albums by legendary composer and instrumentalist John Zorn. While Zorn doesn't play on Dreamachines, his distinct compositional structure stands out (as does his use of the Third Mind collaborative technique developed by William S. Burroughs). Heady stuff aside, vibraphonist Kenny Wollesen and pianist John Medeski are paired perfectly here. Almost every time I've played this on the air, I get a call like this. Listener: "Who was that?" Me: "John Zorn." Listener: "Ha ha. No, seriously, who was that?" --Matt Fleeger, KMHD
This download is no longer available.
Kauf, 'Relocate' (Psychemagik Remix)
As Much Again, the debut EP by L.A. producer Kauf, has been in nearly constant rotation for me for the past couple of months. The entire set is superb, but the track that first caught my attention is this remix of "Relocate" by the U.K. cosmic wizards in Psychemagik. The duo transforms Kauf's original into a dark, chugging, slo-mo house juggernaut that oozes thick black oil from its pores. The throbbing synth bass and Kauf's haunting vocals give the track an otherworldly feel. It's a perfect soundtrack for your next interplanetary voyage — or midnight drive. --Travis Holcombe, KCRW
This download has expired.
Magic Mouth, 'Swampy Seconds'
"Ain't you got no shame?!" So lights the fuse of "Swampy Seconds," the sonic stick of dynamite that kicks off Magic Mouth's new Devil May Care EP. "The song is ... a really militant protest about being who you are," lead singer Chanticleer Trü told us earlier this year. In some ways, Magic Mouth is still realizing its own identity, evolving from a band brought together by a shared love of Nina Simone to the post-punk funk outfit currently on display. Based on irresistible songs like this one, we're happy to be along for the journey. --Jeremy Petersen, opbmusic
Tony McManus, 'Gnosienne No. 1'
from Mysterious Boundaries
Unlike most guitarists in the classical music world, Tony McManus is not formally trained, and his interpretations of well-known classical repertoire on Mysterious Boundaries show the Scot's knack for Celtic music. When he plays Erik Satie's "Gnosienne No. 1," it sounds more like the soundtrack to an art film than a work for solo piano written in the 1890s. --Rani Schloss, Classical New England