Heavy Rotation: 10 Songs Public Radio Can't Stop Playing
Download New Music From Talib Kweli, St. Vincent, Metronomy And More
Damien Jurado, 'Silver Timothy'
from Brothers and Sisters of the Eternal Son
I'm a product of the '80s, but Damien Jurado's "Silver Timothy" embodies my impressions of the glamorous, sexy side of the '70s. You wear large, pink-tinted sunglasses while listening to this song. You play pinball in sequins to this song. "Silver Timothy" begins with a restrained yet groovy flamenco-esque riff, then dives into a seductive, psychedelic crescendo that disorients and enchants. But anything I say is farther from the truth than Father John Misty's recent dissection of Jurado's newest work, in which he writes, "You might go as far as to call [Jurado's music] a religion, and your religion is a character in his religion." Count me in. --Jessi Whitten, Colorado Public Radio's OpenAir
05Somewhere Between Here and Nowhere
The Black Hollies, 'Somewhere Between Here And Nowhere'
from Somewhere Between Here and Nowhere
Formed from the ashes of Rye Coalition in 2005, Jersey City's Black Hollies crafted three primo discs of swirling psychedelic rock (think Spacemen 3) in recent years. But on Somewhere Between Here and Nowhere, the band injects a heaping dose of baroque-pop/British Invasion songcraft, resulting in indelible melodies such as the one powering the title track. You have to love a huge sing-along chorus like this. Everybody, now: "Hey hey hey / Oh-way-oh!" Repeat, repeat and relish. --Jim DeRogatis, Sound Opinions
Download "Somewhere Between Here and Nowhere" (Right-Click and Save Link As)
Anna Calvi, 'Eliza'
In opera, violence and beauty are given equal billing. In that sense, Anna Calvi is perfectly operatic. The British singer fell under the spell of both classical music and classic performers like Nina Simone and Edith Piaf at an early age, and quickly became a virtuoso on guitar and violin, but her voice is her greatest weapon. Calvi weaves light and dark together into dramatic, almost cinematic songs, coming off like a punk-rock Roy Orbison in the process. "Eliza," from last year's One Breath, doesn't waste any time. Over cyclonic guitar playing, Calvi whips herself into a frenzy, singing of emotional weakness while sounding like the strongest woman alive. --Art Levy, KUTX
10I Know It's Wrong (But That's Alright)
Hurray For The Riff Raff, 'I Know It's Wrong (But That's Alright)'
Behind Hurray for the Riff Raff are the voice, heart and wandering ways of Bronx-born, New Orleans-based Alynda Lee Segarra, whose musical roots are varied but planted in common ground — an Americana sound that spans genres and generations. The songs on her new album, Small Town Heroes, tell stories of the everyday/anywhere underdog, sung with a voice that finds power and even sweetness in melancholy. This tune is a great reminder that life and love aren't easy, but adding a little swing when you tell the tale sure feels right. --Sarah Wardrop, WFUV
Download "I Know It's Wrong (But That's Alright)" (Right-Click and Save Link As)
Julie Lee, 'Bravely'
It's fitting that Julie Lee's soprano calls to mind the early work of Joni Mitchell. Both artists fell into music after a lifetime of being painters. Lee may not have influenced generations of songwriters quite yet, but her emotive, imagery-heavy story-songs have been picked up by Alison Krauss, Pam Tillis and other Nashville greats. On her latest self-made solo album, Till and Mule, Lee turns her music toward the natural world, "painting" songs that imagine healing through nature. In "Bravely," she looks to trees as a means of finding perspective. --Kim Ruehl, Folk Alley
Metronomy, 'I'm Aquarius'
Having established himself as a compelling songwriter on the critically acclaimed 2011 album English Riviera, Joseph Mount and Metronomy return with more break-up songs set to quirky electronic rhythms on Love Letters (due out March 11). A strained relationship is in the stars on "I'm Aquarius," as a lo-fi synth pattern and scrapyard drum breaks create a subtle atmosphere for reflection. --Jason Bentley, KCRW's Metropolis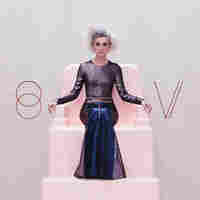 St. Vincent, 'Birth In Reverse'
A track this aggressively danceable, squelching and just plain weird must have come from the laboratories of St. Vincent. "Birth in Reverse" finds Annie Clark abandoning the complex horn arrangements that defined her collaboration with David Byrne and returning to her beloved guitar, which she uses to mutilate familiar elements of dance and synth music for an adventurous new era. Clark is a master at crafting urgent, electrifying pop, and she's got the shock of white hair to prove it. Look for a self-titled full-length album on Feb. 25. --Andrea Swensson, The Current
This download is no longer available.
Talib Kweli, 'Violations' (feat. Raekwon)
Talib Kweli's "Violations," from Gravitas (his first completely independent album), is a song with relentless energy and an assist from Wu-Tang Clan's Raekwon. Its beat seems to constantly build, and Kweli and Raekwon sound hungry. Both are veterans with decades of music behind them, but they still rap like they've got something to prove. Produced by Thaddeus Dixon, the beat combines ethereal synths, live drums and strings. Make sure to listen for the moment in both verses where Raekwon's entry coincides with a change in the strings and a burst of ringing cymbals; it's triumphant. --Ben Frost, Youth Radio's AllDayPlay.fm
Download "Violations" (Right-Click and Save Link As)
For more information about Gravitas, visit KweliClub.com
Ed Mills/Courtesy of the artist
Temples, 'Shelter Song'
Temples' members haven't been together long. Singer-guitarist James Edward Bagshaw and bassist Thomas Edison Warmsley got together in Bagshaw's house to make "Shelter Song" in 2012, and now their album Sun Structures is out. Is this retro? Kevin Anger, Aldous Huxley, Timothy Leary — these guys have read all that. They look like Jefferson Airplane during the Summer of Love and revere The Notorious Byrd Brothers album (as well they should). But honestly, this is a new kind of psychedelic music. I love it because, under the 12-string haze, there are super-strong melodies and straightforward playing. My first favorite album of 2014. --David Dye, World Cafe
The War On Drugs, 'Red Eyes'
We've just wrapped up 2013, and already I have a contender for Best Album of 2014: Lost in the Dream from Philly rock band The War on Drugs. Much like local contemporary (and former bandmate) Kurt Vile, The War on Drugs performs Americana soundscapes reminiscent of Neil Young and '70s AM Gold. From its rhythmic drums to its vintage synth flourishes and infectious guitar solos, there's so much to love about "Red Eyes." Adam Granduciel's powerful yet laid-back voice is captivating, and his periodic yelps make me prick up my ears with delight. --Cheryl Waters, KEXP
Heavy Rotation is a monthly sampler of public radio hosts' favorite songs. Check out past editions here.