A Day In The Life: Women Tech Innovators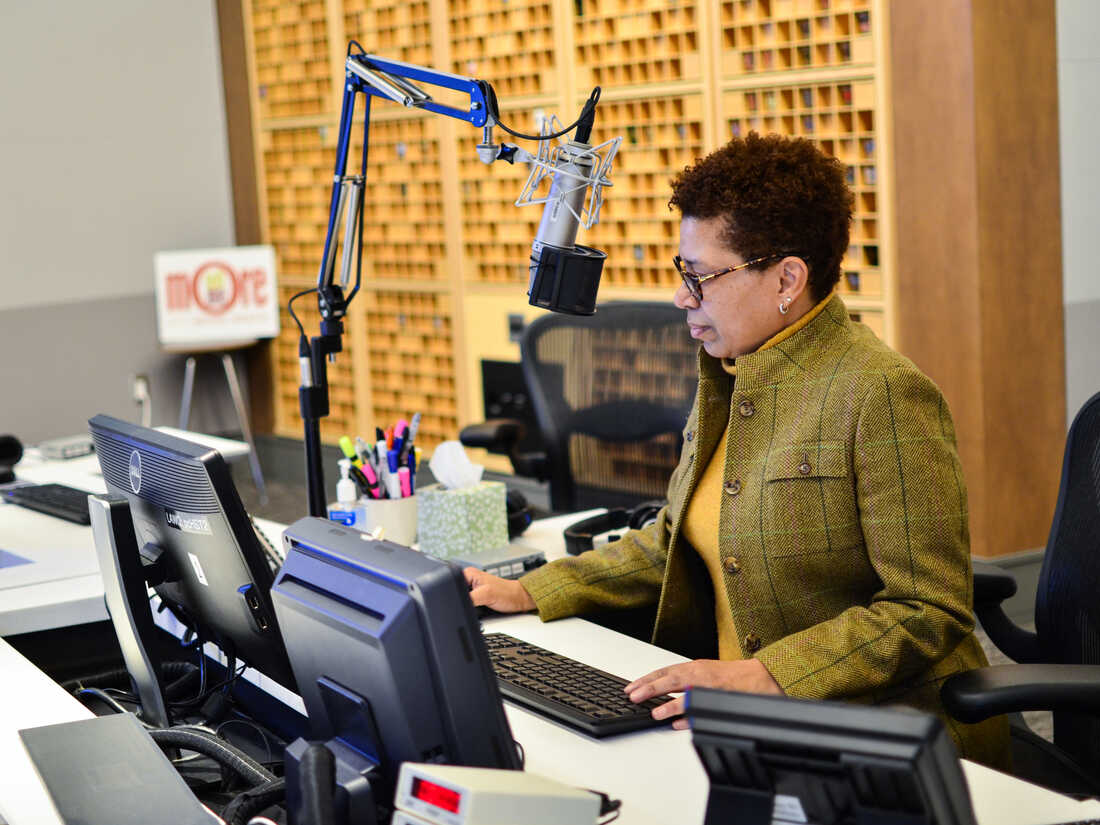 In 2014, women still represent a small fraction of entrepreneurs, investors, coders and engineers in America. Tell Me More host Michel Martin engages innovative women in tech around the Twitter hashtag #NPRWIT. On the radio, we'll meet women who are driving the rise of the technology sector in this nation's economy. We'll also talk about why the majority of Silicon Valley entrepreneurs are men, and how to encourage young women to consider coding and computer science careers.
Throughout March, women innovators across the globe will live-tweet a day in their lives using #NPRWIT. A master inventor from IBM, a technology executive from American Express, and entrepreneurs from Silicon Valley to South Africa represent some of the women taking part. "A Day in the Life" allows us to experience in real time the impact that women are making across the world in the field of technology, science, entrepreneurship and innovation. Follow our hashtag #NPRWIT.
We want your input as well. Email your thoughts to tellmemore@npr.org or use the hashtag #NPRWIT on Twitter. Tell Me More is an innovator in creating segments with a dynamic digital presence, having hosted compelling Twitter discussions around diversity in tech with #NPRBlacksinTech and #NPRLatism.
Twitter Moderator
Davar Ardalan

Davar Ardalan (@idavar) is the senior producer for NPR's Tell Me More with Michel Martin, where she oversees the live broadcast and leads social media campaigns. As a social storyteller, she is a driving voice across platforms and has proven success in engaging with diverse communities and influencers around #NPRBlacksinTech, #NPREdchat and #NPRLatism.
Monday, March 3
Christine Celise Johnson

Christine Celise Johnson (@ChristineCelise) is the founder of DiversiTech, a social enterprise devoted to increasing minority representation in tech. DiversiTech provides a platform through which members of underrepresented communities can network, creating their own tech communities. The organization also connects young entrepreneurs with resources across the tech ecosystem and promotes their accomplishments.

Christine Celise Johnson tweeted her day here.

Donna Harris

Donna Harris (@dharrisindc) is an angel investor and the co-founder of 1776, a startup incubator that connects startups from around the world to Washington, D.C.'s vast assortment of networking opportunities. Harris is also a founding member of K Street Capital, an angel investing network. In the past, Harris served as managing director of the Startup America Partnership.

Donna Harris tweeted her day here.

Elise Hu

Elise Hu (@elisewho) is a reporter who covers technology for NPR's on-air and online platforms. She joined NPR in 2011 to head up the digital launch of StateImpact, a DuPont award-winning public policy reporting network. Previously, she was a founding journalist at the nonprofit digital news startup, The Texas Tribune.

Elise Hu tweeted her day here.
Tuesday, March 4
Limor Fried

Limor Fried (@adafruit) is an MIT-educated engineer who has become an open source hardware and software pioneer. She's also an entrepreneur, and the founder of the educational electronics company Adafruit Industries. Her goal is to create the best place online for learning electronics and making the best-designed products for makers of all ages and skill levels. Fried was the first female engineer on the cover of WIRED magazine, an EFF Pioneer Award recipient for open-source software and hardware, and was Entrepreneur Magazine's "Entrepreneur of 2012."

Limor Fried tweeted her day here.

Jennifer Arguello

Jennifer Arguello (@engijen) is the senior tech advisor at the Kapor Center for Social Impact, an organization dedicated to bringing underrepresented communities into tech. In addition to her work at the Kapor Center, Arguello teaches computer science at the Level Playing Field Institute and sits on an array of nonprofit advisory boards.

Jennifer Arguello tweeted her day here.
Wednesday, March 5
Kimberly Bryant

Courtesy of Kimberly Bryant

Kimberly Bryant (@6Gems) is the founder of Black Girls Code, a nonprofit organization that teaches programming skills to young women of color. Bryant founded the program in hopes of empowering young women from all backgrounds to enter the tech world. Prior to starting Black Girls Code, she held engineering management positions in a number of prestigious biotech companies. In 2013, the White House named Bryant one of 11 Champions of Change for Tech Inclusion.

Kimberly Bryant tweeted her day here.

Lisa Seacat DeLuca

Courtesy of Lisa Seacat Deluca

Lisa Seacat DeLuca (@LisaSeacat) is an IBM Master Inventor, and works on mobile application development and open source technologies at the company. With 115 patents issued, DeLuca holds more patents than any other woman in IBM's history. She is also writing a children's book about how to count to 10 in binary code. DeLuca crowdfunded the book through Kickstarter and reached her funding goal in February.

Lisa Seacat DeLuca tweeted her day here.
Thursday, March 6
Deika Morrison

Deika Morrison (@deikamorrison) is co-founder and managing director of Mdk Advisory and Consulting Ltd., a member of the American Chamber of Commerce in Jamaica. She is also the co-founder and president of Do Good Jamaica, a nonprofit organization that helps other Jamaican organizations navigate the nonprofit sector. Do Good Jamaica's main project, Crayons Count, is dedicated to providing learning tools to Jamaican schools, and raising awareness of early childhood education. She sits on the board of directors of the American Chamber of Commerce in Jamaica.

Deika Morrison tweeted her day here.

Natalia Oberti Noguera

Natalia Oberti Noguera (@nakisnakis) is founder and CEO of Pipeline Fellowship, an angel investing boot camp for women. The Pipeline Fellows work to bring diversity to the angel investing community and create capital for women social entrepreneurs. Oberti Noguera has been named one of Forbes' "Top 20 Women for Entrepreneurs to Follow on Twitter," Latina.com's "24 Latinas Who Shine in Tech," and Business Insider's "30 Most Important Women in Tech under 30."

Natalia Oberti Noguera tweeted her day here.
Friday, March 7
Carletta Hurt

Carletta Hurt (@carlettahurt) is an educator and youth advocate. She serves as a guidance counselor at a math and science-focused middle school in Washington, D.C., where she works closely with the computer science program and coordinates the broadcast media program. Hurt is also founder of the In The Loop Program of Success and Booked For Review, and a member of the board of directors for Science, Engineering, and Mathematics Link, Inc.

Carletta Hurt tweeted her day here.

Natalie Madeira Cofield

Natalie Madeira Cofield (@ncofield) is the president and CEO for the Greater Austin Black Chamber of Commerce, which focuses on economic development and supplier diversity on behalf of the African-American community in central Texas. She is the founding president of the Black Technology Council, formed to ensure inclusion and support for minority firms in the nation's fastest-growing technology hub.

Natalie Madeira Cofield tweeted her day here.
Saturday, March 8
Iman Saint Jean

Iman Saint Jean (@Imansaintjean) is an educational technologist and co-founder of the HelpCircle app. "Could an app have saved Trayvon Martin?" That's the question that led her to co-found the mobile emergency response app HelpCircle. The app allows users who feel unsafe to message their location coordinates to their emergency contacts. HelpCircle won first place at Startup Weekend Oakland's 2014 Black Male Achievement hackathon. Saint Jean is completing her master's degree in education and instructional technologies at San Francisco State University.

Iman Saint Jean tweeted her day here.
Monday, March 10
Danae Ringelmann

Danae Ringelmann (@gogodanae) co-founded Indiegogo in 2008 with a mission to democratize fundraising. She has helped the company become the world's largest crowdfunding platform. She currently serves as Indiegogo's Chief Development Officer. Ringelmann has appeared on Fast Company's "Top 50 Women Innovators in Technology" and Fortune's "40 Under 40."

Danae Ringelmann tweeted her day here.

Laura Sydell

Laura Sydell (@sydell) is a digital culture correspondent at NPR. She contributes to All Things Considered, Morning Edition, Weekend Edition and NPR.org. Sydell has worked at NPR for more than a decade. Before joining NPR, she covered the boom and bust of the Silicon Valley tech industry for American Public Media's Marketplace.

Laura Sydell tweeted her day here.

Rachel Levy

Rachel Levy (@mathcirque) is an associate professor of mathematics at Harvey Mudd College. She is the editor-in-chief of SIAM Undergraduate Research Online and founder of the blog Grandma got STEM. Rachel also works with elementary school teachers on their mathematical practice and pedagogy. She was honored to receive a 2013 Henry L. Alder award from the Mathematical Association of America for distinguished teaching by a beginning college or university mathematics faculty member.

Rachel Levy tweeted her day here.
Tuesday, March 11
Ping Fu

Ping Fu (@pfugeomagic) is vice president and chief strategy officer of manufacturing firm 3D Systems. Fu earned her current title when 3D Systems bought Geomagic, the pioneering 3D software development firm she co-founded and headed. She grew up in China during the Cultural Revolution, and was deported to the U.S. at age 23. She recounted her experiences across China and the United States in her 2012 memoir, Bend, Not Break: A Life in Two Worlds.

Ping Fu tweeted her day here.

Sylvia Ann Hewlett

Sylvia Ann Hewlett (@SAHewlett) is an economist and the founding president of the Center for Talent Innovation, a nonprofit think tank where she chairs a task force focused on fully realizing the new streams of talent in the global marketplace.

Sylvia Ann Hewlett tweeted her day here.
Wednesday, March 12
Arikia Millikan

Arikia Millikan (@arikia) is a freelance tech journalist. She is the founder and curator of LadyBits, a media platform centered on the perspectives and experiences of tech-savvy women. Before going freelance, Millikan was an editor at Wired.

Arikia Millikan tweeted her day here.

Brit Morin

Brit Morin (@Brit) is the founder and CEO of Brit + Co., a lifestyle technology company. Brit + Co. offers DIY projects, style tips, recipes, apps and gadgets that make life simpler, inventive and fun. Brit, 28, has become an influential figure for the millennial generation, shaping and strengthening the maker movement from a woman's perspective.

Brit Morin tweeted her day here.

Ory Okolloh

Ory Okolloh (@kenyanpundit) is a director of investments at Omidyar Network Africa, a philanthropic investment firm. Prior to joining Omidyar Network, Okollah was Google's policy manager for sub-Saharan Africa. Previously, she was at the forefront of developing technology innovation as a founding member of nonprofit tech company Ushahidi. Okollah is also the co-founder of Mzalendo, a website that tracks the performance of Kenyan members of Parliament. She is a board member of the Africa Media Initiative, a member of the World Bank's Council of Eminent Persons, an advisory board member of Code for All, and a member of the World Bank Service Delivery Indicators Committee.

Ory Okolloh tweeted her day here.
Thursday, March 13
Anita Burke

Anita Burke (@anitaburke15) is the chief engineer for the 2015 GMC Canyon midsize truck. Burke joined GM in 1991. She worked extensively on full-size truck programs in the U.S., was an engineering group manager in Mexico, and directed aftersales engineering for GM's Latin America, Middle East and Africa region from 2008-2010. She's also a member of the Society of Automotive Engineers and assists the Visitation Scholarship Program in Chicago, Ill., which provides a quality high school education for at-risk students.

Anita Burke tweeted her day here.

Jacqui Cheng

Jacqui Cheng (@ejacqui) is the editor in chief of The Wirecutter and The Sweethome, and editor at large at Ars Technica. Her writing has also been featured in The Guardian, Vice/Motherboard, CNN, Wired and other publications. Previously, she worked as a back-end Web developer and is a graduate of Purdue University.

Jacqui Cheng tweeted her day here.

Leanne Pittsford

Leanne Pittsford (@lepitts) is the CEO of Start Somewhere, a design and technology agency for nonprofit and social enterprise organizations. She also founded Lesbians Who Tech, a network for LBTQ women in tech, and Lean Impact, an organization that helps social entrepreneurs integrate lean startup principles into their businesses.

Leanne Pittsford tweeted her day here.
Friday, March 14
Celeste Headlee

Celeste Headlee (@celesteheadlee) is an award-winning journalist, appearing on NPR, PBS, CNN and other national networks. She hosts the new program Middle Ground, which covers only the states between the West and East Coasts. Until September 2012, Headlee was the co-host of the national morning news show, The Takeaway from PRI and WNYC. Headlee has been a public radio journalist since 1999.

Celeste Headlee tweeted her day here.

Sabrina Hersi Issa

Sabrina Hersi Issa (@beingbrina) is the founder of Be Bold Media, a digital agency focused on global advocacy and the co-founder of End Famine, a campaign dedicated to developing sustainable solutions to hunger, food security and humanitarian assistance. She organizes Rights Tech, a gathering for technologists and activists and runs Survivor Fund, a political fund dedicated to supporting the rights of survivors of sexualized violence. Previously, she was a fellow at the Roosevelt Institute where she worked on issues related to technology, human rights and humanitarian disasters and co-founded Washington Women Social Entrepreneurs.

Sabrina Hersi Issa tweeted her day here.

Yvonne Schneider

Yvonne Schneider (@AmexTechnology) is senior vice president for Global Commercial Services Technologies at American Express. She has worked in the information technology field for more than 25 years. Business Insider named Schneider one of the "Twenty-Five Most Powerful Women Engineers in Tech" in both 2012 and 2013.

Yvonne Schneider tweeted her day here.
Monday, March 17
Molly Mackinlay

Molly Mackinlay (@momack28) is an associate product manager at Google. In her role on the Chrome team, she coordinates the design, development and launch of Native Client, a developer tool that helps run high-powered apps like games on the Web. A recent graduate from Stanford, she enjoys working with the Chrome team to shape the future of Web technology.

Molly Mackinlay tweeted her day here.

Amanda Spann

Amanda Spann (@AmandaSpann) is the communications and content manager for IBM Cloud Category. Prior to arriving at IBM, she co-founded and served as CMO of Blerdology, a tech social enterprise to support and engage the black tech community, and an organization that hosted hackathons targeting African-Americans. The company helped to spark black interest in technology, assist aspiring minority entrepreneurs and bridge policy and innovation.

Amanda Spann tweeted her day here.
Tuesday, March 18
Andrea Berkemeier

Andrea Berkemeier (@sweumich) is a class of 2014 Stamps Scholar at the University of Michigan, where she is majoring in Biomedical engineering and minoring in music. She currently serves as president of the university's section of the Society of Women Engineers (SWE). As president, Berkemeier is committed to developing SWE's impact not just on campus but also in the global community. At the beginning of her term, she collaborated with ten other SWE members to plan and lead a science camp for school children in Walchandnagar, India. She returned to India in November 2013 to represent SWE as part of a UM College of Engineering delegation.

Andrea Berkemeier tweeted her day here.

Noramay Cadena

Noramay Cadena (@noramayc) is an aerospace engineer currently leading several stages of Boeing's commercial satellite program. Cadena is also the co-founder of the Latinas in STEM Foundation. An alumna of the Massachusetts Institute of Technology's engineering and business programs, Cadena serves as vice president of the board of directors for the MIT Club of Southern California and mentors prospective MIT undergraduate students.

Noramay Cadena tweeted her day here.

Sarah Leary

Sarah Leary (@sarahleary) is Co-Founder of Nextdoor, a free and private social network for neighborhood communities. Leary also serves as Vice President of Marketing at Nextdoor. She started her career at Microsoft, then served as the Vice President of Product and Marketing at Epinions before the company was sold to eBay.

Sarah Leary tweeted her day here.
Wednesday, March 19
Leila Janah

Leila Janah (@leila_c) is the founder and CEO of Samasource, a nonprofit that provides employment to people living in poverty and offers high-quality data services to LinkedIn, eBay, Walmart.com, and the US State Department. Leila also co-founded SamaUSA, which provides online work to low-income community college students, and Samahope, which crowdfunds critical medical treatments in developing countries. Entrepreneur Magazine named Janah one of its Most Powerful Women Entrepreneurs To Watch in 2014. In 2012, Fast Company listed Janah in its League of Extraordinary Women.

Reshma Saujani

Reshma Saujani (@reshmasaujani) is the founder and CEO of Girls Who Code, a national nonprofit organization working to close the gender gap in technology and prepare young women for jobs of the future. After becoming the first Indian-American woman in the country to run for U.S. Congress, Saujani served as deputy public advocate of New York City. She founded Girls Who Code in 2012. Saujani has been named one of Forbes' Most Powerful Women Changing the World, Fast Company's 100 Most Creative People, Ad Age's Creativity 50, Business Insider's 50 Women Who Are Changing the World, and an AOL/PBS Next MAKER. In her new book, Women Who Don't Wait in Line, Saujani advocates for a new model of female leadership focused on embracing risk and failure, promoting mentorship and sponsorship, and boldly charting one's own personal and professional course.
Thursday, March 20
Bita Milanian

Bita Milanian (@bflybuzz) is a 15-year telecommunications industry veteran, having worked at various startups, fortune 500 and multinational corporations. As the founder and president of Butterfly Buzz and vice president at Women in the Channel, she has helped many nonprofit, cultural organizations integrate technology into their daily activities to become more efficient. She is also the executive director of Farhang Foundation, a nonreligious and non-political not-for-profit organization that promotes Iranian art and culture within Southern California.

Laura Quinn

Laura Quinn (@idealware) is the Executive Director of Idealware, which helps nonprofits make smart decisions about software by providing resources and training. Quinn has been working in the software sector for more than 15 years. She has spoken at the Forbes Funds Nonprofit Summit, the Alliance for Nonprofit Excellence Technology Conference, and the Council on Foundations Conference.

Lyndsey Scott

Lyndsey Scott (@Lyndsey360) is a model and a coder. In addition to walking in runway shows for Victoria's Secret, Prada and Louis Vuitton, Scott has developed seven mobile apps, two of which have been picked up by Apple.
Friday, March 21
Ayah Bdeir

Ayah Bdeir (@ayahbdeir) is the founder and CEO of littleBits, an award-winning library of electronics dubbed "LEGOs for the iPad generation." Bdeir is an engineer, interactive artist and one of the leaders of the open hardware movement. Bdeir's work is centered around the goal of advancing open source hardware to make education and innovation more accessible to people around the world. Recently, she was named one of Fast Company's 1,000 Most Creative People in Business and one of Popular Mechanics' 25 Most Influential Makers. Originally from Lebanon and Canada, Bdeir now lives in New York City.

Luz Rivas

Luz Rivas is the founder and executive director of DIY Girls. DIY Girls inspires girls and women to explore engineering, making and technology. For the past 10 years, she has worked in STEM education. She has developed outreach programs focused on increasing underrepresented minorities in STEM fields. Rivas started her career at Motorola where she was an electrical design engineer working on position and navigation systems for the automotive industry. She has a bachelor of science in electrical engineering from MIT and a master's in technology in education from the Harvard Graduate School of Education.

Stephanie Hill

Stephanie C. Hill (@accidentalengr) is vice president & general manager of Lockheed Martin's Information Systems & Global Solutions division. She leads more than 9000 employees who are responsible for information technology systems and services, ranging from cyber security to space exploration. She also mentors students, and served on the Maryland governor's STEM Task Force in 2009.
Monday, March 24
Sharon Simmons

Sharon Simmons founded Trafalgar Solutions Group Inc. with the goal of using new social media tools to change the way we fight and report crime. Trafalgar is working with several government agencies across Africa to develop crime-fighting solutions. Simmons placed second in the Indiegogo and (BiT) Pitch technology contests at SXSW 2013, and recently mentored the developers of an app called HelpCircle, which won first place at the Startup Weekend Oakland's 2014 Black Male Achievement event.

Regina Agyare

Regina Agyare (@ragyare) is the founder of the social startup Soronko Solutions, providing technology solutions to achieve social change. One recent project launched by her company included a program that introduced deaf girls to technology at the State Deaf School in Ghana. Soronko Solutions has developed applications for disabled persons. In an interactive session with the girls at State Deaf School, Regina helped demonstrate how technology can enrich their lives and allow them to integrate fully in society.
Tuesday, March 25
Ingrid Vanderveldt

Ingrid Vanderveldt (@ontheroadwithiv) is an entrepreneur, investor and media personality. As Dell's first Entrepreneur in Residence, Vanderveldt works to connect women with tools, technology & resources. In addition to her work with Dell, Vanderveldt co-founded The Billionaire Girls Club and serves on the UN Foundation Global Entrepreneurs Council.

Stephani Page

Stephani Page (@thepurplepage) is a PhD candidate in Biochemistry & Biophysics at the University of North Carolina at Chapel Hill. Page is the tweeter behind the viral hashtag #BLACKandSTEM, which she started in hopes of bringing a sense of community and visibility to black people who are making significant contributions to science, technology, engineering, and math. Page's writings on science advocacy, mentoring and diversity matters have been featured in Nature's blog and Blerdology.

Telle Whitney

Telle Whitney (@anitaborg_org) is president and CEO of the Anita Borg Institute for Women and Technology, a nonprofit organization dedicated to recruiting, retaining and advancing women in technology. Whitney and Borg co-founded the Grace Hopper Celebration of Women In Computing Conference, the world's largest gathering of women in computing. Whitney has held senior technical management positions with Malleable Technologies and Actel Corp. She serves on the advisory boards of Caltech's Information Science and Technology, California Institute for Telecommunications and Information Technology, and Illuminate Ventures.
Wednesday, March 26
Soraya Darabi

Soraya Darabi (@Zady) is the co-founder of Zady.com, a shopping platform and lifestyle destination for the next generation of consumers who care about the origins of the items they purchase. Darabi began her career as manager of digital partnerships and social media at The New York Times. She has been featured on the cover of Fast Company's "Most Creative People in Business" issue, and Brandweek's "Hot Digital" issue, and was named one of Inc. Magazine's "30 Under 30," and included in Ad Age's "25 People in Media to Follow on Twitter."

Linda Maloney

Linda Maloney (@MilitaryFlyMoms) was one of the first female combat aviators in the U.S. Navy, serving as a naval flight officer for more than two decades. After retiring from the Navy to start a family, Maloney interviewed more than 100 other aviator mothers and compiled their stories in her book Military Fly Moms. Maloney works as an engineer for a defense contractor in Rhode Island.

Florentia Spires

Florentia Spires (@STEMgineer) is an educator and STEM curriculum developer. She is currently serving a year as an Albert Einstein Distinguished Educator Fellow at the National Science Foundation. She is also a master teacher with NASA's Global Precipitation Measurement Mission. Spires began her teaching career nearly three decades ago as a Peace Corps volunteer in Botswana.
Thursday, March 27
Diana Albarran Chicas

Diana Albarran Chicas (@DAlbarranChicas) is a satellite engineer at SSL. She currently serves as an engineering manager in SSL's Antenna Subsystems Operations division, and she is the first Latina in SSL history to hold this position. After immigrating to the United States from Mexico, Albarran Chicas became the first member of her family to graduate from high school. She went on to attend college and graduate school at MIT. As the co-founder of Latinas in STEM Foundation, Latinas In STEM2 To Achieve Success, and Empower Educational Services, Albarran Chicas is passionate about empowering students of underrepresented communities to pursue higher education in STEM fields.

Jean Case

Jean Case (@jeancase) is a philanthropist and pioneer in interactive technologies. She created the Case Foundation in 1997 with her husband. Case serves on the National Geographic Society Board of Trustees, as well as the advisory boards of the Harvard Business School Social Enterprise Initiative, the Brain Trust Accelerator Fund, and the Social Impact Investing Task Force (SIITF). She also serves as Executive-in-Residence at Georgetown University's Global Social Enterprise Initiative.

Ruby Anaya

Ruby Anaya (@rgmanaya) is a Product Manager at Yahoo. Previously, Ruby held a variety of influential product management and interaction design roles at AOL. She has launched mobile and web products such as Anchor, Editions, Play by AOL, Entrance, and Moviefone.
Friday, March 28
Erika Carlson

Erika Carlson (@eacarlson) is a software engineer at Detroit Labs, where she develops mobile applications and organizes the company's iOS Developer Apprentice Program. She is a co-founder of the Detroit chapter of Girl Develop It, a non-profit that provides affordable, beginner-friendly programming classes and a supportive learning community to women. Carlson also teaches at tech training institute Grand Circus and Kidpreneur, a technology and entrepreneurship education program for students ages 9-13.

Nafeesa Syeed

Nafeesa Syeed (@NafeesaSyeed) is an award-winning multimedia journalist and co-author of the new book Arab Women Rising: 35 Entrepreneurs Making a Difference, published by Knowledge@Wharton. She has reported extensively on entrepreneurship and political transition in Yemen, Egypt, Tunisia, Sudan, Turkey and the UAE. She also spent a year reporting and editing across South Asia. Previously, she spent four years as a staff writer for The Associated Press in Washington, D.C., and Iowa. She is currently producing documentary films and working on her next book on Arab women in political parties.

Tokiwa Smith

Tokiwa Smith (@tokiwana) is the founder and executive director of Science, Engineering and Mathematics Link Inc., a nonprofit organization that exposes urban youth to STEM. She is a contributor to Black Gives Back and blogs about her journey as a social entrepreneur at The Science Socialite. Smith's work has been featured in several media outlets and in 2013 she was named one Ebony magazine's "10 Black Twitter Tweeps to Watch." She lives in Oakland, Calif.