In The Land Of Floats And Beads, You'd Better Bring Deviled Eggs
In The Land Of Floats And Beads, You'd Better Bring Deviled Eggs
The morning of Mardi Gras calls for something a little hardier — and a little more indulgent — than your average bowl of Wheaties. After all, a long day lies ahead, thick with flying beads, outlandish parade floats and food in every form and function. When partying in New Orleans starts as early as dawn, a good breakfast is crucial.
And don't forget, Poppy Tooker adds: "This is the one city in America where breakfast drinking is totally socially acceptable." Why let such a splendid opportunity go to waste?
Poppy hosts Louisiana Eats! on New Orleans Public Radio, and she's got her own "carnival breakfast of champions" — deviled eggs and milk punch. She says that this combination is precisely how many New Orleanians fortify themselves as they line up along the parade route. It fulfills three of the key criteria of any good Mardi Gras meal: It's portable, it can be eaten without silverware and, well, it contains alcohol — your choice of bourbon or brandy.
Since it's made to be eaten on the neutral ground it's also rooted in a centuries-old tradition. Known elsewhere as a median strip, the "neutral ground" is a term peculiar to New Orleans, born in the years immediately following the Louisiana Purchase. French and Spanish residents of the region, known as Creoles, generally kept themselves separate from the American newcomers. Tooker explains: "The Creoles who lived in the French Quarter didn't particularly care for the Americans ... [but] they still had to get together to do business."
So, the two groups made an arrangement. "The broad median that goes down the center of Canal Street in New Orleans became known as the neutral ground, because that was the place where the Creoles and the Americans would agree to meet."
It's down this street that the modern Mardi Gras makes its way, and because of this, the hungry paradegoer faces a special set of challenges. Luckily, Tooker's deviled eggs and milk punch are ready.
Forgot a fork? Not to fear: "I developed this special little method of cutting the hard-boiled egg across the middle instead of lengthwise — so that then you could put them back in your rinsed egg carton and eat them with a toothpick."
Left the cooler at home? Tooker knows a trick: "The important thing, when you're making these deviled eggs, is not to use mayonnaise — which really has to be treated carefully as far as refrigeration goes. I use softened butter."
As for the milk punch, she transports it all in a milk jug. Then, when it comes time to drink the heady mixture, Tooker gets a little help from her friends on floats. She says, "For the whole two weeks leading up to Mardi Gras, people on the passing floats have been throwing what we refer to as a 'go-cup' at us." These are plastic cups printed with designs, and they're tossed in volleys to the crowd.
"That's what you drink your milk punch from: a go-cup!"
If all of this sounds hectic, intimidating, even crazy, then you've got the right idea: It's Mardi Gras. And now, you've also got the right breakfast with which to face it.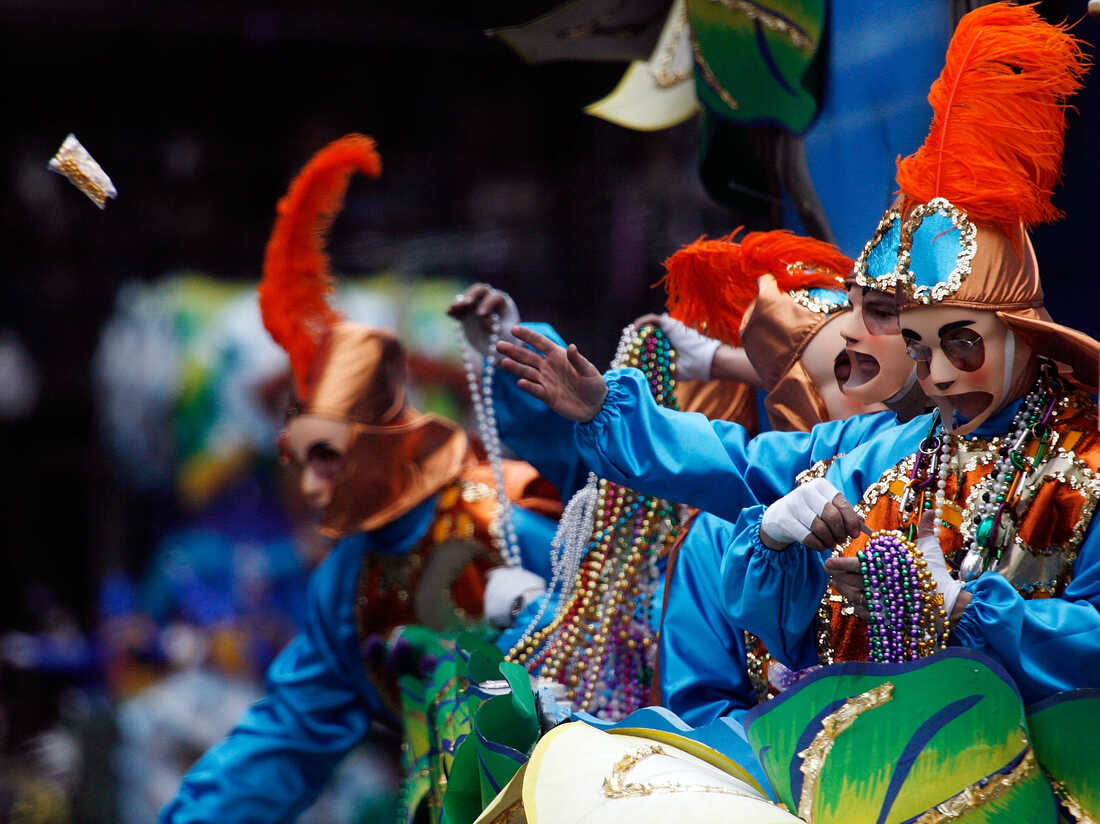 Chris Graythen/Getty Images
---
Buy Featured Book
Title

Louisiana Eats!

Author

Poppy Tooker, David G. Spielman
Your purchase helps support NPR programming. How?
Mardi Gras Deviled Eggs
Serves 4 to 6
1 dozen hard-boiled eggs
3 tablespoons softened butter
1 tablespoon green onion tops, thinly sliced
3 tablespoons finely diced tasso or ham
1 tablespoon Creole mustard
2 teaspoons hot sauce
1/4 teaspoon salt
Paprika
Slice hard-boiled eggs in half horizontally. Place the whites in the rinsed egg carton, ready to fill the cavities.
Mix boiled yolks with butter, green onions, tasso, Creole mustard, hot sauce and salt until the mixture is smooth. Put filling into a pastry bag. (I often use a zip-lock bag as a disposable pastry bag. Just cut off the tip of a corner and squeeze the stuffing out.)
Squeeze stuffing generously into egg whites and sprinkle with paprika for a devilish effect!
Another Mardi Gras Treat
Add a couple of frilled toothpicks into the egg carton for easy serving access.
Frozen Bourbon Milk Punch
Makes enough for 1 1/2 quarts
4 cups milk
1 cup bourbon or brandy
1/4 cup vanilla extract
1/4 cup simple syrup
1 pint vanilla ice cream
Nutmeg garnish
Combine all ingredients and blend for 8 seconds, then garnish with nutmeg.