Indian Classical Music Meets Beat Box In 'Exit 1'
Indian Classical Music Meets Beat Box In 'Exit 1'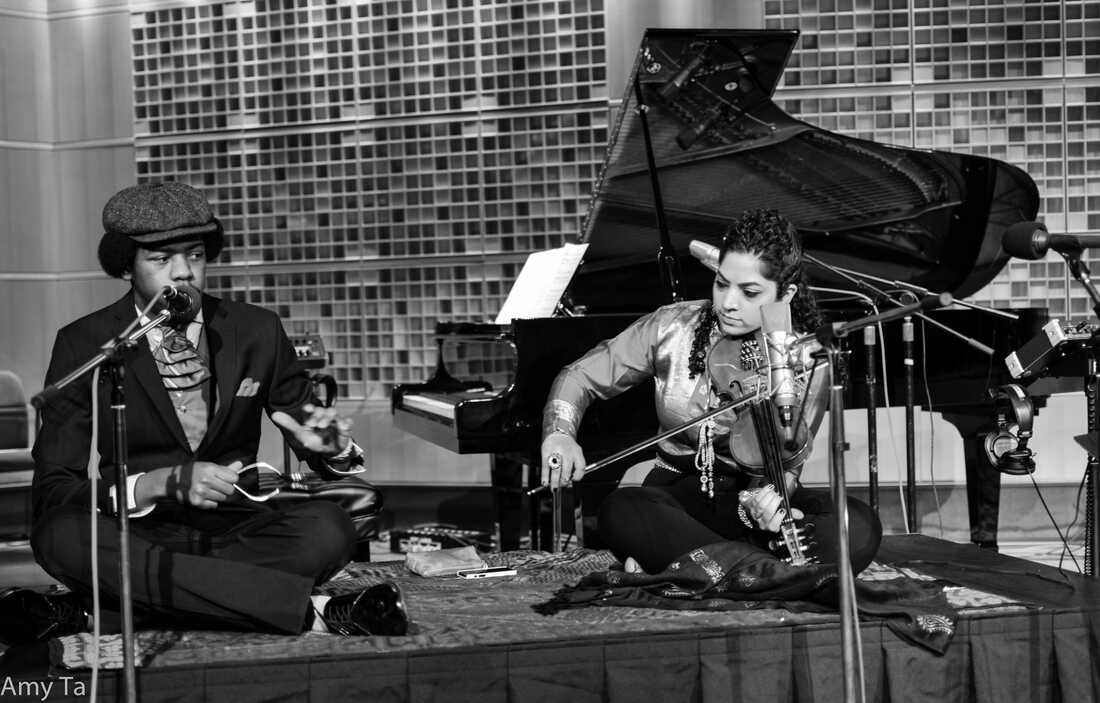 When you think of Indian classical music, you probably don't expect to hear beat box, or strains of jazz, and even rock. But that's exactly what Nistha Raj is all about. The violinist is mixing classical Hindustani music with modern sounds to bring it to a new generation of music lovers. Her debut album is titled Exit 1.
Raj joined Tell Me More host Michel Martin for a special conversation and performance, along with her musicians: Christylez Bacon on beat box and spoons, Sriram Gopal on drums, Geoffrey Rohrbach on piano, Rob Coltun on guitar, Ethan Foote on double bass, William Wytold on cello.
(Note: The performances were edited for air time. You can hear Raj's full songs at her website.)
---
Interview Highlights
How she got started in music
As a child, I was just drawn to music, and I started learning a lot of the instruments at my temple, where I would go all the time with my mom. ... I formally started learning the violin when I was in the fifth grade at school. And I had an interest in Indian classical music, but growing up in Texas, there really wasn't an opportunity especially to study Indian violin. So I started learning vocal, and I actually took a little bit of tabla classes, just to get introduced to the music. And I actually applied for a scholarship to go to India to study the music.
How people in India felt about Raj coming to study music
I would meet a lot of people, and they were just very confused why I would do that because to them, I left the American dream, basically. They all want to come to America, so they were shocked that I came all that way to study music. But I think people appreciated it too.
Mixing in different musical styles
It was sort of organic in that way that I just started working with some people, and I really liked the sound, and so that sort of inspired me to bring in different genres of music. And I also learned so much about music through the other musicians that I worked with, and their styles. My goal was really showcase Indian classical music in a way that is appealing to a wider audience, so they can get an interest in it and find the beauty that I see in it.