A Parisian Finds Her Place In A Rarely Seen Part Of 'Girlhood'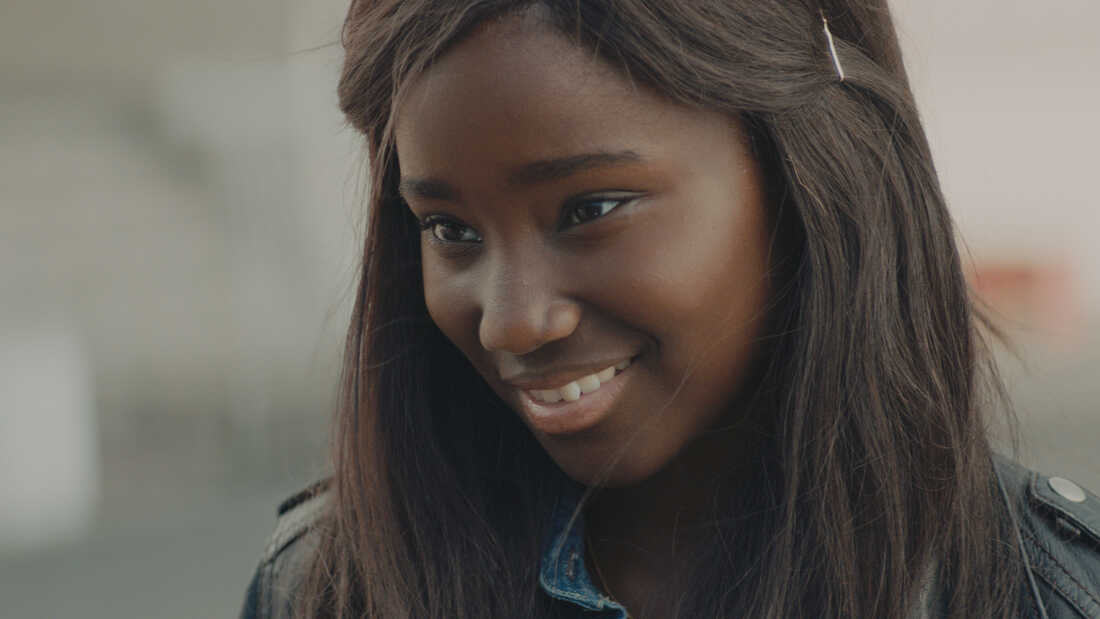 Early on in Celine Sciamma's striking Girlhood, a deft twist confounds what you might expect from a teen movie set in a mostly black, poverty-stricken suburb of Paris. Shut out of conventional paths to realize her ambition to be "like others, normal" and fed up with the tyranny of a bullying older brother at home, 16-year-old Marieme (Karidja Toure) takes up with a gang of tough-talking girls whose charismatic leader, Lady (Assa Sylla), fights other girls and wields a knife.
Pretty soon Marieme — or Vic, as she begins calling herself as she forges a less pliant street identity — is carrying a knife too. Only, don't go expecting a kindly social worker to step in, save Marieme from toxic peer influence and set her on a path to mainstream success. In a banlieue where the career prospects for girls skew to drugs and prostitution, there will be other predictable threats to her safety and well-being. But they won't come from these lively, belligerent, stylish young women, who serve more as a bulwark for Marieme than a bad lot waiting to drag her down.
There's plenty of plot to go around in Girlhood, but Sciamma is more interested in creating a celebratory habitat for these girls that will break definitively from the somber, social-realist filmmaking that usually frames tales from the ghetto. Sciamma is white; the girls are all black, nonprofessional actors recruited from the neighborhoods where their characters live. She places Marieme and her friends front and center in a highly stylized, glamorized cityscape lit in brilliant blues. She retools the stark projects architecture into a beautiful stage on which the girls can fight, sing and dance their hearts out in improvised pop rituals.
The result, complete with musical sequences, is as polished and handsome as an MTV video. The girls, without exception, are all gorgeous in singular and arresting ways. There's no lack of warmth in scenes of tenderness and love between Marieme and the younger sisters she cares for, and the handsome, decent beau with whom she can't explore her sexuality because he is her brother's friend and therefore — for reasons the movie is weirdly coy about — off-limits.
The energy and brassy confidence of Marieme's posse is intoxicating. Yet sometimes it feels as though their world has been over-aestheticized, their stories hijacked to serve Sciamma's ongoing interest in the theme she explored in two earlier coming-of-age movies, Tomboy and Water Lilies. She's interested in the fluid nature of gender identity and dawning sexuality, and why not? She's the author. But given the positioning of the girl gang as Marieme's port in a storm, there's something jarring about her abrupt transition from sweet-faced good girl to the dual identities she adopts when, without narrative logic, she quits home, boyfriend and gang to survive on the streets.
It's as if the director threw a switch: Gussied up in a blond wig and red minidress by night to deliver drugs to the white bourgeoisie, Marieme morphs by day into Vic, a loping, grim-faced androgyne who won't let anyone dictate where she calls home, or tell her story. Yet there's no sense of how she got from A to B, or why becoming Vic doesn't bring her the freedom and power to shape her destiny.
Back in 1986, Spike Lee broke all sorts of new ground with his exuberant She's Gotta Have It, about a bohemian black woman and her three lovers. She's Gotta Have It was a pioneering work, but after that, no one could say a baton was passed. Off the top of my head I can think only of Dee Rees' terrific 2011 indie Pariah. Set in the black-feminist subculture, Pariah — like Lee's movie — had a wonderfully organic, flowing insider vibe to it. Given the scarcity of movies that speak to the experience of young black women today, Sciamma deserves all credit for filling that vacuum. By its end, though, Girlhood, by comparison, feels like the work of a sympathetic outsider who can't resist working her own agenda.