A Wavy Line Between Fantasy And Reality In 'The Little Death'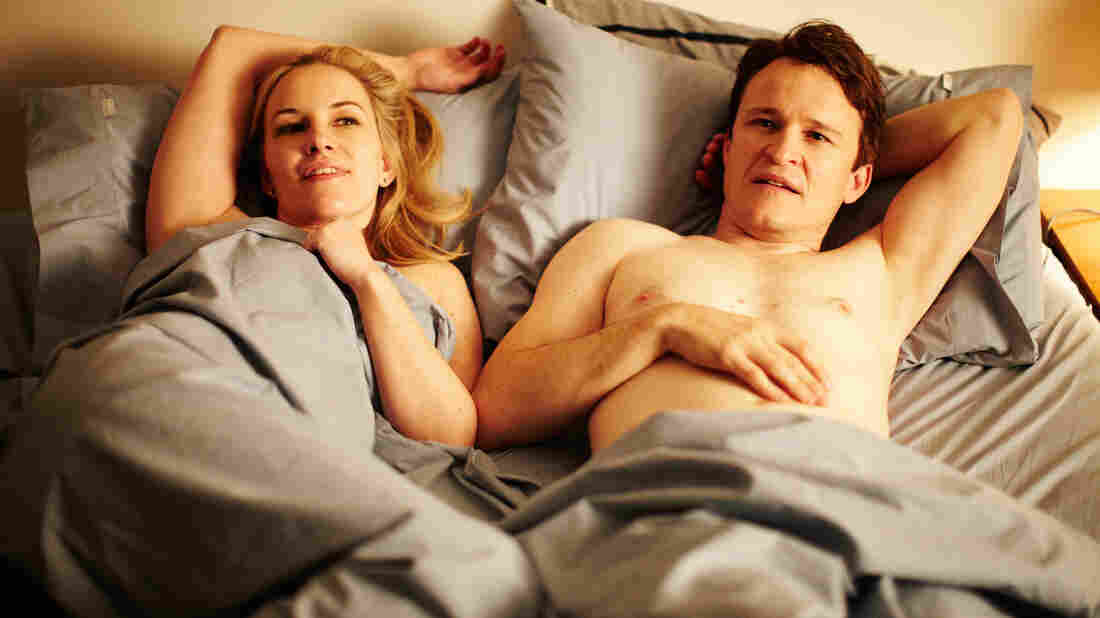 Ah, suburbia: the place where buried desires come out to play and wreak havoc with bourgeois conformity. Or at least they do in movies. There's no swinging in Josh Lawson's cheeky sex comedy, The Little Death, but the Bob and Carol and Ted et al. whose carnal breakouts it tracks are all mired in troubled unions that range from the humdrum to the bored and neglected to the disturbing. In all cases, orgasm is in great demand but in short supply, which accounts for the movie's sly title, translated from the French.
Lawson, who wrote and directed and plays a devoted boyfriend valiantly trying to fulfill his lover's rape fantasy, assigns five Sydney couples a repressed fantasy each to first play out and then struggle to contain as it throws their dreary status quo into disarray. Some of the players will meet later under trying circumstances, but throughout they're tied together, as it were, by visits from a genial new neighbor bearing inappropriate cookies and a piece of crucial information they're too distracted to absorb.
I've never heard of somnophilia (arousal through watching someone sleep) or dacryphilia (sexual pleasure at others' crying), but they both exist — I checked. Along with other fetishes, they mostly play out as farce in The Little Death, and given the cheerfully Aussie tone — irreverent, broad, droll and merry — it's hard to be as shocked as Lawson clearly means us to be. This is his first film, and sometimes it feels, exhaustingly, as though he's trying to cram every idea he ever had for a skit into his first full-length feature.
Still, a winning humanity seeps through the high jinks. Lawson comes not to judge, but to assess the unintended consequences of sexual free play. He gooses prudery and political correctness, but he also wants to explore the difficult boundaries where sexual freeedom meets morality and, via a forest of missed connections and misunderstandings, love and devotion. Instructed by their therapist to "communicate better" by experimenting with role-play, one couple finds their bond unraveling when the husband starts taking his acting duties too seriously. While we're considering the implications of a man enacting his partner's rape fantasy, a rape unfolds elsewhere when a man who's endlessly put down by his waspish wife accidentally sedates her, then takes advantage of her sleeping state. A wife who's alienated by the scheduled sex she and her husband must endure in order to conceive a longed-for child discovers she's turned on by his tears and goes to hair-raising extremes to make him cry, thus endangering their marriage.
You can read the variable outcomes of these escapades as variably as you like. Should fantasy stay in the head of the fantasizer, or does bringing it into the open clear stale air? It's clear where Lawson stands: Sexual candor can cement a good relationship or undo a bad one. It messes up everything but it can be a great clarifier. It can be absurd or redemptive, or both. And it can release the well-defended into openness to love.
Toward the end of The Little Death the action shifts gear into a bawdy, beautifully humane set piece that deserves its own movie. A scabrous, virtual three-way unfolds between a deaf graphic-novel artist, a phone-sex worker, and a telephone operator who's been hired to facilitate their hot date. All three have other things going on while they're talking, and the uproar never lets up — until suddenly, the dirty talk opens up to something more tender and vulnerable. Under cover of the much-maligned social media, lust fuses with longing to assuage the loneliness of two people, and produce a glow that has little to do with who does what to whom. Isn't it romantic?