After Second Escape, Mexican Drug Kingpin 'El Chapo' Recaptured
After Second Escape, Mexican Drug Kingpin 'El Chapo' Recaptured
In Mexico, the world's most wanted Joaquin "El Chapo" Guzman was arrested yesterday. NPR's Carrie Kahn describes his capture.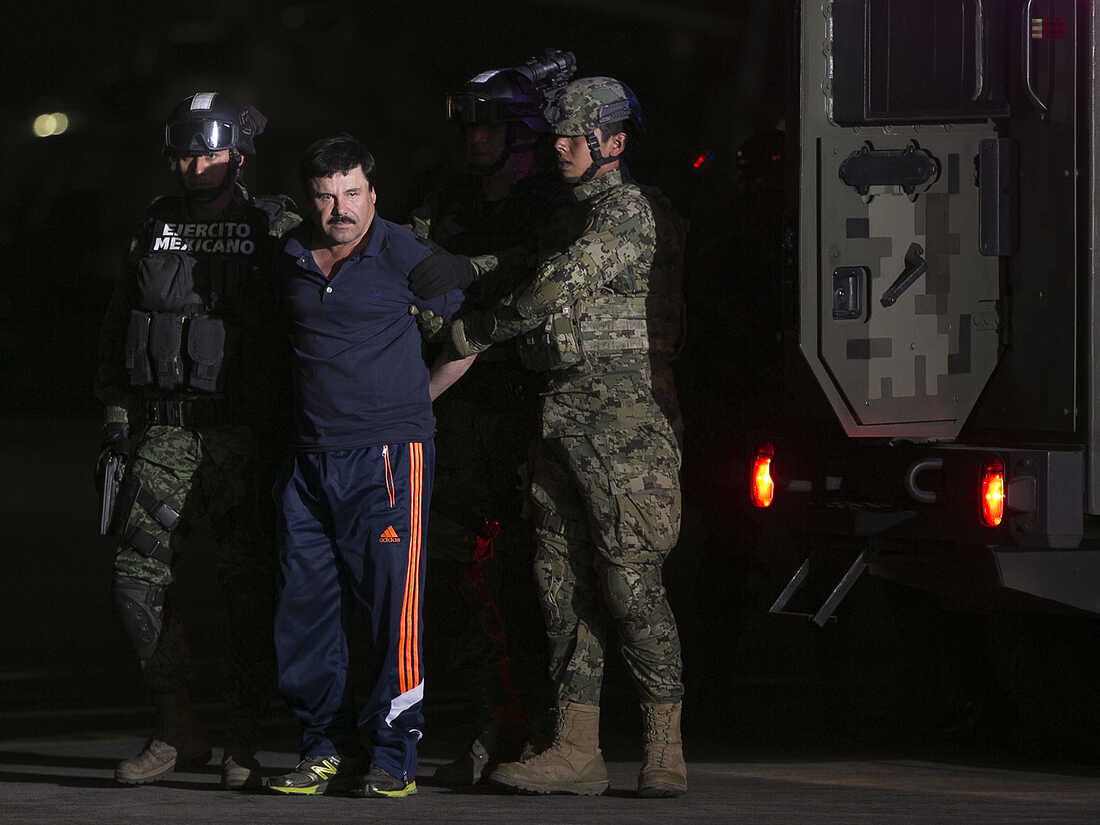 Susana Gonzalez/Bloomberg via Getty Images
SCOTT SIMON, HOST:
World's most-wanted drug trafficker has been captured - again. Joaquin El Chapo Guzman was arrested yesterday after a spectacular chase through the Pacific coast city - through the Pacific coast city of Los Mochis, Mexico. The cartel leader has been on the run since last summer when he made a brazen escape from the country's maximum security prison. NPR's Carrie Kahn reports from Mexico City.
CARRIE KAHN, BYLINE: It was just after noon local time when a tweet from the president's official Twitter account went out. Interior Minister Miguel Angel Osorio Chong interrupted a mid-day public appearance to read it out loud.
(SOUNDBITE OF ARCHIVED RECORDING)
MIGUEL ANGEL OSORIO CHONG: (Speaking Spanish).
KAHN: Mission accomplished. We have him.
(APPLAUSE)
KAHN: The crowd applauded wildly then spontaneously began singing Mexico's national anthem. It was the news the government had been hoping to give since Joaquin Guzman, known by his nickname El Chapo or Shorty, escaped from the country's maximum security prison through a sophisticated nearly mile-long tunnel. It was an elite group of Marines that stormed a home in the Pacific coast town of Los Mochis early Friday morning. A shootout ensued and five people were killed, but Guzman and another cartel leader managed to escape the home through a sewer tunnel, said Attorney General Arely Gomez Gonzalez at the late-night press conference.
(SOUNDBITE OF PRESS CONFERENCE)
ARELY GOMEZ GONZALEZ: (Speaking Spanish).
KAHN: Marines then followed the kingpin, says Gomez, who ultimately popped out of the sewer system to a waiting car. The car was stopped by police a short while later, and Guzman was taken to a nearby motel until backup arrived. Photos of the kingpin at the motel were widely circulated. The man who once made Forbes list of the richest in the world was shown stone-faced in handcuffs sitting on the bed in the $50-a-night motel room. He wore a dirty sleeveless T-shirt. A poster of a bikini-clad pinup girl hung behind him. In a brief live address to the nation yesterday, President Pena Nieto repeatedly touted his government's success in bringing Guzman to justice.
(SOUNDBITE OF SPEECH)
PENA NIETO: (Speaking Spanish).
KAHN: Today our institutions have demonstrated once again that the citizenry can have confidence in them, said the president. Guzman's arrest comes at a critical time for Pena Nieto. His popularity is the lowest of any president in recent history. In addition to a series of scandals and embarrassments - the biggest being Guzman's escape - Pena Nieto received much criticism for not extraditing the cartel leader immediately to the U.S. This time around, many believe the president won't make the same mistake. The U.S. has already officially petitioned for Guzman's extradition. And in recent months, the Mexican government has resumed sending wanted criminals to the U.S., says Andrew Selee, a Mexican expert with the Wilson Center in Washington, D.C.
ANDREW SELEE: Since he escaped almost six months ago we've seen a wave of extraditions for the first time in a number of years. And it seems that there's a shift in policy towards deciding that it's better to let the U.S. keep these folks.
KAHN: Lawyers for Guzman are expected to use all legal maneuvers to halt an extradition. Mexico's attorney general said Guzman would be taken back to the same maximum security prison he escaped from six months ago, presumably not to a cell on the ground floor. Carrie Kahn, NPR News, Mexico City.
NPR transcripts are created on a rush deadline by an NPR contractor. This text may not be in its final form and may be updated or revised in the future. Accuracy and availability may vary. The authoritative record of NPR's programming is the audio record.
'El Chapo' Back In Prison He Escaped From — Thanks, In Part, To Lure Of Hollywood
Joaquin "El Chapo" Guzmán had seen his name in headlines. He knew it graced the world's Most Wanted lists.
But it appears that the notorious drug kingpin wanted something more: He wanted his name in lights.
Guzmán was recaptured by the Mexican government on Friday, and has been returned to the same prison he broke out of in July. Mexican authorities tracked him down in the seaside city of Los Mochis thanks in part to Guzmán's desire to make a biopic about his life, Mexico's attorney general says.
The druglord had contacted actors and producers, Arely Gomez says, opening a line of investigation that helped Mexican marines ultimately capture the fugitive.
Guzman's life is certainly dramatic enough for the big screen. In fact, a film based on his story -- Chapo: El Escape del Siglo, or Chapo: The Escape of the Century — is set to open in Mexico next week.
And a less glamorous video of his July escape has already seized the attention of the world, as Bill and Laura reported yesterday:
"Surveillance video shot by a security camera in Guzmán's cell showed one of the world's most notorious criminals pacing around before dropping behind a partition in the shower area of his cell.

"That cell was in the Altiplano prison, a maximum security facility about 55 miles from Mexico City. Guzmán spent less than 18 months there before his accomplices used a nearly 1-mile tunnel to ferry him to freedom.

"Before he was captured in February of 2014, Guzmán had been on the lam since 2001 — when he escaped from another maximum security prison that was reportedly nearly identical to the one he broke out of last year."
After his 2001 escape, the head of the Sinaloa Cartel "managed to outmaneuver, outfight or out-bribe his rivals to stay at the top of the business for over a decade," as Reuters put it.
This time around, he had months, not years, of freedom. Mexican forces first located Guzmán in October, but he escaped in part because Mexican marines held their fire at the sight of two women and a child with him, Mexican attorney general Arely Gomez said Friday.
Officials then tracked Guzmán to Los Mochis, with help from his silver-screen dreams and information from one of his tunnel builders, the Associated Press reports. They narrowed his location down to one house in an upscale neighborhood, and moved in early Friday, the wire service says:
"Five suspects were killed and six others arrested. One marine was injured.

" 'You could hear intense gunfire and a helicopter; it was fierce,' said a neighbor, adding that the battle raged for three hours, starting at 4 a.m. She refused to be quoted by name in fear for her own safety.

"Gomez said Guzman and his security chief, 'El Cholo' Ivan Gastelum, were able to flee via storm drains and escape through a manhole cover to the street, where they commandeered getaway cars. Marines climbed into the drains in pursuit. They closed in on the two men based on reports of stolen vehicles and they were arrested on the highway."
Now Guzmán is back at the Altiplano maximum-security prison — the site of his July escape.
The U.S. has a standing request for Guzmán to be transferred to the States, where he faces drug trafficking charges. Many are calling for that extradition to happen, and quickly.
On Friday, Mexican authorities said nothing about extraditing the escape artist to America.