NPR Music's 30 Favorite Albums Of 2016 (So Far)
Do we even need July through December? For a year just reaching its midpoint, 2016 has already been the most. Heartbreaking, surprising, idiotic, ecstatic, life-giving, exhausting. With apologies to whatever happened in the first week of January, the wild mood swings of the last six months started for music lovers the weekend when David Bowie released his final masterpiece, Blackstar, and then disappeared into eternity two days later, leaving us all gasping. The music world, as it has done for four decades, attempted to follow in his footsteps, and even if that feeling of whiplash was matched only once (R.I.P. Prince) or twice (Lemonade or, maybe, the conversation about Lemonade), loving music in 2016 has meant wrestling with more than the sound itself.
But there has been plenty to love. Enough that we had to expand this list, our annual mid-year check-in, from 25 to 30 albums. We present them to you in alphabetical order, as a gift, an offering, an occasion to take a moment and catch up with something you may have missed before we turn the corner and barrel headlong through summer, toward November, December and whatever in the world lies beyond.
LANGUAGE ADVISORY: Some of the songs on this page contain profanity.
---
Anderson .Paak
Malibu
At the start of the year, in the dead of winter, Anderson .Paak released a flawless summer album. If the young rapper made a wave with his buzzed-about features on Dr. Dre's Compton in 2015, he caught it on his sophomore solo release. In a deep rhythmic pocket, .Paak forged 16 songs that belong as much to Dr. Dre's G-Funk as they do to Kendrick Lamar's California conscious rap, but they're unmistakably .Paak's own. This is an auteur's album, with his stamp on every part of it. Rapping, singing drumming and producing, he pulls from the histories of R&B, rap, pop (he even namechecks Hall & Oates) and old surf movies for an ecstatic, immersive toast to the West Coast. These lucid grooves owe a debt to Motown especially, bringing Marvin Gaye to mind with grooves at once detail-obsessed in their assemblage and effortless in their flow ("The Waters" features BJ the Chicago Kid, who's breathing new life into the storied label). This is irresistible pastiche, and the glue is Anderson .Paak's irrepressible will to celebrate — a spirit bright like summer, and deep like the ocean off Malibu. --Benjamin Naddaff-Hafrey
Listen: Spotify / Apple / Tidal
---
Anohni
HOPELESSNESS
On Antony And The Johnsons' albums, Anohni infused her songs with a kind of brittle warmth, marked by notes of hope and a belief in survival. On her appropriately titled Hopelessness, however, love and the darkest possible world affairs are conflated to form a fatalistic worldview in which devastation is not only inevitable, but practically fetishized. Here, the weight of the world's cruelty and injustice is so much to bear, Anohni can't help but approach it from odd and unexpected angles: In "Watch Me," the surveillance state is cast as an obsessively watchful lover for whom she pines; in "Execution," she begs, "Please don't have mercy"; in "4 Degrees," she wants to watch the world burn; in "Drone Bomb Me," the pleas are evident in the title. Set against harsh, gnarled electronics, her words don't go down easily. But that's the farthest possible thing from the point. --Stephen Thompson
Listen: Spotify / Apple / Amazon / Bandcamp / Tidal
---
A-WA
Habib Galbi

In Israel, the music, language and culture of the Mizrahi Jews — whose family roots are in Muslim-majority countries of the Middle East — has long been overshadowed. But with their debut album, the three sisters of A-WA (Tair, Liron and Tagel Haim) celebrate the legacy of their ancestors from Yemen, with their distinct culture and near-extinct dialect of Arabic. Even the band's name is a callback to that shared culture; aywa means "yeah" in Arabic. But the trio isn't looking to just preserve old sounds: instead, these Haim sisters catapult this roots material with bracing, quirky, three-part harmonies that float over electronic beats. Aywa! --Anastasia Tsioulcas
Listen: Spotify / Apple / Tidal
---
Barbara Hannigan/Bavarian Radio Symphony Orchestra/Andris Nelsons
let me tell you (Abrahamsen)

"i will go out now" (excerpt)
The synergy between music, words and performers rarely rises to the extraordinary level found here in Danish composer Hans Abrahamsen's 35-minute song cycle, let me tell you, which features soprano Barbara Hannigan with Andris Nelsons conducting the Bavarian Radio Symphony Orchestra.
The text, by Paul Griffiths, adopts all the words (about 480 of them) Shakespeare allotted to Ophelia in Hamlet, shuffled to create a fresh, confident character with cracks of fragility. Sung by the fearless Hannigan, Ophelia divides her story into past, present and future, speaking of a time without music, the inadequacy of language and a transformative love. When she sings "you have sun-blasted me," the orchestra shatters into twinkling shards of sound. The final scene finds Ophelia calmly walking out into the falling snow. Hannigan's high C, plucked from the frigid air, might be the most beautiful note you'll hear all year. --Tom Huizenga
---
Beyoncé
Lemonade
Who but the Queen of Fierceness could have released an album whose impact on public discourse would exceed that of any other recent pop-cultural event — sorry, LeBron and Captain America — this year, when the album is supposed to be dead, its encompassing magic disabled by the streaming economy and our shattered attention spans? Lemonade is Blonde on Blonde for the women who know how to get that perfect shade, Exile on Main Street for the communities of color who've felt the effects of internal American exile their whole lives. From the minute the deeply complex "visual album" version aired on HBO, fans claimed Lemonade as the culmination of a century-plus's worth of African-American women's truth-telling, connecting Toni Morrison's visions to the striking imagery in films like Daughters of the Dust to the subversive celebrity of current icons like Serena Williams. It's the music, however, that sustains Lemonade's influence. The latest chapter in Beyoncé's career-long plan to conquer all genres while remaining unstintingly loyal to hip-hop and soul, this album shows Beyoncé dispatching hard rock, country (with a Mardi Gras Indian assault!), indie art snobbery and wimpy SoundCloud R&B, even as her six-inch heels remain planted in the funky-melodic style she essentially invented. She's done so much here, all in service to African-American women's stories. The blues stream that extends from Lemonade's central storyline about marital betrayal and forgiveness opens up into so many tributaries (concerning paternal inheritance, maternal fortitude, cultural and real reparations, economies built on women's labor, artistic lineages grounded in women's fun) that to say these songs are "personal" is to miss the point. Yet, as the joy of recognition this album inspired makes clear, Beyoncé's version of the "personal" has always been communal, from her highly collaborative artistic process to the way that even her most private stories offer themselves to others as testaments. Lemonade is her liberation theology. --Ann Powers
Listen: Tidal
---
Big Thief
Masterpiece
Big Thief is muscular and frail. Its songs revolve around singer and guitarist Adrianne Lenker and her musical partner, guitarist Buck Meek. They're storytellers as much as song makers and their distorted guitar-based music is a powerful underpinning to vivid and stark imagery:
"I'll be your morning bright goodnight shadow machine.
I'll be your record player baby if you know what I mean.
I'll be your real tough cookie with the whiskey breath.
I'll be a killer and a thriller and the cause of our death"
Masterpiece is one of the strongest debut albums of 2016. It's an album on being human, finding compassion, being a lover or just a friend.
"Cry like a bird, fly like a baby
Mama got drunk and daddy went crazy.
If your speech slurs, if you feel shaky
meet me out back, I'll be there waiting."
Masterpiece shakes off the trite relationship cliches that are trappings of so much rock music. It's a special world they've created and it lives in my head on repeat. --Bob Boilen
Listen: Spotify / Apple / Bandcamp
---
Car Seat Headrest
Teens Of Denial

Albums are rarely this ambitious or executed this brilliantly. Before its release, Car Seat Headrest frontman Will Toledo had already proven to be a gifted and ridiculously prolific songwriter, putting out nearly a dozen inspired albums in the span of five years. But Teens Of Denial is his masterpiece. Epic in its vision and execution, each track mumbles and roars with life, building monumental guitar noise and intricate, multi-layered wordplay before receding again to more ruminative shadows. It sounds at times like the ramblings of a mad genius as a song suddenly (and repeatedly) careens in multiple directions depending on whatever thought or observation or labyrinthine melody pops into Toledo's head. Teens Of Denial is the kind of album future 20-somethings will obsess about. --Robin Hilton
Listen: Spotify / Apple / Bandcamp / Tidal
---
Carrie Rodriguez
Lola
Carrie Rodriguez has recorded the pefect bicultural album in Lola. It is the album she was born to do, what with her mother's west Texas roots and her father's Mexican American background, but she arrived at this point by collecting her own identity along the way: first classical violin, then Americana fiddle and country vocal duets with Chip Taylor. The beauty of this album is in the details. "Llano Estacado" is an emotional examination of the effects of a broken immigration policy set to what she calls a "cowboy shuffle" that she delivers by she switching between Spanish and English accented by her beautiful west Texas drawl. I don't think I have ever heard anything express so powerfully the kind of bicultural existence so many of us live. --Felix Contreras
Listen: Spotify / Apple / Tidal
---
Corinne Bailey Rae
The Heart Speaks In Whispers

A songwriter's songwriter with a trembling, tearful larynx, Corinne Bailey Rae gifted us in 2010 with The Sea, a heartrending sophomore turn in the aftermath of the untimely death of her husband Jason, but followed it with meandering misstep The Love EP. The Heart Speaks in Whispers — her third album and first full-length studio effort in six years — soars ebulliently on recharged emotionalism and the surging promise of "up jumped spring" new love. What a wisely-curated group of collaborators, including the likes of Moses Sumney, Esperanza Spalding and R&B trio KING: They show up to magically lift tunes like the four-on-the-floor "The Skies Will Break," sunkissed "Hey, I Won't Break Your Heart," retro/electro-drifty "Been to the Moon" and Quiet-Storm intoxicating "Green Aphrodiasic." Black women sporting guitars and writing their own tunes, from Rosetta Tharpe to Joan Armatrading to Lianne La Havas, have always received the shortest end of the stick: Bailey Rae almost surely might be playing larger venues if she was white and/or a man making music this mellifluous, drifty-sensual and artistically confident. But just as the heart speaks in whispers, sometimes music's best-kept secrets deliver when they operate under the radar, too. --Jason King
Listen: Spotify / Apple / Tidal
---
David Bowie
Blackstar
I listened to Bowie's astonishing 25th studio album Blackstar on the Friday in January it was released, which also happened to be his 69th birthday. I spent that weekend working through the album's somber horns and avant-jazz experimentalism, the mystical, indecipherable allusions on tunes like "'Tis a Pity She's a Whore" and those multipart, Tony Visconti-aided arrangements such as the mind-blowing, challenging title track. Two days later, Bowie suddenly died and we were all were forced to re-examine/re-think the album's most curious, WTF lyrical moments like, "Look up here, I'm in heaven" (on "Lazarus") and "Where the f*** did Monday go?" (on "Girl Loves Me"). Re-hearing eccentric songs like "I Can't Give Everything Away" as existential commentary turned Blackstar into more than the final bit of punctuation on Bowie's multi-decade career — made a jazz-backed rock album a melancholic rumination on death, on identity boundaries, on stardom, on the universe and astrology, on love, religion and on the limits of the pop machine. Blackstar also happens to be a richly musical offering, more sonically generous and full of boundary-exploding ideas than one might ever expect to hear from any terminally ill musician. As much or more than Kanye's Life of Pablo, Blackstar is the 2016 album that refuses closure: It becomes something new every time you deeply listen. It's the most powerful parting gift David Bowie could have ever given us. What did we do to deserve such a creative genius in our lifetimes? --Jason King
Listen: Spotify / Apple / Amazon / Tidal
---
Domo Genesis
Genesis
It was pretty obvious early on that Odd Future's Domo Genesis could straight-up out-rap not only his affiliates, but also more than a handful of the prominent rappers out when he first popped in 2010. Six years later and he's mastered the art of one-upmanship on his long-awaited and painstakingly created debut album, aptly titled Genesis. It's a peek into the crossed wires of Domo's mind, where he thrives on different forms of confidence. He flosses alongside the greatest regenerating rapper of our time, Juicy J, and the affable and omnipresent Wiz Khalifa over Tyler the Creator's Kill Bill-esque "Go (Gas)." He flexes alongside Anderson .Paak on the self-explanatory "Dapper." He also takes ample time to acknowledge the causes (and effects) of the growth he's shown over the years, using tracks like the bare open "One Below" to rightfully attribute much of his development to his own patience — and his mother's. With nary a glimmer of uncertainty in sight, Genesis is what it sounds like to truly find, trust and believe in oneself. --Kiana Fitzgerald
Listen: Spotify / Apple / Tidal
---
Esperanza Spalding
Emily's D+Evolution

Esperanza Spalding's talents are obvious on stage: her exceptional bass playing, her conceptual imagination, her tendency toward the compositionally ornate, her ever-increasing command of her vocal instrument. That jigsaw hasn't always fully assembled for her records, which seem to summon an editor for concision, or something to scuff up the sheen, or some better translation of the real-time to the on-repeat. Surprise: This record is her best yet. Forced to classify, you'd call it art rock, for guitar-bass-drums electric power trio; asked for touchstones, you might throw out St. Vincent, or Laurie Anderson, or Janelle Monae. There are prog-rock vibes throughout, with unexpected harmonic twists, asymmetric phrasing, off-balance beats, an alter ego or persona (the titular Emily), even a choreographed stage show. But the trick of Emily's D+Evolution is that "that's kinda weird" becomes "that's really catchy" on repeated listen. There's a depth here that wouldn't be possible without a broad musical vocabulary (and Matthew Stevens' guitar). But for all the inputs, what emerges is eminently singable, kinks and all. --Patrick Jarenwattananon
Listen: Spotify / Apple / Tidal
---
Jack DeJohnette / Matthew Garrison / Ravi Coltrane
In Movement

You could enjoy this record without knowing any of the tunes, or the players, or their history. You'd get spacious slow numbers that eventually reveal georgeous melodies. You'd get the energy turned up, sometimes with raw abstraction, other times with a dark funk groove. You'd get a drummer who doubles on piano, an electric bassist who doubles on atmospheric electronics, a tenor saxophonist who doubles on other saxes. Texturally and intellectually, it'd be a little bit elusive and mysterious, a lot of coloring outside the beat. But you can add meaning knowing that Ravi Coltrane (saxes) and Matthew Garrison (bass) are the sons of John Coltrane (saxes) and Jimmy Garrison (bass), and that drummer Jack DeJohnette has known them since they were kids because he played with John Coltrane and Jimmy Garrison. Some of these tunes salute DeJohnette's heroes like Jimi Hendrix ("Two Jimmys"), Maurice White of Earth, Wind and Fire ("Serpentine Fire"), and bandmate Rashied Ali ("Rashied"); others were famously performed by John Coltrane ("Alabama," "Blue In Green"). The roots run deep, and you can read whatever interpretive intentions you wish from that. Or you could just enjoy the music. --Patrick Jarenwattananon
---
Juan Atkins & Moritz von Oswald present Borderland
Transport
Cynicism has predisposed us to assume that when legendary musical figures, a few years beyond their best work, come together for one more project, they're doomed to stylish mediocrity. Well, Transport trumps cynicism. The second album by Borderland, the recent union of Detroit techno's godfather and the primary architect of Berlin's techno sound, is a wonder, out of place and out of time. It is seven tracks of dubbed-out hi-tech funk that is expertly textured (with von Oswald, that's a given), but also incredibly playful and nuanced in its rhythms, an exploration of the contemporary electronic groove that has little in common with the high-decibel chaos of most modern dance music. (Though, as "Lightyears" can attest, it isn't too precious to pack a bottom-heavy wallop.) Transport is the best example yet of techno aging gracefully — and what could be less cynical than that? --Piotr Orlov
Listen: Spotify / Apple / Tidal
---
Kanye West
The Life Of Pablo

For all the talk about the eternally in-progress nature of The Life of Pablo (and its ongoing saga of various titles and tracklists and covers and formats and late addendums) Kanye was the one who this year showed he best understands what an album is nowadays. He is transparently pragmatic when it comes to the ways an LP — this weighty serious thing made by people who transcend radio, who are the real deal, and which also acts as a key for certain doors, much like publishing a book, any book at all, confers legitimacy, at least for a little while longer — can be used to leverage influence and attention into sales of other products with better margins. He's also a wild-eyed romantic, who reads the historical moment and wrings from it sharp-elbowed, disconcertingly ambivalent songs, most of which grow on you, though lately their seams never disappear, and all of which boil over from a named group of feelings and a specific experience, each helping decode the others. Although he's remained on message for over a decade, you can't swap a song from one Kanye album onto another. This time he's become ever more relatable, as one consumer to another, ratifying with his masterful swagger-jacking (also called making art) what it's like to have a voracious, indiscrimate cultural appetite, to speak in a vernacular that has become hyper visual, broadly referential and dependent on gossip. TLOP feels transitional and unreliable; so did all the other mess that happened in the past six months. It wouldn't have made sense last year and we'd dismiss it if we heard it for the first time tomorrow. It's moment-defining, tougher than it looks, and prescient. --Frannie Kelley
Listen: Spotify / Apple / Tidal
---
Kaytranada
99.9%
I discovered 99.9% on a mellow, rainy Sunday afternoon this spring. I put the album on after reading an emotional and honest profile on the Montreal-based producer/DJ. I immediately had one of those, "whoa, what the heck did I just listen to?" moments and had to sit down to process (after, um, dancing alone in my living room). It's hard not to notice that Kay loves spiky synth-pop, funky soul, bass-y disco, beat-mining hip-hop and a welcome flourish of bumpin' Chicago House, but what makes this debut album so noteworthy is that he — like his innovative brethren Anderson.Paak and Syd The Kid, who both show up as guests — is challenging what it is to be making modern, youthful Black music. Energetic, pensive, yet future-forward, Kaytranada has created one of the most beautiful, solid albums of the year. --Saidah Blount
Listen: Spotify / Apple / Tidal
---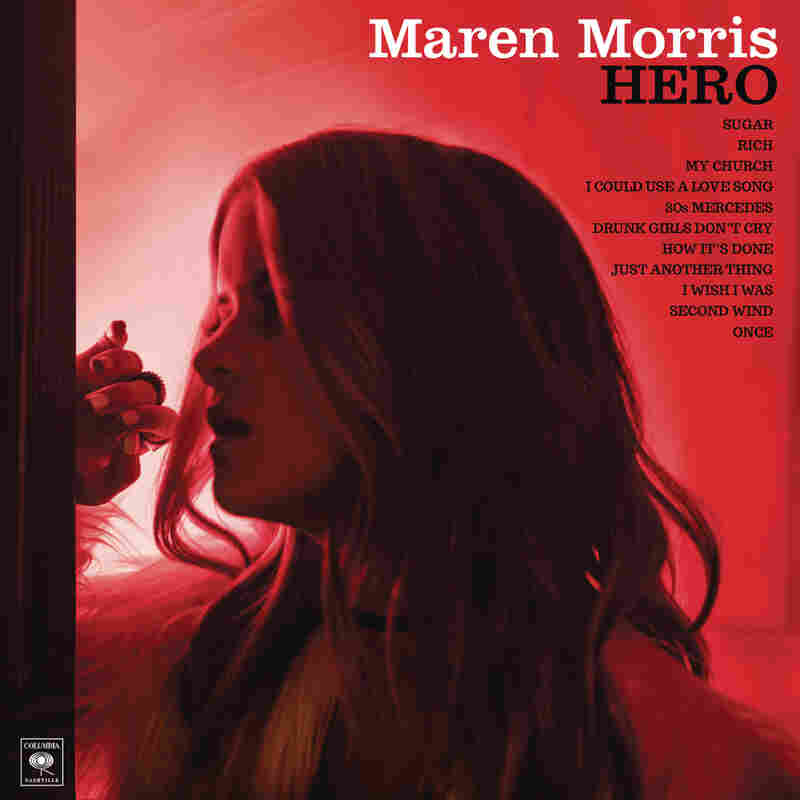 Maren Morris
Hero
Music critics tend to be drawn to country acts they see as rebelling against a cautious music industry — except in the case of Maren Morris. Hero, the 26-year-old, Texas-bred singer and songwriter's full-length national debut, is the fruit of her savvily gaming the system, stockpiling burnished pop-country tracks that anticipated mainstream country's next shift and spurred swift movement from a major label. First single "My Church" delivered an addictive hook with thoroughly breezy bite, and that tone of voice, coloring both her writing and her vocal delivery, serves as an appealing through-line on her album. She's funny when she rolls her eyes at a smooth-talking beau in "Rich" and a pushover friend in "Drunk Girls Don't Cry" and frank about being resistant to romance in the low-key let-down "I Wish I Was" and the airily rueful ballad "I Could Use a Love Song." Morris is an astute student of current popcraft, at ease with the cadences and postures of R&B and hip-hop, as casually chameleonic as any country artist to date. And beneath the artful slouch of her singing is a powerhouse voice and a compelling perspective. --Jewly Hight
Listen: Spotify / Apple / Amazon / Tidal
---
Margo Price
Midwest Farmer's Daughter

In 1921, the poet Edna St. Vincent Millay wrote a sonnet about a cigarette; the old form proved ideal for capturing the ambiguities of a changing modern world. In 2016, Margo Price made a honky-tonk album about trying to survive in the world of country music now, as gentrification makes life for artists tough, and the classic sounds she loves — not just hard country, but Southern soul and 1960s pop balladry — have been pushed off the radio by hair-metal guitars and hip-hop beats. Midwest Farmer's Daughter never sounds like a museum piece, because its tales of hard drinking, sad loving and outlaw behavior are all as true as they are carefully crafted to honor the traditions Price means to extend. As a songwriter, Price is disarmingly honest, owning her bad luck, her mistakes and the courage she cultivated to overcome them. The crucial element, holding together the brilliant band of young Nashville cats she's assembled, is her voice — sumptuous and raw, strong as burlap and sweet as cornsilk, wild and blue. --Ann Powers
Listen: Spotify / Apple / Tidal
---
Mitski
Puberty 2

I don't know how to write about Mitski, not the way I know how to write about rap musicians and rap songs. I don't know who her peers and predecessors are. I don't know her lexicon. I have no way of knowing if she's making allusions, or teasing somebody, or paying her respects. I assume that much is flying right past me. I'll tell you what though, I recognize these songs. On Puberty 2, Mitski is voicing a person trapped in the detritus and insinuating perpetuations of misogyny (buttressed by racism and homophobia), reasonably disaffected, lied to, painfully aware, casually exploited, implacably refusing to be victimized by all that ("When I find that a knife's sticking out of my side, I'll pull it out without questioning why," she sings on "Fireworks") and nonetheless creative. When I listen to her songs back to back with contemporary rap songs I traverse related emotional terrain. She's verbose, rhythmically astute but cavalier with meter, switching her flow as needed. Her songs are polished and lived in, funny and economical and graceful. "I want to see the whole world," she says on "My Body's Made of Crushed Little Stars." "I don't know how I'm gonna pay rent." Puberty 2 is accurate, perilously close to home, like it might make you cry in public. And then you'll feel better. --Frannie Kelley
Listen: Spotify / Apple / Bandcamp / Tidal
---
New York Philharmonic/Alan Gilbert
Christopher Rouse - Odna Zhizn; Symphonies Nos. 3 & 4; Prospero's Rooms
Christopher Rouse can make even a modestly sized orchestra roar, shriek and nearly explode — he is, after all, a composer who wrote a piece about thunderous Led Zeppelin drummer John Bonham. This album, a testament to the vital partnership of the New York Philharmonic and outgoing music director Alan Gilbert, has plenty of that energy and murky subterranean rumblings, but it also glows while spinning out a series of gentle melodies and enigmatic ideas. It is a collection of more tributes: The overture Prospero's Rooms is a sketch of fellow Baltimorean Edgar Allan Poe's "Masque of the Red Death." The radiant Odna Zhizn (A Life) pays homage to an unnamed Russian woman very close to Rouse. The Third Symphony is based on the architecture and force of Prokofiev's little known Second Symphony. And the meaning of the Fourth Symphony, skittering then extremely bleak, is known to Rouse alone. --Mark Mobley
Listen: Spotify / Apple / Tidal
---
Oddisee
The Odd Tape

The hip-hop beat tape is no longer the trendy commodity it once was. Most modern-era producers won't release their bare instrumentals, fearing unwanted exposure, unless those beats are proven hits. Oddisee has never been afraid. In May, he released The Odd Tape, the best instrumental album of his career. These projects have always incorporated storytelling, channeling feelings of the seasons or expressing personal struggle through beats. The Odd Tape is a day in the life of Oddisee. The 12-track excursion wakes you with the opening dings of "Alarmed" and gently soothes with the closing lullaby, "Still Sleeping." The pride of P.G. County's sound has blossomed from once flipping beats built around samples to now making the sample sound as if it was catered to the live instrumentation. Fortune still favors the brave. --Bobby Carter
Listen: Spotify / Apple / Bandcamp / Tidal
---
Paul Simon
Stranger To Stranger

I think of Paul Simon as our greatest living songwriter. His songs are portraits, thoughtful snapshots on the human condition and, more often than not, on Americans and American culture. His consistency as an artist is unparalleled, going back fifty solid years to those early Simon and Garfunkel records. From its opening track, his masterful 2016 album Stranger to Stranger explores our fears as a culture — of the future, of the unknown. Every instrument, every sound effect, every vocal is finely detailed and crafted to serve the song. And those songs are more often created not from the usual three chord acoustic guitar repertoire but from the feet of flamenco dancers and electronic beats, then sculpted and changed and polished beyond recognition into these memorable musical jewels, each one shining so clearly. --Bob Boilen
Listen: Spotify / Apple / Tidal
---
Radiohead
A Moon Shaped Pool

A Moon Shaped Pool doesn't have the brooding guitar noise of Radiohead's earlier records, or the vast conceptual scope and studio alchemy of the band's more recent work. What it does have is a tremendous amount of heartache, informed, in part, by the end of singer Thom Yorke's 23-year relationship with the artist Rachel Owen. But A Moon Shaped Pool isn't a breakup album. It's more of a reflection on where the band finds itself after reaching middle age with 30 years of making music behind it. The songs are more restrained, more introspective and certainly among the most beautiful and deeply affecting of anything the band has ever done. A Moon Shaped Pool feels like the right album at the right time for this band and will likely, in time, be considered one of Radiohead's masterworks. --Robin Hilton
Listen: Spotify / Apple / Bandcamp / Tidal
---
Rihanna
ANTI
A master of disguise, Rihanna has been maneuvering within the "urban" market since her debut, but is somehow always able to morph styles from record to record in ways that magnify her appeal without alienating audiences. (Receipts: See her positions near the top of a handful of Billboard's all-time charts, plus her dedicated Internet coalition, The Navy.) This year's ANTI feels like the first time the entertainer has opted out of single-dom and instead focused on creating a full body of far-reaching work that doesn't necessarily belong in either the urban or the pop charts. She clasps her identity tight immediately with the opening track, "Consideration," alongside Top Dawg Entertainment's SZA, stalks through the damaging Hit-Boy and Travi$ Scott-assisted "Woo" and slithers through the Tame Impala cover "Same Ol' Mistakes," which stands out dreamily from the rest of album like northern lights. Meanwhile, the bonus tracks (shouts to "Sex With Me" and "Pose," in particular) cushion her aura, bringing her irresistible and iridescent nature full circle. --Kiana Fitzgerald
Listen: Spotify / Apple / Tidal
---
Robert Ellis
Robert Ellis

Robert Ellis' fourth solo effort is a road album and a breakup album, summed up no better than Ellis himself does on "Elephant," a quiet and desperate song that nonetheless sparkles with a Texas twang: "Oh, my heart / It's torn in two / one half's on the road and other remains with you." Where previous records played with Ellis' country and Americana roots, here he's more wont to apply a thoughtful songwriter's touch to his musical whims. Just as he can pick an acoustic guitar with the best of them (especially with right-hand man Kelly Doyle on the bluegrass-driven "Drivin'"), Ellis bares his soul with dramatic soul and pop music deftly (and sometimes lushly and outrageously) arranged to pick apart his guilt, jealousy and hurt. Heartbreak shouldn't be this fun or uplifting, but maybe, as Ellis sings, it's "just survivin'." --Lars Gotrich
Listen: Spotify / Apple / Bandcamp / Tidal
---
Sturgill Simpson
A Sailor's Guide To Earth

From the start, this album can seem an exercise in trampling your expectations. Rather than the edgy psych-country Sturgill Simpson honed on Metamodern Sounds In Country Music, the first taste of A Sailor's Guide To Earth is a gruffly sweet greeting for Simpson's young son, all the awe of a new parent orchestrated in strings and steel guitar. But three minutes in — perhaps you've adjusted by now — well, The Dap-Kings kick in, Simpson's oil-can baritone rises to a soulful shout and you realize that maybe the sly nod to Otis Redding's "Dock Of The Bay" in the track's first few seconds wasn't mere coincidence. Playing neatly into Simpson's reputation for contrarianism is the fact that, as everyone else in Nashville clamored to work with his collaborator Dave Cobb, Simpson chose to self-produce this record, which notably features a Nirvana cover lodged amid his own wry, off-kilter writing. Yet for all its defiance, A Sailor's Guide has at its core something more vulnerable. Simpson knows from experience that navigating life is tricky, and that even the best charts can't guarantee a ship will avoid every squall. But at the album's emotional peak, the gorgeous soul ballad "All Around You," his message to his son is clear: Love will be there, even when all seems lost. In its earnest optimism, that itself is a subversive notion. --Rachel Horn
Listen: Spotify / Apple / Amazon / Tidal
---
Vektor
Terminal Redux

Metal can't help but look back, its DNA nearing five decades of riffs and wails. We celebrate the keepers of the faith, but some still crave evolution. Vektor, a band that's long owed its existence to forward-thinking icons like Voivod and Death, stepped out of its breakneck thrash 'n' death to make the most gripping metal album of the year so far. True to the band's science-fiction themes, Terminal Redux is a story about an astronaut's rise to power after discovering a life-giving molecule. The album still has goofy moments of party thrash, but mostly Vektor fearlessly pushes itself into new realms with Philly soul singers, slow-burning acid-folk, vast arrangements that imagine Messiaen shredding the cosmos and, it should go without saying, David DiSanto and Erik Nelson's continuously surprising guitar interplay. Terminal Redux is a dazzling feat of insane musicianship and extended compositions that thrill, but is ultimately a record with real heart, of discovering purpose and struggling with legacy. --Lars Gotrich
Listen: Spotify / Apple / Bandcamp / Tidal
---
Xenia Rubinos
Black Terry Cat

"I want it all now," Xenia Rubinos sings on "Mexican Chef," her charm-bomb of a tirade against a service industry that relies upon the skills of brown-skinned laborers but requires that they stay behind closed kitchen doors. It's a stick-up — you can hear her fury in the clattering drums, the getaway guitars, the breathless pileup of injustices in the lyrics — but it's also a celebration of those overlooked workers. That's typical of Black Terry Cat, which demands plenty, but offers generously in return. At times, especially as the more frantic moments of "See Them" and "Black Stars," give way to a groove, the songs here recall the musical omnivorousness of tUnE-yArDs or the attack-from-any-angle sophistication of Erykah Badu's New Amerykah diptych. Even on the lushly minimalist "Don't Wanna Be" or "Lonely Lover," Rubinos takes too many left turns, fuses too many styles, jumps from haunted heartache to soft seduction too fast for a listener to absorb the full effect in a single listen. But then every song on Black Terry Cat also has a gorgeous melody, a softly-emerging synth line, an irresistible rhythmic hook that sinks in immediately and nudges your fingers toward the repeat button. Give her what she asks for. Sooner or later she's gonna get it anyway. --Jacob Ganz
Listen: Spotify / Apple / Bandcamp / Tidal
---
Various Artists
Calentura: Global Bassment

There are many folks who say you should never tamper with greatness, that you cannot improve on that which starts out as completely original. On the whole, I'd agree, so when the people who own the Fania Records catalog announced they were recruiting dance club DJs and producers to take on the definitive classic 1970's salsa, I raised one eyebrow in complete skepticism. But when I heard the finished product my other eyebrow shot up in disbelief that the ideas and production not only held its own but it actually moved Latin dance music further along its musical evolution. This album features talents who can take apart the core elements of, say, a Cuban guaguanco and marry it to the power that drives people onto the dance floor. Anything that can do that recognizes that what these styles share is more important than their differences. --Felix Contreras
Listen: Spotify / Apple / Tidal
---
Various Artists
The Music Of Morocco: Recorded By Paul Bowles

American author and composer Paul Bowles deeply loved Morocco. He was first smitten after a 1931 visit with Aaron Copland. In 1947, he moved there and stayed until his death 1999. He also adored the country's incredibly varied music, from the Moorish-style orchestras to the deeply earthy music of the Gnawa community, whose traditions and rhythms fuse the Maghreb firmly to the sub-Sahara. And in 1959, Bowles crammed a reel-to-reel tape recorder into his Beetle and set off to record musicians across Morocco for the Library of Congress in a five-month sprint. (Bowles wasn't above crafting his own vision of these field recordings.) Now those recordings have been made available — about half of them for the first time — in an absolutely gorgeous four-album set, elaborately outfitted with Bowles' field notes and extensive liner notes. This set is a portrait of Bowles' tastes as much as it is a collection of sonic snapshots in newly independent Morocco; either way, it's a treasure. --Anastasia Tsioulcas
Listen: Bandcamp