As Emanuel Pitches More Help For Kids, Violence-Weary Chicagoans Expect Little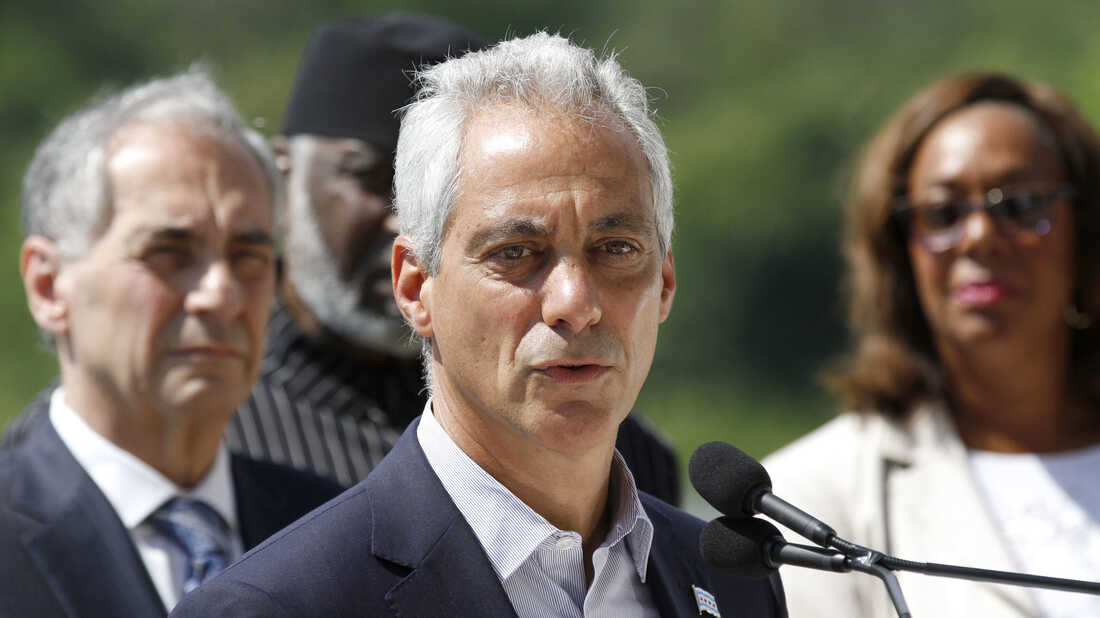 The stakes were high Thursday night for Chicago Mayor Rahm Emanuel and for city residents as the mayor delivered a long promised "major" address detailing his plans to reduce the rising toll of gun violence in the city.
Emanuel offered his "comprehensive plan" for the complex problem of neighborhood violence, including universal mentoring for children in grades 8 through 10. "No matter who you are, what your background is, where you live in Chicago, this fight belongs to all of us," he said.
He also focused some of his attention on the lack of proper parenting and the absence of fathers in some of the city's most impoverished and violent neighborhoods.
The mayor raised some of the same issues in a speech on Sept. 21, and many community leaders reacted with criticism and skepticism.
"He has no moral authority since Laquan McDonald," the Rev. Ira Acree told member station WBEZ in Chicago. Acree is pastor of Greater St. John Bible Church in the city's Austin neighborhood on the west side, an area that has seen a dramatic increase in shootings and homicides this year.
"I just think the mayor needs to be very careful talking about parenting without talking about the stressors that are on poor families," says another influential west-side pastor, Rev. Marshall Hatch of the New Mount Pilgrim Missionary Baptist Church in the West Garfield Park neighborhood.
The numbers citywide in Chicago are staggering: more than 3,000 people have been shot this year, more than 500 killed. That's already more than all of last year, and Chicago has recorded more murders this year than New York and Los Angeles combined.
To combat what Hatch describes as "this constant barrage of violence that seems to get more and more heinous," Mayor Emanuel's hand-picked police superintendent announced yesterday that the city will hire nearly 1,000 new police officers over the next two years.
"This will make us a bigger department, a better department and a more effective department," says Chicago Police Superintendent Eddie Johnson, who adds that the new officers will begin hitting the streets in January. "I'm confident that these added resources will make us better and give us the capacity we need to address our crime problems across this city."
Without saying so directly, Johnson's announcement is a tacit acknowledgement that the Emanuel administration's strategy of covering staffing shortfalls with overtime just hasn't worked.
"We can't rob Peter to pay Paul when it comes to the safety of our city," Johnson said at a news conference Wednesday with an estimated 200 police officers in attendance. "We need more patrol officers, and we need 'em where they're needed the most."
Across the city, neighborhood leaders and elected officials long have been calling for more police officers. Emanuel himself promised to hire 1,000 new officers when first campaigning for office 5 1/2 years ago, but he never followed through, as the department could barely keep pace with attrition.
The new hiring leaves critics such as Pastor Marshall Hatch questioning Emanuel's approach to fighting crime again.
"That's what is called a short-term solution," Hatch said. "Everybody knows you can't police yourself out of a problem like this when the real problem is poverty, despair and disinvestment."
Mayor Emanuel has acknowledged as much, and his speech Thursday night touched on education, job creation and economic development.
The previous day, the mayor hinted he would expand mentoring programs for at-risk youth and ask more Chicagoans to step up and be mentors:
"The Vice Lords are ready to be a mentor. Is Chicago ready to be a mentor? The Gangster Disciples are ready to be a role model. Is Chicago ready to be a role model? I do know this: You give the kids of the city of Chicago a positive alternative with a caring adult, they'll go the positive route."
But in neighborhoods that are under-resourced and scarred by vacant lots, shuttered factories, and boarded-up homes and shops, even as hundreds of millions of dollars have been pumped into downtown development, residents are wary of any lecture from the mayor.
"The only message ultimately that makes sense is that the city is going to engage in a concerted effort to make sure that these communities are heavily invested in," says Hatch. "That investment is what signals hope ... and it demonstrates that these places are worth living."
Still, others weren't expecting much from Emanuel's speech.
U.S.
With Deadliest Month In 20 Years, Chicago Mother 'Desensitized' To Gunshots
With Deadliest Month In 20 Years, Chicago Mother 'Desensitized' To Gunshots
"The mayor does not have a clue in regards to what it will take to reduce killings and shootings in Chicago," says Tio Hardiman of the group Violence Interrupters.
After the release of the Laquan McDonald shooting video last year and other police shootings, Hardiman says many African-Americans here don't trust the mayor, nor do they trust the police. He says the city's crime-fighting strategies often are misguided. And in addition to calling for new jobs and vital mental health services in the poorest, most violent neighborhoods, Hardiman wants the city to empower young people to intervene in personal disputes and resolve conflicts before they blow up into shootings.
Political strategist Delmarie Cobb agrees that this is a critical moment.
"We're at a tipping point," she says. "If we don't get this right, if we don't start working together and being collaborative from every aspect, then we will have missed an incredible opportunity (and) it will only get worse."
Cobb, who has worked with the Rev. Jesse Jackson and the campaigns of both Bill and Hillary Clinton, says that Emanuel "is under a microscope," and that people want to know if he is going to follow up his speech tonight and put actions to his words.
"If he doesn't, then he's done for," says Cobb, adding that "it cannot be business as usual. He cannot go back to what he's been doing the last five years and expect everyone to fall in line."
Solving this crisis of community violence in Chicago requires something from the city's leader that he typically isn't inclined to do, says Cobb.
"What Mayor Emanuel needs to do is learn how to listen," not give a speech, she says.
Correction
Oct. 3, 2016
In a previous version of this story, we referred to a speech by Mayor Rahm Emanuel that had been leaked. In fact, the material quoted came from a speech that Emanuel delivered on Sept. 21.