Divided States: Female Business Owner In Georgia Favors Clinton
Divided States: Female Business Owner In Georgia Favors Clinton
Tonya Hicks, who owns an electrical contracting company in Atlanta, plans to vote for Hillary Clinton next month. Her business boomed in the early 2000s, crashed in the recession and is now hiring.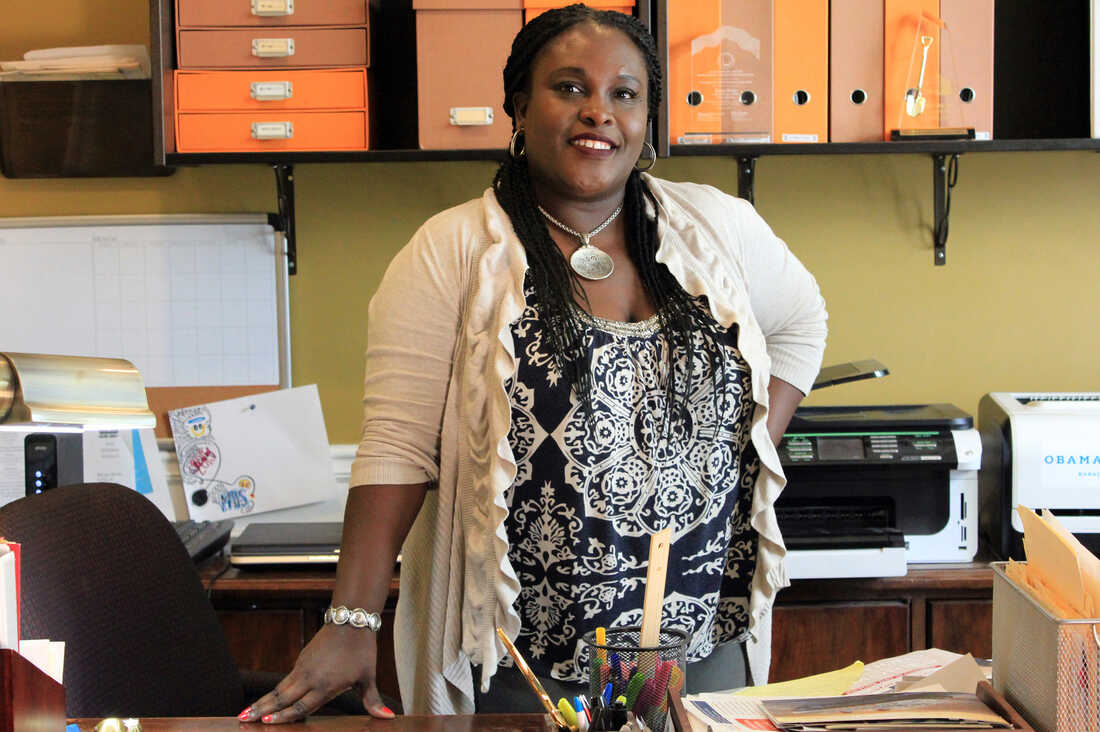 STEVE INSKEEP, HOST:
And I'm Steve Inskeep in Atlanta, the capital of Georgia, one of the divided states, where we stood on the porch of a house on Sunday.
American flag decoration by the front door, life, liberty and the pursuit of happiness. And you can hear that we're near the airport.
TONYA HICKS: He usually don't do nothing.
INSKEEP: Hi.
HICKS: How y'all doing?
INSKEEP: OK. I'm Steve, by the way.
HICKS: Hey, Steve. Come on in.
INSKEEP: This was the home of Tonya Hicks. She's one of several voters we've been meeting in Georgia. We're hearing their stories this morning, the day of a presidential debate. And we'll bring them all back tomorrow to hear what they thought of it.
The stories we're hearing are from different people - a farmer, a mechanic, a retired airline pilot and Tonya Hicks, who told us she works in construction as an electrical contractor.
Are there a lot of women in that field?
HICKS: No. No, not enough. I wish it was more, but no.
INSKEEP: In her hometown in Mississippi, she says she was the first female electrician in her union local. Here in Atlanta, she started a business, which boomed in the early 2000s and then crashed in the recession. And it's now adding employees again.
HICKS: Now I have five. But I'm just starting a contract on next Monday, and I'll pick up 14 more.
INSKEEP: That's a big jump.
HICKS: A huge - oh, yeah - because it's - now is our time.
INSKEEP: Her workforce still is not quite back to its levels before the recession. And she regularly gets a reminder of how far she has to go in her own economic life. Every time she leaves this house, she passes a giant, vacant lot right by the neighborhood entrance. When she bought the house new, in 2005, the developer was promising a neighborhood pool there.
So they were in the middle of building this neighborhood.
HICKS: Yes.
INSKEEP: When the financial crisis hit...
HICKS: Yes.
INSKEEP: ...They stopped building. And here you were...
HICKS: Yes. That's why we don't have a pool.
INSKEEP: People used to talk about home buyers being underwater. Were you underwater?
HICKS: Yes. Yes. Oh, yes.
INSKEEP: Can you sell this house now? Is the value up enough that you could...
HICKS: No, if you look out here, I don't know if you saw when you first came in, the sign says that they're building new homes in the 140's or something. And when we purchased here it was 240.
INSKEEP: Ouch.
HICKS: I know. It's enough to drive you to drinking.
INSKEEP: Though it's a frustrating situation, it is also a nice suburban home, two stories with stone facing on the front and wide open spaces inside. It's in a majority black neighborhood just outside a majority black city, a prosperous city where a person like Tonya Hicks can aspire to a good life. Her personal experiences around this city shape what Hicks thinks about the presidential candidates.
HICKS: When it comes to Hillary, I really - and, you know, I might be a little biased because I'm in a male-dominated field. And Hillary is as well. And I understand that, you know, when people want to call you the B word - and it's because, truthfully, working with a lot of men, it does kind of toughen you up.
I mean, you really don't - if you want to cry, you really don't have time to cry. She's in a tough position in a tough job. I like the fact that she knows how to be serious. I like the fact that when she's being questioned on Capitol Hill, that she's not broke down crying. I appreciate that.
INSKEEP: You're thinking about, she did that testimony about Benghazi...
HICKS: Yes...
INSKEEP: And it went on 11 hours, I think.
HICKS: Exactly. Now, you know, for the average person - and it don't have to even be a woman. After a certain point, you might want to cuss or something. But she kept it together the whole time.
INSKEEP: What do you think about Donald Trump?
HICKS: You know, I've studied him for years because he's in construction. And his developments - I've been to his resort down in Miami. And oh, my God, it is beautiful. I mean, you know, when you in construction and you're passionate about it - so you're looking at the fixtures, you're looking at the detail. The attention to detail is, like, crazy. So I've also - I have Ivanka's book upstairs. I think he's a good father. But I don't think he'll make a great president.
INSKEEP: Why not?
HICKS: Because from the person that I studied and that I've watched for years, it seems like it's a totally different person. It didn't seem like he didn't like - that he had a problem with any immigrants. And as far as, like, Muslim-Americans, oh, I feel so bad for them right now.
We're supposed to be a free country. And you supposed to have freedom of religion. So I don't think that he - I don't think that he read the Constitution (laughter). And I just don't think he's willing to follow it. I just don't.
So - and I didn't burn my Trump books. I didn't burn them or give them away because I don't hate him as a person. You know, every now and then, sometimes people go for a job they're just not qualified for. So - and that's what I think.
INSKEEP: Tonya Hicks, one of the Georgia voters we've met in a divided state. As we go through this morning, we're hearing dramatically different views. Elsewhere in this hour, for example, a farmer says Donald Trump is the candidate who can bring drastic change. Voters we're meeting in today's program plan to watch tonight's presidential debate and tell us tomorrow what they think.
NPR transcripts are created on a rush deadline by Verb8tm, Inc., an NPR contractor, and produced using a proprietary transcription process developed with NPR. This text may not be in its final form and may be updated or revised in the future. Accuracy and availability may vary. The authoritative record of NPR's programming is the audio record.