Study: Immigrants Face Backlash But Do The Same To The Next Group
Many immigrant groups faced prejudice and suspicion when they first arrived in the U.S. quickly turn around and exhibit the same kinds of prejudice and suspicions toward those who come after them.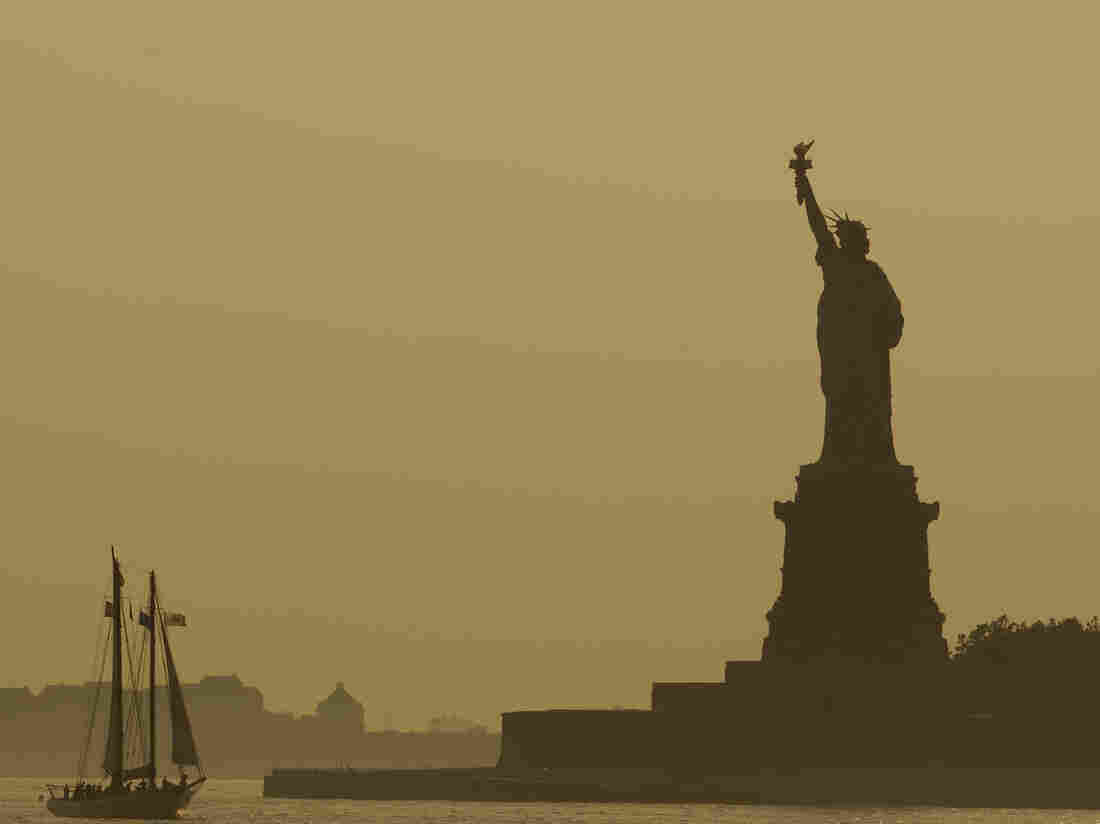 STEVE INSKEEP, HOST:
Here's a question - why is this nation of immigrants so concerned about immigration? The presidential campaign has certainly laid bare those concerns. NPR's social science correspondent Shankar Vedantam is here with some insights from history. Hi, Shankar.
SHANKAR VEDANTAM, BYLINE: Hi, Steve.
INSKEEP: You know, this notion of a nation of immigrants, I hear this when I talk with voters who are on one side, who will say, we're a nation of immigrants; why are you so concerned? And people on the other side will say, we're a nation of immigrants, but I'm still concerned. What's going on here?
VEDANTAM: You know, there are people who say the United States is a country that opens its arms to immigrants, and there are people who say the United States is a country that's extremely wary of immigrants. I was talking with a historian, Maria Cristina Garcia at Cornell, and I asked her which version of America is true, and she said both. She told me that, right from the start of the republic, you know, in the 1750s, one of our founding fathers, Ben Franklin, was worried about German immigrants. He said they were stupid, and he was also afraid that they wouldn't learn English, they wouldn't assimilate into the country. At the same time, Franklin was also the person who started one of the first German-language newspapers. And so you have these twin forces contained in the same person.
INSKEEP: He was marketing to the German people, whom he considered stupid.
VEDANTAM: Well, he was also helping them, and I think this is the twin impulses that you often see. And really with the exception of Native Americans and slaves, Steve, every other group who showed up here has knocked on the door. Garcia told me that many of these groups have faced discrimination when they first arrive, but they very quickly turn around and voice suspicion of the next group of immigrants. Irish Catholics, for example, faced a lot of prejudice when they first arrived. But a few years later, the same Irish were worried now about Chinese immigrants. Here's Garcia.
MARIA CRISTINA GARCIA: Some of the most vitriolic voices of the anti-Chinese movement were Irish immigrants and their children, who themselves had been much maligned. German Jews who had arrived in the early 19th century were also highly suspicious and worried about the Eastern European Jews who migrated at the end of the 19th century.
INSKEEP: Why would people who just got here or their parents just got here be concerned about immigrants, even immigrants who apparently were somewhat like themselves?
VEDANTAM: You know, it's a real paradox, Steve. Garcia told me that she sees this even in her own community. Her family came to America as refugees fleeing communist Cuba. A couple of decades later, after this wave of Cubans had settled in and become successful, there was another wave of immigration from Cuba. And Garcia told me she heard many older Cubans worrying about whether the new Cubans would fit in. So I asked her, why do you think this is happening? And she actually came up with a really interesting psychological explanation.
GARCIA: I guess you could say that part of Americanization is to adopt the values and the perspectives of the society that surrounds you. It also becomes a defense mechanism and becomes a way of proving your membership in the society to demonstrate that you're a member of the in-group and not the outgroup.
INSKEEP: This is a really interesting theory, Shankar, but I'm sure there are some people listening who are concerned about illegal immigration or concerned about refugees who will say, I'm not trying to prove my membership in society. I'm worried about crime. I'm worried about drugs or a changing culture or terrorism - whatever they're worried about.
VEDANTAM: I think that's a fair point, Steve. I think the point that Maria Cristina Garcia would make is that those concerns about crime and national security and immigration have really been with us from the start of the republic. You know, in the 20th century, for example, we turned away many refugees fleeing Nazi Germany because we were afraid that spies and saboteurs would sneak in with them. We're having very similar conversations today about whether ISIS might sneak in terrorists with refugees from Syria. History can't really tell us what we should do, but it could tell us we've been here before.
INSKEEP: Shankar thanks very much.
VEDANTAM: Thank you, Steve.
INSKEEP: That's NPR's Shankar Vedantam, who regularly joins us to talk about social science research. And you can also find him on his podcast, Hidden Brain.
NPR transcripts are created on a rush deadline by Verb8tm, Inc., an NPR contractor, and produced using a proprietary transcription process developed with NPR. This text may not be in its final form and may be updated or revised in the future. Accuracy and availability may vary. The authoritative record of NPR's programming is the audio record.