A Jazz Piano Christmas 2016
A Jazz Piano Christmas 2016
Jati Lindsey/Courtesy of the Kennedy Center
Each year on Jazz Piano Christmas, we celebrate with one of the most beloved holiday traditions, music. This year, we add another sacred tradition common to every community: family. The stage at the John F. Kennedy Center for the Performing Arts in Washington Dec. 10 was overflowing with love as father-daughter and husband-wife duos let fly with love for each other and the holiday canon.
Willie Pickens says he used to practice with his daughter Bethany's bassinet by the piano, and it showed during their heartwarming performance. The telepathy, which was as deep as their shared DNA, resulted in joyful celebration.
Renee Rosnes and Bill Charlap, seated across from one another at two massive grand pianos, played a set that exhibited wordless marital conversation. Eye contact, smiles and intimate familiarity with their favorite holiday tunes made their performance brim with holiday spirit.
Hear the full performance at the audio link and listen to selections below. Happy Holidays!
Jati Lindsay/Kennedy Center
A Jazz Piano Christmas 2016
Bethany and Willie Pickens
Set List:
"Little Drummer Boy"
"O Come, O Come, Emmanuel"
"God Rest Ye Merry, Gentlemen"
A Jazz Piano Christmas 2016
Bill Charlap And Renee Rosnes
Set List:
"Sleigh Ride"
"Have Yourself A Merry Little Christmas"
"It Came Upon the Midnight Clear/We Three Kings"
"Christmas Time Is Here"
"You're a Mean One, Mr. Grinch"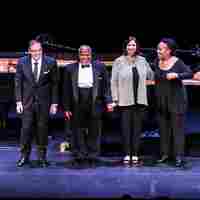 A Jazz Piano Christmas 2016
Round Robin (All Pianists)
Set List:
"Santa Claus is Coming to Town"