5 Essential Hip-Hop Albums You Slept On In 2016
Bryan Allen Lamb/Courtesy of the artist
When the NPR Music team convened to choose the 50 Best Albums Of 2016, we discussed dozens of hip-hop records. In the end, five deserving LPs found a home on the master list. Chance the Rapper's blessings and A Tribe Called Quest's surprising return are consensus picks for good reasons ... but 2016 had so much more to offer. For those that slept, here's five more joints worth celebrating.
5 Essential Hip-Hop Albums You Slept On In 2016
Bas, 'Too High to Riot'
Dreamville Records has a solid roster but they've been unable to duplicate the success they've had with J. Cole. On Bas's 2nd LP, Too High to Riot, we're granted the brightest beam of hope yet. He describes the album to Complex magazine as a response to his debut, Last Winter. It's the descent from a high life portrayed on Last Winter and the result is leaps and bounds better. The sound is melodic melancholy from the opening bird chirps and keys of the Cam O'bi-produced title track. Bas spits "I can see all of your terrors / Still remain in quiet and wonder in private and silence / Like if I just speak on it, would the people go buy it?" This sinister sound carries on throughout the project, reaching its plateau on "Matches." Bas isn't afraid to clear his throat to flex singing chops here and there. And when Roxane Dayette and Sam Paul Evans of the NPR fave The Hics chime in for harmonies, it creates my favorite moment on the album. --Bobby Carter
Buy Featured Music
Song

Too High to Riot

Album

Too High to Riot

Artist

Bas

Label

Interscope

Released

2016
Your purchase helps support NPR programming. How?
Common, 'Black America Again'
There's a yearning for certain voices to be heard in times of crisis, to calm and create a sense of alignment within the community. Common has been one of those in hip-hop as long as I can remember. This has been a tough year for many black Americans, but some amazing art was conceived out of the struggle — and Black America Again stands triumphantly. Common previewed tracks from the album for a Tiny Desk Concert at the White House library in October, and I was delighted to hear him get back to vintage Common, speaking for the people. It wasn't until I experienced the album fully that I realized how special it is. It's the most "right on time" album of the year. He fills the title track to the brim, addressing the oppressed, the oppressor, mass incarceration, gentrification, PTSD and more as Robert Glasper and Karriem Riggins play haunting, uncomfortable melodies and harsh percussion. It wouldn't be a Common album if he didn't take time to break the tension and talk to the ladies. The mid-tempo triad of "Love Star" featuring Marsha Ambrosius & PJ, "Red Wine" featuring The Internet's Syd and newcomer Elena and "Unfamiliar" are right up there with classics like "The Light" and "Come Close." On "Little Chicago Boy," he spits the biography of his father, the late Lonnie Lynn Sr., aka Pops, a staple on nearly all of Common's albums. The elder Lynn suddenly appears for one final rap and sends chills. Common has become much more than a MC, but Black America Again proves that he's still an MC first, producing his best album in nearly a decade. --Bobby Carter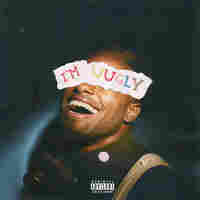 Duckwrth, 'I'M UUGLY'
Ugly is the new beautiful, the new bold, the new dauntless. In Duckwrth's case, UUGLY is all of the above and beyond. On I'M UUGLY, the Bay Area-via-South Central artist creates his own sonic universe to frolic in, and his own language to describe his adventures. The songs from his latest release range from high-energy and inviting to politicized and conscious. But the laid-back bloodline of the West Coast pumps through the veins of the project, giving Duckwrth the opportunity to wax flirtatious. He soars even when he directs his energy low; on "BEACH HOUSE," waves lap against the poetry of a glitchy female counterpart, bringing Duckwrth into position to reciprocate with his own verses of desire. He incorporates his own spoken word when the time calls for it, as on "100 DAYS," where he sheds light on the harsh realities and violence people of color face in the United States. The final song, "RUUUN," functions as a call to action, encouraging downtrodden listeners to sprint hard and fast from their troubles. It's advice that feels ambitious but warranted. --Kiana Fitzgerald
Pouya, 'Underground Underdog'
If given the chance, Kevin Pouya could probably rap your favorite rapper's face off. The young gun from Miami doesn't look the part — a white MC, he dresses modestly and wore his mousey brown hair to his shoulders at one point — and he prides himself on being underestimated. That mindset shines through on Underground Underdog, which features Pouya kicking his signature machine gun style. With production handled entirely by L.A.-based producer and DJ Getter, the project unfurls like a late-night creep with the homies. The opening track "Great Influence" sounds as if it had been christened by Suge Knight at the height of Death Row's menacing takeover. The next track, "Billy Mays," is a detour down a smoother path, with Pouya coasting as he spits game to a would-be love interest. Elsewhere he trades verses with fellow slept-on rappers Ramirez and Shakewell of California, Germ of Atlanta and the $uicideBoy$ of New Orleans. He brings it full circle and rocks alongside Fat Nick and SDotBraddy of his home base, Miami — a welcome reminder of his roots. The Ying Yang Twins make a left-field appearance on a song appropriately called "Badonk," and it's as fun as it sounds. Pouya technically doesn't need a single feature — his tracks are played millions of times on SoundCloud off his name alone — but his willingness to share the spotlight shows how confident he is in his own game. --Kiana Fitzgerald
Saba, 'Bucket List Project'
Chi-town went way up in 2016. The vets put up strong numbers with Kanye and Common leading the way, while the up-and-comers officially arrived as Vic Mensa and Chance the Rapper claimed big stakes in the industry. As a manifest leader of this renaissance, Chance has aided in the rollout of like-minded rappers through features on his projects; the two who've seized the moment this year are Noname and Saba. After suffering major writer's block in 2015 due to personal struggle and the loss of a father/figure uncle, Tahj Chandler is back with Bucket List Project, a passionate, melodic trek through his deepest fears and aspirations for the city he loves. On songs like "Westside Bound 3" and "GPS," Saba walks you down its streets, illustrating the atmosphere; if you happen to be familiar with these places, you'll swell with pride. Also on "GPS," West Side OG Twista clocks in to show he's lost nary a step and delivers one of the best guest verses of the year. This album presents Saba as a vocal stylist with the ability to glide over a kick and snare on "California" or experiment with the groove on "Photosynthesis". He's a musician to the core and his multi-layered soundscapes really capture his unique perspective. The Bucket List Project shifts this young MC to the leader board. --Bobby Carter