The 150 Greatest Albums Made By Women
Paul Hawthorne/Getty Images
---
10. Carole King
Tapestry (Ode, 1971)
With Tapestry, Carole King cemented her place as one of the key architects of 20th-century popular music. Here, she fully claims the spotlight, not only as a top-notch composer, but as a deeply soulful lyricist and singer. Considered her crowning achievement by critics, record sales of over 25 million confirmed that the public agreed. From "I Feel the Earth Move" to "You've Got a Friend," the track list is a veritable master class in pop standards with King, one of America's most dependable hitmakers, flexing in a new genre. With her unadorned piano wrapped in plainspoken lyrics about the pulls of kinship and self-actualization, it's no wonder the record stands the test of time as not only a bedrock in the singer-songwriter genre but also as the soundtrack of suburban feminism of the early 1970's. King's evolution as both an artist and woman are perhaps most evident in the grown-up version of "Will You Love Me Tomorrow?" that appears on Tapestry. The first major writing credit for the then-teenaged King and lyricist husband Gerry Goffin, which hit No. 1 for The Shirelles in 1961, is transformed from a girl's yearning question into the bittersweet doubts of a woman wise enough to know that even true love doesn't always last "til the night meets the morning sun." —Jill Sternheimer (Lincoln Center)
---
9. Amy Winehouse
Back To Black (Island, 2006)
The late '00s saw an explosive, cross-genre revival of retro-sounding soul music that continues to shape the pop landscape to this day. Arguably, that trend's catalyst was Amy Winehouse's earth-shaking final album. Working closely with producers Mark Ronson and Salaam Remi, plus a then-little-known Brooklyn soul ensemble called the Dap-Kings, the young, beehived-and-tattooed London singer pivoted from jazz to the velvet musical vocabulary of '60s girl groups and Motown. Yet however smartly it evoked the sounds of an earlier era, Back To Black could never have been mistaken for anything but contemporary — or anyone but Winehouse. Funk and R&B grooves snapped through a post-breakbeat filter; her lyrics about lost love and self-destructive habits pulled zero punches; her delivery came fluid as exhaled cigarette smoke. Even "Tears Dry On Their Own," whose arrangement reproduced Tammi Terrell and Marvin Gaye's version of "Ain't No Mountain High Enough" down to the drum fills, sounded magnificently fresh with Winehouse's lead line — a romantic duet flipped into a frank, lonely rendering of a breakup's aftermath. This was a soul record that wouldn't forget that hip-hop happened, a thoroughly modern tract on heartbreak whose bluntness made it believable. —Rachel Horn (NPR Music)
---
8. Janis Joplin
Pearl (Columbia, 1971)
One of rock's most misunderstood artists, Janis Joplin was often portrayed as victim, a dysfunctional mess who only fronted a band, who didn't have the power to call the shots. Until Pearl. In 1971, with Monterey Pop, Woodstock, and Festival Express behind her, the vision of blues, rock and soul coming together with a band that could follow her was realized. It was her high point, and tragically, she didn't live to see it. Janis had put the band together — saying "it's my band, it's finally my band" — and approved all the songs. (It was unusual at the time for a female artist to actually have that control, the very reason we need this list.) She wrote the opening track "Move Over" and the a cappella "Mercedes Benz," which was recorded just days before her passing. Janis once said, "None of us are who we started out as." She was a "good girl" as a Texas kid, in a stable home full of music, with her Mom's Broadway musicals like Porgy and Bess as her favorites. Bad skin and some extra weight brought the usual social problems once she hit high school, and she drifted toward the creative crowd. Once she made it to San Francisco, she discovered how her heroes, like Bessie Smith, could inspire her voice. She became known as Pearl — sassy, fearless, sexy, uninhibited, not one to ever hold her tongue. She was fast and free with her sexuality, like Bessie. And she called the shots. Pearl hit No. 1 on the charts, making Janis Joplin one of rock's most successful artists.You can't help but wonder what she would be doing now. —Rita Houston (WFUV)
---
7. Patti Smith
Horses (Arista, 1975)
The very nature of Patti Smith's debut album Horses rails against what many other "best of" albums are celebrated for — broad appeal, sonically pleasing aesthetics and hits. Horses is confrontational, defiant and completely unafraid of the ugly. And so was its author, who in 1975, for arguably the first time in music, set the lyrical stage for academia and animalism to writhe together; for the sophisticated and heady virtues of capital-P Poetry to crash into the visceral, bodily base of rock and roll. Any beauty on Horses feels like a bi-product of story — from Smith's breathless bleating to wailing and warbling against collaborator Lenny Kaye's characteristically jagged guitar to her historic presentation on the album's cover. As photographed by Robert Mapplethorpe, Smith's unapologetic androgyny predates a time when that was an en vogue or even available option for women, and represents a seminal moment in the reversal of the female gaze. Smith is looking at you, and could care less what you think about looking at her. That was radical for a woman in 1975. It is still radical today. There are legions of artists who cite Patti Smith's Horses as an earth-shattering influence, from Courtney Love to R.E.M's Michael Stipe to Garbage's Shirley Manson to The Smiths' Johnny Marr — but they don't necessarily reflect Smith's influence in terms of sound so much as attitude. It was her unfiltered, fearless singularity that galvanized believers in the Church of Smith not to become more like her but to become more like themselves. And for that, we owe Smith everything. —Talia Schlanger (Host, World Cafe)
---
6. Beyoncé
Lemonade (Parkwood/Columbia, 2016)
One of the most recent projects to be part of our new canon, Lemonade is a masterful excursion through terrains at once visually fantastical and emotionally all too real, exploring shattered trust in a broken relationship; the singular pain borne by the mothers of men like Trayvon Martin, Eric Garner and Michael Brown; the battering down of black women throughout history; the scars of all of these kinds of trauma; white-hot rage and hopeful, though not blind, reconciliation. The inventive, stunning Lemonade film — credited to seven directors, with each dream-like scene lapped atop the next — has already generated a thousand points of exegesis (Was that yellow dress and gushing water in honor of the Cuban orisha Oshun? Was it coincidence that while wearing that dress, Bey smashes a closed-circuit TV with her baseball bat?). But those visual shifts also provide sinew and shape to the hugely varied sonic palette that Beyoncé employs as she flits between genres with everyone from Jack White to The Weeknd. Lemonade is as much a pastiche musically as it is visually, but taken in totality, it is so artfully constructed that it feels right. Pop music has only very rarely sprung from the mind or talent of a single auteur, but few solo artists have conceived of collaboration in as wide-ranging, or as dimension-shifting, a way as Beyoncé has on this project — and she is the one most definitely in command. —Anastasia Tsioulcas (NPR Music)
---
5. Missy Elliott
Supa Dupa Fly (The Goldmind/Elektra, 1997)
This album dismantled the hip-hop boy's club. For the first time in history a woman rapped, sang, wrote and produced every song on a major rap release. Within the first sounds that we hear, Missy Elliott invites you to become engulfed with the undeniable Virginia-based funk, a region that's equally Southern and Eastern, through aquatic synth sounds paired with earthy drum patterns. The result? A vibe that's both familiar and futuristic. Without selling overly sexualized imagery and without imitating hypermasculine gangster rap, Elliott awards us with pure originality. She didn't just change the scope on how we interpreted sexy and gangster: The genres bended to her liking. The sound shifted to jazz with her vocal improvisations and scatting on "The Rain (Supa Dupa Fly)," over an Ann Peebles sample. It became the blues on "Beep Me 911," a somber song about uncertainty and urgency. And her esteemed comrades Busta Rhymes, Timbaland, Lil Kim, Aaliyah, Da Brat and Ginuwine complemented and fit comfortably within the theme of the perfect album. Elliott presciently knew her music was groundbreaking and reminded us throughout the record with her boisterous lyrics. Today, Supa Dupa Fly remains one of the best hip-hop records of all time, and its level of innovation and musicianship remains unparalleled. —Stasia Irons (KEXP)
---
4. Aretha Franklin
I Never Loved a Man The Way I Love You (Atlantic, 1967)
In the universe of popular music, this album exploded like a brand new sun. It took Aretha Franklin eleven songs to shift the canon of AM radio away from the realm of girlish glee to the cataclysms of womanly love. I Never Loved a Man connected with black and white audiences and became the biggest commercial success of her building career. On this Atlantic Records debut, Franklin trucks confidently in the desires of a modern-day woman. In a word, she's "real" — plain-spoken and passionate, without guile or undue glamour. The album has funky rhythms, of course. And horns. And some of the most memorable hooks in popular music. Franklin's re-imagining of the Otis Redding single "Respect" is now on the National Recording Registry of the Library of Congress, reportedly as a feminist anthem. But the song is also redolent of black consciousness and pride. And yet, it's Franklin's renderings of vulnerability in love that make the album universal. The title track was her first million-seller. She also wrote or co-wrote some of the best-known songs of her career for the release, including Baby, Baby, Baby and Dr. Feelgood. For better or worse, each song here sounds like she lived it. Producer Jerry Wexler called the famously private Franklin "Our Lady of Mysterious Sorrows." —Gwen Thompkins (WWNO)
---
3. Nina Simone
I Put A Spell on You (Philips, 1965)
Nina Simone knew her own power. Not only did she cover the song "I Put A Spell on You," but she also used it as the title of her autobiography. The song, originally released in 1956 by Jay Hawkins, cemented his "Screamin" moniker. But in Simone's hands, it became something more, a kind of simmering sorcery.
Simone's 1965 album, also entitled I Put A Spell on You, is the closest you'll ever hear her come to pop. The swaying strings and delicate vocals of "Marriage is for Old Folks" give you a sense of Simone's incredible musical range. Plus it's a joyful reminder of the humor people forgot Simone possessed once she became the siren of the civil rights movement with searing songs like 1964's "Mississippi Goddam." The standout on this album, "Feeling Good," is a number that Simone transformed from a show tune for a barely-remembered British musical into a gold-standard strutter. Simone's version trades wide-eyed pouting for unadulterated power, from the opening bars — featuring her voice and nothing else -- to the brass line that bows down to her pipes. By the time she careens towards the climax, you know this woman has indeed put a spell on you — and just about anyone else that dares get in her way. —Audie Cornish (Host, All Things Considered)
---
2. Lauryn Hill
The Miseducation of Lauryn Hill (Ruffhouse/Columbia, 1998)
The Fugees struck gold in the late 1990s with albums like The Score, a feat that also made their resident wordsmith, Lauryn Hill, a household name. But when Hill went out on her own two years later and dropped her debut, the neo-soul masterpiece The Miseducation of Lauryn Hill, she schooled everyone all over again in new and necessary ways. In it, Hill refuses to shy away from topics often left unspoken, injecting classroom love lesson interludes and hard-hitting lyrics about how money changes people in the banger "Lost Ones." Then there's the cautionary tale "Doo Wop (That Thing)," a bold song that unpacked sexual politics and not only scored Hill two Grammys, but also earned her the distinction of becoming the first woman since Debbie Gibson (with 1988's "Foolish Beat") to have a song that she simultaneously wrote, recorded and produced soar to the top of the Billboard charts. And that's just one song on The Miseducation of Lauryn Hill. The album, rife with Hill's biting rhymes and sharp turns of phrase, is a wonder from start to finish, from her smoldering duet with fellow R&B superstar Mary J. Blige "I Used To Love Him" to the unapologetic, plucky "To Zion," in which Hill details how people discouraged her from having a child in order to further her career: "Everybody told me to be smart / Look at your career, they said / Lauryn baby use your head / But instead I chose to use my heart." It's further proof that, yes, women absolutely can — and will continue — to have it all. —Paula Mejia (Contributor)
---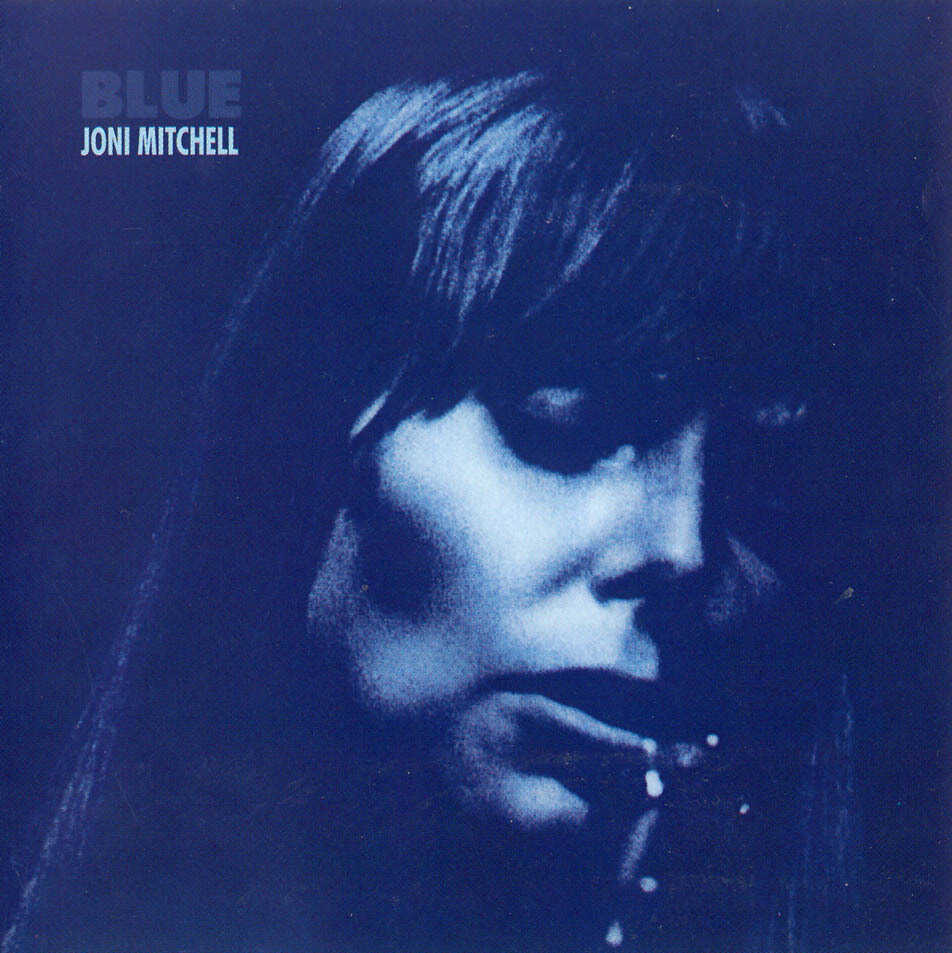 1. Joni Mitchell
Blue (Reprise, 1971)
After nearly fifty years, Blue remains the clearest and most animated musical map to the new world that women traced, sometimes invisibly, within their daily lives in the aftermath of the utopian, dream-crushing 1960s. It is a record full of love songs, of sad songs; but more than that, it is a compendium of reasonable demands that too many men in too many women's lives heard, in 1971, as pipe dreams or outrageous follies. "All I really, really want our love to do, is to bring out the best in me and in you, too," Mitchell sang to an elusive partner on the album's first track. That line, like so many of the melodic and lyrical gestures throughout Blue, is simple, but so radical. With the counterculture collapsing under the weight of its machismo-driven mythologies, women pushed forward with calls to imagine genuine equality in real life — in the private places where love and art is made. Blue articulates that demand and its effects more clearly than any other work of art. Musically, it reflects Mitchell's belief in what she's called "the feminine appetite for intimacy," with her nearly naked guitar playing, Appalachian dulcimer and occasional piano dominating the mix. Yet its rhythms and unexpected flights of melody also reveal Mitchell's movement toward the deeper improvisational waters of jazz, a sonic illustration for her love of crossing lines, the "white lines of the highway" or the generic ones of the recording studio. Lyrically Blue communicates both the cool of Joan Didion and the rawness of Sylvia Plath, and reminds us that emotional writing is only powerful when it is punishingly precise. The way Mitchell made the album was also revolutionary: She produced the sessions herself, directing a small band that included rival/peers like James Taylor (one of several lovers honored and exposed by her observations) and Stephen Stills. Mitchell would travel much farther on the lonely road she identifies in "All I Want," but Blue is her crossroads, where she bests her devils and invents a mode of expression that every singer-songwriter must master, but none can truly imitate. —Ann Powers (NPR Music)
Correction
July 25, 2017
The title of Aretha Franklin's 1967 album is I Never Loved a Man The Way I Love You, not "I Never Loved a Man The Way I Loved You."