From Pets To Livestock, Lost Animals Rounded Up In Beaumont's Makeshift Shelter
From Pets To Livestock, Lost Animals Rounded Up In Beaumont's Makeshift Shelter
Brian Mann/North Country Public Radio
For a storm that has sparked references to flooding on a Biblical scale, it only makes sense that you'd find a kind of Noah's Ark in south Texas after Hurricane Harvey.
On the outskirts of Beaumont, Texas, two huge county fair pavilions the size of baseball diamonds have been transformed by volunteers into a makeshift livestock yard and animal shelter.
It's a bedlam of animals, animal handlers and supply trucks.
"A lot of really critical horses that are in shock, dehydrated, wounds, lacerations," says Nick Moore, a veterinarian from Georgetown, Texas, who volunteered to help care for the large animals being rescued.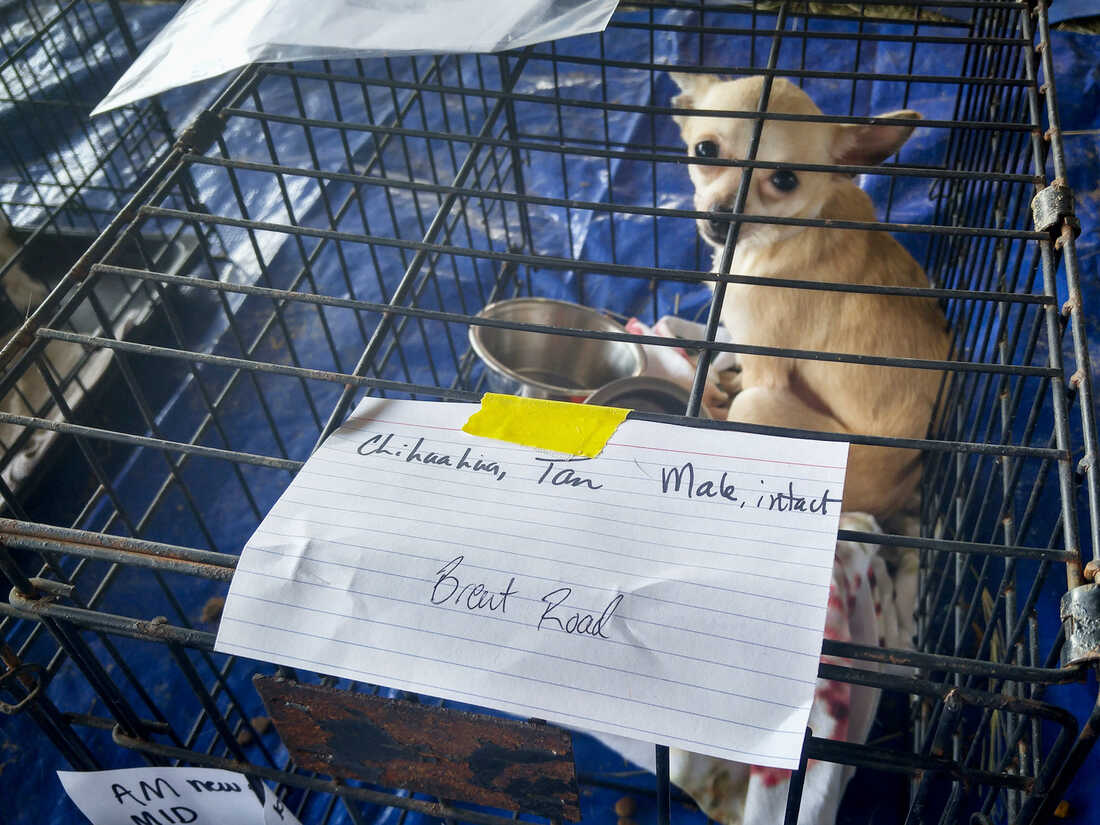 Brian Mann/North Country Public Radio
There are also geese, dogs, cats and pigs — all hit by the storm and separated from their owners. Amy Walters from Copperas Cove, Texas, spent the last couple days on horseback rounding up lost cattle and bringing them here.
"It's quite the adventure, it's an adrenaline rush for sure — alligators were chewing on cows. There's alligators everywhere and there's snakes and stuff," she says.
Rancher Leopoldo Gonzalez says he and other ranchers have been searching for days for lost livestock. "We're looking for one cow and one bull," Gonzalez says. The cow is pregnant, so they're eager to find her.
Most of the animals here are cats and dogs. Hundreds sit in wire cages: small scruffy dogs, big, scared-looking dogs. For some reason, a lot are Chihuahuas. Volunteers and soldiers walk and comfort them — as well as try to help and comfort pet owners, who turn up looking frightened.
Brian Mann/North Country Public Radio
"I've lost a solid black Great Dane, about 4 or 5 years old," says Judy Reed, whose house outside Beaumont is still completely underwater. Reed is elderly and lives alone, and says Shadow is her family. Rescuers left him behind when they carried her away in a boat during the storm.
"I've got to have somebody to talk to, because the TV won't answer," she says. "He doesn't really answer, but he gives me these looks like he understands."
There is no sign of Shadow, but Judy said she'll keep checking back as more animals arrive. Lost pets are held here for 30 days to give owners time to claim them. After that, dogs and cats will be put up for adoption.