The 50 Best Albums Of 2017
10. Aldous Harding
Party
Earlier this year Aldous Harding described, during a long interview, a period where the real and the horrific imaginary began to bleed into one another. She feared of looking up and seeing a crack in the sky, of it seeming to be a foot away, of being able to reach up and knock on it like the low ceiling of a basement, light streaming through the rafters. Party, Harding's second album, brings its listeners there, to that terrifying, useful, liminal between-space. Through viscous, plump lyrics — "what if birds aren't singing, they're screaming?" and "stones smell good when you cuddle them" and "swell does my skull" — minimalist instrumentation and her contortionist voice, the cracks in our own worlds are given clearance to seize the wheel we're afraid to give them. Party helps us not feel so alone in our loneliness, and in our attempts to be ourselves regardless.
Part of the power that animates Party is that it documents Harding seizing her own, costs be damned. The songs here deal with reconciling ambition — for success, for happiness, for truth — to the sacrifices it requires and the craggy paths we walk to get anywhere near it. They deal with terrifying and fleeting love, with recognizing the moments that make us happy and the painful hillside parleys that end up defining us. "All my life, I've had to fight ... to stay," she sings, like a blade, on "Imagining My Man." It's an admission, not a statement of dogged determination — a recognition of the thin line between keeping on and slipping away. It's terrifying and empowering, kept pocketed like an unused worry stone. "You were right," she continues, "love takes time." The point is that sometimes it may not be worth it, but we always are. --Andrew Flanagan
---
9. Hurray For The Riff Raff
The Navigator
Hurray for the Riff Raff's Alynda Segarra has always been a storyteller, and in this regard, The Navigator is her most ambitious album to date. It's a concept album told through the eyes of an independent street kid with an adventurous spirit (a "superhero," says Segarra) named Navita Milagros Negrón. Lyrically, it moves in and out of time with themes about change, family, culture and politics. During one of the more stripped-down and heartfelt songs on the album, "Pa'lante," she gives a nod to the Nuyorican Poets Cafe, which was no doubt an influence on Segarra as a lyricist and poet. Melodically, one can hear influences of her time spent in Puerto Rico, and the music is often accompanied by hand percussion. The Navigator trades some of the folk and Americana influences of her previous albums for a more distinct rock sound — fiddle is swapped for synths and electric guitars on more than one occasion. The Navigator is an album inspired by plenty of world experience and observation, and it's a distinct occasion of artistic growth for Hurray for the Riff Raff. --Amy Miller (KXT)
---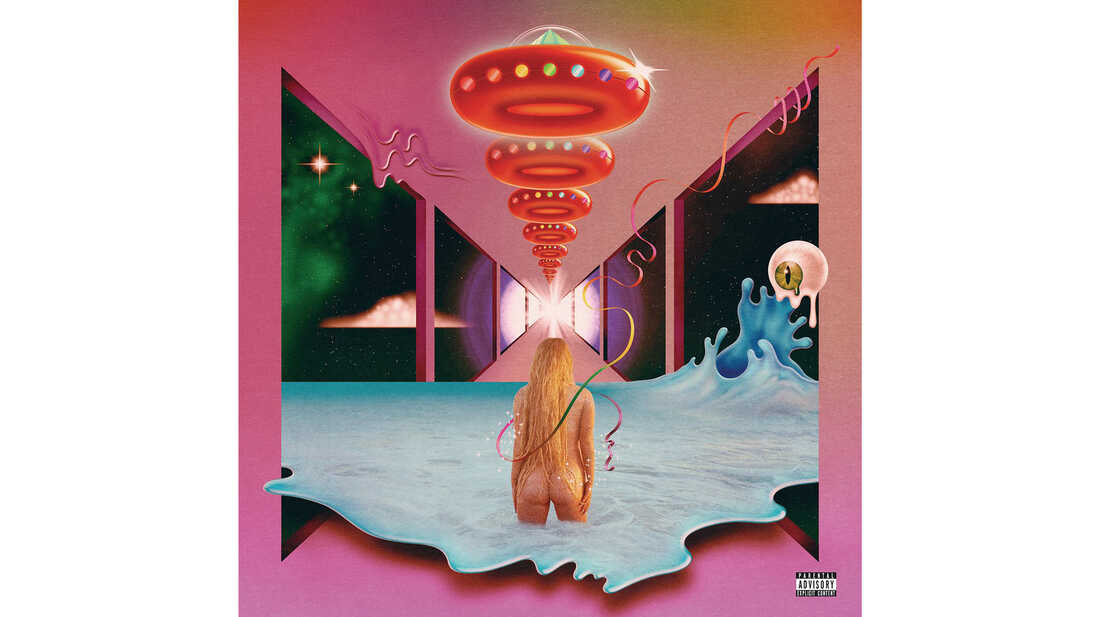 8. Kesha
Rainbow
When Kesha sings an overdriven ode to trashy abandon, she's got a disarming way of sounding stupid in the smartest possible way. That can mean blurting out an "un-deux-trois-four" count-off (in "Let 'Em Talk") or, in the gleefully profane insta-anthem "Woman," dissolving into laughter right as she's headed into the chorus. On some level, it's Kesha's way of putting up a shield, of undercutting her own sincerity by goofing off or barreling through a giddy jam about "boogie feet." But Kesha is an incredibly canny and gifted songwriter, capable of embodying hedonistic joy or, just as frequently, giving voice to an army of self-identifying screw-ups and survivors. "Praying" is the headliner here — a ripped-from-the-headlines relevant, disarmingly emotive song of grace, forgiveness and self-reclamation — but Rainbow is strafed with similarly hooky and resonant scream-along songs about thrills romanticized, haters defied and, after a hard journey, a self accepted. --Stephen Thompson
---
7. Jason Isbell and the 400 Unit
The Nashville Sound
This is not the same Jason Isbell we've come to know on his previous two massively successful records. His eyes are wide open and pointed outward; he sings lines like "I've heard enough of the white man's blues / I've sang enough about myself." Here, Isbell writes through the eyes of characters you empathize with, but whose shortcomings are also recognized. "White Man's World," a personal song, finds Jason not only addressing white privilege and accountability, but also the inequality his wife (musician Amanda Shires) and his daughter will face because of their gender. "If We Were Vampires" might be the most bizarre yet intelligent love song written — Isbell writes that the reason his love is so meaningful is the inevitability of its end in death. Working again with producer Dave Cobb, Isbell brought in his backing band The 400 Unit for the first time since 2011 because the songs called for rock and roll. And he recorded in RCA Studio A, a place often associated with the notional "Nashville sound," because he intended to show that more than just pop-country music is made in town. It's clear that with this album, he not only wants to change the narrative in Nashville, but add to the conversation changing the nation and the world. --Cindy Howes (Folk Alley/WYEP)
---
6. Perfume Genius
No Shape
Love is weird, and hard; generally, it's weirder and harder when the love you've fallen into is in any way nonnormative. The challenges become greater, but often, so do the rewards. It's this kind of love that animates No Shape, a record that reckons with the painful, frightening — and, eventually, delicate and simple — aspects of long-term queer intimacy. Often Mike Hadreas, Perfume Genius' songwriter and main animating force, can't quite believe his own luck in love: "You need me / Rest easy / I'm here / How weird," he sings on the album's closing track, an ode to his longtime partner and musical collaborator, Alan Wyffels. No Shape basks in decadence, that bastion of queer aesthetics: Hadreas' voice and piano are complemented by strings, warm guitars and lush synthesizers. It's notably less dark than earlier Perfume Genius albums; more often than not, it's downright defiant in the face of judgement and fear. "What you think? / I don't remember asking," Hadreas sneers on "Go Ahead." His trademark tenderness and vulnerability still animate the darker aspects of No Shape as he addresses his fear of God, of death, of loss; his desire to be freed of a problematic body; his uneasiness with the stability of love. But it feels, in total, celebratory — downright strange and beautifully radical in its presentation of the normalcy of his love. How weird, indeed. --Marissa Lorusso
---
5. Lorde
Melodrama
What single word captures the dizzying rush of youth better than "melodrama?" The aptly named sophomore full-length from Lorde brilliantly documents that period in life when raging hormones and irrational hope tangle with the desire for something more meaningful and lasting. The New Zealand singer, who just turned 21 this fall, pulls back the curtain on a world where young hearts swell before breaking and dreams are just make-believe — where the ties that bind us are undermined by juvenile rumors, betrayal or the swarming hive of insecurities most people under a certain age carry with them. These themes are nothing new, especially not in pop music. But Lorde has a remarkable gift for bringing them to life and for turning grief into an unapologetic celebration of the wisdom and new directions it brings. When she sings, "Oh, I wish I could get my things and just let go" on album opener "Green Light," Lorde admits she's vulnerable and struggling. But the four-on-the-floor kick and syncopated piano signal her defiance and determination. Songs of solitude and sorrow rarely feel so empowering or uplifting. --Robin Hilton
---
4. Sampha
Process
Sampha is a bedroom music maker turned singing/songwriting/producing pro whom Kanye West, Beyoncé Solange and even Drake — whose brooding comes as naturally as breathing — have turned to for help in telegraphing vulnerability. He's always seemed comfortable in that background role, and even when he's alone in the spotlight, Sampha's an introverted performer. That's part of what lends his debut album, Process, its quiet power. He completed it in the wake of his mother's death from cancer, but he's not one for straightforward emotionalism, preferring impressionistic metaphors and melodies, immersive soundscapes and deconstructed beats that put his R&B, electronic, gospel and singer-songwriter instincts to elegantly hermetic use. He proceeds with patience and heightened sensitivity, sometimes cool and cashmere-soft in his vocal delivery ("What Shouldn't I Be?"), other times panic-stricken and breathless ("Blood On Me"), or stacking harmonies for a solemn choir-like effect ("(No One Knows Me) Like the Piano"). As experienced as he is at contributing to big-budget juggernauts with well-defined hooks, Sampha doesn't concern himself much with concise song structure or quick payoffs. And getting lost in the intimate musical world of his making is its own rich reward. --Jewly Hight
---
3. Big Thief
Capacity
I don't recall the last time I had the same band in my top five albums for two years in a row. But this year's Capacity (my No. 1 album) and last year's Masterpiece (my No. 4 album) did just that. And they were favorite records not because they were innovative, but because they were albums filled with story-songs, with tales of memories that were touching, poetic and thoughtful. "Mary" recalls the feelings of comfort alongside her grandparents at a time in life when singer Adrienne Lenker needed it most. "Shark Smile" is the tale of a car crash where one person lives and one dies. We may each want something different from music — when melody and memory tell a tale, I'm in. And right now, no one does it better for me than this band. --Bob Boilen
---
2. SZA
CTRL
"I decided to take down the reverb and be in the forefront," the singer and songwriter SZA told the journalist Katherine St. Asaph on the making of her debut album — the standard-bearer for R&B in a year when that genre surpassed all others for inventiveness and high style. Taking down the reverb meant creating a new context for the blend of hip-hop rhythms, electronics filigree and sturdy singer-songwriter soul that SZA had already explored on three excellent EPs. Musically, she and her collaborators build clear frameworks in which her butterscotch voice, given to sensible asides as well as sense-driven flights of fancy, has room to reveal sometimes startling, always believable insights into one woman's quest for erotic self-determination.
Narratively, her tales of intimate adventuring — including "bad" behavior like sex work, cheating, codependency and giving in to need or deep loneliness — offer so much more than either the usual sighs-and-whispers of hazy bedroom R&B or the vapid self-empowerment anthems that populate Top 40 playlists. In songs like "Normal Girl," about the pain of never achieving that ideal, or "Broken Clocks," about desire interrupting a woman's daily grind, or "The Weekend," about imagining a cheating man's many women as allies instead of competitors, SZA demands freedom in a world where feminine desire is still viewed as a route to risk, discomfort and belittlement. Like her forebear Erykah Badu, SZA asks us to abolish the binary thinking that pits pretty little girls against bad bitches, and to dwell within what Badu once called the "other side of the game": the reality of a woman — a multifaceted, evolving being who makes mistakes and constantly recalibrates as she determines how to be herself — confronting the omnipresence of masculine power as an everyday reality that still won't defeat her. "I belong to nobody; hope it don't bother you," SZA sings, knowing that sticking by that sentiment rearranges the moral universe. In this year of so many reckonings with erotic injustice, nothing is more necessary. --Ann Powers
---
1. Kendrick Lamar
DAMN.
Has it felt like the forces of good and evil are locked in starker-than-usual struggle this year? Kendrick Lamar knows that feeling. On his taut, triumphant fourth album, DAMN., the Compton rapper probes inward, turning up all kinds of big questions — about fate and responsibility, ethical motivation and moral equivalence. But he keeps the conversation at ground level, reeling off punches as well as confessions. The rapping is deft, clever, densely allusive: a virtuoso display with a higher calling. And if DAMN. lacks the sweeping musical panache of Lamar's previous consensus masterpiece, 2015's To Pimp A Butterfly, its sound is clearer and more focused, with a firm tether to prevailing modes of hip-hop production. (Consult the trap ecstasies that producer Mike WiLL Made-It establishes on "DNA.," or Rihanna's swerving rap verses on "LOYALTY.") The album ends — or begins, depending on your choice of track order — with a true-life tale of coincidence, and mortal implications that seem to balance destiny and chance. And even as Lamar drills down on his own story, the implications spiral outward. Play the album in its original order and the first words you'll hear are sung by Bēkon, one of the album's producers: "Is it wickedness? Is it weakness?" Lamar later articulates those two inimical qualities himself, careful never to tilt the scale to either side. --Nate Chinen (WBGO)