The 100 Best Songs Of 2017
---
80. Gracie and Rachel
"Only a Child"
There's a tension in the sound of Gracie Coates and Rachel Ruggles — classical versus pop, baroque versus modern — with Rachel's mysterious violin set against Gracie's poppish keyboard. This "friends since high school" duo writes songs of hope, but in the spirit of their musical duality, "Only A Child" is also about doubt. It's about the desire to cease suppressing anxiety and celebrate it — to remember that we are all just growing and learning, that we're all just children who don't have it all figured out, and so we all need to be more forgiving. —Bob Boilen
---
79. Karizma
"Work It Out"
It was a good year for gospel-house, and not just because the past year revealed a lot more sinners in need of saving. Baltimore house legend Kris Klayton's stomper for Holland's Lumberjacks In Hell label was Exhibit A, simplicity and electricity personified: looping the Cosmopolitan Church of Prayer Choir's voices-piano-stomp breakdown over a muted bass drum and a hi-hat two-step, then shifting the rug under The One. Many people who heard it (on dance floors, yes — but by late 2017, in ads as well) pulled up Shazam wanting to know, "What's that song?" You're welcome — praise Jesus. —Piotr Orlov
---
78. Diet Cig
"Barf Day"
"Barf Day," off Diet Cig's first full-length album, Swear I'm Good At This, shows off the duo's strengths: garage-rock guitars, heartfelt lyrics about early adulthood — womanhood, in particular — and Alex Luciano's boundless pop-punk energy. She sings about using her phone until it dies like her plants always do, drinking alone on her 21st birthday and not accepting apologies; the second half of the song is an echoing catharsis. "Barf Day" is a sugar rush that captures the mix of emotions age 21 brings: freedom, frustration, loneliness and a little rebellion. —Katie Anastas
---
77. Little Big Town
"Lost In California"
The country-pop quartet Little Big Town has been as careful about cultivating its collaborations as it's been artful in exploiting the possibilities of its vocal blend, arrangements and vibe, turning repeatedly to Nashville's mad studio genius Jay Joyce and renowned co-writers Hillary Lindsey, Lori McKenna and Liz Rose. That's precisely the team behind "Lost In California," a fantasy of romantic escape. There's airy sensuality to Karen Fairchild's singing, cocooned in bandmates Jimi Westbrook, Kimberly Schlapman and Phillip Sweet's vaporous harmonies and a pearlescent wash of guitar and organ textures. Collectively, they convey an enveloping sense of desire. —Jewly Hight
Listen to "Lost In California"
---
Jacob Blickenstaff /Courtesy of the artist
76. Sharon Jones & the Dap-Kings
"Matter Of Time"
Sharon Jones knew sorrow, but she chose joy. As she fought and then reconciled herself to her November 2016 death from pancreatic cancer, she never stopped singing. This first single from the final album she made with her beloved band the Dap-Kings doesn't mess with histrionics: It's funky, uplifting, serious, while strongly arguing for feeling good. Like Sharon herself. We miss her. —Ann Powers
---
75. Selena Gomez
"Bad Liar"
When "Bad Liar" fell into our laps in May, we discovered something bafflingly simple: Put Selena Gomez over the Talking Heads' "Psycho Killer" bass line, then strike gold. A coy take on a schoolgirl crush, "Bad Liar" is Gomez trying very hard to keep herself from smiling at how much fun she's having. Then, in the last minute, unable to contain herself any longer, she finally lets out that full-bodied wail she'd been suppressing, never failing to elicit a smile and another replay. —Steffanee Wang
---
74. Jonas Kaufmann
"Pourquoi me reveiller"
The German superstar tenor virtually owns the role of Massenet's lovesick Werther today. Kaufmann has both the brawn and the brains to portray the high-maintenance romantic who gradually goes nuts (and kills himself) by the time the final curtain falls. The voice, handsome and smoky with a baritone's timbre, is manly, and furnishes plenty of power to pour out Werther's anguish. But there's more than just muscle with Kaufmann. Listen to him float soft, pillowy, perfectly focused notes on the phrase "Ô souffle du printemps" (O breath of springtime). —Tom Huizenga
Listen to "Pourquoi me reveiller"
---
73. Future
"Mask Off"
2017 is the Year of the Flute. The fife progeny is featured on some of the biggest hip hop chart busters, including "Mask Off," which gets its flute loop from a "Prison Song" sample from the 1976 MLK tribute musical Selma. Folksy whispers of the civil rights era create a haunting tone, the footing for a solid trap groove and memorable lyrics: "Percocet, Molly, Percocet / Mask on, F*** it, mask off." From the first of Future's back-to-back No.1 albums, FUTURE and HNDRXX, the song is also remarkable because its popularity rose rapidly on streaming platforms like Spotify and Apple Music, not to mention on YouTube, where musicians of all stripes inserted themselves into the song via, what else, the flute part. —Suraya Mohamed
---
72. Overcoats
"23"
Overcoats is two best friends making music communally. Hana Elion and JJ Mitchell write together, sing together and — when the beat is just right and the singing comes to a pause — dance together. They seem to say things to their audience that only best friends say to one another. The song "23" opens with such frankness: "Honey, you're a full-time job / And I'm tired of rescuing you." If it were written 23 years earlier, this would likely be the lament of a singer-songwriter, but as a 21st-century duet, sans acoustic guitars and armed with keyboards and electronic drums, there's little time to dwell — only time to dance. —Bob Boilen
---
71. Bomba Estéreo
"Internacionales"
On Bomba Estéreo's Ayo, the song "Internacionales" is an electro-dembow and high-energy anthem dedicated to the pride of our cultures. Chanting out different Latin American nationalities, it's a tune fitting for the divisive political times in which we're living. Li Saumet's line, "Baile, que para bailar no necesita lengua" or "Dance, to dance you need no language," speaks to what music does best: unite. —Jessica Diaz-Hurtado
---
70. Laura Marling
"Wild Fire"
Rock dudes who write love ballads to their tiny-dancer ladies usually end up revealing that their deepest feelings are for themselves. "She's gonna write a book someday," sings Laura Marling in the voice of one such man. "Of course the only part that I want to read is about her time spent with me." In this lacerating takedown of sensitive singer-songwriter clichés, Marling slips from the male to the female perspective with dazzling lyrical grace as she exposes every ounce of ego involved in men's paeans to the "little woman." —Ann Powers
---
69. Oumou Sangaré
"Fadjamou"
Yaaaaas, queen: that's the only possible reaction to Malian singer supreme Oumou Sangaré and this track — and to the accompanying video, in which grateful young women genuflect and well-oiled young men literally flex their pecs in front of the astoundingly regal and fantastically dressed vocalist. But the song itself is fierce, with Sangaré's liquid-gold vocals flowing over a propulsive Afrobeat. It's been eight years since Sangaré's last album (one reason is that she's been off running several unrelated businesses — #bosslady); it's so good to have Her Highness back in action. --Anastasia Tsioulcas
---
68. Objekt
"Needle and Thread"
A frequent topic of conversation in the underground dance community this year centered around the popularity of "lo-fi house," a strain of hiss-heavy dance music that made up in atmosphere what it lacked in creativity. It's not that its innocuous '90s nostalgia is necessarily bad; as everyone knows, the '90s were awesome. But the vanguard of dance and electronic music is evolving at breaktaking speeds, and one of its leading lights is Berlin sound designer TJ Hertz, otherwise known as Objekt. Hertz's techno productions are masterclasses in sonic architecture, and "Needle And Thread" might be his most astonishing track yet. The depth of field here is something you'd expect in an IMAX theater, not a stream on Spotify. While Hertz certainly isn't alone in applying unprecedented clarity and precision to electronic music, his balance of fidelity and functionality is one of a kind. —Otis Hart
---
67. Machel Montano
"Fast Wine"
Soca's international superstar released one of the biggest hits of his career this year — and that's saying something. Montano's feel-good anthems have soundtracked Trinidad & Tobago's Carnival for 30 years, and his domination of the scene has been compared to Michael Jackson's reign atop the U.S. pop charts in the 1980s. "Fast Wine" won't win any Pulitzer Prizes for literature, but it's packed with earworms, from the sleek reggaeton beat to Montano's Auto-Tuned exultations. Who needs tropical house when songs like this exist? —Otis Hart
---
66. Mark Giuliana Jazz Quartet
"inter-are"
Before he was known as David Bowie's final drummer, before he had even gathered a reputation for next-wave beat science, Mark Guiliana was trained as a jazz musician. The band he helpfully calls his Jazz Quartet is a vehicle for that expression, but hardly a throwback. On "inter-are," the opening track of a smart new album, Jersey, groove is tantamount, and melody assumes heroic dimensions. Working with Jason Rigby on tenor saxophone, Fabian Almazan on piano and Chris Morrissey on bass, Guiliana fashions a rolling anthem loosely in the spirit of The Bad Plus, but on his own emphatic terms. —Nate Chinen (WBGO)
---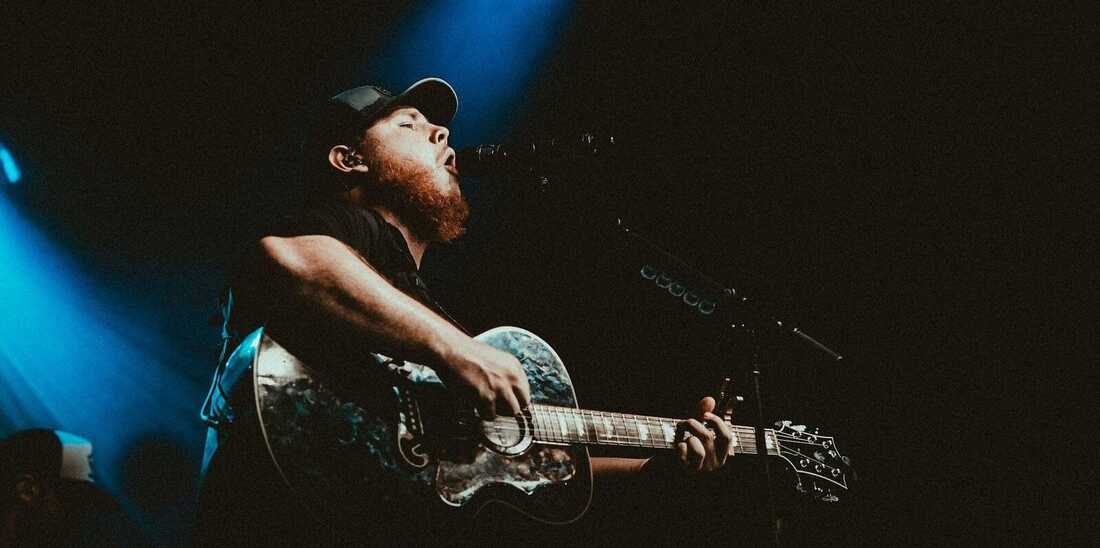 65. Luke Combs
"Hurricane"
Luke Combs has enjoyed one of country-pop's least expected breakthroughs this year, capturing a college-age audience by incorporating traces of the silkening rhythmic influence of current pop and R&B into a soulful, hard-twanging vocal attack and an everyman self-deprecation that harks back to hits of the '90s. The song that helped propel him from indie act to major label priority was the broody mid-tempo number "Hurricane." In it, Combs plays a guy tortured by his weakness for his ex, his tentative re-entry to the social scene disrupted by her unexpected appearance. Few male country acts have struck such defenseless postures in recent years, and he musters suppleness and grit to pull it off. —Jewly Hight
---
64. Anna Tivel
"Alleyway"
Anna Tivel has one of those voices that shivers with intimacy, so even when she's singing about cars and the weather, you lean in to hear how she puts the words together. At first, "Alleyway" seems like a modest little fingerpicked slice of lonely life, with details about traffic standing in for emotions Tivel's narrator isn't ready to lay bare. But she's built the song carefully, revealing a little more information in each verse until the true loss at its center reaches back and colors everything that comes before. —Jacob Ganz
---
63. Jorja Smith
"On My Mind"
By all accounts, rising U.K. star Jorja Smith was already blazing a new trail in the world of R&B in early 2017. But just as fans were really getting to know her, she switched up. Not settling for praise earned by a debut project and a very visible cosign from the biggest rapper on Earth right now, the 20-year-old shows she's ready to experiment with her sound. "My voice makes the genre because I sound like me on all my songs — I've made my own genre: Jorja Smith," the singer told Pitchfork. "On My Mind," her latest single, marries the artist's heavy, soulful tone with dizzying garage production from Boy Better Know beatsmith Preditah. While Smith makes a veiled attempt to shake off an ex-lover, Preditah's production gives the heartbreak an uptempo jolt of energy. —Sidney Madden
---
62. Weaves
"#53"
Weaves can be an angular and quirky guitar-based band, but this is their straight-ahead best — and the perfect opener to their 2017 album Wide Open. "#53" busts out with a "Born To Run" feel, a Bruce-Springsteen-esque anthem for the 21st century with the opening lines, "I was a fighter hoping for freedom / I was a fellow walking the streets / I am a woman who feels the plight of these walls." When singer Jasmyn Burke wrote this song, she was indeed thinking of The Boss, but her experience as a black woman in Toronto "couldn't be more different" from Springsteen's New Jersey — and that, she says, is what makes this so magnetic and fresh. —Bob Boilen
---
61. HIRS
"Trans Woman Dies Of Old Age"
Protest can take many forms: marches, boycotts, strikes. As the Philadelphia collective HIRS prove with this minute-long blast of grindcore, sometimes survival itself belongs on that list. Over pulverizing guitar and drums, vocalist JP addresses the plague of violence, depression and self-harm endemic to the lives of transgender women. But she isn't going down without a fight, and the song honors what it means to outlast these dangers. "The headline will read, 'Trans woman dies of old age,'" she roars with enough force to startle any bigot. "She outlived her enemies / Homophobes rolling in their graves." —Marissa Lorusso