The 100 Best Songs Of 2017
---
20. MUNA
"I Know A Place"
This L.A.-based trio released its debut album, About U, with fierce focus this year, claiming its place on the pop spectrum with a synth- and guitar-driven sound, and building a community in the process. With "I Know A Place," the band created a musical safe space and an anthem for otherness, letting its joy speak as loudly as its defiance. —Sarah Wardrop (WFUV)
---
19. Fever Ray
"To The Moon And Back"
Fever Ray's first song since 2009 begins with a melody that shoots you into space. But in contrast to its otherworldy soundscape, the lyrics are grounded in a universal human experience: anticipation of spending the night with someone for the first time. Kinky imagery depicts "creamy" kisses and "warm and fuzzy" lips; its explicitness is disquieting but dares you to listen through to the end. It's one of the most addictive songs of the year, and Karin Dreijer — her voice layered over a lower, whispering vocal track — leaves no questions unanswered in the last line. —Katie Anastas
Listen to "To The Moon And Back"
---
18. Vince Staples
"BagBak"
Vince Staples' last few projects rode the line between recognizable sound and experimental noise. "Bagbak," the first single from Big Fish Theory, obliterated that line: It was Staples throwing a hook into the water to see if we would bite. We did, and were confronted with a cold, robust, industrial hype track and the rapper swagging out: "Tell the president to suck a d*** cause we on now." Looking back, we should've known Staples was moving beyond existing classifications and toward sounds that belong on bigger audio systems than the aux cord in your Camry. —Steffanee Wang
---
17. Jason Isbell and the 400 Unit
"If We Were Vampires"
Jason Isbell is revered throughout the Americana scene and well beyond it for his character-driven storytelling and, increasingly, his statement-making. But his most beloved songs are the quiet numbers, like "Cover Me Up" and "Elephant," that gruffly yield to tenderness. He added a worthy new entry to that category with "If We Were Vampires," a fingerpicked number that peers behind lasting domestic contentment at the melancholy awareness that death will someday force the lovers apart and leave one alone. The sentiment might sound bleak indeed if Isbell didn't fashion it into motivation to love devotedly in the meantime. After singing the first verse alone, his delivery woolen and wistful, he welcomes the company of his wife Amanda Shires' feathery harmonies. —Jewly Hight
Listen to "If We Were Vampires"
---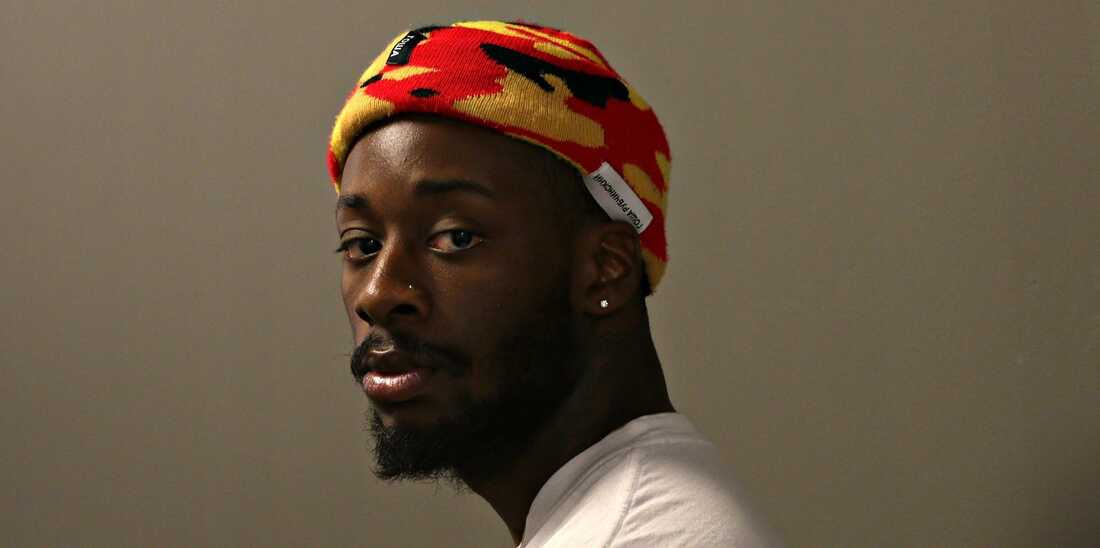 16. Goldlink feat. Shy Glizzy and Brent Faiyaz
"Crew"
GoldLink is the rapper as cartographer: He mapped this track's entire surface and decided to thrive in the liminal spaces he found between downbeats. R&B singer Brent Faiyaz's tone, on the other hand, makes for a hook so easy you could melt. "Crew" forces no choice between kick-back and turn-up. It is, in GoldLink's words, "low-key a celebration-of-life record" for both the artist and the DMV (D.C., Maryland, Virginia) communities he's proud to represent. The verse from fellow DMV rapper Jefe (formerly Shy Glizzy) turned this song into an instant classic: At the right D.C. parties this summer, it could make a unison choir of the crowd. —Jenny Gathright
---
15. Estonian Philharmonic Chamber Choir
"Fall Leaves Fall"
The tightly-wound emotions and windswept moors of Emily Brontë's poetry shimmer and soar in brilliant writing for chorus and string orchestra by Tõnu Kõrvitz, one of Estonia's rising composers. "Fall Leaves Fall," with its nocturnal themes, begs for long nights and short, dreary days. Like Van Gogh's "Starry Night," the music swirls in bold, dark strokes for the strings (especially cellos), which entwine with female voices, radiant as moonlight, from the Grammy-winning Estonian Philharmonic Chamber Choir. —Tom Huizenga
---
14. Kendrick Lamar
"LOVE."
You could call it just another chapter in a career-long thesis on duality: good versus m.A.A.d., "you" versus "i," wickedness versus weakness, lust versus love. But as soon as you hit play, it's clear this one is special. It isn't just the sound, though that's quite something: Mute the vocals, tone down the trap hats and it could be a Chairlift song. It isn't just the flow, though that's remarkable, too: Hook man Zacari and producer Teddy Walton already had a finished version of their song "Lovely" when Kendrick asked to use the beat — and you can hear in his scribbled-in verses the wry looseness that comes when your job is less to write than to riff. But more than anything, "LOVE." stands out for its focus on a single moment, and a single person. That an artist who writes backwards and forwards with the same hand, who seems to be addressing all of black America even when ministering to himself, would let us peek as he jots down a love note to his sweetheart is a warm and addictive thrill. —Daoud Tyler-Ameen
---
13. Sampha
"(No One Knows Me) Like The Piano"
"(No One Knows Me) Like The Piano" is ostensibly a song about the piano in British R&B singer Sampha's childhood home. But that piano becomes a proxy for the memory of his deceased mother, and this song is the last he played for her. "No one knows me" stands alone in the title's parenthetical, and the song itself is at once about loneliness and the consolation of music as a way out from it. For even if pianos can't know and aren't people, Sampha makes this one sound more than human. —Benjamin Naddaff-Hafrey
Listen to "(No One Knows Me) Like The Piano"
---
12. Perfume Genius
"Slip Away"
Singer and songwriter Mike Hadreas' masterful album No Shape is an ode to remaining defiant and true to oneself in the face of bigotry, and "Slip Away" is its lead anthem. Writing in part to his boyfriend Alan Wyffels, Hadreas celebrates their love while protesting those who try to invalidate it. It's a pulsing, at times majestic monument to unbridled joy, and a reminder that, after decades of social progress, there's still work to be done. —Robin Hilton
---
11. Charli XCX
"Boys"
In the midst of July's heat, Charli XCX gifted us with a sun-drunk anthem befitting the season. "Boys" goes down with the ease of a summertime rosé: It's palatable pop that's flirtatious enough to make you blush and simplistic enough to have you swilling. Accented by Super Mario sounds and propelled by Charli XCX's carefree cadence, "Boys" is light and lilting. And obviously it doesn't hurt that it's got a video with plenty of pink, and even more boys. —Lyndsey McKenna
---
10. Frank Ocean
"Chanel"
Let's begin where Frank does: "My guy pretty like a girl / And he got fight stories to tell / I see both sides like Chanel / See on both sides like Chanel." He sounds relaxed and confiding, giving us a reflection in the form of a boast — or is it the other way around? In any case, he's refusing the conventional gender binary, dropping what Austin Williams, writing for The Undefeated, called "the coldest, gayest, and most securely masculine flex in the history of rap." And that both-sides theme — a nod to the entwined, mirror-image "C"s in the Chanel logo, along with the secret history of its founder, Coco Chanel — rolls throughout the song, imbuing Ocean's cool swagger with a note of sensual intrigue (not to mention pride, a word whose layered implications are worth considering here.) Embraced as a bisexual anthem soon after its release, "Chanel" also belongs to the forthright, idiosyncratic process of unburdening that Ocean has made a central facet of his artistic identity. So which is the track's more crucial achievement? Does it really have to be a choice? —Nate Chinen (WBGO)
---
9. SZA
"The Weekend"
The sleeper hit off SZA's debut album Ctrl, "The Weekend" casts the detested "side chick" in a whole new light. Against the sparse backbone of a Timbaland-sampling ThankGod4Cody beat, SZA takes survey of weekly escapades with her part-time lover and proudly declares him as a shared source of pleasure ("My man is my man is your man / Heard it's her man too"), taking power out of the hands of the guy who is supposedly playing both women. Offering something of an olive branch to her perceived rival, SZA courageously flips the negative connotation that comes with being the other woman on its head. —Sidney Madden
---
8. Lil Uzi Vert
"XO Tour Llif3"
In 2017, "XO Tour Llif3" was Exhibit A in the case for the ascendancy of the SoundCloud generation, a leaked track that became a real top 10 hit and eventually led to a No. 1 album. But the song itself, a woozy excavation of bad feelings set in a glittering clockwork frame, has the feeling of something timeless. It's in the way the song's cold paranoia echoes the creeping dread that tells you everything that can go wrong has gone wrong, an itch gathering just under your skin. It's there in the way Lil Uzi Vert modulates between indecipherable, yelped verses and that dark crystal of a chorus — "Push me to the edge, all my friends are dead." It's in the way that chorus turns obvious feelings of helplessness and neglect into a pre-emptive protest, an outcry on behalf of a generation that might have an easier time ascending if not for that neglect, a "here we are now, entertain us" from a kid who was born the summer Kurt Cobain died and is now the same age as Cobain the year "Smells Like Teen Spirit" broke. It's rap as deteriorating R&B as emo as punk as pure pop. In other words, it's the future. —Jacob Ganz
---
7. Now, Now
"SGL"
When last we met these young Minnesotans, they were channeling a sadness you could call elemental: The heavy-footed rhythms and knife-twisting punchlines on 2012's Threads had a way of bypassing the intellect and shaking the soul. And then there was silence — five years of it, from which many bands might never have returned at all, let alone sounding this confident. "SGL" is less comeback than rebirth, pinpointing the moment when the dreary grayness of heartbreak recedes and the glow of new possibilities takes over, painting the sky neon and putting a little swagger in your step. Beginning with a clipped acoustic guitar and a two-note melody, its magic lies in how stealthily it builds from murmured and casual to something more assured, the way a skilled flirt doesn't ask for your attention but makes you realize you want theirs. —Daoud Tyler-Ameen
---
6. Cardi B
"Bodak Yellow"
How did Cardi B's "Bodak Yellow" become one of the most talked-about songs of the year? Scoring a No. 1 spot on the Billboard Hot 100 — the first such solo effort by a woman in rap since Lauryn Hill 19 years ago — helps. But Cardi's unapologetic sexuality and infectious flow, cleverly adapted from South Florida rhymer Kodak Black, gave "Bodak Yellow" staying power. Though far from the final word on the changing state of women in hip-hop, "Bodak Yellow" challenged all sorts of tropes around gender, class and respectability — and all by an artist whose Afro-Latina heritage complicated conversations on race and representation in rap. —Rodney Carmichael
---
Sarrah Danziger/Courtesy of the artist
5. Hurray for the Riff Raff
"Pa'lante"
Alynda Lee Segarra can conjure ghosts. Not the spooky kind, but the kind that, when you come face to face with them, remind you of who you are, where you come from, where you need to be going. In "Pa'lante," the ferocious penultimate track from The Navigator, Segarra's warm, gravelly voice takes us through three musical acts that gradually build a shrine for her ghosts. In the last act, she unleashes them all: Emmett Till, Juan, Miguel, Mirado, Manuel, her barrio, her mother and father.
"Pa'lante" is Segarra's love letter to the revolution — all its generations, past, present and future. Over some simple piano, she details her many insecurities: doubts from living under systems that seem more and more insurmountable, doubts of her own capabilities. Those ailments feel exceptionally relatable of late, and yet, "Pa'lante" never allows us to stop and waver in our uncertainty. When the ghosts finally come, Segarra pulls us to our feet and sternly marches us forward — if not for us, then for the ones who came before. —Steffanee Wang
---
4. Kesha
"Praying"
You know that scene in every great action movie where the protagonist grants her foe a moment of grace — a kind look, a philosophical word, a soupçon of forgiveness — before dispatching the creep? That's "Praying." Its singer, Kesha, is pop's equivalent to Uma Thurman in Kill Bill — a heroine whose painful past only feeds her superpowers. She sings this Ryan Lewis-coauthored anthem in a wail that links Janis Joplin's bravado with Whitney Houston's lifelong determination to transcend. She means every tender word, and every condemnation, insisting that forgiving someone does not have to mean offering him a plea deal. Kesha's own mistreatment by her ex-producer Dr. Luke became this song's backstory. The reckoning that is #metoo made it universal. "I hope you find your peace, fallin' on your knees," Kesha cries as the strings swell. The line is kind, but blue as steel: This penitent will return to standing as a changed man, or not at all. —Ann Powers
---
3. Charly Bliss
"Glitter"
Charly Bliss didn't invent fizzy, grungy rock and roll that masks dark sentiment behind spangly hooks and buoyant, childlike vocals. But "Glitter" polishes that formula to perfection, as singer Eva Grace Hendricks powers a radiant, syrupy-sweet chorus that just happens to express a torrent of accusation and self-doubt: "Am I the best? Or just the first person to say yes?" Meanwhile, the song around her builds and blooms, as sweet synths and invitingly churning guitars team up to help form a perfect pop-punk pocket cataclysm. —Stephen Thompson
---
2. Kendrick Lamar
"HUMBLE."
The genius of Kendrick Lamar rages on this circular koan — a kind of musical ouroboros that only becomes more paradoxical the more you try to pull it apart. The mystery and mayhem lie in its multi-layered contradictions. As Lamar lays waste to his rivals and exults his own superiority, he longs to shed the weight of his own ego. Over and over he demands humility, telling himself to "sit down / be humble," a fiery, almost tortured plea punctuated by a persistent staccato piano — but Lamar could just as easily be addressing someone else in the chorus. Is "HUMBLE." a guileless self-reflection on the trappings of success or a self-righteous assault against the haters and wannabes? It isn't entirely clear. But like much of the album DAMN., "HUMBLE." feels more like a portrait of the artist at war with himself. And in a battle of words, insults and ultimatums often say more about the person delivering them than the people they're directed at. —Robin Hilton
---
1. Big Thief
"Mary"
At its core, "Mary" is a song about safety. Not necessarily physical safety — though that's part of it — but the offer of psychological, maybe even spiritual safety. It's the kind that is rooted in wholehearted empathy and gives refuge from the anxiety and fear and ego-killers the outside world so often afflicts us with; the kind afforded by childhood reveries and very particular, very special people. A song extremely deft with subtlety, its instrumentation is simple, mainly built on piano and songwriter Adrianne Lenker's honeyed voice. When writing, Lenker chooses words for their sound and meaning simultaneously, and here, she sings them with a delicate touch. In the song's chorus, her voice flutters between notes almost imperceptibly as she lists images from childhood memories, alliterative and filled with internal rhyme ("What did you tell me Mary / When you were there, so sweet and very / Full of field and stars / You carried all of time"). The song takes its time; it never breaks its steady tenderness. It is incessantly beautiful.
"Mary" is the penultimate track on Capacity, Big Thief's sophomore album, a stunning example of sharp songwriting and storytelling. "Mary" stands out not only for the band's choice to swap guitars for piano, but for its extreme elegance and clear-eyed compassion. It is a moment to breathe in an album filled with intimate explorations of violence and pain — of their impacts and their aftermaths.
Lenker first wrote the song in her grandparents' house, where she spent many winters as a child; it's a place she remembers as one of warmth and safety. She says the song's namesake is a real person, too, a friend she met in college. It is wholly unsurprising to me that this beautiful song was inspired by the powerful intimacy of female friendship; often, in a year when sexual violence and misogyny never seemed to leave the headlines, this was the first and only place we felt safe and understood. "There's really nothing like meeting a real friend on this earth who holds a space for you to be yourself," Lenker said of Mary. In crafting this homage to her dear friend, Lenker provides that blessed space for her listener, too. —Marissa Lorusso