Nate Chinen's Top 10 (Actually 21) Albums Of 2017
Thomas J. Krebs/Courtesy of the artist
Most of us can agree: 2017 was a beast of a year. The music sometimes reflected our weariness, carrying it like a burden. At other times it engaged directly with the sense of foreboding and crisis in the air. But what spoke to me the most, it turns out, was music that delivered both comfort and challenge, a salve and a spur. To one degree or another, every album on this list fits that criterion — and so do the additional 10 that appear as honorable mentions, any of which could easily have come off the bench and into the game.
Nate Chinen's Top 10 (Actually 21) Albums of 2017
1. Kendrick Lamar, 'DAMN.'
Fate and volition, love and lust, humility and pride: DAMN. is an album of stark dichotomies that begin to blur on closer inspection. We already knew Kendrick Lamar as a rapper of astonishing technique and irresistible narrative pull; here he tightens the focus while raising the stakes. On NPR Music's 50 Best Albums list, where it also took top honors, I observe that DAMN. feels disarmingly in tune with our current moment. Beyond that, it's just the album I kept returning to, always finding new subtleties and implications.
2. Ron Miles, 'I Am A Man'
No album struck a better balance of beauty and urgency this year, for me, than this glowing ember by cornetist and composer Ron Miles. It's the product of a collegial summit of his fellow musical empaths: drummer Brian Blade, guitarist Bill Frisell, bassist Thomas Morgan and pianist Jason Moran. It's also a sociopolitical statement, as I point out on the NPR Music albums list, where it came in at No. 30 overall.
3. Vijay Iyer Sextet, 'Far From Over'
Also on the NPR Music list, falling just outside the Top 10, is the latest album by Vijay Iyer, a pianist with a strong track record of thoughtful provocation. On Far From Over, he marshals a sextet full of seekers like drummer Tyshawn Sorey and saxophonist Mark Shim, exploring a range of strategies for rhythm and counterpoint. But to put it that way makes the music seem dry and conceptual, when the reality couldn't be more visceral or clear.
4. Jason Moran, 'BANGS' (Tie)
Tied here are two brilliant albums that landed slightly off the grid, with two-thirds of the same personnel: Ron Miles and guitarist Mary Halvorson, whose deep, odd-couple rapport warrants some kind of special citation. On BANGS, a Bandcamp release, Jason Moran provides the fulcrum for a rangy, intrepid mix of original material from all three musicians.
4. Greg Saunier​/​Mary Halvorson​/​Ron Miles, 'New American Songbooks, Volume 1' (Tie)
New American Songbooks, Volume 1, out on limited-edition vinyl, pairs Halvorson and Miles with Greg Saunier, the excellent drummer from Deerhoof, in a vision of The Songbook capacious enough to put James P. Johnson in dialogue with Fiona Apple.
5. Jaimie Branch, 'Fly Or Die'
A debut album as decisive and focused as a gut punch, from a trumpeter with extravagant command of her resources. On the Best 50 Albums list, I wrote, "Branch's compositions feel like deliberative scraps, in the best way: She knows how to sketch a framework for her partners to fill. And she has excellent taste in collaborators, working mainly with a gang that shares roots in the underground Chicago scene: cellist Tomeka Reid, bassist Jason Ajemian, drummer Chad Taylor."
6. Jason Isbell and the 400 Unit, 'The Nashville Sound'
"I've heard enough of the white man's blues," sings Jason Isbell at one point on this stunning album. "I've sang enough about myself." Whether that's a confession or a note of caution, it's true: The Nashville Sound looks outward more than inward, with an almost tactile sense of purpose. It's the best showcase yet for The 400 Unit, and a stirring dispatch from a songwriter at the height of his powers. More than once this year, it brought tears to my eyes.
7. Miguel Zenón, 'Típico'
"I was trying to capture the evolution of a band," alto saxophonist Miguel Zenón said when we discussed Típico early in 2017. He was speaking plainly about one of the best working groups in jazz, with pianist Luis Perdomo, bassist Hans Glawischnig and drummer Henry Cole. Típico is, as Zenón implied, more of a progress report than a conceptual gesture — and yet it's packed as usual with ideas. One of which is the resiliency of Puerto Rican culture, which tragically became all the more relevant this year.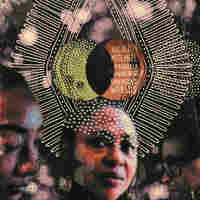 8. Nicole Mitchell's Black Earth Ensemble, 'Mandorla Awakening II: Emerging Worlds'
Nicole Mitchell is a flutist, conceptualist and composer who takes careful measure of the energies she projects into the world. This alert and mysterious album, recorded at the Museum of Contemporary Art in Chicago, imagines a future teetering between utopia and dystopia — an idea made tangible by the shifting texture of her ensemble, composed of musicians like Kojiro Umezaki on shakuhachi and Tomeka Reid on banjo and cello.
9. SZA, 'CTRL'
This year's breakout R&B album is a star turn that feels more like an exchange of confidences. SZA has a way of articulating insecurities, contradictions and regrets without relinquishing an ounce of self-possession; not for nothing is the album named after the shorthand for "control," nodding firmly in Janet Jackson's direction. In NPR Music's 50 Best Albums list, Ann Powers astutely notes that "SZA demands freedom in a world where feminine desire is still viewed as a route to risk, discomfort and belittlement."
10. Matt Mitchell, 'Førage'
Matt Mitchell is a pianist drawn to bristling irresolution, which is one reason he's such a sterling partner for the avant-garde saxophonist and composer Tim Berne. Their alignment forms the crux of Berne's band Snakeoil, which released another strong album, Incidentals, this year. Førage is something rarer and stranger: a deep-focus solo piano meditation on a handful of Berne's compositions, at once restive and darkly shimmering.
Honorable Mention: The Next 10
David Virelles, Gnosis
Cécile McLorin Salvant, Dreams And Daggers
Rhiannon Giddens, Freedom Highway
Tyshawn Sorey, Verisimilitude
Lorde, Melodrama
Nate Smith, KINFOLK: Postcards From Everywhere
St. Vincent, Masseduction
Charles Lloyd New Quartet, Passin' Thru
Zara McFarlane, Arise
Karriem Riggins, Headnod Suite