The 10 Best R&B Albums Of 2017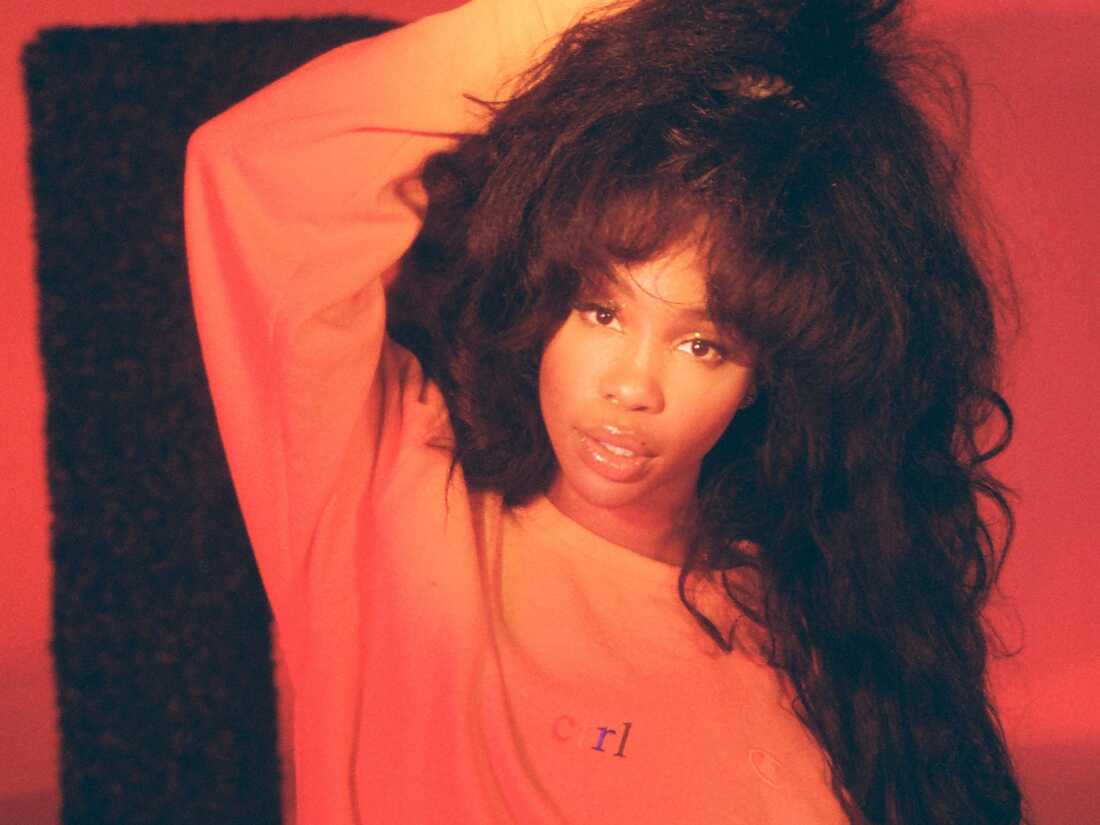 As a genre, R&B music blessed us with some of the most poignant, adventurous and enlightening albums of 2017. While two of the top 10 albums on NPR Music's 50 Best Albums of 2017 were R&B, there were plenty of other gems that dropped this year that deserve a spotlight.
After years of Internet incubation, women like Kehlani, Kelela and BOSCO blossomed with debut albums. Jorja Smith experimented with garage, Hiatus Kaiyote's Nai Palm struck out on her own and Maroon 5's PJ Morton got back to his NOLA roots. But throughout the year's crop of stellar R&B releases and collaborators, the following 10 projects hit it out of the park and made up the soundtrack to an emotional year.
A group of NPR Music staffers who pride themselves as R&B stans got together to make some bold choices about the best in this year's genre. Here, in no particular order, are NPR Music's picks for the top 10 R&B albums of 2017.
Thundercat, 'Drunk'
Thundercat's superior musical execution juxtaposed with his scattered thoughts make Drunk the most appropriate album title ever. You're fooled in the best way as you sit with this album's brilliant production. It sounds even better when the sun is out, but the more you delve into lyrics and subject matter, the more you think, "Some of this is deep and dark." Take "Jethro," for instance: Flying Lotus stacks crisp percussion over vibrant synths as Thundercat touches on the "drifting light" in a song that is ultimately about death.
The bulk of serious stuff is strategically cut with Thundercat's special brand of comedy; the farts, the infatuation with anime, the downright bizarre visuals. That strange dichotomy Thundercat manages to weave throughout the entire project makes it hard to determine exactly what mental state he's in, yet we totally relate. Like him, we're many things at once and are often unable process or properly organize the chaos of life. Thundercat just threw it at the wall and it all stuck. --Bobby Carter
Daniel Caesar, 'Freudian'
Daniel Caesar's debut album, Freudian, is the rollercoaster of emotions experienced through 20-something love and everything that comes with it. What's most impressive is Caesar's ability to enunciate such emotions as a 22-year-old man. Sex, infidelity, codependency and insecurities can all be very difficult to navigate in one fell swoop, but the Canadian singer-songwriter manages to figuratively slow it all down, allowing us a peek into this new journey. Freudian is definitely a team effort, however. Producers Matthew Burnett, Jordan Evans and Riley Bell provide an epic foundation, completely suitable for Daniel's tone, allowing the artist's gospel roots to shine through. The meat of the album, between "Neu Roses (Transgressor's Song)" and "Blessed," provide the most spiritual moments. The album highlight, "We Found Love," is a relationship eulogy building a gorgeous bridge that borrows from Donnie McClurkin's gospel smash "We Fall Down."
Caesar's supporting cast consists of some of the most promising up-and-coming ladies in R&B. H.E.R., Charlotte Day Wilson, Syd and Kali Uchis are the yin to his yang or vice versa, leveling the playing field. Freudian faces stiff competition among the 2018 Grammy nominees for best R&B album, but if all was right in the world, this album should inch away with the win. --Bobby Carter
Nick Hakim, 'Green Twins'
Nick Hakim's latest album, Green Twins, has a lot of space in it; the otherworldly kind with an airiness that makes you want to float inside and experience the land he lays out in front of you. It's a surreal one, his world; very close to our own, but with tiny, important differences: A girl is pregnant with twins that are green, green is the color of love and longing and God is a woman. Luckily for us, emotions still work the same way there, though unluckily for Hakim, his seem to operate on an unbearable, higher level.
Green Twins is about love between two people, but also about the painful intensity of wanting to be so close to a person you want them to consume you — literally. In "Needy Bees," a slow-burning cut that strains toward the depths of desperation, Hakim begs his lover to "swallow me." Later, over a writhing, slinky beat with orchestral flourishes, Hakim characterizes his desire on "The Want" like a disease "[that] has my mind." The magic of this record is how artfully the execution and vision comes together. In Hakim's vast garden of lo-fi sounds, he is there in the background, crooning away. He never sings for too long, but the urgency that colors his instrumentals tells you all you need to hear and feel. --Steffanee Wang
Gabriel Garzon-Montano, 'Jardín'
Gabriel Garzon-Montano's Jardin is a place of experimentation, familiarity and, most importantly, play. Spend time there and you will find that sounds grow together in the most unexpected ways. It is a landscape of groovy funk, head-bopping percussion, soulful keys, and something indigenously close to the earth. Garzon-Montano's vocals, which he manipulates into another layer of instrumentation, cradle his complex melodies and provide a rich, grounding presence. Perhaps the best example of this is on "Long Ears," where he layers his vocals to mimic the sounds of a vibrant horn section carefully, so it never becomes too ostentatious. Then, there's "Sour Mango," a staccato delight of a song that bops and jumps around with "ahs" and "ohs" stutter-stepping their way through the hook. As you make your way through the record, Jardín blooms into something that is full, round and ripe for the picking; take a big, juicy bite and let every little bit dance away on your tongue. --Steffanee Wang
Sampha, 'Process'
If black popular music, from blues to funk to hip-hop soul, has long illuminated the intricacies of love and sex, expressions of black interior life beyond the erotic have been sadly limited within the racist music industry. Nina Simone's rage in songs like "Four Women" and Marvin Gaye's fearless exploration of inner troubles on What's Going On offer templates that only a few gifted risk-takers have attempted to fulfill. Sampha Sisay, the London-based singer-songwriter and master of organic electronics whose collaborations with Kanye West, Beyoncé and Frank Ocean have been stretching boundaries for a while, takes a crucial step in this direction on his debut album, Process.
It's an understated yet deeply powerful work exploring grief, anxiety, self-sustenance and, yes, desire, as these sometimes complementary, often conflicting emotions run up against each other within one ordinary life. "There's a fault in my structure," Sampha sings in his bumpy, moaning tenor on "Reverse Faults," one of the tender pauses that alternate on Process with more propulsive expressions of unrest. He's speaking geographically: His mind is the ground shifting beneath his feet as he confronts the death of his mother, his own sometimes fragile health and the everyday struggle to remain stable when every morning seems to deal another unexpected hand. Process is beautiful, sometimes harrowing, and ultimately hopeful: The very act of claiming himself pushes Sampha toward spaciousness and light, as does this album, a lucid dream leading to greater wakefulness. --Ann Powers
Curtis Harding, 'Face Your Fear'
Curtis Harding has called what he does "slop-soul" — a term that suggests unwarranted humility from this gifted, gospel-bred shouter and deep digger in the Curtis Mayfield/Stevie Wonder crates. But maybe it's a subtle protest against the sleek, surface-dwelling vapidity of much retro-soul. The Atlanta-based Harding instead goes for gut-level embodiment. On his second album, Face Your Fear, produced with the help of Danger Mouse and the psychedelic auteur Sam Cohen, Harding casts himself as a traveler confronting the consequences of his need to keep moving.
The expansive, mournful "Wednesday Morning Atonement" casts him as a father begging forgiveness from his neglected children. "Go As You Are" has him leaving his lover's side, pulled by unnamed desires, and wondering how to return. Harding's cutting falsetto blends with a lower range that's both persuasive and defiant. "Just be cool when it meets you, don't be breaking up," he sings in the title track, his voice mirroring the bassline winding through a thicket of strings. Face Your Fear reminds us that vintage soul music was about survival, not just high style — and that the circumstances it helped people navigate still confront us today. --Ann Powers
SZA, 'Ctrl'
No longer the wallflower at Top Dawg Entertainment, SZA shifts the conversation of R&B and reveals herself as the label's secret weapon with the long-awaited debut album Ctrl. A labor three years in the making and now a project earning her the most 2018 Grammy nominations of any woman, Ctrl's tracklist plays as if a collection of scattered diary entries ripe with confessionals. Years of relationship drama are delivered with honesty, anguish and a marred falsetto. String-laden production from Carter Lang, Frank Dukes and Cam O'bi helped bring SZA's stories to life with more direct, pop-leaning melodies than her previous releases.
With each track, SZA picks apart a new layer of insecurity. From "Broken Clocks," her self-deprecating struggle with balance and affinity for "dirty men," to "Garden (Say It Like Dat)," an ode to the sweet, crippling fear that comes with a new relationship, the 27-year-old shows the constructive power in lingering on the past. Undoubtedly the sleeper hit has proven to be "The Weekend," an idyllic ballad to the side-chick, which broke into Billboard's Hot 100 chart without any single promotion.
Most songs on the LP are strung together with a tidbit of wisdom from either SZA's mother or grandmother, two forces she's cited before as major influences in her life and creative process. Though the project is punctuated with these notes of black female empowerment, the official guest verses on the album are all from men. SZA enlists label mates Isaiah Rashad and Kendrick Lamar, plays a cat-and-mouse game with Travis Scott on the album's biggest single, "Love Galore," and sneeks in a far-too-short interlude from James Fauntleroy.
What truly sets Ctrl apart from the sea of glistening R&B releases this year was that SZA broke down details of relationships other artists often miss and exposed insecurities others can't — or won't — tap into. As a songwriter, SZA proves she can extract one strand of an emotional tapestry and dissect its every fiber. Basking in the beauty of uncertainty, Ctrl illustrates the mortal missteps that come with personal growth, proving to listeners, and to herself, that control does not exist. --Sidney Madden
Dvsn, 'Morning After'
Dvsn, the soulful, shadowy duo comprised of Grammy-winning producer Nineteen85 and singer Daniel Daley, further the lovesick storylines that first made them famous on their sophomore album Morning After. Thanks to guidance from Maxwell and a creative retreat to the foreign shores of Cuba, OVO Sound's underdogs interlace narratives of longing, loneliness and even trivial jealousy through 13 new tracks.
Daley's falsetto tenor prances over rabbithole-like beats with mid-album tracks "Mood" and "P.O.V." serving as the strongest examples of their range. Depending on your mindstate, Morning After plays like a day of hooky from work filled with breakfast in bed and slow kisses or burning, tearful break-up. You choose. --Sidney Madden
Future, 'HNDRXX'
It's been such a monumental year for hip-hop and R&B — from earning Nielsen recognition as the country's most-consumed genre to racking up an overdue amount of Grammy noms — that it's easy to forget Future made his own history back in February. With the release of FUTURE and HNDRXX, he became the first artist in Billboard 200 chart history to score No.1 debuts in successive weeks. While the former delivered on his signature street-trap aesthetic, the latter found him crooning his Auto-Tuned heartbreak over 808s. A Marvin Gaye's Here, My Dear for the hip-hop generation, the only thing HNDRXX lacked was the divorce decree to match. But his bitter break-up anthems in honor of R&B starlet and former fiancee Ciara were not recorded in vain. While their discord made blog headlines, Future took to the recording booth to air out his trust issues over custody battles and defamation lawsuits. He vents, he flaunts, he gets downright petty — "even if I hit you once, you part of my collection," he sings on the album opener. Between the lines, you hear hurt, and a man attempting to repair his ego by sexing the pain away, dangling his new conquests in front of his old flame and bathing in luxury to soothe his open wounds. Forget R&B, this is Future's blues. — Rodney Carmichael
Jhene Aiko, 'Trip'
Sometimes the most important trip we take is the one inside ourselves. For Jhene Aiko, the autobiographical Trip follows her on a personal journey of self-discovery as she mourns the untimely death of her brother, Miyagi Chilombo. As a singer-songwriter who's always existed in a liminal space between radio R&B and traditional soul, her ethereal voice serves as a ghostly tour guide. She navigates the pain of loss over a soundtrack that keeps her afloat, metaphysically, Aiko tries to numb her hurt with everything from drugs to love. But the psychedelic escape she's seeking through songs like "LSD" and "Oblivion" give way to a higher "Frequency."
Aiko recorded the ambitious concept album during a three-year span, mostly at the Hollywood studio of producer No I.D., in between actual solo trips she was taking to Big Sur in California. At 29, Aiko has experienced the pain of divorce and death. But Trip is about more than filling her heart's holes with new lust or quick highs. It's the confessional narrative of her grappling with the nature of desire as she awakens to her own power. She's a brave soul, both vulnerable and visionary, for taking us along for the ride. --Rodney Carmichael