Review: Jonathan Wilson, 'Rare Birds'
Note: NPR's First Listen audio comes down after the album is released. However, you can still listen with the Spotify or Apple Music playlist at the bottom of the page.
---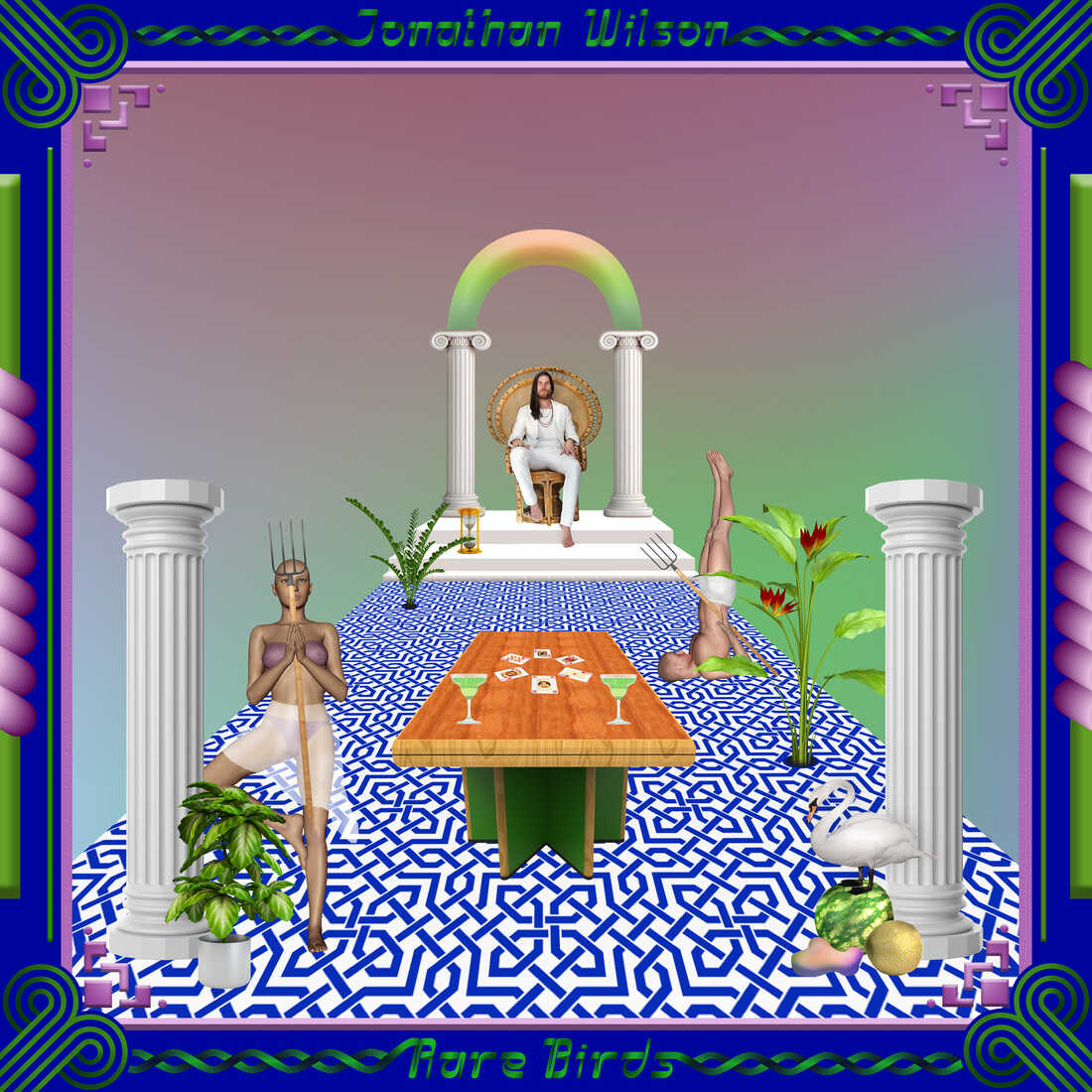 "49 Hairflips," one of the breakup songs on Jonathan Wilson's arrestingly ambitious third solo album, is set late at night, in the reflecting hour. The tune is a waltz with a "Mr. Bojangles" gait, and Wilson darkens it by singing listlessly, with almost chemical detachment. Near the end, just after the Hollywood strings clear out, he makes a declaration: "I'm not leaving these walls without the prettiest song I can find."
Listening to these expansive melodies as they tumble out one after another, you wonder how long it took him. Usually, when an artist turns toward the camera to state his or her intentions, it's a contrived moment. Not here. Wilson's dejected phrasing sounds like it's sourced from a wound that still stings, and he uses it to explode the too-familiar emotional terrain of the breakup song. He's a haunted soul determined to wring something (anything) positive out of hurt, and that tone makes it easy to follow him into the unglamorous room with the piano where, overwhelmed with memories, he chases scraps of inspiration out of the voids and shadows of a vanished romance.
At once cosmic and chillingly immediate, Rare Birds shows Wilson exploring the many possible outcomes of that old equation of inspiration – heartbreak plus time equals art. What's striking is the variety of moods he finds: Tucked between the despairing moments are brightly stylized pop curios ("Miriam Montague") and otherworldly sonic landscapes ("Loving You," which features memorable vocals from Laraaji) and straightforward fingerpicked-guitar meditations ("Living With Myself" is deepened, considerably, by Lana Del Rey's harmonies).
Wilson is a free-range thinker, happy to swerve in and out of moods and chronological narratives. His lyrics juxtapose deep-space imagery against absurd name-drops ("Nelson Rockefeller on percussion") against preposterous sights on the 405 freeway ("I didn't think a Cadillac could float above the ground"). Sometimes what promises to be a love lament turns into a campfire-style affirmation of human spirit ("There is A Light"). And sometimes, as on the opening track "Trafalgar Square," the extroverted and exuberant verses are offset, in a jarring instant, by fragile, super-slow-motion music from a distant melancholy galaxy.
Wilson recorded this while working on other projects – producing Father John Misty's acclaimed Pure Comedy and playing on (and later touring behind) Roger Waters' Is This The Life We Really Want? The grand, ceremonial, Pink Floyd-ish opening of "Trafalgar Square" shows Waters' influence; but, by way of contrast, "There is a Light" has the pealing beat and organ-plus-piano ripples of the E Street Band, and a few of the album's multitude of hooks even recall "Rhiannon"-era Fleetwood Mac. The Waters ideas are more prevalent, however: in the caustic lyrics and the episodic songwriting, the swerving psychedelic synth leads and the deftly knit electro-acoustic textures. In some ways, this is Piper at the Gates of Laurel Canyon.
Yet none of that stuff feels appropriated – Rare Birds is easily Wilson's most lavishly orchestrated work, and every last harpsichord belongs in the mix. You can tell that Wilson is a student of rock and pop in all its forms, and at the same time he's an utterly original and irreverent thinker who's evolving with blinding speed. Rarely have those qualities been balanced as elegantly as they are here.