The 50 Best Albums Of 2018
Illustration: Angela Hsieh/NPR
Art is identity, scream these best albums of 2018. Even when it's pure invention. The most striking things we heard this year mined personal experiences that could feel intimate as whispers or bold and overstuffed as superhero science fiction. Even in an era where listeners have been primed for the unexpected, genuine surprises arrived steadily across the last 12 months – a cascade of introductions, breakthroughs, revelations and rebirths to reward whatever precious attention you could give. (Not a huge surprise: Most of them, after the votes from our staff and member station partners were tallied, turned out to have been made by women.) We're happy to share NPR Music's list of the 50 best albums of 2018. You can listen to them here and hear a discussion on the year in music on All Songs Considered. We'll have lots more before the year ends.
---
30.
Makaya McCraven
Universal Beings
In 2015, drummer Makaya McCraven released In the Moment, an album lauded by critics as a new direction in modern jazz. The record featured reworkings of live recordings from a band he led over the course of a year at a small club in Chicago. Acclaim has followed McCraven through his career ever since, and he's continued to refine this style of live recording, then remixing his performances.
Universal Beings builds on his strengths by taking the show on the road. Here, McCraven explores not just his own unique drumming style, with added soloists, but some of the most vital jazz scenes of the world: London, Los Angeles, New York and, of course, Chicago. Beyond McCraven's formidable drumming and editing style, this album sounds like the scenes it was created in. The London side is danceable and upbeat. Los Angeles funky and cool. Chicago is hard-hitting and bombastic. New York is esoteric, boppish and heavy on improvisation. In this way, the record functions like a sort of core sample of the current jazz star-date we're living in.
As jazz gains more popularity among younger audiences, McCraven is perfectly poised to help steer the ship. So many fusions of jazz and hip-hop have fallen short in terms of their honoring both genres. It's a beautiful thing to see these energies combine in a way that's so vital. —Matt Fleeger (KMHD)
♫ LISTEN: Makaya McCraven, Universal Beings
29.
Leikeli47
Acrylic
"Why should the world be over-wise / In counting all our tears and sighs?" 19th-century African-American poet Paul Laurence Dunbar wrote. "Nay, let them only see us, while / We wear the mask." His timeless advice has served Leikeli47 well. On her sophomore outing, she stars as the ski-masked heroine of a hood-chick lit masterpiece more colorful than a rack of nail polish. Acrylic is not a typical LP; it's a choreopoem for colored girls (and discriminating b-boys). Leikeli47's masked anonymity enables her to give voice to a rotating cast of outcasts: the hustlers, the boosters, the teenage lovers, the bishops, the rooks, the baby mamas. A nail salon serves as ground zero for a site-specific exhibit where black America is nearly insulated from white America's racial scapegoating. In this alternate universe, low culture is haute couture for the unapologetic ("Tic Boom," "Post That"), independent women form self-reliant girl gangs ("No Reload," "Girl Blunt") and environmental racism raises hella black fists ("Talkin' To Myself").
An L.A.-based hip-hop artist and producer with origins in Brooklyn and Virginia, Leikeli47 is well-versed in the regional lingua franca of the hood. Her dialect shifts like sonic geography, from Caribbean dancehall to Chicago house, Memphis trap to New Orleans bounce, with inflections of R&B, jazz and blues sprinkled in. All the while, she subverts the dominant gaze by crafting counter narratives. On the second verse of "Droppin'," she uses the discarded newborn immortalized in Tupac's teen-pregnancy classic "Brenda's Got A Baby" to contextualize the metaphorical climb from ghetto to fabulous: "I'm the baby from the dumpster / Brenda was my mama / Free lunch in the summers / Now I'm stacking commas." From the salon to the swap meet, Leikeli47 wears the mask so we don't have to. Somewhere, I imagine, Paul Laurence Dunbar is thanking her from beyond the grave. —Rodney Carmichael
♫ LISTEN: Leikeli47, Acrylic
---
28.
John Prine
The Tree Of Forgiveness
John Prine is a national treasure. His observations of the day-to-day shed light on those we see and know, including ourselves. He wrote "Summer's End" with his buddy Pat McLaughlin on a Tuesday in Nashville, since Tuesday is the day his favorite lunch place makes meatloaf. And that everyday point of view from a former mailman shapes songs such as "Summer's End," which can easily conjure a few tears. With his gravely, post-cancer voice, John Prine sings of an old love and perfectly captures the passing of time: "I still love that picture of us walkin'," followed by, "Summer's end came faster than we wanted / Come on home."
This is John Prine's first album of new songs in more than a dozen years. He's been embraced by and records with many of the current bright lights in folk and Americana, including Jason Isbell, Brandi Carlile, Amanda Shires and Dan Auerbach and producer Dave Cobb. In the closing song on this down-home album of heart and family, John Prine imagines his own passing, meeting God, thanking him for his many blessings, then busts a chorus, gleefully singing, "And then I'm gonna get a cocktail: vodka and ginger ale / Yeah, I'm gonna smoke a cigarette that's 9 miles long / I'm gonna kiss that pretty girl on the tilt-a-whirl / 'Cause this old man is goin' to town." It's a poignant moment of celebration and – typical of the ironic twists that John Prine puts in his songs – it only happens after he's gone. —Bob Boilen
♫ LISTEN: John Prine, The Tree Of Forgiveness
■ MORE: John Prine's Tiny Desk Concert
---
27.
Christian Tetzlaff
Bartok: Violin Concertos Nos. 1 & 2
These two violin concertos by Bela Bartok remain something of a recording and live performance rarity; the first wasn't even published until after the composer's death. So for a soloist to take up the cause and record the two together is still something of a particular passion project. But the German violinist Christian Tetzlaff is an ardent evangelist for these works, and these brilliant performances are testimony to his devotion.
Tetzlaff dispatches the fiery bits of Bartok's music with crackle, wit and verve — traits perfectly mirrored by conductor Hannu Lintu and the Finnish Radio Symphony Orchestra. (Just listen to them trade snarls in the opening movement of the second concerto.) But when it comes time to try a little tenderness, Tetzlaff oozes sweetness — for example, in the opening movement of the first concerto, which Bartok wrote for an unrequited love: the violinist Stefi Geyer, who rejected him and never played the piece. Her loss. —Anastasia Tsioulcas
♫ LISTEN: Christian Tetzlaff, Bartok: Violin Concertos Nos. 1 & 2
■ MORE: Christian Tetzlaff On All Things Considered
---
26.
Saba
Care for Me
Anyone who's experienced death up close knows the five stages of grief — denial, anger, bargaining, depression, acceptance — don't come in such a neat, orderly fashion. They crash like waves, unrelenting and unforgiving. Care for Me is the sound of Chicago hip-hop artist Saba trying not to drown as he grapples with the aftermath of his cousin John Walt's 2017 murder in Chicago. If it sounds like a familiar story, it's not. The specificity with which Saba renders his personal inventory of survivor's guilt, toxic relationships and internal struggles, while swimming against a rising tide of systemic injustice, elevates Care for Me from mere tragedy to living tribute. And when the album finally reaches the point of surrender ("Heaven All Around Me"), after climaxing with Saba's seven-minute, cinematic recounting of his life with Walt ("Prom / King"), you'll be wiping away your own tears. —Rodney Carmichael
♫ LISTEN: Saba, Care For Me
■ MORE: Saba's Tiny Desk Concert
---
25.
Khruangbin
Con Todo El Mundo
Con Todo El Mundo is a melting pot of sounds from across the world, recorded in a small-town Texas barn. Khruangbin is Thai for "airplane," and the Houston trio has created an intercontinental musical flight on its sophomore album. Much of the band's overseas cultural influences come from music inspired by Western genres, namely the golden era of funk and soul à la James Brown. The band — composed of Laura Lee on bass, Mark Speer on guitar and Donald "DJ" Johnson on drums — has spent years unearthing vintage recordings from Southeast Asia to the Middle East. Each song feels like a postcard from exotic travels and the album is Khruangbin's journey to introduce these sounds from these voyages. The playful "Evan Finds the Third Room" draws from 1960s Thai funk, while the blissfully infectious "Maria Tambien" takes musical inspiration from 1970s Iranian soul. Taking a trip with the winsome Con Todo El Mundo (translation: With All The World) Khruangbin gives us a window seat on an invigorating musical experience with a serious groove. —Alisha Sweeney (CPR's OpenAir)
♫ LISTEN: Khruangbin, Con Todo El Mundo
■ MORE: Khruangbin's Tiny Desk Concert
---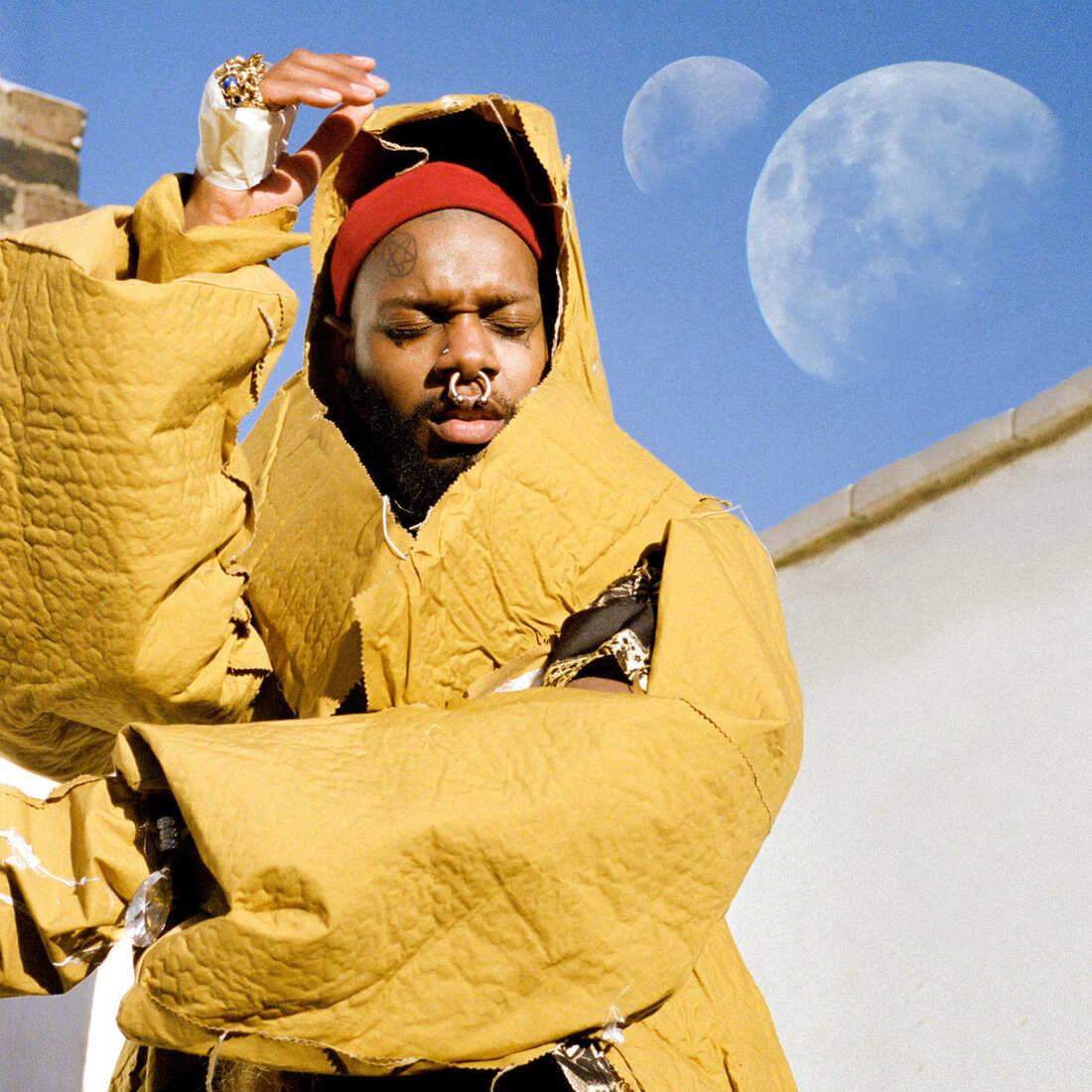 24.
serpentwithfeet
soil
It takes a singular artist to fully capture love as the slippery, multi-sensory experience that it is. Josiah Wise, the idiosyncratic musician who performs as serpentwithfeet, lays bare the gnarled realities of deeply adoring someone on soil, his astounding debut album. On one standout, "mourning song," Wise layers his mesmeric vocals over one another, growing heavier as he cries out: "I want to make a pageant of my grief ... Cut our own bed in half and carry your side everywhere with me." Over sumptuous production and experimental beats, Wise viscerally sings about queer love and wrestling with heartache: remembering what an ex-boyfriend smelled and tasted like on "Fragrant," what it felt like to try and untangle himself from past lovers, how one moves beyond what no longer is and what it took to be here now. "The best parts of you lie at the bottom of you, bottom of you," he belts through crescendoes on "whisper," the album's opener. "I love you from the space beneath my feet, and beneath that, and beneath that." —Paula Mejia
♫ LISTEN: serpentwithfeet, soil
■ MORE: serpentwithfeet On Morning Edition
---
23.
Mary Gauthier
Rifles & Rosary Beads
Few singer-songwriters have mined their own autobiographies with a stronger belief in the unifying potential of human affliction than Mary Gauthier, but she arrived at her most compelling expressions of empathy to date by fixating intently on others' stories. Rifles & Rosary Beads, her eighth proper studio album, was the fruit of songwriting retreats with American military veterans and their spouses and partners; with the participants' permission, what began as a therapeutic exercise led to a riveting collection of testimonies, recollections and vignettes. Gauthier is a tough, almost surly singer who makes her emotional commitment to the material felt, and her choice of producers, and multi-instrumentalist Neilson Hubbard, framed it with bristly folk-rock gravity. The greatest source of the 11 songs' power is how they capture contradictions in excruciating, unshakable detail: the feelings of fierce camaraderie beneath heroic displays of stoicism; the mixture of pride and anguish that service leaves in its wake; the trauma that alienates vets and their loved ones even after they're reunited beneath the same roofs. That degree of attentiveness was an especially needed salve during a year when differences in experience and perspective were treated as unbridgeable, hostility-stoking barriers. —Jewly Hight
♫ LISTEN: Mary Gauthier, Rifles And Rosary Beads
■ MORE: Mary Gauthier On World Cafe
---
22.
Ariana Grande
Sweetener
I spent 2018 rooting for Ariana Grande; I found myself irrationally invested in her well-being, unable to ignore the non-musical headlines, of which there were many. So when Sweetener debuted at No. 1, it was an obvious cause for celebration. But more than that, it was the culmination of a chapter. Her previous album, Dangerous Woman, could feel at times like a character study of an alternate-reality Ariana; Sweetener turns inward, offering intimacy.
Sweetener processes. "no tears left to cry," Grande's first release following the deadly 2017 Manchester attack, is a restrained yet unwavering ode to resiliency. The soaring "breathin" is resolute; "get well soon" concludes with prolonged silence, a tribute to the lives lost in Manchester. But across the record, trap textures and bubblegum beats offer light: The sugary, celebratory "successful" revels, the hazy production of "R.E.M." depicts a dreamscape and the Bop It!-style syncopation on the title track bounces. And all over, Grande's range is treated with reverence. Just a few months after its release, it's tough to think about Sweetener without the hindsight of all that's happened since: See track 14, forever immortalizing her relationship with Pete Davidson, or "everytime," ostensibly about Mac Miller, who died just a few weeks after the album came out. Though Grande's already hinted at what's to come (see "thank u, next"), Sweetener preserves this period in all of its complexity. —Lyndsey McKenna
♫ LISTEN: Ariana Grande, Sweetener
■ MORE: 'Who Is Ariana Grande?'
---
21.
Christine And The Queens
Chris
There is dancing on your own, there is dancing with yourself, and then there is Christine and the Queens, whose core aesthetic you could call "dancing at the world." To experience the second album by the musician born Héloïse Letissier is to be a few things at once: thrilled by the sounds, which feel programmed to poke your pleasure centers before the rational mind has time to catch up; stunned by the sentiments, often table-flipping in their rejection of sexual normativity; and perhaps a little flushed, if you happen to be watching one of its hyper-sensuous music videos. Which you should definitely do, as Chris is nothing if not a multimedia presentation, featuring more of the crack choreography and camerawork that made 2015's "Tilted" a minor meme.
In the video for "5 dollars," one of several songs to identify making and sharing music as an erotic transaction, the artist's body tells the story as she readies herself for the day: doing yoga in boyshorts and a tank, preening topless in the mirror (where we spy hickeys and scratch marks), gamely donning a bondage harness and sheathing it all in a three-piece suit. Elsewhere she is a pied piper: In the G-funk mix-up "Girlfriend," peacocking tough guys submit one by one to her vision of masculinity, set to smooth seventh chords and F-bombs that hit you between the eyes. To see a creator inhabit so very much of their art, playing both producer and performer, visual fetishist and object of desire, throttles the brain and disrupts easy categorizing of all kinds. Chris is overwhelming, in the best possible way. —Daoud Tyler-Ameen
♫ LISTEN: Christine And The Queens, Chris
■ MORE: Christine And The Queens On World Cafe
---
☜ Previous&nbsp&nbsp&nbsp&nbsp&nbsp&nbsp&nbsp&nbsp&nbsp&nbsp&nbsp&nbsp&nbsp&nbspNext ☞