The 100 Best Songs Of 2018
Illustration: Angela Hsieh/NPR
During a turbulent year rife with personal and political trauma, the most memorable songs pulled no punches in the pursuit of pop. They also arrived from all directions: emerging from longtime partnerships and unlikely collaborations, from fertile local scenes and solitary experiments. In the case of many — including our No. 1 song — they were actually videos, tethered to images we've been unable to shake since. These are the 100 best songs of 2018, as selected by the staff of NPR Music and our partner stations. You can listen to the songs here, check out the 50 best albums of the year or hear All Songs Considered's podcast discussion of the year in music.
---
Danny Clinch/Courtesy of the artist
60.
CHVRCHES
"Graffiti"
"Graffiti" announces its gigantic central hook in its opening seconds, only to deepen quickly into a meditation on regret at a romance's end. If this were merely a relentless pop banger — and it certainly qualifies as such — it'd be one of the year's most irresistible songs. But CHVRCHES singer Lauren Mayberry also infuses the song's reminiscences and recriminations with a mix of ache and nostalgia, leaning especially hard into a perfectly wistful couplet about lost youth and abandon: "We wrote our names along the bathroom walls / Graffitiin' our hearts across the stalls." —Stephen Thompson
♫ LISTEN: "Graffiti"
---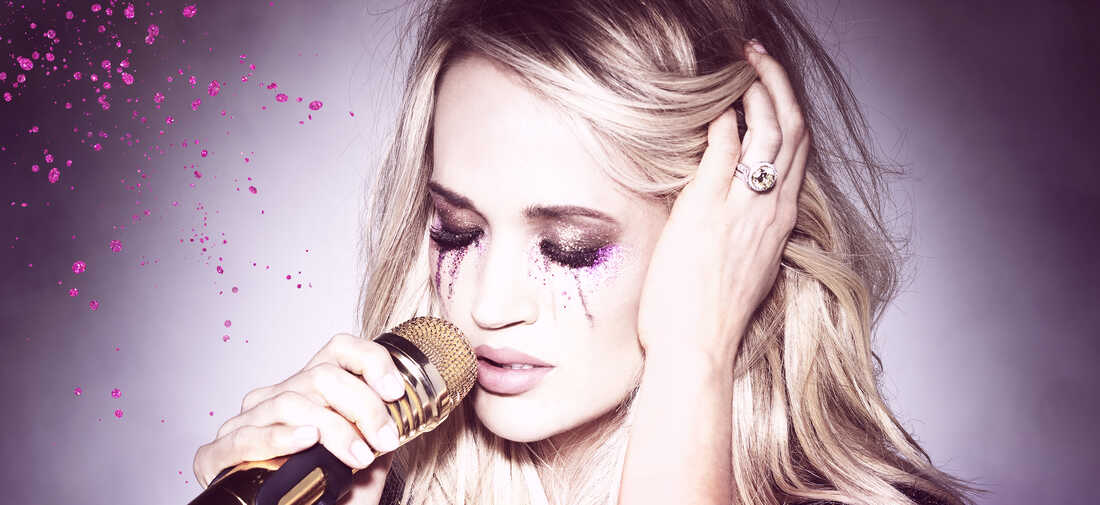 59.
Carrie Underwood
"Cry Pretty"
During the first dozen-plus years of her reign as modern country's blockbuster-delivering diva, Carrie Underwood chose to avoid anything that felt too acutely confessional or personally revealing — especially songs that expressed pain. With "Cry Pretty," Underwood signaled that she'd come to see her artistic role very differently, breaking an image of composure in the first verse, her delivery artfully sulky and confiding. By the chorus, she's testifying with the full force of her instrument to the futility of women trying to conceal their emotional turmoil and maintain appearances, over searing swirls of steel guitar and muscled, Aerosmith-style riffs. News of Underwood's facial injury and resulting surgery, and a series of miscarriages, seemed to shed light on where her head and heart were at when she co-wrote the song, but it packs a punch that transcends those particulars. —Jewly Hight
♫ LISTEN: "Cry Pretty"
58.
Vikingur Olafsson
"Widerstehe doch der Sunde"
It's easy to wax poetic about J.S. Bach when you have a melody and a performance this beautiful, this vital. The Icelandic pianist Víkingur Ólafsson performs his own arrangement of the opening aria from Bach's Cantata No. 54, the German title of which translates as "Resist Sin." His left hand plays solid octaves, softly pulsing like a heartbeat, while his right intertwines Bach's benevolent melodies, climbing ever skyward. The result is the aural equivalent of daily bread. This is music of elemental sustenance, music you can lean on to get you through. One could argue that to resist the sheer beauty of Bach's music, lovingly unfolded by Ólafsson, would indeed be a sin. —Tom Huizenga
♫ LISTEN: "Widerstehe doch der Sunde"
---
Sam San Roman/Courtesy of the artist
57.
Now, Now
"MJ"
Across Saved, Now, Now speaks in sensual, spiritual terms, swimming in holy waters and seeking salvation amid instability. But there's a darkness to the divine that KC Dalager and Brad Hale depict. On the sublime "MJ," the pair speaks directly to the supernatural. Dedicated to Michael Jackson, this sparkling song communes with the dead, a departed pop deity acting as intermediary between Dalager and the once-object of her affection. It's a broken-hearted petition from a penitent place, a cry for what could've been, its precise percussion wrestling with demons departed. —Lyndsey McKenna
♫ LISTEN: "MJ"
---
56.
Kanye West
"Ghost Town"
When we look back on the year that was and remember the artists who inflamed us, the issues that enraged us, the answers that remained too far out of reach, the one song that will best reflect this hailstorm of a year probably won't come from a woke bae but a problematic fave. Kanye got canceled hard in 2018, and deservedly so. (Let us not rehash the ways.) But the height of his hypocrisy, regardless of political affiliation, came in the liberation song that preceded his groveling visit to the Oval Office. Released on his eighth studio album, the perplexing ye, "Ghost Town" is not actually the declaration of freedom Kanye positioned it to be, but a desperate plea for it. Featuring John Legend and Kid Cudi, the song culminates with 070 Shake's climactic wail: "I feel kinda freeee...." It's a plaintive appeal that feels totally unironic in the grander scheme. Instead of claiming victory, Kanye may have unintentionally produced our New Negro Spiritual. After everything he's done to set black America back, we sure could use one. —Rodney Carmichael
♫ LISTEN: "Ghost Town"
---
Emily Shur/Courtesy of the artist
55.
Neko Case
"Last Lion of Albion"
Some elemental themes — our relationships to the earth and to each other — are summoned on "Last Lion of Albion," a standout track on Case's seventh solo album, Hell-On. In a sociopolitical climate that's left most of us searching for answers, Case uses her singular voice to remind us that in order to make sense of the present, we have to own our past. "Last lion of Albion," Case sings, invoking a species lost to human expansion, "they'll use you for centuries to come, they'll steal your patents for the sun." —Desiré Moses (WNRN)
♫ LISTEN: "Last Lion Of Albion"
---
54.
David Bazan
"Thread"
Now, Now's stormy pop-rock jam "Thread" was one of 2012's best songs, heralding the band's arrival as an essential chronicler of the ways relationships can dissolve in young adulthood. The original is a tough act to follow, but Pedro the Lion's David Bazan basically perfects it by cranking up the volume and leaning hard into the desperation and anguish at the song's core. Without sacrificing its churning, candy-colored hooks, Bazan hurls himself headlong into lines that sync up perfectly with his own searching, provocative work: "Find a thread to pull / And we can watch it unravel / But this is just the start / We'll find out who we are." —Stephen Thompson
♫ LISTEN: "Thread"
---
Adama Jalloh/Courtesy of the artist
53.
Nubya Garcia
"When We Are"
Here's that U.K. jazz scene you've been hearing about, in six minutes and lit up like a lightbulb. Overseen by Sam Shepard (who records solo as Floating Points) and featuring keyboardist (and fellow U.K. jazz fixture) Joe Armon-Jones, "When We Are" has this gifted saxophonist Garcia confidently answering the "to be or not to be" question that most American jazz scenes are still troubled by: Should we embrace instrumental hip-hop rhythms? Yes. That answer doesn't come at the expense of acoustic jazz musicality; Garcia's improvisations shine here with intellect, and the recording's weighty, Afro-tinged backbeat nods heavily to Yussef Kamaal, making the traditional "jazz" instruments sound even crispier and more fiery. —Isabel Zacharias (KMHD)
♫ LISTEN: "When We Are"
---
52.
King Princess
"1950"
You can almost hear the eye roll when King Princess sings, "I hate it when dudes try to chase me." But she follows it with a tender confession: "I love it when you try to save me." There are a lot of young women and non-binary individuals who are attempting to distance themselves from the cultural norms that pertain to their gender — like an existence as romantic prey — and for some, queerness adds a layer of ideological complication to the process. Sometimes, it just feels good to be wanted by the right person... so good that you'll play into an outdated stereotype to extend the feeling a little longer. —Cyrena Touros
♫ LISTEN: "1950"
---
51.
J. Cole
"Brackets"
J. Cole gets an unjust amount of criticism from detractors who assume he likes casting judgment from a holier-than-thou perch. What gets overlooked on albums like 2018's conceptual KOD — where he decries addiction and a generation of Soundcloud rappers unwittingly perpetuating drug abuse — are the daring detours his social critiques can take. On "BRACKETS," Uncle Sam gets chopped down to size as Cole ruminates on the overnight success that instantly changes some rappers' tax brackets without ever trickling down to the marginalized communities from which they hail. The height of absurdity comes in Cole's realization that corrupt politicians are likely complicit in the death and devastation impacting his hood even as they foot him with the bill. —Rodney Carmichael
♫ LISTEN: "Brackets"
---
50.
AJ Tracey
"Butterflies"
The soca-powered, pain-killing chorus to "Butterflies" is this year's answer to Drake's cocktail hour anthem, "Passionfruit," and British emcee AJ Tracey knows it: The budding grime star sings it seven times in less than four minutes over a spot-on Caribbean riddim by produce Nyge. Normally, that would be overkill on a song with two verses, but in this case, it's not nearly enough. That's a big reason why Tracey's self-released single, which features London rapper Not3s on its second verse, was certified Gold in Britain last month. You best believe it will be on his debut full-length, which is due in February. —Otis Hart
♫ LISTEN: "Butterflies"
---
49.
Hayley Kiyoko
"Curious"
At the center of the most engaging moments on Expectations, Hayley Kiyoko's debut album, is an extremely controlled, almost confrontational swagger. And "Curious," a kiss-off to a crush who just won't make up her mind, is full of it. When Kiyoko (nicknamed "lesbian Jesus" by her fans) assures her love interest not to worry, you know she means it. She's not going to be destroyed by their return to a played-out heteronormativity — she just couldn't possibly relate to why her crush would want that. There's a joy that comes from reading "Curious" as a teasing, catchy twist on the homophobic narratives that queer love is a frivolous phase or a sinful path chosen on purpose. But it doesn't have to be that deep; instead, you could just get lost in the song's ultra-glossy production, high-energy chorus and sheer danceability. —Marissa Lorusso
♫ LISTEN: "Curious"
---
48.
Ariana Grande
"No Tears Left to Cry"
"No Tears Left to Cry" is a song of healing, written in response to the terrorist attack that took place near the end of Ariana Grande's 2017 concert in Manchester, claiming the lives of nearly two dozen people. The horror of that night, of course, deeply shook Grande. But half a billion streams later, it's clear that the song also speaks to a universal pain, a desire to move on, to reclaim happiness, sanity, a sense of self. "I'm lovin', I'm livin', I'm pickin' it up," she sings. And as we sing along, we hope we get there, too — at least for the next three-and-a-half minutes. —Monika Evstatieva
♫ LISTEN: "No Tears Left to Cry"
---
47.
Tonina
"Historia de Amor"
It takes a certain degree of confidence to cover a song so many other artists have interpreted — and it's confidence that oozes from every note Tonina Saputo sings. Raised in St. Louis, Tonina studied bass performance at the Valencia, Spain campus of the Berklee College of Music, where she and her classmates recorded a version of "Historia De Un Amor" for an educational studio session. Her unique vocal talent was encouraged by artistic director Javier Limón, who signed Tonina to his record label to release her 2018 album, Black Angel. Tonina's voice alone — gentle, cutting and unpretentiously expressive — is reason to stop and listen again, and her genre-defying arrangement makes for a wholesale reinvention of this classic lament. —Madeline Clement
♫ LISTEN: "Historia de Amor"
---
46.
Tirzah
"Gladly"
Rain frequents the love song with justified familiarity. In a departure from the usual heartache it signifies, on Tirzah's "Gladly" the rain shows up with a twinkle in its eye. "Feels like it's raining / Super soak," sings Tirzah in a loop on the bridge of the Mica Levi-produced slow jam, sounding like she's relishing the moment. Snuck into a song about the pleasure of loving someone, this dreamily delivered aside is actually a snap back to reality. Love can't make the rain go away, suggests "Gladly," but it'll be there to hold you regardless. —Ruth Saxelby
♫ LISTEN: "Gladly"
---
45.
Yves Tumor
"Noid"
Inlaid at the heart of the genre-busting fantasia Safe in the Hands of Love, "Noid" represents a new acme in Yves Tumor's career-long contempt toward the idea of taxonomy. Torquing the stylings of the late Lil Peep — that is, pop-punk at a few removes — plus a breakbeat, a bit of Brit-poppiness and a lyric sheet with the pathos of a poem by Claudia Rankine, it's the producer's most vulnerable and voluble work by an exponent. And, despite the shredding and the braying and whinnying, the siren blares and the solar scuzz, it's also a lattice of forces so unified and destabilizing, they sound like they've always existed together in easy harmony. —Mina Tavakoli
♫ LISTEN: "Noid"
---
44.
Eric Church
"Drowning Man"
One thing that sets Eric Church apart from his country star peers is his riveting embodiment of stoic individualism; he's long presented himself as operating out of conviction, sticking his neck out, playing for high moral and aesthetic stakes. All of that came through in the way he grappled with a heightened awareness of life- and soul-threatening danger on Desperate Man, recorded in the wake of the massacre of his fans at a Vegas festival, his own near-death experience and a violently intensifying political discourse. With a lot of eyes on Nashville, all of them waiting to see how its figureheads would respond to issues dividing the nation, Church concluded his sixth album with "Drowning Man," a song that distilled the grief of working people who feel they've had fantasies of prosperity and security thrown in their faces. He begins the track in a quietly infuriated, almost introspective murmur, his guitar and vocal attacks gradually growing bristlier. After lurching through a southern rock groove with his band, he finishes... pointedly alone. —Jewly Hight
♫ LISTEN: "Drowning Man"
---
43.
Superorganism
"Everybody Wants to Be Famous"
This is the band I want to be in. Composed of bandmates from all Australia, the U.K., South Korea and the U.S.-via-Japan, this art collective is funny, sly, cunning and catchy. Their sandbox is sound, and on this song it's the bubbly synth and slowly pitched vocals that make me smile. Orono Noguchi's voice is at one moment deep and dark, and later high and humorous. These are just a few of the many elements that won my heart, and added up to what was — for me — the most refreshing sound of the year. —Bob Boilen
♫ LISTEN: "Everybody Wants To Be Famous"
---
Jack McKain/Courtesy of the artist
42.
Leon Bridges
"Bad Bad News"
On this smoothly propulsive song, Bridges fesses that he had nothing and was nobody. The claim is true — he worked as a busboy in Austin — but now, a few years into his steady rise, he continues to work towards "a little more of this and a little less of that." People said he was destined to fail, yet with his perseverance Bridges has made a "good, good thing out of bad, bad news." —Willobee Carlan (Nevada Public Radio)
♫ LISTEN: "Bad Bad News"
---
41.
Natalie Prass
"Short Court Style"
When Natalie Prass was on World Cafe earlier this year, she revealed to host Talia Schlanger that she scrapped plans for an album after the 2016 presidential election left her "devastated." But the revised project didn't wallow in that gloom; Prass instead channeled the world around her into uplifting pop songs. As Schlanger wrote after that session, "tough times can make people stick together, stand up and be counted and even dance." Dancing is the operative word for "Short Court Style," a transcendent funk-pop charm that is impossible to get out of your head. Replete with an undeniable riff and melody, it also throws down a deep, sultry groove, perfectly executed, synchronized, ooh'd and ah'd. On a dance floor somewhere, it's bringing us together. —Bruce Warren (WXPN)
♫ LISTEN: "Short Court Style"
---
☜ Previous&nbsp&nbsp&nbsp&nbsp&nbsp&nbsp&nbsp&nbsp&nbsp&nbsp&nbsp&nbsp&nbsp&nbsp&nbspNext ☞