Polar Bears, Ice Cracks, And Isolation: Scientists Drift Across The Arctic Ocean
Polar Bears, Ice Cracks, And Isolation: Scientists Drift Across The Arctic Ocean
In September 2019, an international group of scientists set off in a ship from Tromsø, Norway intending to do something that most ships would do anything to avoid: freeze into the ice of the Central Arctic Ocean — for a year.
The mission, called the Multidisciplinary Drifting Observatory for the Study of Arctic Climate (MOSAiC) involves hundreds of scientists from 20 nations and is the largest Arctic science mission in history. It's spearheaded by the Alfred Wegener Institute (AWI) in Germany.
They invited a small group of journalists to come along for the first part of the expedition, which is how I found myself living for five and a half weeks on one of the two ships involved in the expedition's set-up — the Russian research vessel Akademik Fedorov.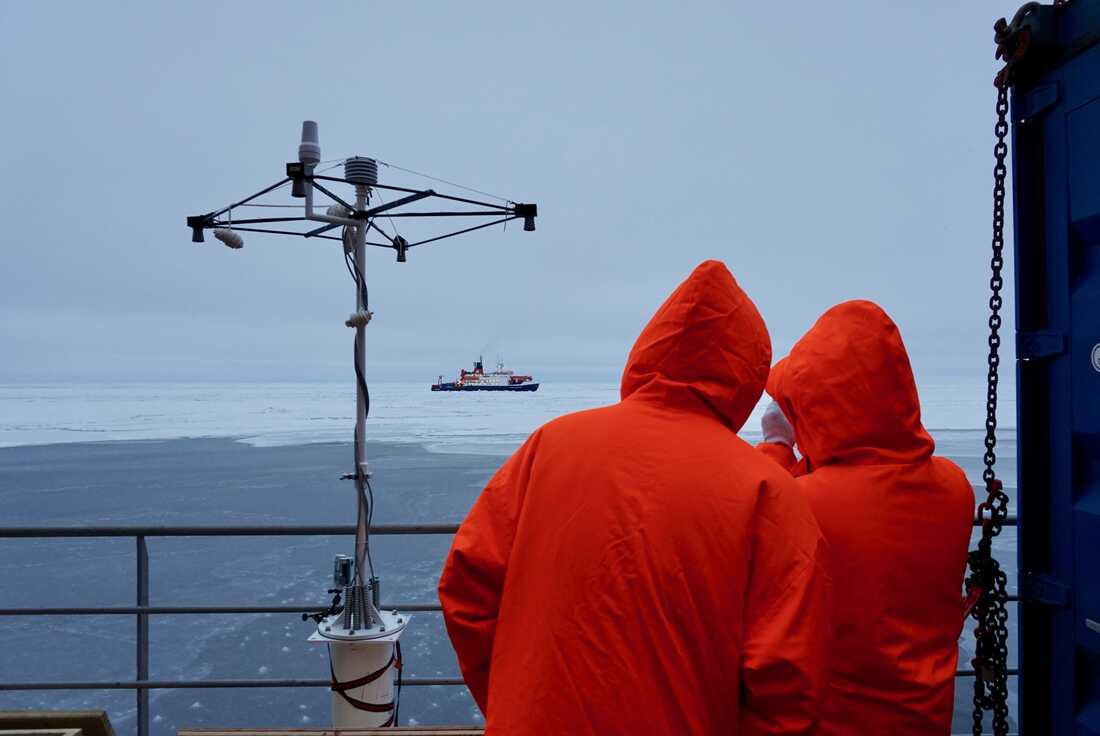 Why did they want to send a ship drifting in a frozen ocean for a year?
The Arctic is warming at an alarming rate, twice as fast as the rest of the world. Ice cover on the Arctic Ocean is in some months about half what it was decades ago, and its thickness has shrunk, by some estimates 40%.
It's been more than two decades since researchers took such a comprehensive look at the Arctic Ocean system, and the picture they captured is rapidly becoming outdated.
But the task these researchers had set out for themselves was not an easy one. To study the thinner ice of the "new Arctic," they needed to find a single ice floe in an area of thinner ice that was still thick enough for them to set up a research camp on and drift with for a whole year. That's a tricky balance to strike.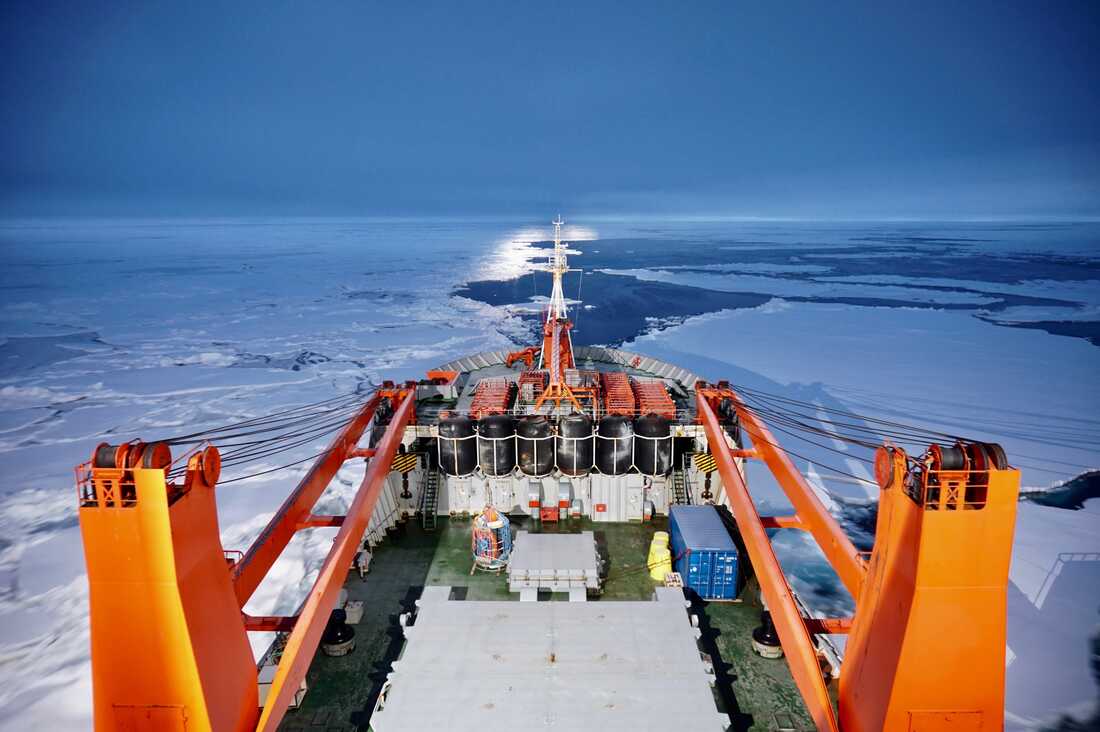 Once in the ice, the conditions they found were sobering. They'd been hoping for a floe about 4 feet thick, but instead were encountering ice floes with only a foot or so of stable ice and some slushy ice below it.
While explanations varied for why the ice in the area was so thin this year, there was agreement that such conditions would have been far less likely in the Arctic of decades past.
Eventually though, there was a breakthrough. The MOSAiC team found a piece of ice that, though thin in parts, also had a centerpiece of thicker ice — in some places 13-16 feet. That was the ice floe they chose to hook into for the year.
Environment And Energy Collaborative
Searching For Solid Ice As Scientists 'Freeze In' To Study A Warming Arctic
Searching For Solid Ice As Scientists 'Freeze In' To Study A Warming Arctic
But even then, their challenges with the ice weren't over. Fall is a time of year when the ice moves around a lot. Big pieces of it can collide with each other, creating cracks and huge ridges, and areas where the ice is thin are less likely to withstand that pressure. As the researchers set up camp, they were already dealing with those dynamic ice conditions — cracks forming almost under their feet at times.
Since then they've also had to deal with damage from storms. One in November caused some major breaks in the ice floe, though it has since refrozen according to expedition co-coordinator Matthew Shupe, who answered questions by email.
Ice dynamics aren't the only challenge researchers have to confront on the Arctic Ocean.
They also face freezing temperatures, polar bears, and isolated circumstances that mean they may not always have everything they need right on hand to fix a piece of faulty equipment.
Science
The Challenges Scientists Face While Working In The Arctic Ocean
The Challenges Scientists Face While Working In The Arctic Ocean
Some of those things scientists can plan for. Polar bear guards are posted to keep watch as colleagues work, and researchers bring tons of extra tools and parts. But other challenges require simply keeping a cool head and being ready to improvise, especially when they're working under tight time pressures.
All these hardships are borne in service of a truly dizzying array of science questions.
Hundreds of scientists will cycle through the frozen-in ship over the course of the next year digging into the physics, chemistry and biology of this ice-bound system from top to bottom.
The primary question the MOSAiC scientists are asking: what are the causes of diminishing Arctic ice? And what are the consequences?"
By collecting data to answer that question, and better understanding the nuances of how this system works, scientists hope to reflect the Arctic better in climate models. That will help them project things like how quickly the Greenland ice sheet might melt, raising global sea level, and how quickly the earth may warm as a whole. It may contribute to a better understanding of linkages that have been hypothesized between Arctic warming and extreme weather events at mid-latitudes.
It could also help them figure out when the Arctic might see its first ice-free summer, which some current projections say could happen by 2040.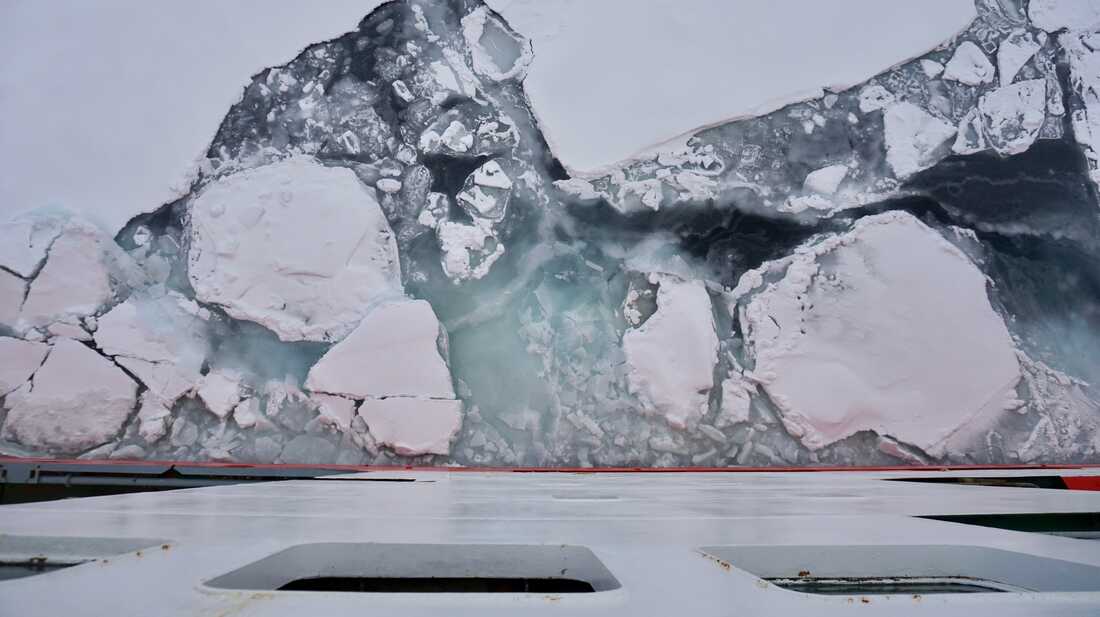 This reality was perhaps most palpable to the young researchers on board — masters and PhD students, most of whom were in their 20s. Two decades from now, those who pursue a career in Arctic field research may find themselves on another research vessel in the central Arctic Ocean in late summer... with no ice in sight.
Environment And Energy Collaborative
Young Researchers Feel Excitement And Sadness To See Arctic Ice That May Disappear
Young Researchers Feel Excitement And Sadness To See Arctic Ice That May Disappear
"A huge space in the middle of the Arctic Ocean that is not covered in ice... I can't visualize it," says Robbie Mallett, who studies sea ice using satellites.
Marylou Athanase, who studies the ocean under the sea ice, says that seeing the ice with her own eyes made her feel even more motivated. For her, the changes here have gone from being abstract, to "very, very real."
More of Ravenna's original reporting from the MOSAiC is here.
Follow host Maddie Sofia on Twitter @maddie_sofia. Email the show at shortwave@npr.org.
The podcast version of this story was produced by Brent Baughman and edited by Viet Le.