Thin Blue Line Flags Stir Controversy In Mass. Coastal Community
Thin Blue Line Flags Stir Controversy In Mass. Coastal Community
Controversy sparked by "thin blue line" flags flying on town property in Hingham, Mass., continues to roil the small, coastal community, in the latest of many such flare-ups around the nation. Residents are planning rallies both for and against the flags, which some see as a proud tribute to police officers, and others denounce as a racist symbol.
While firefighters have agreed, after more than a week, to comply with town orders to remove the flags hanging on firetrucks, they're now planning an even bolder display.
Firefighters say they first hung "thin blue line" flags on two engines and a ladder truck to honor a fallen police officer, Sgt. Michael Chesna, on the second anniversary of his death. The flag, a black and white rendition of the American flag with a blue stripe running just under the stars, is meant to represent the men and women in blue standing as a line between law and order, proponents say, and it's been hung as show of police pride and solidarity.
But many others see it differently. Because the flag has also been associated with white supremacist groups, some say it symbolizes a blatantly racist agenda. And since it has also been adopted by the "Blue Lives Matter" movement, which launched in response to the Black Lives Matter movement, many believe it connotes opposition to the goals of ending police brutality and systemic racism.
So when college student Max Giarrusso saw the flags flying in his hometown, he asked Hingham selectmen to take them down, saying it was not appropriate "for a public safety vehicle to don such a politically charged flag."
"If I see that flag I am scared"
"The thin blue line has become a political symbol and a symbol of racism in my opinion," he told NPR. "So I was upset that our publicly-owned taxpayer-paid vehicles [were] flying a symbol that could make a lot of residents in this town uncomfortable."
"Yes, if I see that flag I am scared," said Emmanuel Oppong, one of few Black residents of Hingham, and one of those who've been joining the call for the flags to be removed. No matter what its original intent was, Oppong said, the thin blue line symbol has come to represent a counterforce to Black Lives Matter, and its efforts to combat systemic racism and police brutality. So, seeing law enforcement officials embrace it, he said, just exacerbates the fears that weigh on him every day, even as he's driving to and from work.
"Of course, it's easy for someone to [say], 'Why are you so bothered by this? It's just a blue line. But when I leave my house, dead afraid to be pulled over because I can't be sure that even if my hands are up, even if did everything right, that I probably wouldn't come home to my three boys, then you understand that [to me,] it's not 'just a line.' "
The dispute has unleashed a torrent of vitriol in town, in heated clashes during rallies for and against the flag, and in the barrage of nasty, threatening and insulting emails, calls and voicemails aimed at Giarrusso, that hasn't stopped since he raised the issue on June 22.
Town officials, including the police and fire chiefs, have been trying to tamp down tensions. In a letter to their employees, Police Chief Glenn Olsson and Fire chief Steve Murphy expressed thanks "to the Hingham Fire Department for showing their respect for their public safety co-workers" by wanting to fly the flags, while also acknowledging that the flags have recently "taken a different political meaning which might be offensive to some" and must be removed.
Town selectmen also took pains to express respect and support for police and fire fighters, noting they meant no "ill will towards our police heroes" nor to "belittle the sacrifices made by those who put their lives at risk each day." But the selectmen explained in their statement that flying thin blue line flags on firetrucks flies in the face of town practice, limiting flags displayed on town property to U.S., state, and town flags, as well as a few military-related ones. They noted that just a few months ago, selectmen refused a bid to fly a rainbow flag — a symbol of LGBTQ pride and support — for the same reason.
But fire fighters refused to comply for more than a week. Their union, Hingham Firefighters Local 2398, insisted the flag had "no political message," and said "No member of Local 2398 was able to sacrifice his or her moral fortitude in order to remove the flags from the apparatus." Sgt. Chesna's widow, Cindy Doran Chesna, also weighed in on Facebook, saying the "flag is not a political statement and does not represent an opposition toward anything." She said she considered the order to remove the flag a "personal attack on everything Mike stood for as a police officer and decorated army veteran."
Finally, on Thursday, firefighters relented after police from the neighboring town of Weymouth, where Sgt. Chesna served, agreed to take custody of the flags and fly them "with honor" in their headquarters.
Where did flag become political?
It seemed like a compromise that would quell tensions in this quiet, bucolic community. But emotions roiled again, late Thursday night, when the Professional Fire Fighters of Massachusetts announced plans to "pick up the torch" and send the flag on a state-wide tour, hanging from fire trucks "in communities that support public safety."
"That's excellent," said James Conner, who lives nearby and has been following the dispute. Police "have been shown so much dishonor," he said. "I've seen mobs that were throwing things, calling them names, flipping them off, while they're putting their lives on the line every day to protect and serve."
Audra Young is also among those happy to see the thin blue line flag get more spotlight, not less.
"Where the hell did that become political? Because you don't like police officers, so that's [offensive]?" she declaimed. "I wear a Boston police mask, with a thin blue line flag on it. And I was in the store the other day and a lady told me that was offensive to her. These people who are offended by the blue line flag, by the American flag, by people saying 'Merry Christmas,' it's ridiculous."
But critics of the flag were appalled by the prospect of the thin blue line flag being paraded around the state.
"It seems completely tone deaf to me," Giarrusso said. If firefighters "actually intended on healing the community, they would have chosen another means of honoring fallen police officers. One that is equally as powerful but doesn't involve an overtly racist symbol. The fact that they chose to make this about the flag and not about those who died in the line of duty only proves that this flag is political and divisive and has no place in public safety vehicles."
Oppong said the move speaks to a sense of "Us Vs. Them?"and comes across as a kind of flex. He felt the same way about the fire fighters' week-long flaunting of official orders from their own chief and town officials to remove the flags. Firefighters even drove through the rally, with the thin blue line flags hanging from their fire truck, nearly a week after they were ordered to take them down.
"I think it goes back to a long history in this country of certain sections of people believing that they deserve to be heard. They deserve not to be bothered. They deserve to refuse orders from the people that pay them and they deserve, you know, to put their knee on somebody's neck until they die," Oppong said. And they expect to "get away with it," he added.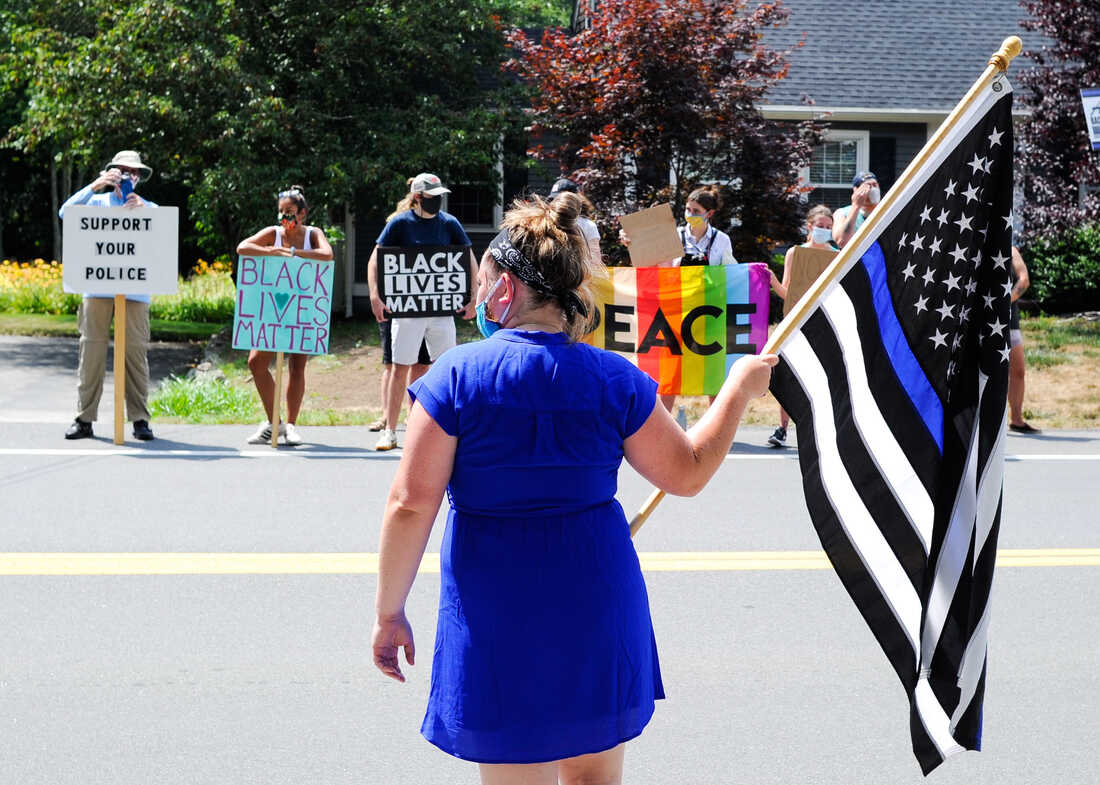 ''Why people are so nervous about police"
Nes Correnti, a member of the Hingham Unity Council that was formed shortly before George Floyd's death, to "build a more inclusive community," also finds it disturbing.
"I think it just points to why people are so nervous about police," she said. "They're just proving that by not taking this down, they're showing that they're not going to follow commands. So how do we know that during a heated situation, they're going to actually pull their leg off somebody's neck," she said.
For his part, Hingham police chief Olsson, has continued walking a fine line, trying to reassure both members of the force and the public.
"Our officers have no connection to a white racist movement of any type," he said at a town selectmen meeting this week, after heated public testimony about the flags. "It's tough to be held accountable for something that doesn't happen in Massachusetts."
He appealed for calm, in these especially challenging times, he said, stemming from the pandemic and the rise in anti-police sentiment.
"Our officers are basically stressed out right now and worn out right now. I think the fire department personnel is the same way," he said. "Look at this mess were in. What we need to do is to concentrate on the positive here, break down barriers, and we need to communicate."
Hingham is only the latest of many locales around the nation where disputes have flared up following law enforcement displays of thin blue line flags. While roots of the "thin blue line" terminology can be traced back about a century, the flag started rising in popularity only about five years ago, says Scott Mainwaring, who's been researching it for the North American Vexillological Association. He said growing interest in the flag has paralleled the growing focus on police misconduct — and the consequent growth of "Blue Lives Matter."
"It's a defensive reaction. It's a kind of uncompromising, in-your-face response to Black Lives Matter," he said, that comes from their feeling that police, as an institution, are under attack and needs to be defended.
It has undoubtedly become "part of race politics in this country," he said even as many proponents disavow any racist connotations or intent. The bottom line, Mainwaring said, is that the flag means different things to different people.
"There's a lot of projection that is made on the flag by both sides, and that's the nature of flags," he said. "They're just colored pieces of cloth. So everything [the flags] mean is projected on them."
Indeed, Hingham's selectmen offered their own take on the thin blue line flag's meaning. Decrying the "hate and vitriol" directed at Giarrusso for questioning whether the flag belonged on firetrucks, the selectmen said "such conduct makes hypocrites of those who would call for respect for public safety officers while simultaneously threatening the safety of others."
The onslaught of insults and violent threats, the selectmen concluded, "only serves to deface all flags that we might choose to display in honor of our peace officers."