Want to make tastier, prettier pies? A baker tells us where to tart
Want to make tastier, prettier pies? A baker tells us where to tart
I baked my first pie in February of 2018. I know this because I posted a picture of it on my Instagram account. It had a blackberry filling and the taste was on-point. It looked, on the other hand, pretty hideous. My friend called me up to tell me that if I wanted to feel even worse about my first foray into pie baking, I should check out an Instagram account called @lokokitchen.
@lokokitchen is Lauren Ko's account, devoted to her exquisite, work-of-art pies. I was hooked on her patterns — each pie more intricate than the last. I'd never seen anything like it and I've been following her ever since. Her pies and tarts inspire me.
Ko's cookbook Pieometry offers countless beautiful photographs of her 'bakes', accompanied by detailed instructions for latticework, tiled crusts and shingled fruit slices. Plus, if you're a fan of puns as much as pies, you're in for an additional treat.
I spoke with Ko about some simple ways to upgrade your pie game. But if you're feeling inspired to go all out, by all means!
This interview has been edited and condensed for clarity.
SHEREEN MARISOL MERAJI: For people who are new to baking, where should they tart?
LAUREN KO: I see what you did there! I mean, a tart is a great place to start! It's not as time intensive or technical as a full blown pie. One of the things that's difficult about pie is the dough — it requires a gentle hand. But I make my tart pastry in a food processor so there's a little more leeway. It's not as delicate as pie dough. I also have some tart shells [in Pieometry] that are not pastry. You can blend up some speculoos cookies with some melted butter and you have a shell there. Or toast up coconut and pecans and add butter for another shell. There's some flexibility with ingredients.
Ed Anderson/Harper Collins
If someone wanted to make a tart for Thanksgiving, what's a filling that feels holiday-appropriate?
There's a cranberry curd tart in my book that's received rave reviews. It's got bright colors and bright flavors that will contrast with a lot of the richer, heavier desserts you might find. Also, a hand-sliced pear tart with a shortbread crust and a really easy, creamy cardamom filling. It looks very complicated, but is actually very simple to execute. It's a great way to kind of bring a showstopper to your table without having to worry about exerting too much time or effort.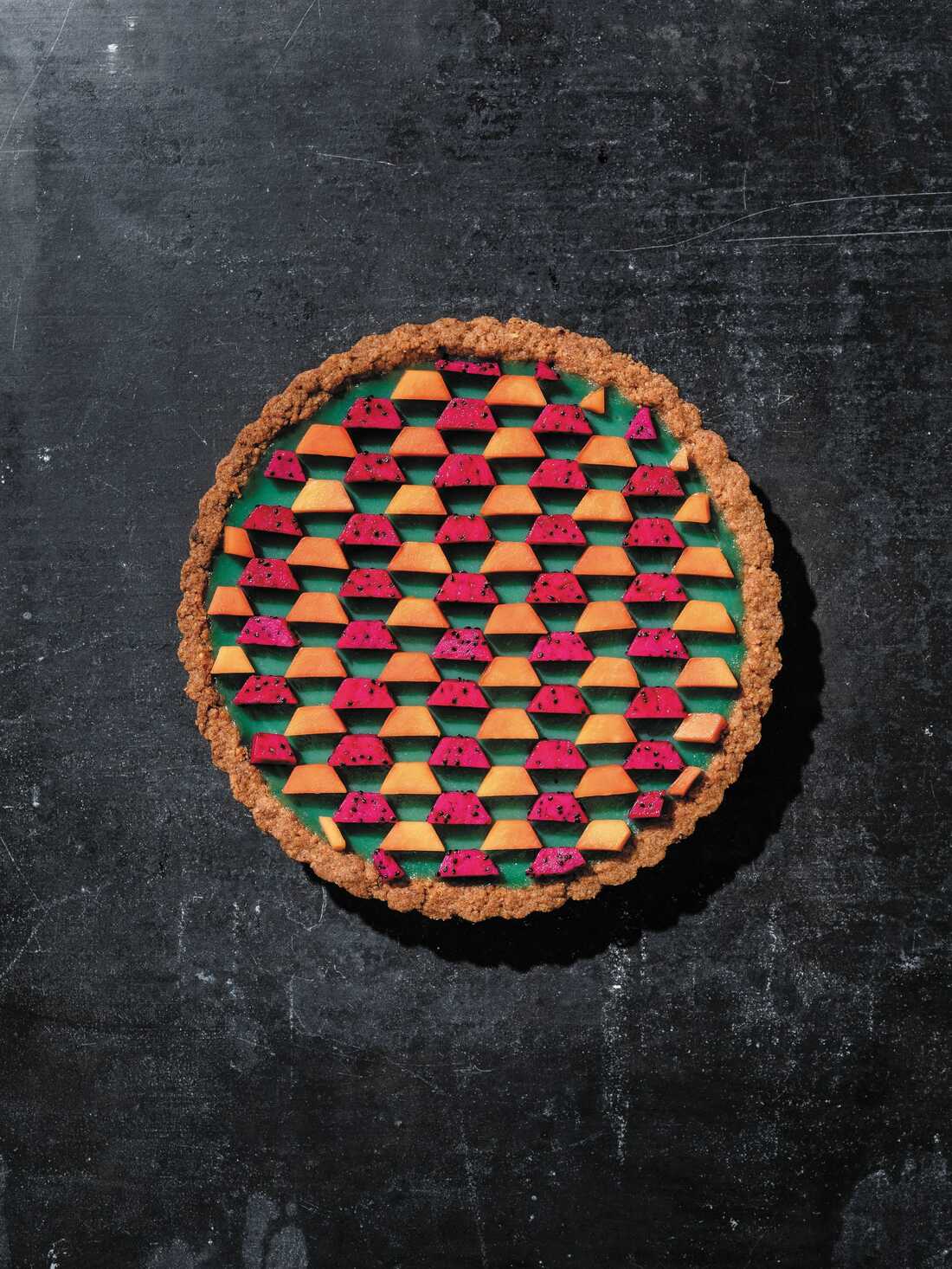 Ed Anderson/Harper Collins
Okay, on to pie. What is your number one tip?
The golden rule of pie-making is to keep everything cold. I pull out my butter right when I'm about to use it. I don't let it sit on the counter. And when I roll out my pie dough, I pull it straight from the fridge. With some of my more intricate pies, I like to pop them back in the fridge for a few minutes if things are getting kind of melty or soft as I'm working. And even once I've completed a pie, I like to pop them in the freezer while the oven heats up. That helps preserve the integrity of the design when it's baking in that hot oven.
The other nice thing about all these little steps is that it's really conducive to breaking up the process. So if somebody is in charge of a huge Thanksgiving meal and they're trying to kind of pace themselves, pie dough is a great thing that you can prepare in advance.
What about filling? I watch a lot of The Great British Baking Show, so I know it's easy to get a soggy bottom on a pie, especially if you're using fresh fruit. What's a good filling if you're feeling nervous about soggy bottoms?
Pumpkin pie is very traditional at this time of year. That's a good option because you have to blind bake your crust beforehand, which means that you bake the crust by itself before adding the filling and baking it a second time. My other tip is that I like to keep a pizza stone in the oven. I'll put my pie on a baking sheet to catch any errant juices, and then I just put that baking sheet right on the pizza stone, so that all that extra heat is directed to that pie pan to make sure there are no soggy bottoms.
If people are feeling competent with the traditional pie situation and they're ready to get more creative, what are some things they can do to take it up a notch?
I like to make colored pie dough by substituting ice water in the pie dough with either vegetable juice or fruit juice. Spinach juice will make a really nice green crust, blueberry juice will make a nice purple crust, beet juice will make a really deep magenta crust. And the really weird and beautiful thing about adding these natural colorings is that it doesn't really add any extra flavor. So it becomes a really great canvas for creating really beautiful designs that can go sweet or savory because you still retain that crispy, buttery flavor in the crust.
What about egg washes?
Egg washes are personal! I don't use egg washes on my colored pie doughs because I want to preserve their vibrancy. But I do use an egg wash on a basic, un-dyed dough to create a deep golden brown color. I use a whole egg whisked with a splash of heavy cream. And I like to sprinkle on some demerara sugar as well to give it that extra shine and crunch.
Lauren Ko's signature spoke design: Step-by-step instructions
Place a 2-inch circle cutter in the center of the filling as a reference point. Using a small pastry brush, lightly dab water around the edge of the pie shell.
Remove the dough strips from the fridge. Gently pick up a strip of dough, handling it only from the ends, and lay it across the pie, with the strip grazing the outside of the circle cutter. Lightly press the strip into the edges of the pie to secure.
Ed Anderson/Harper Collins
Place another dough strip across the pie. The center of this second strip should lay slightly on top of the first and also graze the center circle cutter. The end of the strip in your left hand should rest ½ inch to the left of the first strip and the end in your right hands to the right of the first.
Ed Anderson/Harper Collins
Continue laying dough strips in this fashion, working your way around the pie surface twice. Resist the urge to manually curve each strip. The optical illusion of the full design inspires a curved effect, but the individual strips should be maintained as straight lines.
Press the edges of the pie to secure the strips in place. Holding a paring knife at a 45-degree angle to your work surface, run it around the edge of the pie pan to trim the excess dough.
Gently remove the center ring cutter and carefully fill the crate with ¼ cup of blueberries.
Bake and voila!
---
Tips and instructions courtesy of Lauren Ko.
The podcast portion of this episode was produced by Sylvie Douglis.
We'd love to hear from you. Leave us a voicemail at 202-216-9823, or email us at LifeKit@npr.org.
For more Life Kit, subscribe to our newsletter.