A field guide for fledgling birders
A field guide for fledgling birders
Birding, or the act of observing birds, is a good way to connect to the world around us. In a time of stagnation and collective uncertainty, it's given me (Audrey) the opportunity to get out of my head, and experience moments of rapture and awe.
"Birds are everywhere. ... They make all kinds of beautiful sounds. They come in all kinds of brilliant and diverse colors," says Corina Newsome, community engagement manager at Georgia Audubon. "Once you realize how many different kinds of birds are living where you live ... you can't stop noticing them."
There is no "right" or "correct" way to observe birds. You can enjoy them however you like! Maybe you're doing the dishes, you spot a Northern Mockingbird outside of your kitchen window, and you pause to appreciate it — that's birding! Maybe you're taking a moment to observe some pigeons fighting over food scraps on a subway platform — in my book, that counts as birding, too.
If you'd like to dive deeper into the hobby, here are tips for how to get into birding:
Birding can happen anywhere, any time!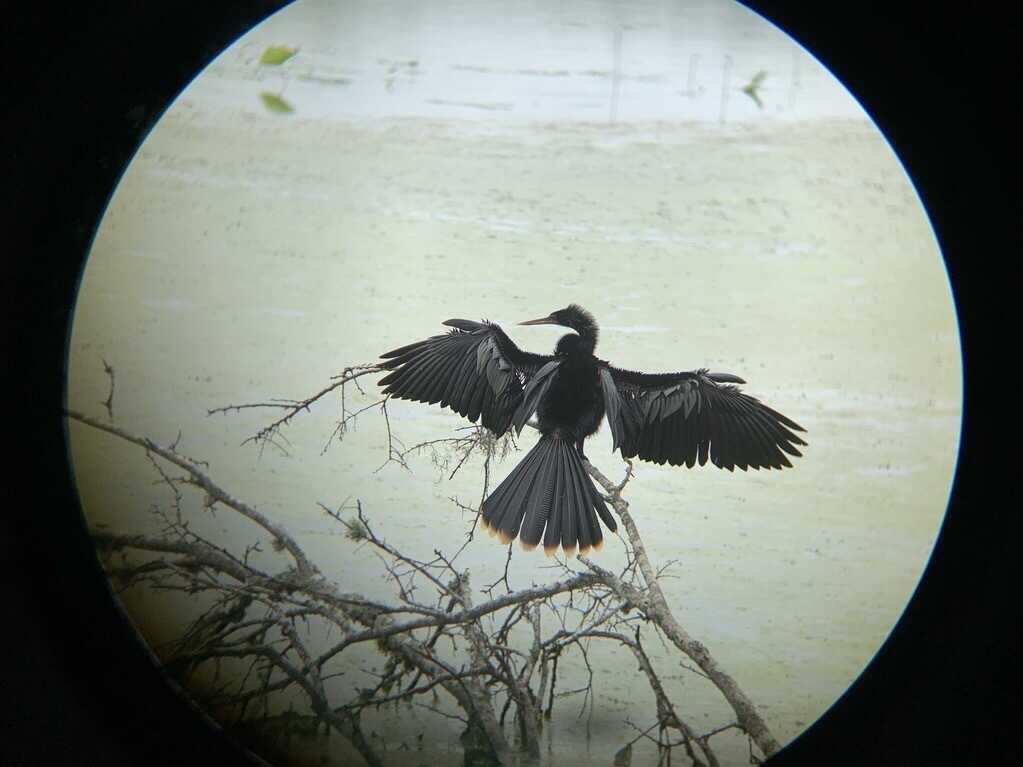 Where to go
You don't need to go to a nature preserve or a secluded park to bird. The idea that there are outdoor spaces that are a part of "nature" vs. "urban spaces" can be a big barrier to people who want to bird, says Yamina Nater-Otero, program coordinator at Audubon New York and committee member for the Black and Latino Birders Fund. "If you live in an urban space [and] you don't have a car, you're going to think to yourself, 'where am I supposed to go?'" they say.
Nater-Otero likes to "patch bird," which involves locating a small space nearby where you can bird regularly. Going to the same spot on a regular basis allows you to become familiar with the birds that reside there year-round, which in turn can help you identify visiting migrants in the spring and the fall.
If you do want to venture further from home, you can try searching "best places to bird near me." If you use public transit, try searching for something like "metro accessible birding sites." You can also check to see where your local Audubon chapter leads field trips or bird outings — that should be a good indicator of popular birding spots in your area.
Birdability has a crowd-sourced map that documents accessibility in outdoor spaces. With over 600 spots mapped, it has info on how accessible a trail is, and it provides information about parking, ramps, bathrooms, surfaces, the height of railings and more.
If you can't go outside, you can enjoy birds via webcam. Nater-Otero recommends the cams on Explore.org and the Cornell FeederWatch Cam.
When to go
Birding can occur year-round, no matter where you live.
The "best" time of day to go birding depends on what kinds of birds you want to see. Mornings tend to be better for songbirds. Dusk or dawn is better for seeing owls or nighthawks. Wading birds and shorebirds tend to be viewable all day, since they generally live out in the open on or near the edges of water.
Virginia Rose, founder and president of Birdability, calls the window between 7 and 10 a.m., depending on the time of year, "the best birding hours for people looking to find the most birds."
However, as Nater-Otero points out, not everyone feels safe going out at the crack of dawn, when places tend to be quieter and more empty. "The birds don't all just disappear when it's 10 a.m. You might not hear them as much, but they're still there," she says.
You don't need much to get started.
Birding can seem cost prohibitive, but it doesn't have to be — it's quite possible you've already got everything you need.
"You don't have to get binoculars and look at birds. You can enjoy birds by silhouette," notes Nater-Otero. You can observe how they fly, you can learn their songs — none of those approaches requires using binoculars!
If you'd like to learn how to identify birds, here are some tools that can help:
A notepad or something to jot down your observations
A physical field guide

Rose uses a National Geographic guide, along with a Sibley guide
Nater-Otero uses a Sibley's East guide, which focuses on birds found east of the Rocky Mountains
Newsome mentioned checking out Sibley or Kenn Kaufman guides

A birding phone application
More specialized apps that focus on a particular kind of bird:
*Costs at time of publication.
If you do want to bird with binoculars, many local birding groups will have spare pairs to lend during group outings. Some local libraries have birding backpacks you can check out too.
There are lots of tools out there to help you identify birds. I personally use a National Geographic field guide in tandem with the Merlin and eBird apps. I like being able to cross reference information, because like this article and podcast episode, a singular resource can't cover everything.
Use your senses to help identify birds
IDing birds is a challenge — one that I find fun and rewarding (and a little frustrating at times!) But remember: You don't have to learn the names of birds to be a birder.
Birding by sight
"When I first started and I was with colleagues that had been birding for years, they were pointing out birds and I thought they were messing with me because I couldn't," says Nater-Otero. If you have a hard time locating birds by sight, don't give up! "It's legitimately hard to find birds at first."
When you begin to identify a bird by sight, it's helpful to take note of the following characteristics in order:
Size
Shape and structure
Habitat and behavior
Color
For more strategies, listen to the podcast episode at the top of this page or here. You can also check out the Cornell Lab of Ornithology's Birding Skills playlist on YouTube. There's also this Audubon article that goes more in depth.
Birding by sound
Even though birding is often conceptualized as a very visual activity, you can learn a lot by listening as well. Not everyone can (or chooses to) rely on seeing a bird to know what it is.
When trying to learn bird calls or bird songs, Corina Newsome of the Georgia Audubon recommends coming up with a mnemonic for whatever it is you're trying to commit to memory. Does the call or song sound like a particular word or phrase?
Take a Northern Cardinal, for example. Newsome notes it sounds like they're saying the English word "pretty."
Compare that to the sound of a Tufted Titmouse, which sounds more like "Peter." "It's almost the same thing. But the inflections, or the emphasis, [are] a little bit different," says Newsome.
Respect the birds, and your fellow birders.
If you're birding at a park or a nature sanctuary with posted rules, make sure to note them and adhere to them. They're designed to help protect the habitat and creatures that call that habitat home.
If you get excited when you spot a bird, and you accidentally scare it off, Newsome says that's okay. "The bird is exposed to a variety of stimuli. The bird won't be hurt by that," she says.
However, be aware that making loud noises and scaring away birds will probably irritate the birders around you. So be cognizant of the space you're entering, and how others are using it.
If someone asks you if you've come across anything "good" while you're out birding, they're generally asking if you've seen something unusual or unexpected. It might just be a cardinal to you, if you live in the Southern or Eastern United States and you see them all the time. But there's no such thing as a "bad" bird. "I don't want to go in with a consumer perspective where the more you've seen something, the less interesting it is, the less value it has to you," says Newsome.
As Rose says, "any bird you see is something to study."
---
The audio portion of this episode was produced by Clare Marie Schneider. Audio engineering support by Marcia Caldwell.
The following bird sounds were used in the audio version of the episode:
Northern Cardinal (ML107279), Tufted Titmouse (ML77284), Northern Cardinal (ML84683), Red-winged Blackbird (ML94328) © Wil Hershberger / Macaulay Library at the Cornell Lab of Ornithology.
We'd love to hear from you. Leave us a voicemail at 202-216-9823, or email us at LifeKit@npr.org. For more Life Kit, subscribe to our newsletter.