Simplify Thanksgiving with this 5-ingredient recipe for roast turkey breast
Simplify Thanksgiving with this 5-ingredient recipe for roast turkey breast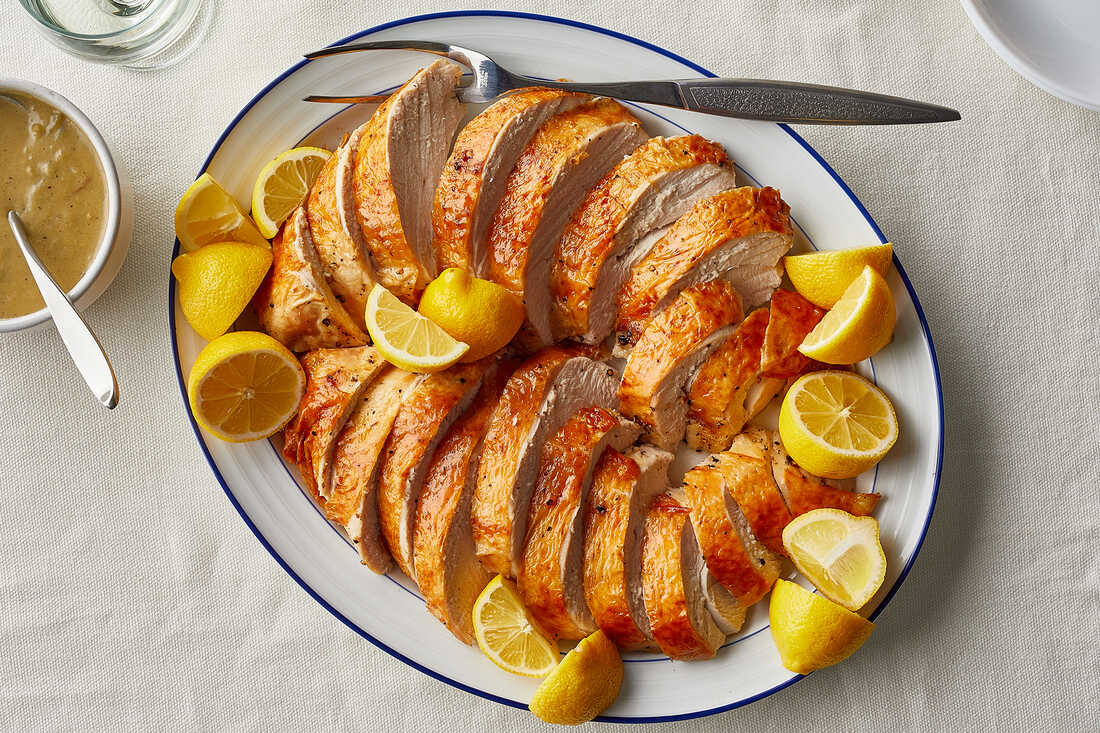 Photograph by Bryan Gardner for The New York Times; Food Stylist: Barrett Washburne; Prop Stylist: Paige Hicks.
This story was originally published on Nov. 16, 2021 and has been updated.
This Thanksgiving, food writer Eric Kim is on a mission to help everyone spend less time in the kitchen.
"I think people cook too much on Thanksgiving Day," says Kim, a cooking writer for The New York Times. "What I want to do is be with my friends and my family."
To help you enjoy the day, Kim shares two simple recipes. Instead of cooking a whole turkey, try his 5-ingredient recipe for salt-and-pepper roast turkey breast. "All I do is I slather some butter all over it, sprinkle it with salt and pepper and roast it" on a sheet pan, he says.
And make your side dishes ahead so all you'll need to do is reheat them on Thanksgiving Day. His recipe for cheesy pizza stuffing, for example, can be prepared a day in advance.
Kim shares one more bonus tip: Look for recipes that allow you to cook everything at one temperature. That way, you don't have to figure out the logistics of when to put in one casserole for an hour at 375 degrees and another for 45 minutes at 350 degrees. Both his recipes for turkey and stuffing cook at the same temperature.
For more easy Thanksgiving recipes from Eric Kim, check out his beginner's guide in The New York Times.
Salt-and-pepper roast turkey breast
Yield: 6 to 8 servings
Time: 2 hours, plus thawing and resting
A bone-in turkey breast is significantly easier to cook than a whole bird, it takes a fraction of the time, and it still feeds a group comfortably. To ensure succulence, you could apply a dry brine the night before, but when you're cooking just a breast, the greatest insurance against dryness is pulling it out of the oven the moment it's done and no later. (For that, rely on an electric instant-read meat thermometer; it's the only way to get a truly accurate read on the internal temperature of your meat.)
I like to roast turkey the way I roast chicken: unbrined but slathered in butter, showered with salt and pepper and popped into a moderately hot oven to get crispy skin. Once the slices are fanned out on a platter tumbled with lemon wedges, it looks like a veritable feast.
Ingredients
1/2 cup unsalted butter, very soft
Kosher salt and freshly ground black pepper
1 whole (6- to 8-pound) bone-in turkey breast (see tip)
4 lemons, quartered, for garnish
Instant-read meat thermometer
Directions
1. Keep the butter nearby. Place about 1/4 cup kosher salt in a small bowl and keep nearby as well, along with a black-pepper grinder. Transfer the turkey breast to a large sheet pan and thoroughly dry all over with a paper towel; get it as bone-dry as you can.
2. Using your hands, very liberally rub the butter all over the turkey breast. (If the butter is difficult to spread, soften it further in the microwave in 10-second intervals.) Make sure to slather the butter on the underside and bones in addition to the entire surface of the skin. Wipe your hands with a towel.
3. Generously season the turkey all over with salt, especially inside the cavity. You don't have to be precise here, but do go heavy on the salt — the turkey can take it. (In general, you should account for about 1 teaspoon Diamond Crystal kosher salt or 3/4 teaspoon Morton coarse kosher salt per pound.) Next, generously grind black pepper all over the turkey; again, no need to measure this. Let the turkey breast sit so the seasoning can penetrate the meat and allow the bird to come to room temperature, about 1 hour.
4. Meanwhile, position a rack in the bottom third of the oven and heat oven to 350 degrees. Place the turkey breast in the oven, then with the oven door still open, carefully pour 1 cup water into the sheet pan. Close the oven door and roast until the turkey's internal temperature reaches 150 degrees, 13 to 15 minutes per pound. (To read the temperature, insert an instant-read thermometer into the thickest part of one of the breasts, making sure to avoid the bone, which will give you an inaccurate reading.) Very carefully rotate the pan halfway through roasting and add another cup of water if the pan looks dry. When done roasting (1 1/2 to 2 hours), the skin should be golden brown and crispy.
5. Let the turkey breast rest in its pan, uncovered, until cool enough to handle, at least 30 minutes and up to 1 hour. Transfer to a cutting board. Cut along one side of the breastbone with a sharp knife, then the other, cutting each breast off the bone, and keeping the skin intact. Thickly slice each breast crosswise and serve on a large platter scattered with the lemon quarters. Taste the pan juices and, if they're a little salty, stir in a little hot water. If they need more seasoning, stir in salt and pepper. Spoon the pan juices over and around the sliced turkey.
---
Cheesy pizza stuffing
Photograph by Bryan Gardner for The New York Times. Food Stylist: Barrett Washburne. Prop Stylist: Paige Hicks.
Yield: 4 to 6 servings
Time: 45 minutes, plus drying bread
Ingredients
1 (12- to 14-ounce) loaf brioche or challah, torn into bite-size pieces (about 4 cups)
4 tablespoons unsalted butter, plus more softened butter for greasing dish
1 large yellow onion, halved and thinly sliced
Salt and black pepper
1 teaspoon dried oregano, plus more for topping
2 tablespoons tomato paste
1 cup vegetable stock
1 large egg
1 cup whole milk
2 cups shredded low-moisture mozzarella
Directions
The night before serving, spread the bread pieces on a sheet pan and let sit on the counter to dry out. Alternatively, you can bake them at 250 degrees until completely dried out and no longer soft, 20 to 30 minutes.
When ready to make the stuffing, transfer the bread to a large bowl. Heat oven to 350 degrees and grease a 9-by-13-inch or 8-by-11-inch baking dish with softened butter.
Melt the 4 tablespoons butter in a large skillet over medium-high and add the onion. Season with salt and pepper, and cook, stirring occasionally, until translucent and slightly browned at the edges, 5 to 7 minutes. Stir in the oregano and tomato paste and cook until fragrant, about 1 minute. Add the stock and scrape up any browned bits from the bottom of the pan.
In a medium bowl, beat the egg with a fork, then beat in the milk. Pour the stock mixture and milk mixture over the bread and toss with two spoons until evenly coated. Add 1 cup mozzarella and toss again until well combined. Let sit until the bread fully absorbs the liquid, about 5 minutes.
Transfer the stuffing and any accumulated liquid to the greased baking dish, spread out evenly and top with the remaining 1 cup mozzarella. (To make ahead, you can stop at this stage, cover the dish and refrigerate for up to 24 hours.)
Bake, uncovered, until heated through and the cheese is melted, 15 to 25 minutes. (You may need to add a few minutes to the bake time if the stuffing has been refrigerated.) Sprinkle a pinch of oregano over the top and serve immediately.
---
The audio portion of this podcast was produced by Meghan Keane.
We'd love to hear from you. If you have a good life hack, leave us a voicemail at 202-216-9823, or email us at LifeKit@npr.org. Your tip could appear in an upcoming episode.
If you love Life Kit and want more, subscribe to our newsletter.