Tarot can't predict the future, but it can help you make that big decision
Tarot can't predict the future, but it can help you make that big decision
Photo Illustration by Becky Harlan/NPR
Growing up, my family often relied on tarot when working through tough decisions – we'd draw cards to talk through my brother's breakup, or whether I should drop out of school.
I didn't always listen to the readings, but the rituals provided me a space to ruminate on and figure out my own answers to the question that's being asked of the cards. Years later, along with many others, I've returned to the practice as a way of staying grounded during this time of indecision and overwhelm.
As tarot reader and writer Michelle Tea puts it, some people mistakenly come to tarot for a prediction of the future, when it's really about self-reflection. "If you're a person that wants to integrate more spirituality into your life or to look at life a bit more philosophically, it's a great tool to even just pick a daily card."
Modern tarot, which derives from mid-15th century European playing cards, has rules and structure that often feel inaccessible to newcomers: even if you've gotten a reading before, you may be intimidated by the cards, or wondering whether you're witchy or cool enough to practice tarot yourself.
Tea says this is yet another common misconception about tarot. "Tarot is incredibly welcoming for a novice. If I could learn it, really anybody can," she says. "It's just about becoming comfortable with the imagery, learning them by heart and understanding how the cards talk to each other so that when you pull a series of cards, you understand how they flow into a type of story."
In her book Modern Tarot: Connecting with Your Higher Self through the Wisdom of the Cards, Tea walks budding readers through each card in a tarot deck, shares reading tips and ways you can incorporate tarot into your self-care practice. Here's a beginner's guide to tarot featuring her tips and resources.
Choose a deck that speaks to you
Especially for beginners who find tarot to be unapproachable, Tea says the first step is to "presume that the tarot welcomes you, and I think the best way to do that is to pick a deck that really resonates with you," she says. "You want a deck that makes you feel like 'Oh, I'm intrigued by these images; I want to read about what this means.'"
While most standard decks come with 78 cards, every set assigns different names and artwork to each card. Images on your deck will also inform your readings: your knowledge of different flowers may guide the way you interpret a floral deck. Your deck will likely come with a book of instructions that will explain every card specific to that set.
If you want to start with the basics, Tea recommends grabbing the classic Rider-Waite-Smith, which was also her (and my) first deck. Some of Tea's other favorites include:
The Thoth Tarot by Aleister Crowley and Lady Frieda Harris
The Next World Tarot by Cristy C. Road
The She Wolfe Tarot by Devany Amber Wolfe
The Cosmic Slumber Tarot by Tillie Walden
Learn your cards
Photo Illustration by Becky Harlan/NPR
A standard tarot deck has 78 cards divided into two groups, 22 major arcana cards and 56 minor arcana cards. The major arcana showcase big life events, while the minor arcana look at the strokes and speak to our daily lives, though much of this, of course, varies on the reader.
The major arcana are composed of the archetype cards like the sun, the magician and the lovers. They're often numbered as zero (the fool) to 22 (the world). "When major cards come up in readings, they usually talk about a moment that is really significant," Tea explains, "like a peak moment in our lives or a significant learning opportunity, a lesson that's going to be very impactful for us."
The minor arcana are divided into four elements, similar to traditional playing cards — running from one to 10, followed by face cards. Elements are represented by symbols, which Tea breaks down here:
Suit of Wands: Represents the element of fire we have in our hearts, where our passions and ambitions live. "It's a really sexy suit; It's really playful." It wants us to get out into the world and pursue whatever it is that we want.
Suit of Cups: Represents water, which is often used as a metaphor for our emotions. It often talks about our emotional landscape and the people who change it. It's very relational; it's about love, friendship and community.
Suit of Swords: Represents air, which is seen as the "most unstable element in tarot." It serves as a metaphor for our mental processes. "It's electricity; It's inspiration, communication, but it's also our inner worlds and how we can spin out and torture ourselves with anxiety."
Suit of Pentacles (sometimes called discs or coins): Represents earth. It grounds us in our bodies, our home, our workplaces, the places where we are embodied
When it comes to readings, "it is 100% about learning the deck and being familiar with it," says Tea. You don't need to give a full reading to someone else in order to practice. First familiarize yourself with your deck of choice, both the cards' names and images. Then read the instructions book and practice giving readings to yourself. This can be daily readings or pulling an intention card each week. It's hard to memorize the cards all at once, so try building a habit of grabbing your deck and learning a card or two every day.
Ask specific questions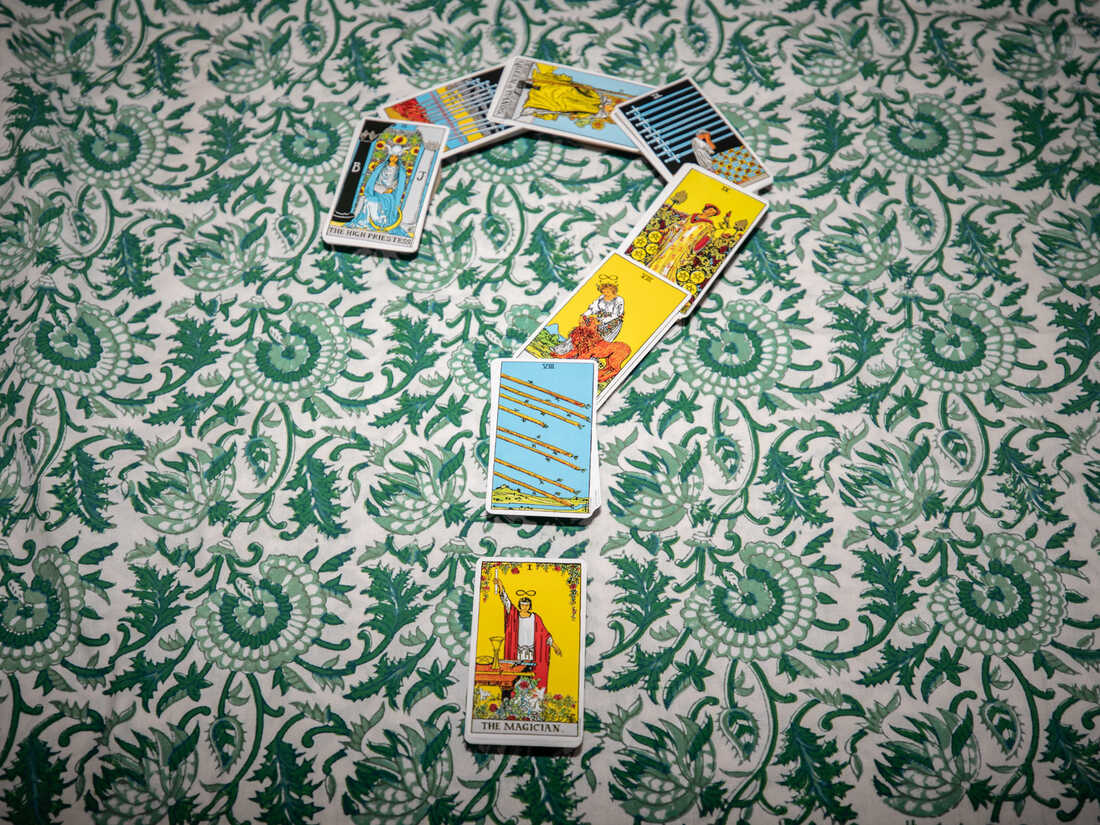 Photo Illustration by Becky Harlan/NPR
To receive more insightful readings, try to avoid asking big picture questions that cover the span of a year or speak to your general mood.
"If you're overwhelmed and you want the tarot to reassure you, that's really not the tarot's job," says Tea. "The tarot isn't here to tell you everything's going to be okay, but if you're having a challenging moment, the tarot can help you deal with it."
You can still, of course, lean on the cards. Rather than asking a muddy question like "Is everything going to be okay?" you can reframe it to "What actions could I take?"
Tarot can also respond to yes or no questions like "Should I leave my job?" Or even day-to-day questions like "How should I talk about splitting chores with my roommates?" If you disagree with the cards, that's okay, too. As Tea says, "The tarot is a tool for you to be proactive in your own life, and to move into your own destiny with confidence."
Build your own prep routine
Come time to read, there are no set rules to intention-setting and shuffling. As Tea says, what makes tarot such a strong spiritual practice is that there's so much you have to figure out for yourself, first learning then reworking and personalizing the readings.
Remember to focus on the weight of the cards, and shuffle by cutting the deck in whatever way feels most comfortable to you. You can place the deck in one hand and release a section of cards at a time into the opposite hand; split the cards into two files and fan them; or mix them in a big pile on the floor. What's most important is your state of mind: focusing on the question that's being asked.
Screenshot this handout to help with tarot readings. Or print it out here!
Try different readings
There are different ways you can give tarot readings – what's most important is finding one that works for you and whom you're reading for. Tea suggests beginners start with a three-card reading. Each of the three cards you pull can be given a different role like: past/present/future, the nature of your problem/the cause/the solution, situation/action/outcome, among others. Maybe give yourself time to think through different scenarios with the cards in front of you to figure out if there's one order that speaks to you.
You may have also heard that reversed cards revert their meanings. How to read them is a divisive topic among tarot readers. Tea says she doesn't believe in reversals.
"Because I was sloppy putting the cards back, they get a happy card turned into a sad card? I don't like it," she says. "But if you're interested in reversals, you can try it out. You can look into it and find out why people do like it."
Like so much of tarot, it's all about what you want to bring to the question and reading.
---
The name of the tarot deck featured in this story has been updated from Rider-Waite to Rider-Waite-Smith to reflect the contributions of artist Pamela Colman Smith.
The podcast portion of this story was produced by Clare Marie Schneider, with engineering support from Stuart Rushfield.
We'd love to hear from you. If you have a good life hack, leave us a voicemail at 202-216-9823 or email us at LifeKit@npr.org. Your tip could appear in an upcoming episode.
If you love Life Kit and want more, subscribe to our newsletter.