How to be more decisive
Photo Illustration by Becky Harlan/NPR
Sometimes I'd rather not watch anything at all than go through the trouble of finding a show on Netflix. There are literally thousands of options. And when I start scrolling through them, I'm determined to consider, for example, as many different romantic comedies as possible. So I keep scrolling, and scrolling, and scrolling ...
Everyday indecisiveness like this has skyrocketed among Americans since the beginning of the pandemic, according to the American Psychological Association's annual 'Stress in America' Survey. Nearly a third of all adults reported that they sometimes struggle to make basic decisions.
So the next time you're beating yourself up for not being able to decide what shoes to wear, remember that we've been living in an incredibly stressful and strange time. And then try employing some of these strategies from decision-making experts.
Let go of the idea of the 'perfect decision'
Think about the last time you were looking through a giant menu at a restaurant, frozen by the possibility that you might make the "wrong" choice. This happens to me all the time when I'm back home in Jersey and go to one of the many local diners. The descriptions of my options blur together, and I'm hawking the plates at neighboring tables to see what looks good.
Sheena Iyengar, an expert on choice and decision making, says that much of the pressure we feel to make a 'perfect' choice stems from how much we associate our choices with our identity.
"I'm always asking myself, 'Who am I? And given who I am, what do I want? And given what I want, what should I choose? And if I choose X or Y or Z? Am I sending the right message to you about who I am and what I stand for?' That's a lot of burden to carry," says Iyengar.
Holding on to the idea of a perfect choice can keep us from actually choosing. When in reality, the worst-case scenario for me at the diner would be that I order pancakes and end up wishing I had gotten an omelet instead.
Allow yourself three to five options max
Notes
Having too many choices can cause "analysis paralysis."
The grocery store is as good a place as any to get struck by indecision. If I walk in without a plan and stumble down the cereal aisle, I might spend twenty minutes picking up boxes and putting them down. Iyengar says that sometimes, there are just too many options to process any of them meaningfully. That's called "analysis paralysis."
"We know that on average, we can handle about seven, plus or minus two, choices. And I would say a good rule of thumb is, closer to between three and five choices is about the level that you can handle," says Iyengar.
Next time you're overwhelmed, try limiting your options to those you're most seriously considering.
Pick your decision battles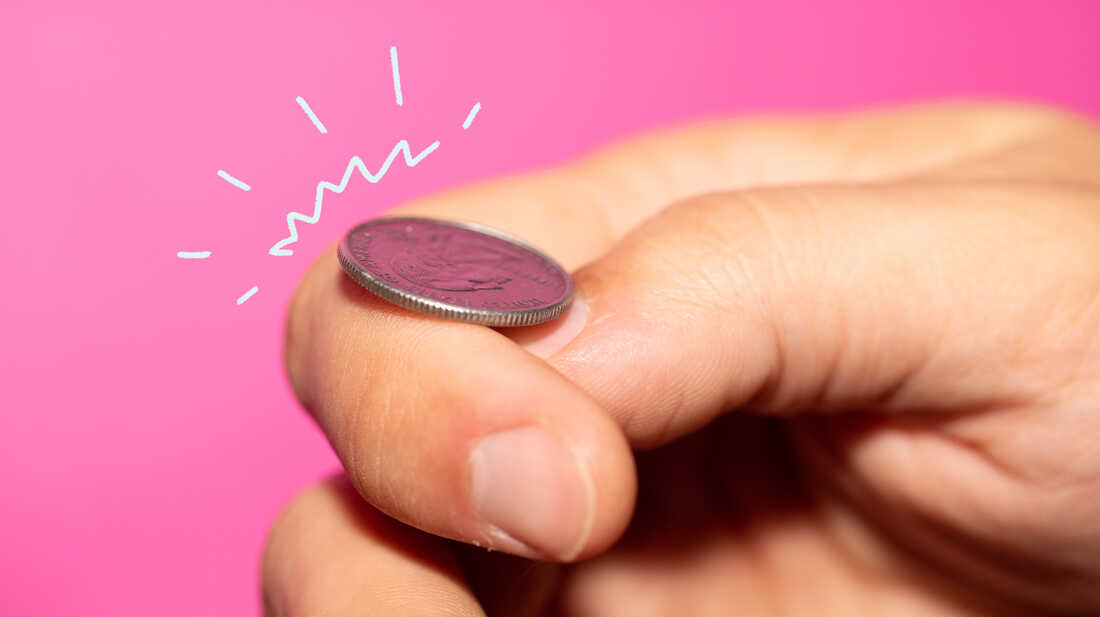 Photo Illustration by Becky Harlan/NPR
From there, consider how much you actually care about the choice you're trying to make.
If I get hung up on two pretty similar options, like Rice Krispies or Special K, getting out of the gridlock is ultimately more important than whatever cereal I end up choosing. This is known as making a satisficing or a 'good enough' decision, where any choice will do just fine.
"Basically flip a coin," says Brooke Struck, who's the research director of The Decision Lab, a think tank that specializes in behavioral science. He means this literally.
On the other hand, if you care more about the decision you're making, keep track of your options with a list so that you have a clean, controlled environment to sort through when it comes time to choose.
Practice trusting yourself
Photo Illustration by Becky Harlan/NPR
Seeking second opinions is something I do all the time that contributes to my indecisiveness. I rely on friends for fit checks, for movie recommendations, to workshop new ideas - it's a totally normal thing, and something we shouldn't flat-out stop doing. But if you find yourself asking for advice for every little thing, try to resist the urge and make more of those choices on your own.
"There are situations where I want to sit with the discomfort of making the decision myself," says Monica Johnson, a licensed psychologist in New York City. "And then [I] kind of look at what is the outcome of the decision, so that I can build up trust in my ability to know what's right for me in any given moment."
Rely on routines
Over the last two years, "nothing has been more disrupted than our habits," says Struck.
Structure sets us up with familiar environments where we can be our best selves. Whether it's setting up a new morning routine, choosing how often you're going to hit the gym, or deciding when you'll go grocery shopping for the week – reinvesting in our routines or starting new ones is a great way to fend off stress by pre-deciding when and how we'll do any given activity or task.
Johnson suggests the '80-20' rule to keep routines healthy, which means sticking with your habit 80 percent of the time and cutting yourself some slack the other 20 percent.
"I want to allow wiggle room because the world doesn't operate on my schedule," says Johnson.
Declutter your life
When it comes to our environment, the less crowded your space is, the better. For example, if your closet is overflowing with clothes and you're not a fashionista, cutting your wardrobe in half could make getting dressed less stressful.
Then, think about how you can declutter your time. Whether it's setting clear boundaries around work, in your relationships or even what you do in your free time.
"Having boundaries around [free time] is really important because we do live in a very social world that does not value anything that people do by themselves," says Johnson. Without boundaries, the moments between 'doing' things are the perfect opportunity for that anxiety monster to pop up.
Isn't there another email I should answer? Am I forgetting about a homework assignment? Will my friends think I'm boring if I don't go out with them this weekend? Nobody is capable of being 'on' 24/7.
If you value time by yourself as a way of refilling your cup, maybe one night a weekend is designated 'me time' for takeout and trashy TV. If you're somebody who struggles with work-life balance, maybe silence your work email when you hang it up for the day. Boundaries can keep certain times and activities sacred, free from clutter and present fewer opportunities for indecisiveness to creep in.
And if you still can't decide what to watch, remember, there's no shame in flipping a coin.
---
The podcast portion of this story was produced by Clare Marie Schneider, with engineering support from Gilly Moon.
We'd love to hear from you. If you have a good life hack, leave us a voicemail at 202-216-9823 or email us at LifeKit@npr.org. Your tip could appear in an upcoming episode.
If you love Life Kit and want more, subscribe to our newsletter.