They performed with Bono and The Edge (after their parents told them who they are)
They performed with Bono and The Edge (after their parents told them who they are)
Or perhaps Bono and The Edge performed with them.
Who are they? A gaggle of D.C.'s most talented teens! The members of the Duke Ellington School of the Arts concert choir joined Bono and The Edge for their Tiny Desk performance.
What's the big deal? It's a Tiny Desk! Enough said, right?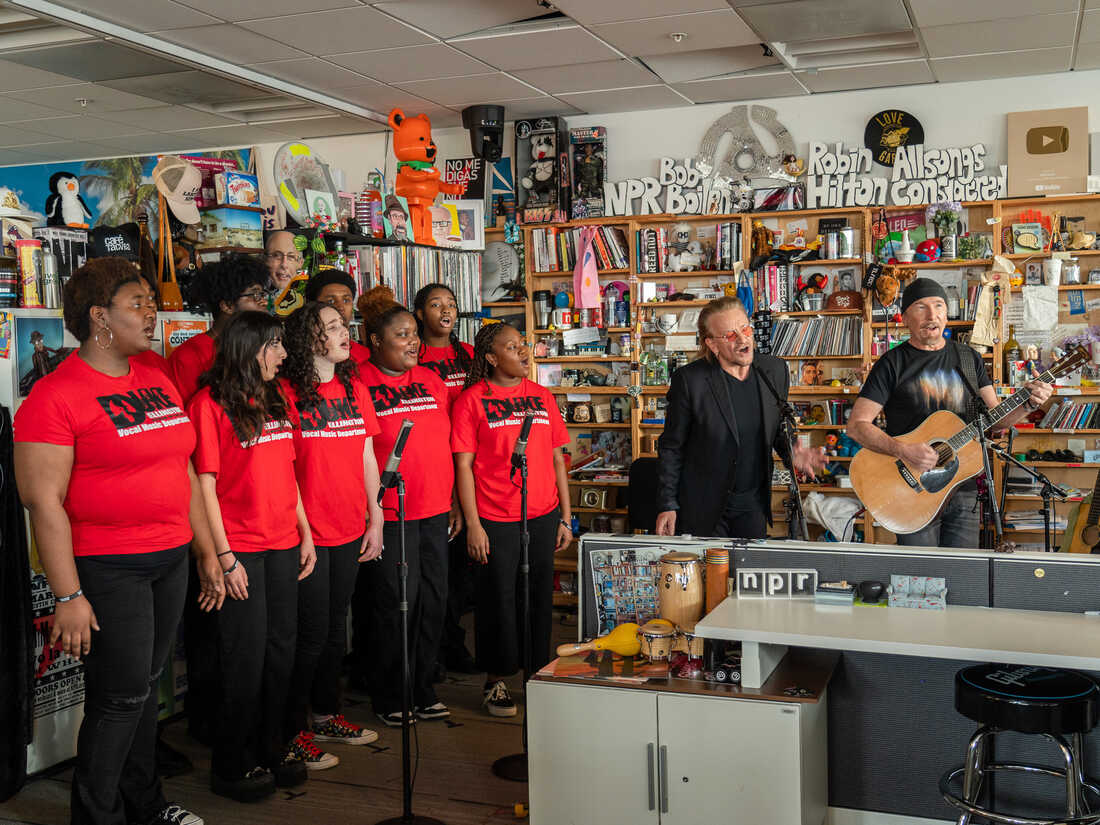 What are they saying?
On learning about Bono's existence:
Kirsten: I had found out prior... but [because] my parents [know].

Jevon: Not even my parents. My dad. Because I know my dad was like, 'Look them up!' So I look them up, and I see they performed at the Super Bowl. I'm like, 'Oh, they must be like big news if they're performing at the Super Bowl.'

Kirsten: We're youngins. You know, we are young, so we're still learning and stuff, but it's just a wow moment.
On meeting Bono:
Kirsten: [He was] really chill, like down down to earth. And I love how they weren't big headed, because I know how sometimes when you're in the presence of someone with a higher status, it could be really intimidating. And I didn't feel like any of us felt intimidation from them. It was just really like a learning experience. They were like, 'Well, what do you think will fit good in this part?'

Jevon: One of our friends, by accident, didn't get the words right. So he accidentally sung the wrong thing. And Bono was like, 'Oh, wait, what did you do?' He was like, 'I like that, man.'

It was fun. It was funny because we all knew it was an accident, but then we kind of went along with it and Bono liked it. So we just did it.
On the joy of performing:
Kirsten: It was amazing, really happy. I think my moment was just seeing the people's reaction, just to allow other people to feel the enjoyment of what we are gifted to do. And it was just really good.

Javon: I guess I just like the feeling that I can make someone's day with the gift that God gave me. Ever since I was younger, I just loved singing for people and making people feel better and just encouraging people.
---
Want to hear the whole conversation with Kirsten and Jevon? Click or tap the play button at the top.
---
So, what now?
Learn more: