'Beef' is about anger, emptiness and the meaning of life
When we meet Danny Cho (Steven Yeun), he's going through the motions of a bleak ritual of consumer life: returning something at a big-box store. He wants it to be easy, and it isn't. He wants to do it without pressure from the people in line behind him, and he can't. So, brimming with mundane but intense frustration, he goes out to his truck and prepares to back out of his spot. He nearly hits a white SUV, and the driver honks at him. In fact, the driver leans on the horn long enough to make clear that this is not a honk of alarm or annoyance, but of open, sarcastic contempt. And the contempt, he can't abide. What's more, a hand comes out of the car and flips him off. It's too much. He follows the white SUV, which, it turns out, drives as aggressively as he does.
These early moments of the Netflix series Beef, created by Lee Sung Jin, sketch out the structure of the whole story. A small thing gets a little worse, then a little worse, then more chaotic, more hectic, more angry, harder to take back without any harm done. Eventually, the white SUV gives as good as it gets. No individual moment is responsible for making this encounter into a disaster. It simply grows more dangerous by degrees, because anger has a natural tendency to inflate the more it's fed.
Danny doesn't know it yet, but in the white SUV is Amy Lau (Ali Wong). She's a successful entrepreneur living with her husband and her young daughter. She also gets frequent visits from her mother-in-law, Fumi (Patti Yasutake), to the point where Fumi may not live there, but it sure feels like she does. Amy is about to sell her decorative-plant company for a lot of money to Jordan Forster (Maria Bello), the wealthy owner of the store chain where Danny was trying to make his return.
Danny and Amy are both furious about a great many things large and small. They were angry before they got to the parking lot. But this exchange, which sets them against a foe they can actually fight rather than the elusive forces of family pressures and capitalism and racism and emptiness, allows them to take all their anger, and finally point it somewhere: at each other. Because they will still be angry, but they will feel less helpless.
It's true, but very incomplete, to describe the show as being a dark comedy about the way this initially minor conflict balloons out of control. Most of these ten episodes are taken up by other matters in Danny and Amy's lives: Amy's troubled marriage, Danny's struggles as a contractor, his complicated relationship with his church and his family, her anxiety about selling her company, and even a trip to Vegas in the middle of a twinned crisis that causes them to collide all over again.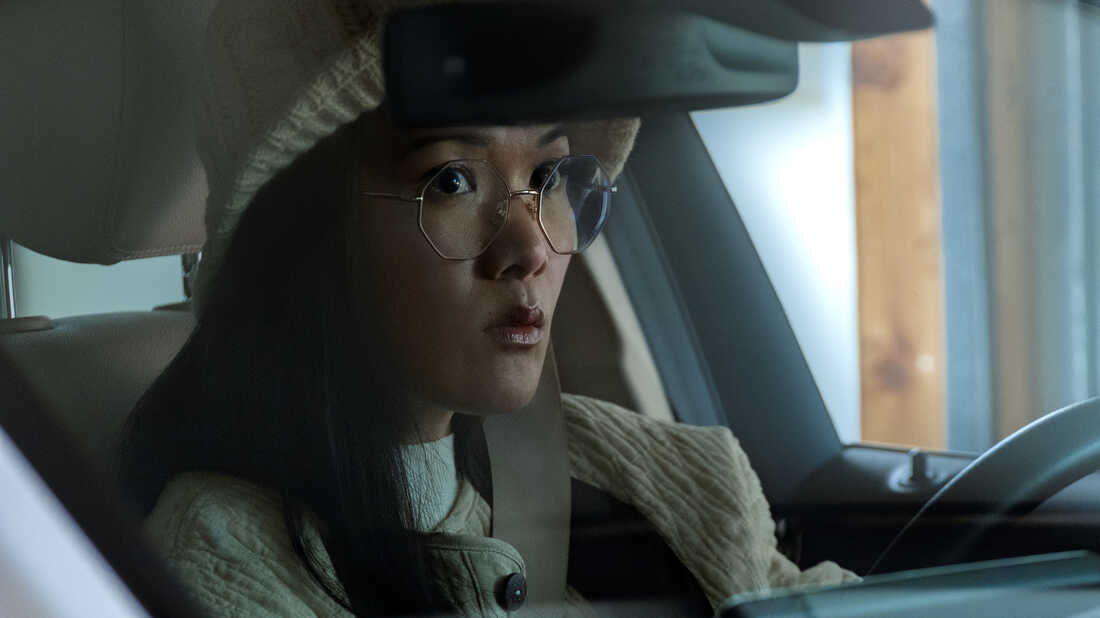 Beef is a stunning, surprising show about the muddled humanity of these very, very messy people, and a feud that is deeply self-destructive but also feeds some need within them both that nothing else is able to satisfy. The series is interested in big, chewy questions about meaning and purpose in life and nature — episode titles are drawn from sources including Werner Herzog, Franz Kafka, Sylvia Plath and Joseph Campbell — and it tackles them with inventiveness and deep empathy. The comedy is dungeon-dark, and surreal breaks from reality eventually seep in and raise questions about things like identity and mortality. At the same time, though, the show doesn't feel cynical; it's as fully invested in Amy and Danny's desire for connection and redemption as it is in their viciousness and emptiness.
In the best way, Beef also understands its own, for lack of a better word, vibes, and it embraces them in craft that goes beyond writing and directing. The production design under Grace Yun (Yun previously worked on Hereditary and First Reformed, so, safe to say there's some experience with experimentation there), is thoughtful. Amy's house, for example, remains a bit gloomy even as it bears the care and attention of her recent renovations and her upscale lifestyle. The changes to Amy's hair over the course of the show (shouts to the hair department headed by Nicole Venables) tell an entire story about fitting in, tapping out, and losing yourself.
The performances, too, are essential. The elasticity of Steven Yeun's talent has been evident for years. He's played enigmatic, elegant, calculating men in Nope and Burning. He's played the loving father in Minari and a hero in The Walking Dead. He's exceptional here as well. He brings life to Danny's can't-win sad-sackery, but also his deep and profound frustration at the way his life has turned out. The ways Danny behaves and the situations in which he entangles himself could easily turn the audience against him. But as directed and written by the creative team, and as performed by Yeun, he remains a character whose spiritual survival feels urgent.
Ali Wong's high-profile work has been almost entirely in comedy before Beef. Surely, it's not a surprise anymore to find comedians who also have great dramatic talents, from Robin Williams to Mo'Nique. Still, it's fascinating to see Wong's take-no-prisoners comic persona translate so beautifully into Amy's fury without turning her into a caricature of a Silicon Valley startup boss. As rare as it is to see an empathetic portrayal of anger on television, it's even more rare to see an empathetic portrayal of women's anger — let alone Asian American women's anger — unless it originates with abuse from men, which Amy's does not.
Both Danny and Amy are primarily angry about their own disappointments and accumulated humiliations of daily living, not about harm intentionally inflicted by the wickedness of others. They are stuck in the existential anger of finding the world to be full of pain, as opposed to the anger of a specific, acute injury. But the ease with which they both transfer that anger from anger at life to anger at another is frightening, because it feels honest. That may be Beef's most timely, most necessary subject of examination: how feelings of powerlessness and the sense that one is spiritually adrift can so easily be shaped into a weapon in search of a target.